Good health is one of the most valuable things to humans. Well, even animals too. Good health is so important that it even birthed the famous saying "Health is wealth".
What that simply means is that our wealth is insignificant and useless in a state of bad health.
Another famous saying that we commonly use is "Prevention is better than cure". This saying is quite a general statement. But in health, it simply it is better to prevent falling ill, than waiting to get treatment after.
Good health is an asset that we shouldn't joke about, and protect at all cost.
One of the ways we can maintain good health is by eating healthy foods.
Well, most often than not, we get carried away and eat all sorts of foods. The immediate repercussion of this is that we could become overweight. Being overweight has a negative effect on our health. If unchecked, it leads to a phenomenon called Obesity.
According to the World health organization (WHO), there are serious health consequences that arise from being overweight and obese.
These consequences are;
Raised BMI is a major risk factor for noncommunicable diseases such as:
Cardiovascular diseases (mainly heart disease and stroke), which were the leading cause of death in 2012;
Diabetes
Musculoskeletal disorders (especially osteoarthritis – a highly disabling degenerative disease of the joints)
Some cancers (including endometrial, breast, ovarian, prostate, liver, gallbladder, kidney, and colon).
The risk for these noncommunicable diseases increases, with increases in BMI.
Childhood obesity is associated with a higher chance of obesity, premature death, and, disability in adulthood. But in addition to increased future risks, obese children experience breathing difficulties, increased risk of fractures, hypertension, early markers of cardiovascular disease, insulin resistance, and psychological effects.
Here are some other key facts from WHO(World health organization) about obesity and overweight.
Worldwide obesity has nearly tripled since 1975.
In 2016, more than 1.9 billion adults, 18 years and older, were overweight. Of these over 650 million were obese.
39% of adults aged 18 years and over were overweight in 2016, and 13% were obese.
Most of the world's population live in countries where overweight and obesity kills more people than underweight.
41 million children under the age of 5 were overweight or obese in 2016.
Over 340 million children and adolescents aged 5-19 were overweight or obese in 2016.
Obesity is preventable.
From the above facts, the one that is more important to note is that Obesity is preventable. In other words, prevention is better than cure.
One of the ways we can avoid becoming obese is by watching or tracking our weight. To watch our weight means to watch the kind and quantity of food we eat.
This article is a part of my series; "Simple mobile apps to help you manage your activities and resources."
This series should have ended in the previous article I published. But, I decided to extend it and talk about our health and discuss some useful apps.
To this effect, I will be modifying the series title to; "Simple mobile apps to help you manage your activities, resources, and, health".
In this series, I've published five (5) articles or episodes before this one. In previous publications, I reviewed two apps.
Activity Dairy.
My expenses.
My discussion about Activity Diary was spread across three (3) episodes, while My expenses were two (2)
Activity tracking has been helpful to me this year. Just barely two (2) months with the app and I'm doing great. I've been able to properly plan and execute my daily activities without stress. On the other hand, it hasn't been easy working with my budget. I've had to tweak my budget several times, which isn't a good thing. But, there are little improvements in my spending habits now. Aside from that, I now know what I spend my money mostly on. The app can't help me possibly break the habit, so it's something I'm working on.
From my publications so far you can see that the apps I have shared, are used for tracking specific things.
Activity diary helps us track our daily activities. My expenses help us to track income and expenses. The app I'm about to introduce will help us monitor and track our weight.
Before I proceed further, I will like to explain why I included talking about health in this series.
Well, the statement, health is wealth answers 90% of the question.
Like I said when I began this series, I wanted to get more productive this year. The benefit of engaging in productive activities is earning an income. If the income is mismanaged, I will be back to square one. That is why My Expenses app became important. But, what if after all these things, my health was unstable? I will not be able to engage in productive activities. Furthermore, this will cut my income supply, and even drain my existing funds. But, what if this health issue could have been prevented? There wouldn't be any problem at all.
In other words, the combination of these apps is amazing, and, it is necessary for everyone.
In this article, I will be reviewing an app that lets its users track their body weight.
I will also love to say that in this part of the series that does with health, I will be reviewing two apps.
The apps are;
Open scale (Weight and body metrics tracker).
Waistline (Calorie counter).
I will start with the first app, OpenScale.
These are the points I will discuss in this article;
What is Open Scale?
How the app works.
Why we should keep our weight in check.
Summary.
Do have a wonderful read.
---
Open scale (Weight and body metrics tracker).
Before I proceed with talking about the software, I will share some knowledge about body mass index (BMI).
Body mass index (BMI) is simply a measure of body fat, based on height and weight, that applies to adult men and women. What this means is that you can calculate your BMI if you know your exact height and weight.
The formula to calculate BMI is;
BMI = kg/m2 where kg is your weight in kilograms and m2 is your height in meters squared.
There are standard BMI categories from which you can know your weight level.
The categories are;
Underweight = <18.5
Normal weight = 18.5–24.9
Overweight = 25–29.9
Obesity = BMI of 30 or greater
After solving for your BMI, you can then match it with the above categories to know where you belong. You'll get to know mine later.
The BMI of a person can be tricky though. Some people who aren't slim, or, called fat, might not actually be overweight. I did a little research and discovered that someone having a big body build might not weigh so much. Our bones are the major determinant of our body weight. What this means is that someone with a slim body build might weigh more than someone considered fat. This is why checking our weight regularly is advised. With that information, we can keep track of our BMI.
---
What is OpenScale?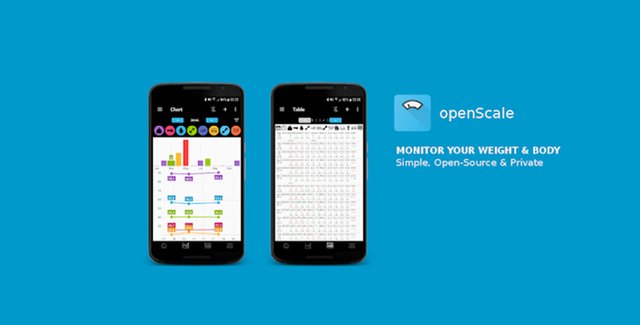 OpenScale is an Android software developed by Olie. That's the name that's available on Github.
The app is designed to help users track their weight and body metrics. According to the developer, it also supports Bluetooth scales. I think there are other things the app does. You'll find out later.
The app has been around for a while, judging by the initial commit on the project's repository on Github. The app is still actively maintained by the developer. As at the time of creating this article, the last commit on the repo was an hour ago.
Well, the app is really important and I'm glad the developer is actively maintaining it.
How does the app work?
We have already established the fact that openScale is a weight tracking app.
In this section, we are going to look at how this is done. The app is not quite simple to use. It will take very little time to understand the app's functions.
I will start to discuss how the app functions from its first launch.
When the app is launched for the first time, you'll be greeted with a user form. There is no first-time user guide slides. This means you'll have to figure things out yourself.
The user form is where you input your personal details. The details are;
Name
Birthday
Activity level
Gender
Height
Initial weight etc
Here's a screenshot of the user page showing all the information you are required to provide.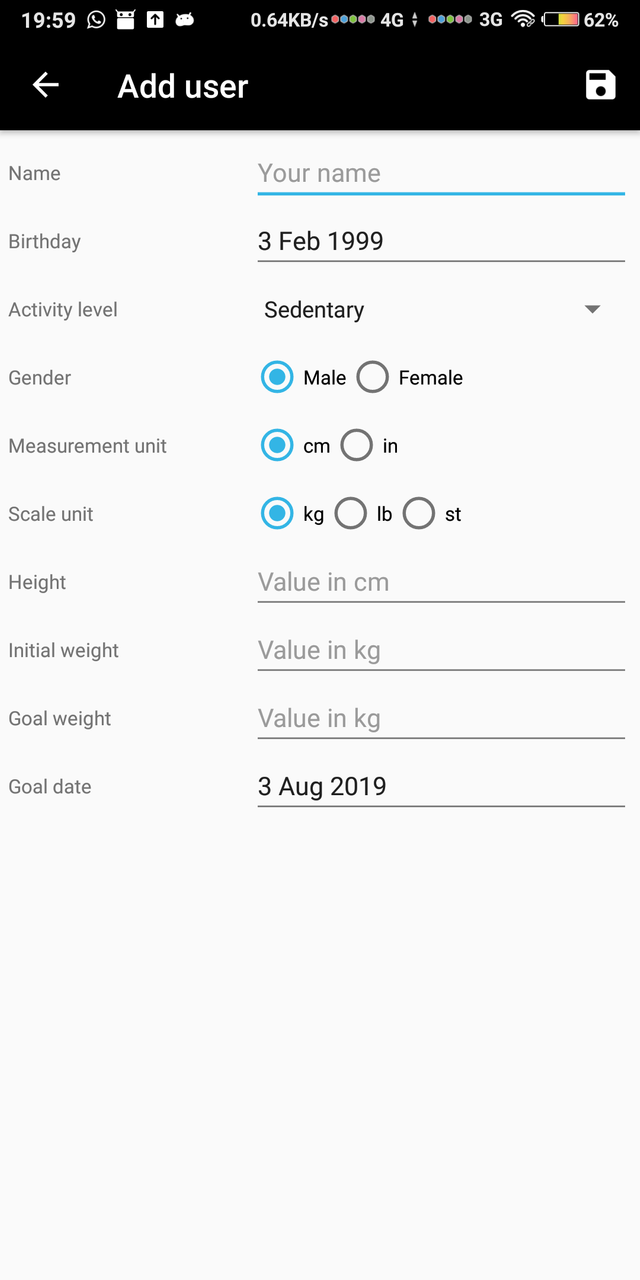 From the image above, you can see that there is a line where you can fill your goal weight. You can also fill when you want that goal, achieved. That is the goal date.
After filling the user form. This is the next screen that pops up. It is an overview of your body's measurements.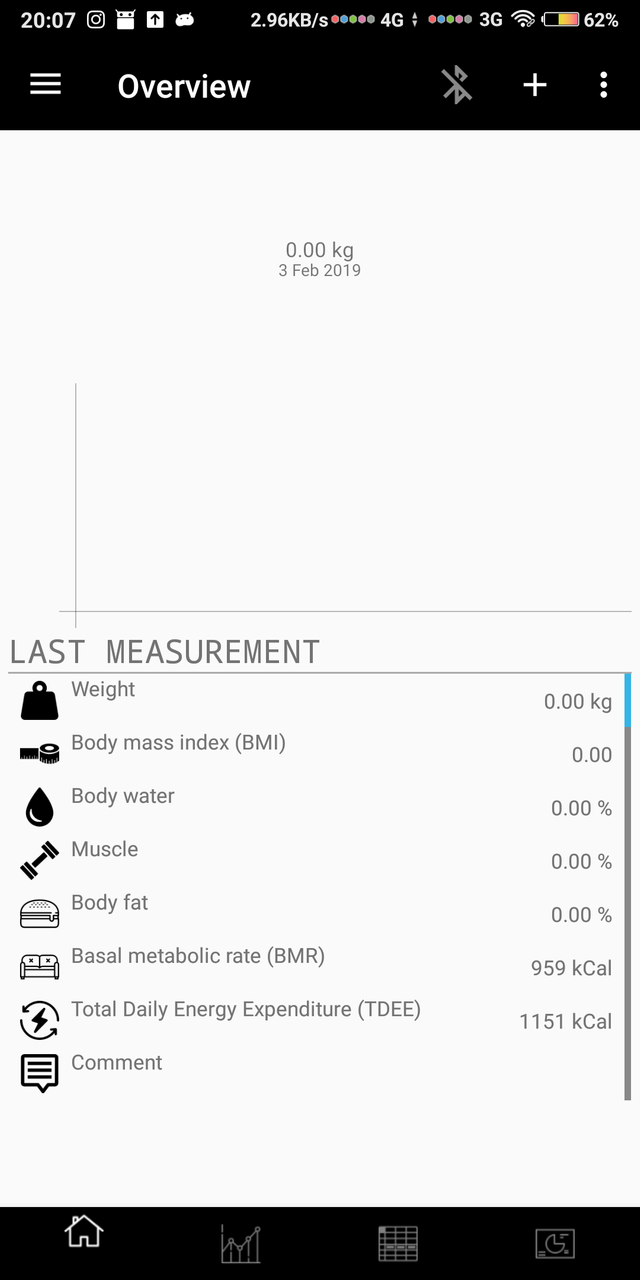 Many of those metrics are empty because the app can't generate those automatically. You'll have to input those measurements manually by yourself. You will have to carry out thorough body measurements to fill the metrics form properly.
I will warn though, the metrics are a lot. But, you can only fill the one that's really important to you.
The app automatically calculates your BMI. This is possible because while filling the user form, you provided information about your weight and height.
Another thing the app automatically calculates for you are;
Basal metabolic rate (BMR)
Total daily energy expenditure.
To make the app work efficiently, you will have to enter the metric's details.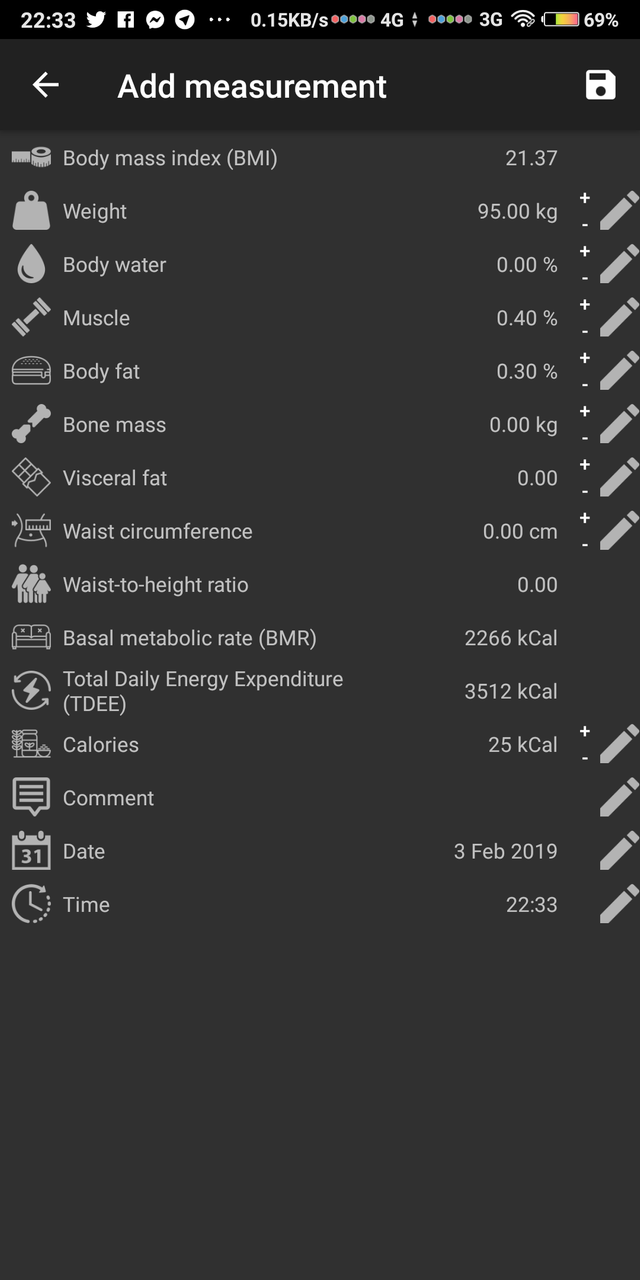 You can decide to do that daily, weekly, monthly or yearly.
Well, inputting body measurements daily would not be possible. If you engage in bodily exercises, or, you watch your weight, the effect is noticeable after a week or even more.
After each entry, the app evaluates the measurements and gives you quick visual feedback to show if you are within or outside the recommended range, given your age, sex, height etc.
You can also check your goal statistics, whether you are meeting your target.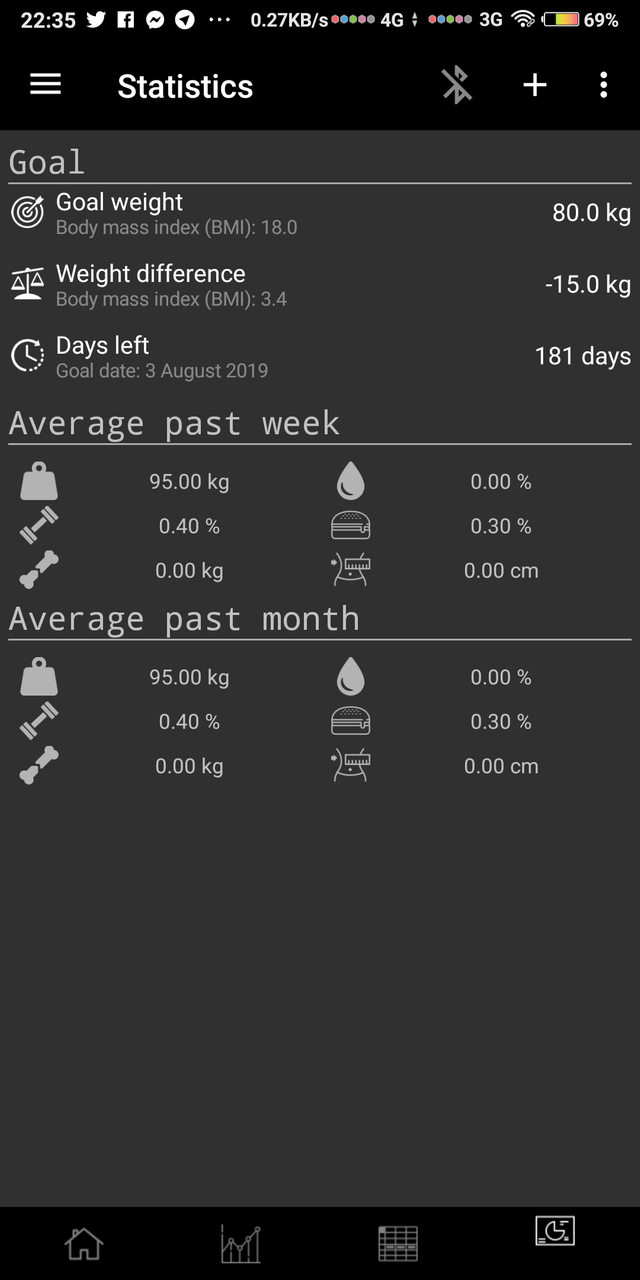 This is basically how the app works. My explanation can be confusing. It won't be that confusing when you check out the app. Well, I'm judging based on my own intellect though.
The developer didn't provide a help document in the app, which I didn't like. Clicking on help automatically opens up the app's wiki on Github. I didn't find the wiki useful though. I had to find a way around the app myself.
After I'm done with this series, I will work with the project owner on creating a help guide for new users.
Why it is important to track our body weight.
In this article, I mostly talked about the negative part with respect to our weight. But in some cases, people want to add weight instead of shedding some.
Tracking your weight then will help you to;
Measure your progress. That's if you are adding or shedding weight.
Gauge the effectiveness of your exercise regime and diet
Sustain motivation
Form healthy habits
Understand how your lifestyle choices are affecting you
Make informed decisions about what to do next
Learn about your body and focus on methods that work for you.
---
Summary
In this article, I've done an overview of the concept of weight tracking. Furthermore, I did a simple overview of an app that works alongside this concept.
From the content of the article, you will be able to deduce that openScale as an app on its own won't add or shed your current weight. It only helps you to keep track of the progress of the result of your exercise. That is if you are shedding weight.
The app is not magic, if you don't engage your body physically, the data on the app won't change and make you feel good.
This is one of the reasons I will be discussing another app which is closely related to openScale. The combination of openScale and Waistline will produce great results for you.
The importance of weight tracking cannot be overemphasized. It's the reason why this article is not just significant to the open source community. The significance stretches throughout the blockchain and beyond. The reason is that the issue of health is delicate and can deal the greatest fatality known to man, which is, Death.
This is why I think this app is important. Because, it literally has the potential to save lives, if properly utilized.
In my next article, I will be going into details about the app's features. It is important to know what the app has or doesn't have.
Thanks for reading.
Links
Project repository: https://github.com/oliexdev/openScale
App download link: https://play.google.com/store/apps/details?id=com.health.openscale
Resources:
Some points in this article were picked off that source. Other than that;
The content of this post is based on my knowledge of the project and mostly from my experience. The images used are screenshots of the app on my device. Other images gotten elsewhere have their source links provided just below them.
Series backlinks: