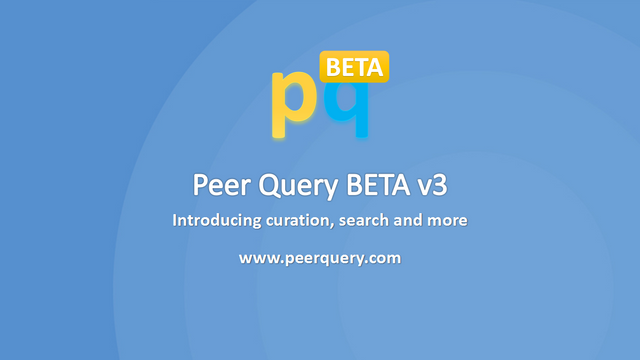 We are not yet done, yet Peer Query 3 may already be the most powerful app ever built on the Steem blockchain! If you have been waiting to get on Peer Query, this might be just the right time.
New introductions
Virtual office for the team
We now have a virtual office for the Peer Query team. This will make it easy for the team to manage the site, team, curation, and sponsors.
The office space can be accessed only the users on the team, however, as a developer you can explore it when you run a local copy of the Peer Query source code.
The office design is taken from Curator's virtual office and is on the route: www.peerquery.com/office.
In-built Curation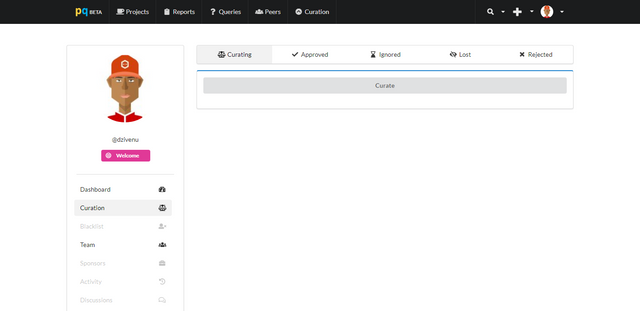 As part of the new virtual office, we also now have curation in-built into Peer Query. This was the initial design, but we previously split out Curator into the standalone system it currently is.
However moving forward, we have decided to run all of Peer Query's resources from sub-folder routes(peerquery.com/this) not from sub-domain routes(this.peerquery.com).
Hence we now have our curation system inbuilt into peer Query and would no longer run it from curator.peerquery.com or curation.peerquery.com. The public portal for our curation service is now: www.peerquery.com/curation.
We have a working bot fully set up too, one which votes on curation with the @peerquery (please support us with SP delegations) account.
Introducing search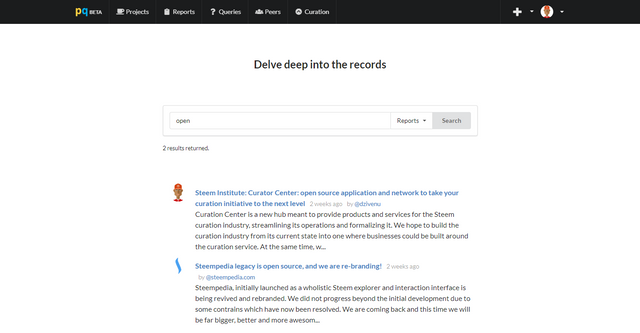 We now have a powerful search function on Peer Query. You can access it from the top navbar or from the search page.
This new and powerful search engine is able to search reports, queries, and projects. It supports basic pagination for getting results beyond the first search results.
Information pages
Newly added pages include Support, Statistics, Team, About, Open source, Curation, Blog, Partners.
Improvements
Improving the reading view
Styling on the post-reading has been improved to make it easier to read posts without stressing your eyes. Font size, line height, character spacing and other aspects of topology have been improved.
Introducing project types
We also now have default categorizations for project types. Currently, supported types are:
general
curation
campaign
support
community
contest
event
forum
media
movement
government
These categorizations would help us better understand the needs of projects as well as help us design tailored solutions for projects. They will also be used for sort projects, as a form of taxonomy.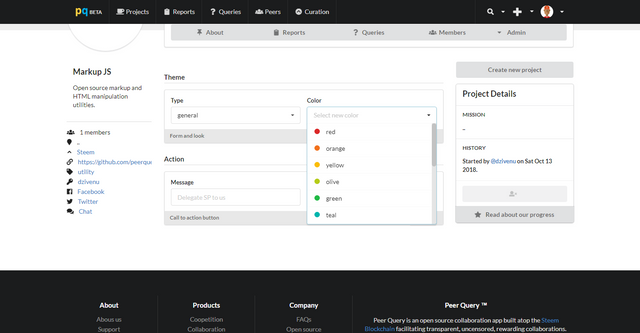 Introducing project themes(color)
Like to customize the color and look of your project? You can now do so. You can set custom colors for your project's look and feel. Supported colors include:
red
orange
yellow
olive
green
teal
blue
violet
purple
pink
brown
grey
black
none
Streamlined project creation
The project creation portal has been greatly simplified, to make the new project listing process very easy and fast. We have reduced the number of fields shown and only show those required.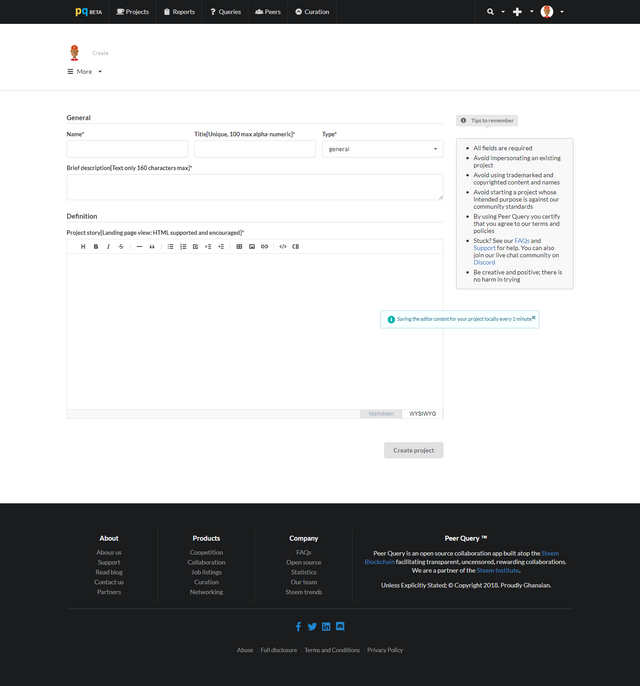 After creating a project you can manage it and configure it with on its settings and management pages.
Improved sidebar design
We have linked tour separate sections into two different sections, making the sidebar less crowded, cleaner and more resourceful.
Without related posts: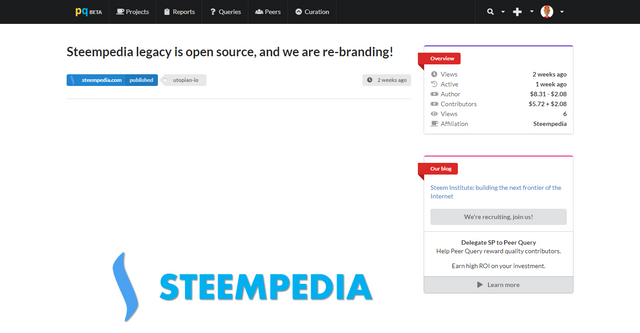 With related posts:

Improved permalink generation
Our attempt to use a semantic address scheme for content has introduced a few challenges for post URL schemes. The conventional address schemed used by most Steem apps is: /@username/permlink and /category/@username/permlink.
We use the format: /permalink, built using: /[username]-[title]-[unique random alpha-numeric].
This has worked well in some cases, except when the author's username contained the characters - or ..
This meant username like @utopian-io or @steempedia.com would not be able to either post or have their posts read. This issue has been addressed with a more advanced parser and scheme, so the number of hyphens and dots contained in a username would not disrupt its URL generation scheme.
We will write more on the solution we used new scheme soon.


**There have been so many new improvements, you would have to explore the site to discover them for yourself.
**
Invitation to join Peer Query
What is Peer Query?
Peer Query is a peer-to-peer collaborations site built atop the Steem Blockchain. It is a hub to list your project, create queries(such as jobs or gigs) and publish project progress reports.
You users can request invites to project memberships, and each project can have a team. You can publish personal blog posts like on Steem, or you can publish reports on projects.
As an enthusiast, you can join any project you like or remain a blogger or contributor. You can also join our curation team. As an investor, you can delegate Steem power to our curation team project and earn returns from our author reward split.
You can browse the queries section to find jobs or gigs, and you can create them. You can also discover, read and interact ( resteem, vote, follow author and comment ) on all the trending contents on Steem right on Peer Query without leaving to Steemit.com or Busy.org.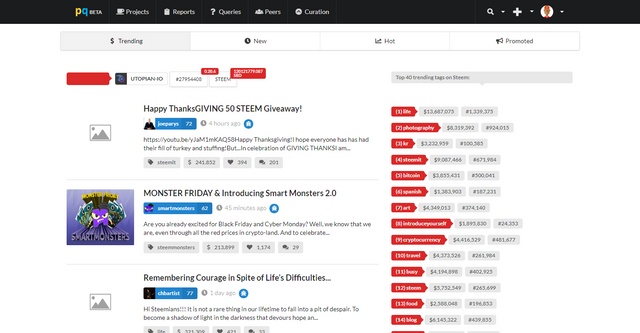 There is so much you can do on Peer Query, you should try it for yourself.
Why should you join Peer Query?
There are several reasons why you should join Peer Query. Consider the following:
Build your dream: Everyone has ambition. Peer Query is built to allow you to build your dream together with like-minded peers.
Get rewarded in Steem: We have a curation system in place and ready for production so your efforts will not go in vain.
We have everything you need: We have a fully working site, with one of the most advanced app ever built on Steem
Build on Steem!: Peer Query was built for Steemians and their projects. All reports published through Peer Query are simple Steem posts, like those published on Steemit or Busy. This means you engage the Steem community, their participation, and support.
Peer Query is free!: We intend to split curation rewards for post author rewards to support our work and rewards our curation Steem Power delegators like on other apps, but the amount would be very minimal.
Project control: As a project owner, you can transfer your project, export its data as JSON(XML coming soon) or delete it.
We are open source and accountable: since inception, Peer Query has been an open source and has been supported widely by @Utopian-io.
Peer Query is safe!: we are powered by Steem Connect, so you keep your keys to yourself! We only ask for posting, voting, and custom_json auths. Nothing to do with funds or higher auths is required. You can always revoke our auth from Steem Connect.
Peer Query is evolving: More updates are on the way, with improvements, new features including notifications, messaging, account creation(Steem), escrow creation and many many more.
We are building our team
We are seeking Steem Power delegators
The Peer Query curation service is used to support the work of project authors. Project's team publishes reports on the progress of their project, news and even conventional posts by users.
Our curation team reviews them and selects the most intriguing for curation votes by our @peerquery account. Our curators and team also do receive votes from our account for their work.
If you want to support the work of our community's project teams as well as our work, kindly consider delegating Steem power to support our @curation services. We have a package for Steem power investors too.
Contact us in our Discord channel: https://discord.gg/rz9GwAa.
We are recruiting curators and bloggers
If you are also interested in curating quality project reports as well as exciting posts by the community members, consider joining our curation team: https://discord.gg/rz9GwAa.
Curators receive daily upvotes on their posts.
About the project
Previous reports in the series
Peer Query v2: introducing collaboration, management and more
Peer Query production upgrade: collaborators, we are good to go!
Peer Query update: create queries, publish to Utopian, powerful sitemaps and more
Project links
Repo: https://github.com/peerquery/beta
Site: https://www.peerquery.com
Chat: https://discord.gg/rz9GwAa
---
Published on Peer Query - Blockchain-powered p2p collaboration.