Introduction
Hello Utopians and Steemians! @cryptouru over here with another contribution :)
This time I come with something of my own. A server side rendered Steem feed and frontend.
Repository & demo
https://github.com/cryptouru/nuxt-steem
http://nuxt-steem.herokuapp.com/
Background (Optional read)
Some time ago while making my firsts experiments with Steem I coded some sort of prototype/proof of concept which ended up being https://beta.comus.fun/, something which now is a small venture I have with @anonycoin. As it started up as a fun experiment and evolved into a rushed product when Dmania gave the news(which did not last) of going offline, the code eded being quite bad. Plenty of essential functionality and considerations were missed or overlook in the process.
Such was the case that I did not want to look back at the code and wanted to start fresh with something useful for me and the community. This is how the idea of building a solid, yet simple Single page application starter frontend for Steem came to life.
What is it?
Nuxt Steem is a mobile first server side rendered single page Steem frontend starter. It aims to be a simple, yet useful steem app/frontend development kit. The goal is to make something easy to follow and understand and not as big as our current counterparts such as the busy.org repo or steemits condenser, yet without leaving behing good practises and considerations.
Learn from my mistakes
When building my first Steem frontend I failed to build a decent state management module and completed overlooked the importance of server side rendering. This mistake made focus on this to aspects of the code right from the beginning.
For this i used NuxtJS and Vuex
NuxtJS is a framework built on top of VueJS to build universal applications. It eases a lot the workload on implementing server side rendering and provides solid directives and guidelines for future developers of the app.
https://nuxtjs.org/
Vuex is the standard state management library for VueJS and was a quite obvious decision
https://vuex.vuejs.org/
What's done?
Storyboard of components
Not only I wanted to have solid state management and SSR I did wanted the components to be isolated and reusable. Storybook proved to be great for this
https://storybook.js.org/
With it I made the first implementations of the PostPreview component and the PostList component.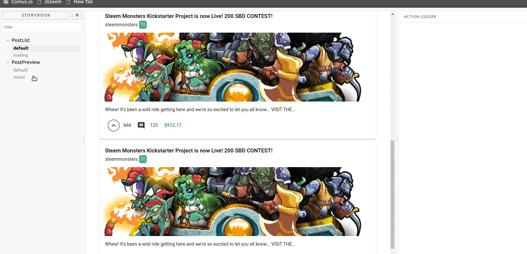 The previous implementetion allowed to easily visualize and build the components in issolation, ensuring reusability.
Storyshot tests
Storybook also provides an addon called Storyshots, which when combined with jest (https://jestjs.io/) provides some very nice and basic component testing.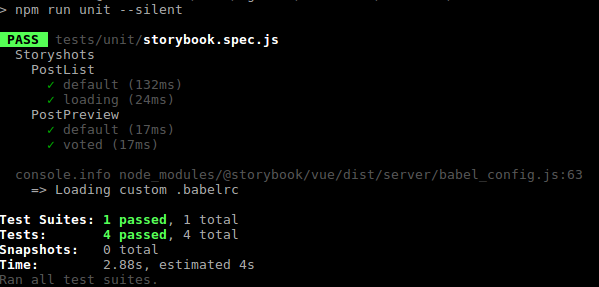 Basic feed and routing
The hot, trending and created feeds by tag have been implemented.
Combining NuxtJS and Vuex first load of posts and tags is made on the server so a fully loaded page can always be crawled by search engines and external apps.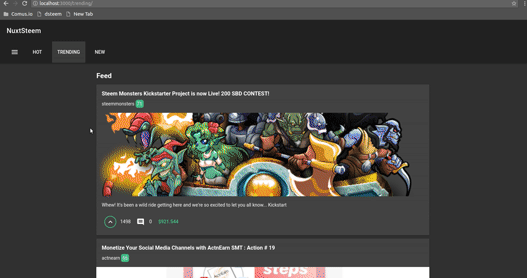 The rest of the stack
Besides of the already mentiones technologies the following libraries where used
What is missing?
Well... A lot
For starters the initial load time is really bothering me and it's even longer than what I even expected. So heavy optimizations will be needed and possibly a cache system (for initial requests) as the Steem API may not prove good enough to give a decent experience on SSR apps
Post view
Steemconnect integration
Possibility to vote & comment
User profile, blog, comments & feed
There's a lot to be done.
I invite you to help
As you can see there is many room for improvement and work. I don't mind a helping hand giving me feedback or coding alongside, if you are interested on being part of this please don't hesitate to leave a comment or contact me via Discord: cryptouru#6858
The end?
I guess so...
For this contribution I did not make a pull request, as the repository is my own and this is the project introduction. Please advice on how I should do this for future contributions of my own repositories.
I hope you like my contribution and enjoyed the read.
Cheers!