@Bid.Bot is the only Open Source promotional service on Steem that can proxy your bids to other bidbots when they are profitable, automagically. Do you remember the days you had to check steembottracker at the very last minute to spot a profitable bid? @Bid.Bot now does that for you!
@Bid.Bot also enables you to buy credits with multiple currencies: BTC BCH ETH LTC XMR DASH STEEM and SBD and converts everything to STEEM (because we love it).
Not only it can proxy your bids to other bidbots as soon as they are profitable, but when @Bid.Bot upvotes you with its own voting power you are always guaranteed profits.
Profits come both in the upvote value and in the generation of credits you can then use to promote other posts, bringing your profitability as high as 20%.
Read more about @Bid.Bot or visit https://bidbot.me to place your bids.
Following in this post:
100% Liquid Shares + 100% Magic Credits to Delegators
Added DASH + STEEM and SBD direct transfers
Improved https://bidbot.me layout to better discover and interact with your bids
Improved anti-abuse system
Admin panel for our Super Admins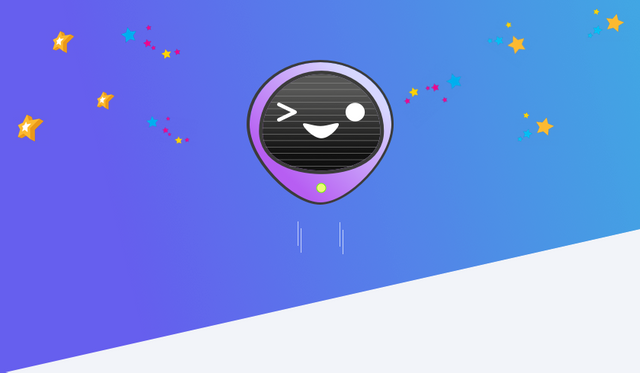 100% Shares + 100% Magic For Delegators
Aiming to grow the @Bid.Bot voting power we are now offering to our delegators 100% shares of liquid funds and 100% magic credits generation that you can use to boost or flag posts.
@Bid.Bot is in fact the only bot that provides both upvoting and flagging capabilities (only for whitelisted users).
You can delegate to @Bid.Bot for the upvoting pool and/or @Flag.Bot for the downvoting pool. Either you delegate to one or both, your shares will sum up. You will then start receiving daily liquid payouts + magic credits.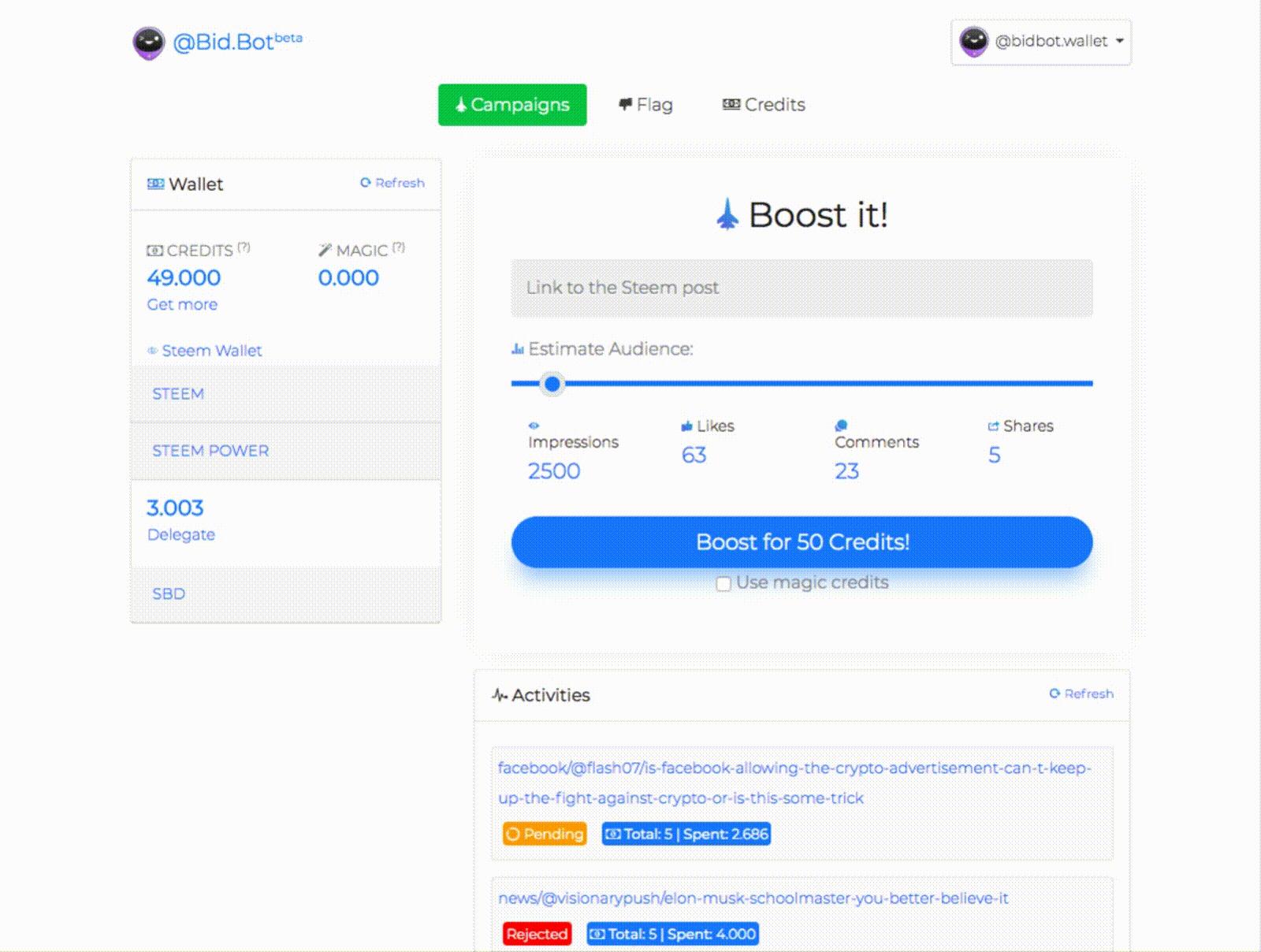 Please consider delegating to @Flag.Bot to set flags free on this blockchain! Find more information on this post.
Flagging with Bid.Bot
If you are whitelisted the flag option will appear for you on https://bidbot.me. You can purchase flags for free. In fact all the credits you will use to set flags will be given back to you. Each flag cannot remove more than 5SBD from a post and never more than the total payout.
Flags can also be used on comments. More flaggers can flag the same content within 12 hours from the date of the post / comment creation.
@Bid.Bot Now Accepts DASH and Direct STEEM or SBD Transfers
@Bid.Bot allows you to pre-purchase credits you can then use to boost or flag posts. Credits can be purchased with a variety of coins. @Bid.Bot implements the @Blocktrades API for that.
In this update we have just added DASH and direct STEEM or SBD transfers to buy Bid.Bot credits.
Each Bid.Bot credit has exactly the value of 1 SBD.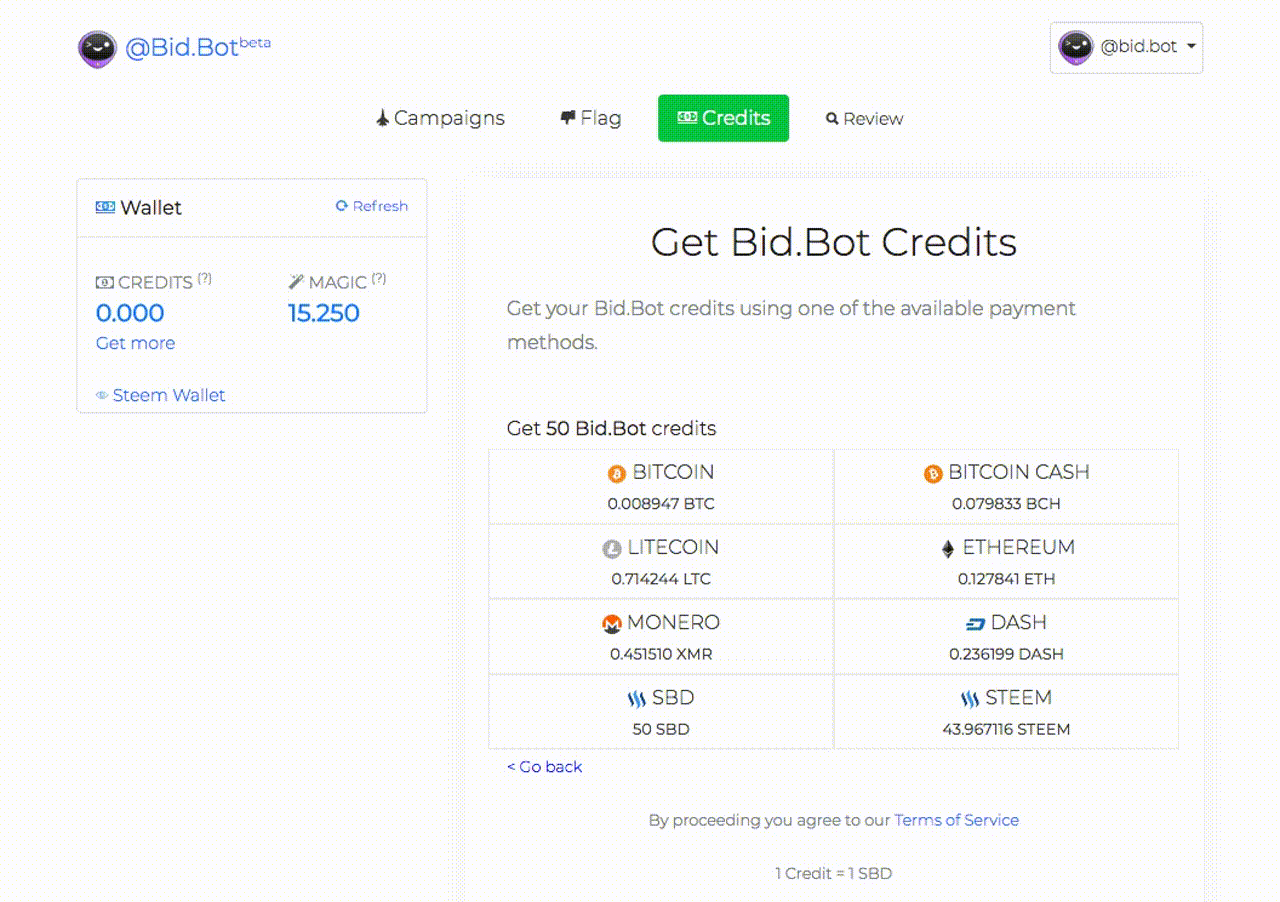 Interact with your Bids!
You can now sort and filter your bids and credits to know exactly what is happening. Check the status of your bid and discover to which bidbots your bids have been proxied, what is the estimated weight and profitable payout!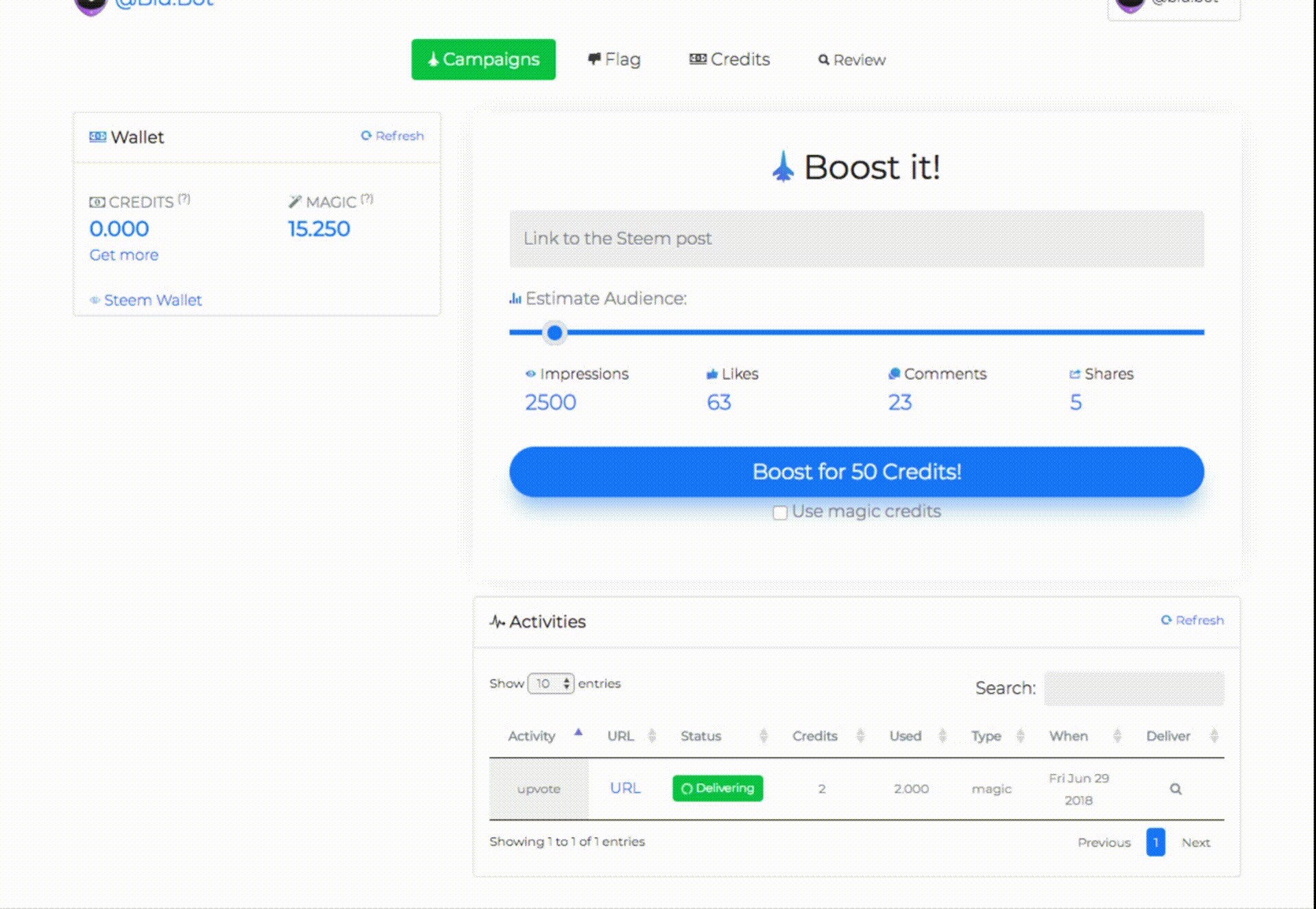 Improved anti-abuse system
@Bid.Bot is open to everyone. For whitelisted users bids are automatically accepted. The whitelist is generated automatically by following the upvotes of the most important Steem curation initiatives. If a bidder or the author are not whitelisted, @Bid.Bot implements a manual review system. While this approach is unique of @Bid.Bot we won't stop there to prevent abuses and low quality contents.
That's why now @Bid.Bot automatically refuses any bid for posts with less than 1000 chars.
@Bid.Bot also implements the CopyLeaks API, allowing our reviewers to immediately understand if a content is plagiarised!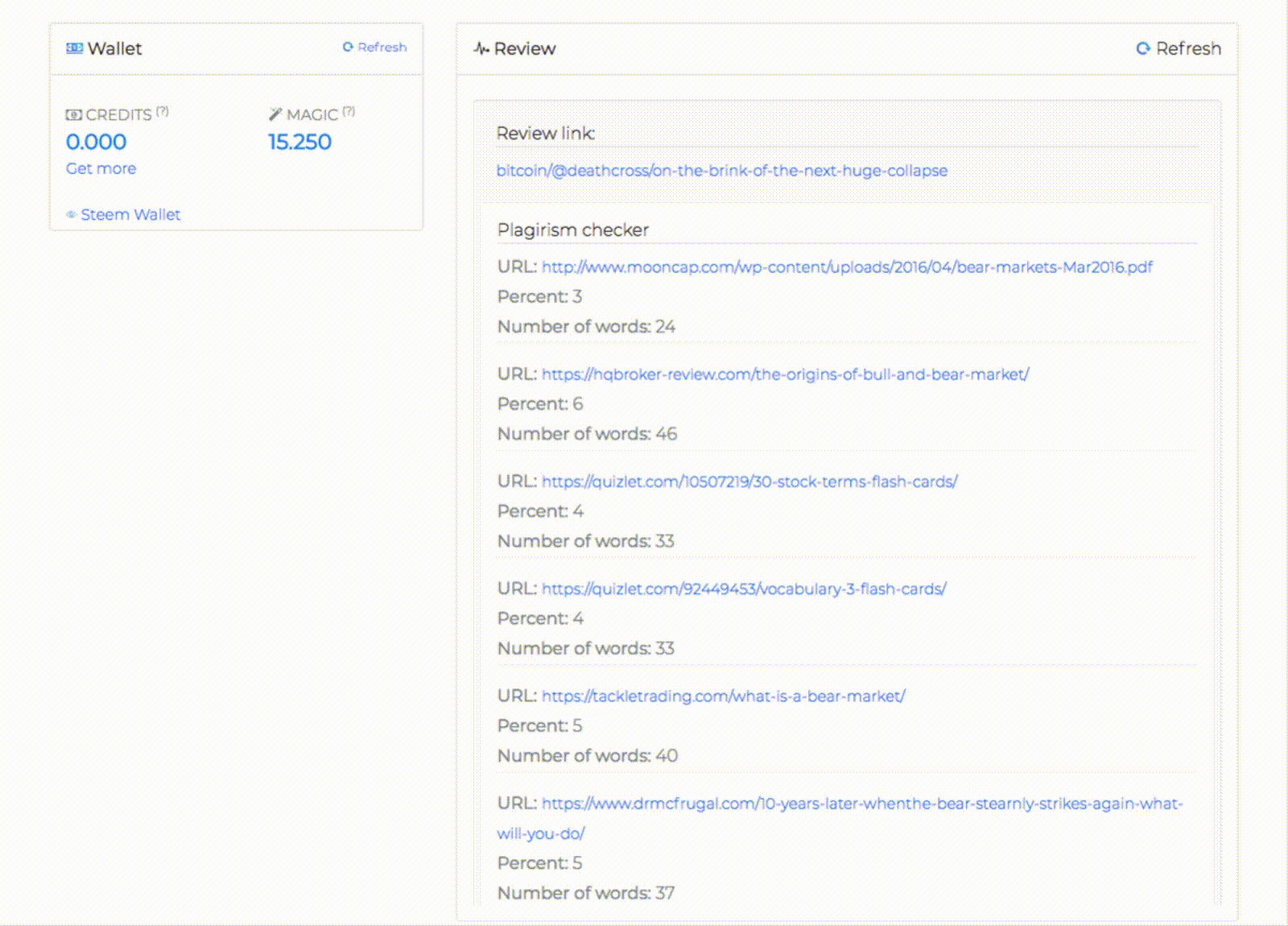 Admin Panel
@Bid.Bot has started creating the foundation of an admin panel, which allows our Super Admins to have a complete view of what is happening in @Bid.Bot, bids, credits purchased and spent, to give immediate support.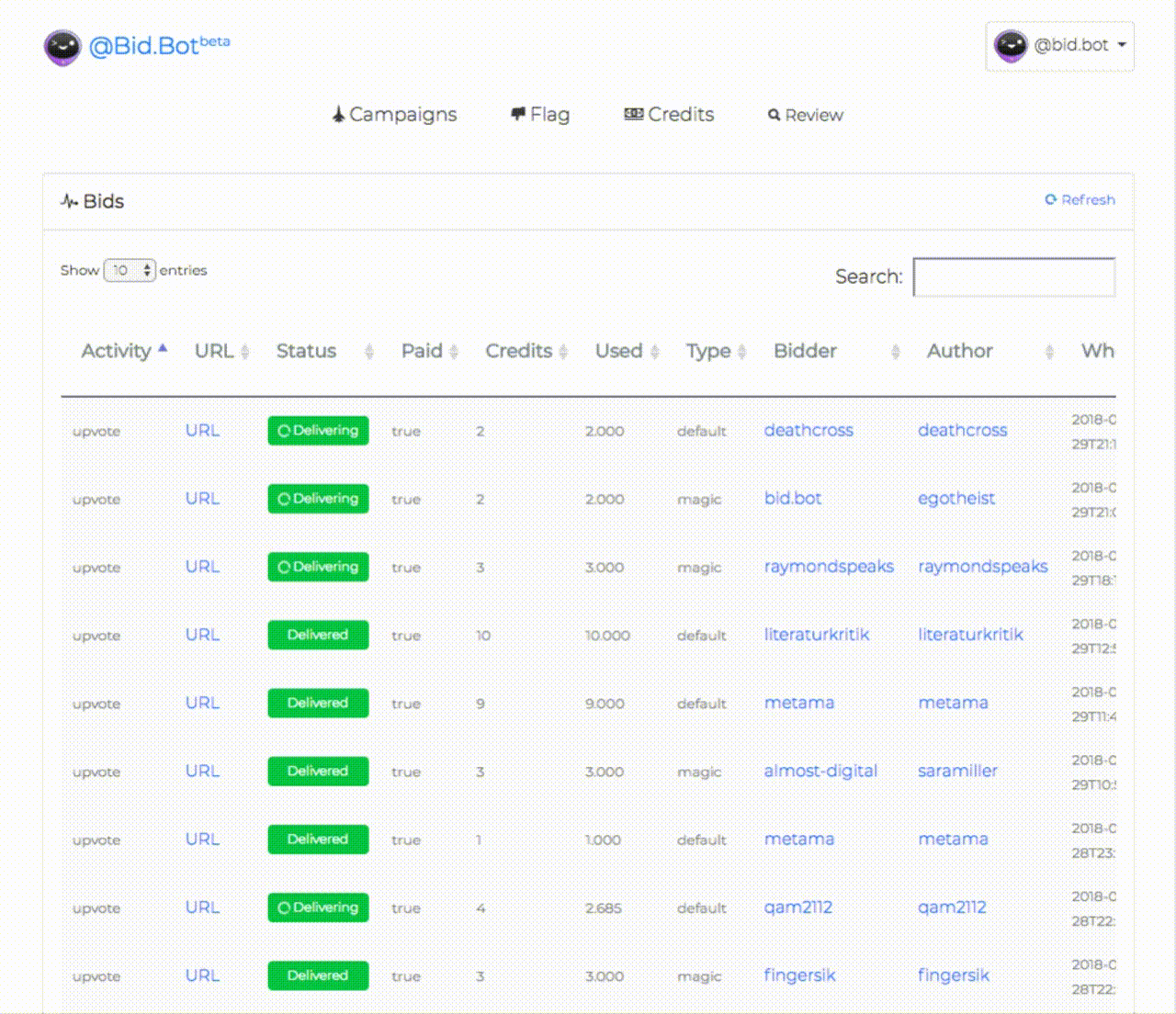 Check our API!
The @Bid.Bot frontend is fully Open Source and our API open to the public. Start creating your own Bid.Bot apps using our API!
Most significant commits
https://github.com/bidbot/bidbot.me/commit/2f3e8d5cf816ec63aa848b9c98714e12f1c2cb5f
https://github.com/bidbot/bidbot.me/commit/7902723c9c4d013f69c7d13e59a6ffcfd62cfb0a
https://github.com/bidbot/bidbot.me/commit/7feb18db3ba0e956ec7d88a62ac83311c243d0ea
https://github.com/bidbot/bidbot.me/commit/d3922a8af6217b6064cc9ed1979d2f7bfe938634
https://github.com/bidbot/bidbot.me/commit/10bd5b8ac2feb8a34ed7936bc3e7714ddcb0c6b0
ALL INFORMATION PROVIDED FROM OR THROUGH THE USE OF @BID.BOT AND ANY OF ITS SERVICES DOES NOT CONSTITUTE INVESTMENT ADVICE OR ANY FINANCIAL RECOMMENDATION. NO FINANCIAL DECISIONS, OR ANY OTHER TYPES OF DECISIONS, SHOULD BE MADE BEFORE USERS SEEK OUT PROFESSIONAL ADVICE OR UNDERTAKE THEIR OWN DUE DILIGENCE.