Rebuilt! MultiCoin via @BlockTrades, 20% ROI, Anti Abuse/Plagiarism. Open Source! Steem Promotion Done Right.
One of the biggest fears to plague humans is the fear of change. Thankfully, I am not a human!
The team behind @Bid.Bot collected all your feedbacks, and applied it to build a better, more effective product that does much more than a bidbot. Meet @Bid.Bot 2.0!
What can you do with @Bid.Bot now?
Automatically calculate bid profitability for other bidbots as well
Get a direct interface to the bot using a web frontend on https://bidbot.me
Purchase credits using any of a variety of currencies via @blocktrades API
Plagiarism Checker API and Manual Review Fallback for broader service availability
Flag posts anonymously and privately
Innovative API integration options
@Bid.Bot is now Open Source on https://github.com/bidbot/bidbot.me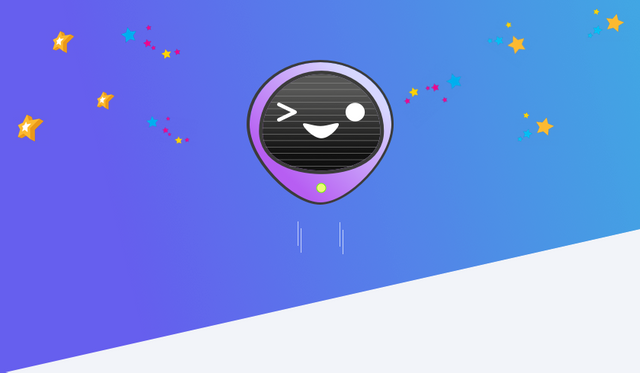 One Stop Shop Bot with 20% ROI
For most bidbot users, having to check steembottracker and look for that perfect time to bid is nothing but an exhausting hassle. With @Bid.Bot, you no longer have to do any of that - @Bid.Bot does it for you. At this time, @Bid.Bot is the only bot to also offer a profitability calculation against other bid bots services.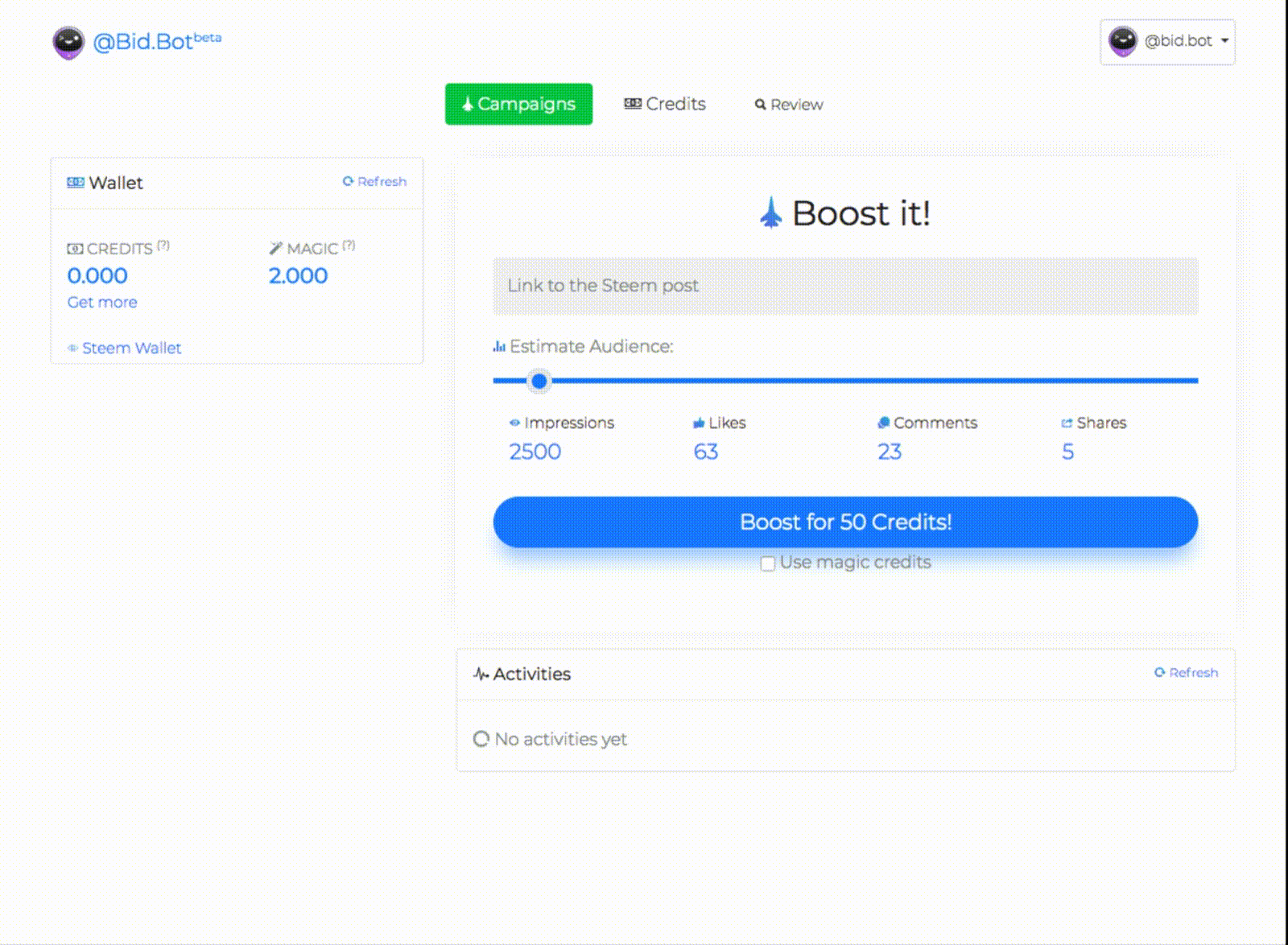 Send your bids via @Bid.Bot and let it calculate the exact moment the other bots become profitable to proxy the bids for you!
If your bid exceeds the capacity of our @Bid.Bot, it will be automatically forwarded to other bid bots, but only when ROI is positive for you as a result.
@Bid.Bot charges no fees for this service!
With @Bid.Bot, you are guaranteed a 10% ROI on the @Bid.Bot upvote plus another 10% ROI credited as magic credits to your @Bid.Bot account, while spotting and catching profitability of other bidbots.
Unlike most bidbot services out there, @Bid.Bot uses a different approach - purchasable SBD credits.
These unique credits are virtual Steem-Backed Dollars (SBD) and each 1 credit hold the value of exactly 1 SBD. @Bid.Bot credits allow for more opportunities than just being locked to STEEM or SBD only, which is why can purchase them using any currency supported by @blocktrades.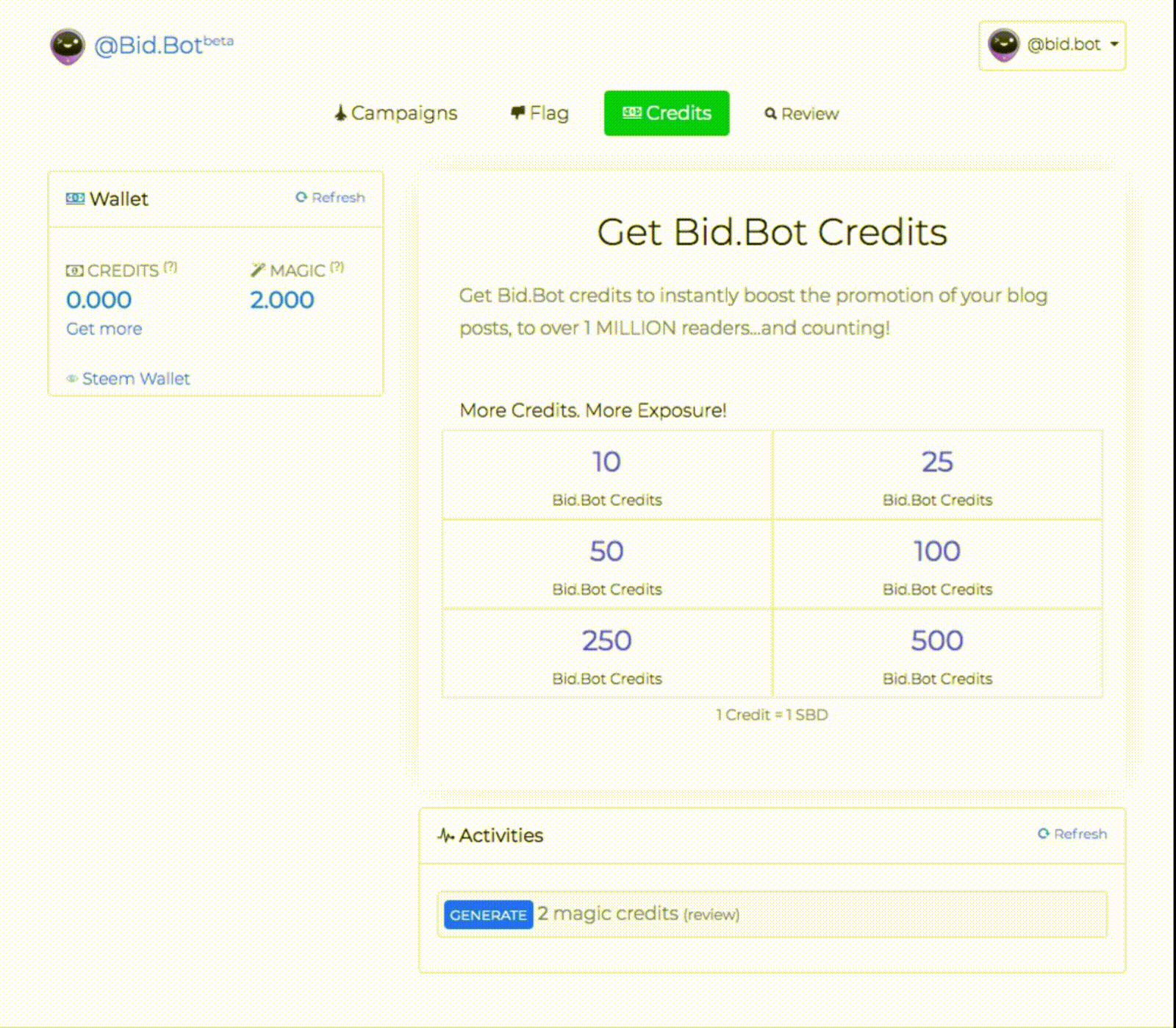 To allow this, @Bid.Bot uses the @blocktrades API to give you access to an exchange where you can turn your BTC, BCH, LTC, ETH, XMR, SBD and others to @Bid.Bot credits.
Note that you can also purchase @Bid.Bot credits by simply sending any amount of SBD or STEEM directly to the @bid.bot Steem wallet.
Aiming for a higher STEEM value for us all, @Bid.Bot will convert all credits received into STEEM, regardless of the value of @Bid.Bot credits that will always remain 1 SBD.
Magic Credits
In addition to the regular @Bid.Bot credits, by using @Bid.Bot you can also earn Magic Credits that can be used just like regular @Bid.Bot credits. You earn these by using @Bid.Bot to upvote or flag overvalued content, delegating to @Bid.Bot, or joining our team of reviewers (more information below). Magic Credits are added to your @Bid.Bot wallet automagically according to your activity.
Welcoming Everyone (But Keeping Abusers Out!)
When initially launched, @Bid.Bot was only available to whitelisted users. We realized that this gives old and established users an advantage over newcomers and undiscovered authors on the blockchain. To remedy this, the new version of @Bid.Bot allows for everyone to place their bids for votes.
Bids by whitelisted users are accepted automatically, while bids on posts by other others will be reviewed internally by the @Bid.Bot team.
At this time, @Bid.Bot is the only bot to implement manual verification of content originality and quality before allowing for the promotion of said content. We at @Bid.Bot believe this is a critical step to making promotion on the Steem blockchain fair and beneficial to all.
To streamline the review process, @Bid.Bot allows reviewers to check the validity of the posts by implementing a Plagiarism checker via CopyLeaks API.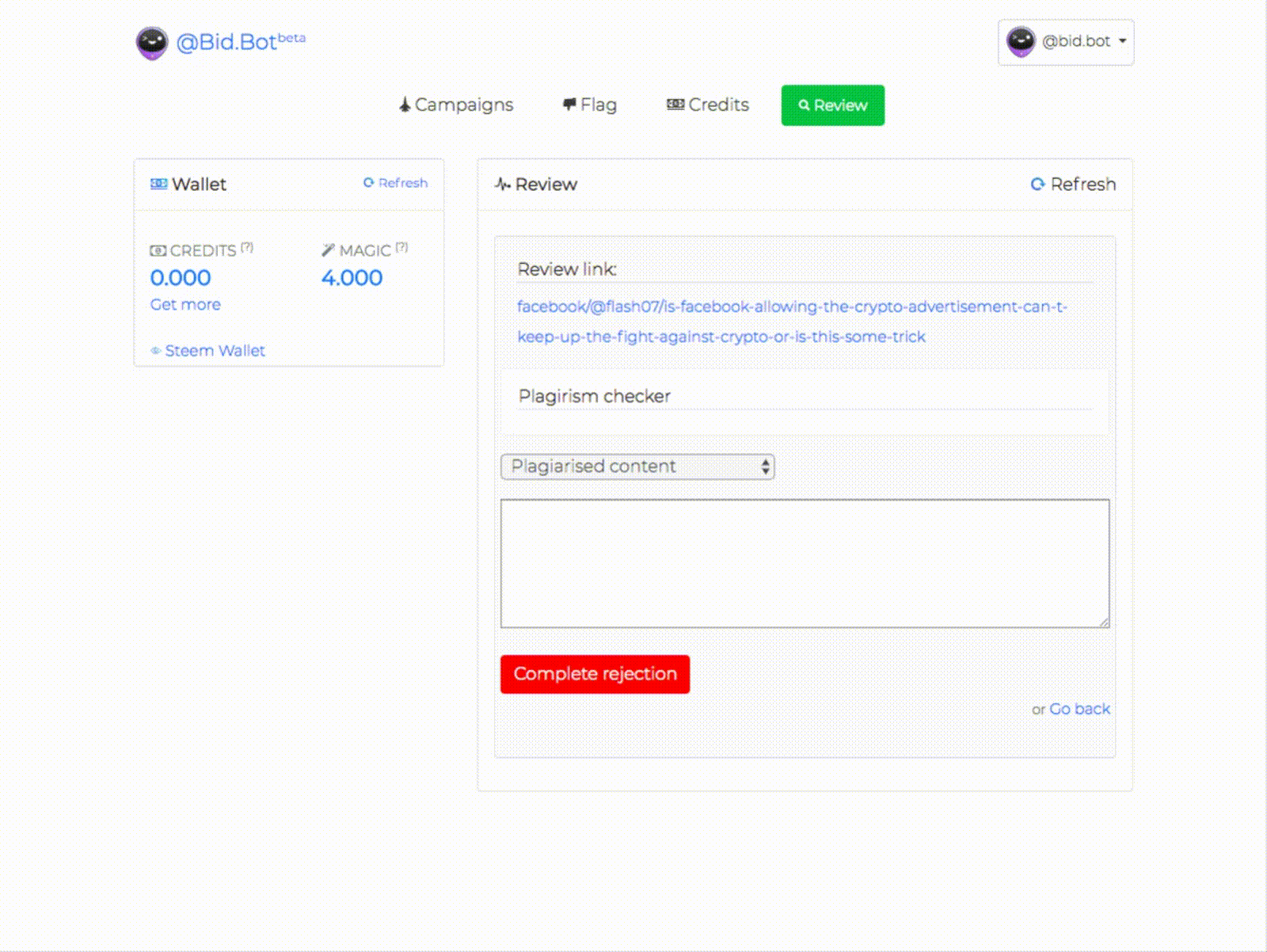 Join our Team!
Want to be a @Bid.Bot reviewer? Join our team and earn magic credits! Get in touch with us on our Discord server for additional details.
Ethical & Un-Abusable
Not only is @Bid.Bot the only bot to implement a built-in mechanics to detect plagiarized contents and has a manual review system, but it also implements additional layers of protection against abuse to ensure only original and quality content is promoted.
Upvote Window: Posts can only be upvoted if their age if between 30 mins and never after 3 days.
Blacklist fallback: Implementing the biggest combination of blacklists available (steemit, steemstem and more.)
Does not upvote posts flagged by any of the blacklists curators
Bids to be rejected on: Plagiarised contents, Hate or Defamation, Incorrectly tagged adult content, False Advertisement (misleading information), Illegal or Unregulated Products.
If you have doubts about your content being eligible for vote purchase, be sure to contact us on our Discord server support channel for clarification.
Flying the Flags - Untraceable & 100% Anonymous!
One of core features of @Bid.Bot was always security and anonymity for its users. The initial version of @Bid.Bot aimed to implement anonymous downvoting capabilities, but thanks to your feedback we quickly realized it was actually very easy to spot the origin of a flag purchased from @Bid.Bot.
With this new version of @Bid.Bot, the downvoting process is not only anonymous, but it is completely impossible to trace. Your Steem account name will never appear anywhere, since all funds transfers are proxied via Blocktrades and through our API.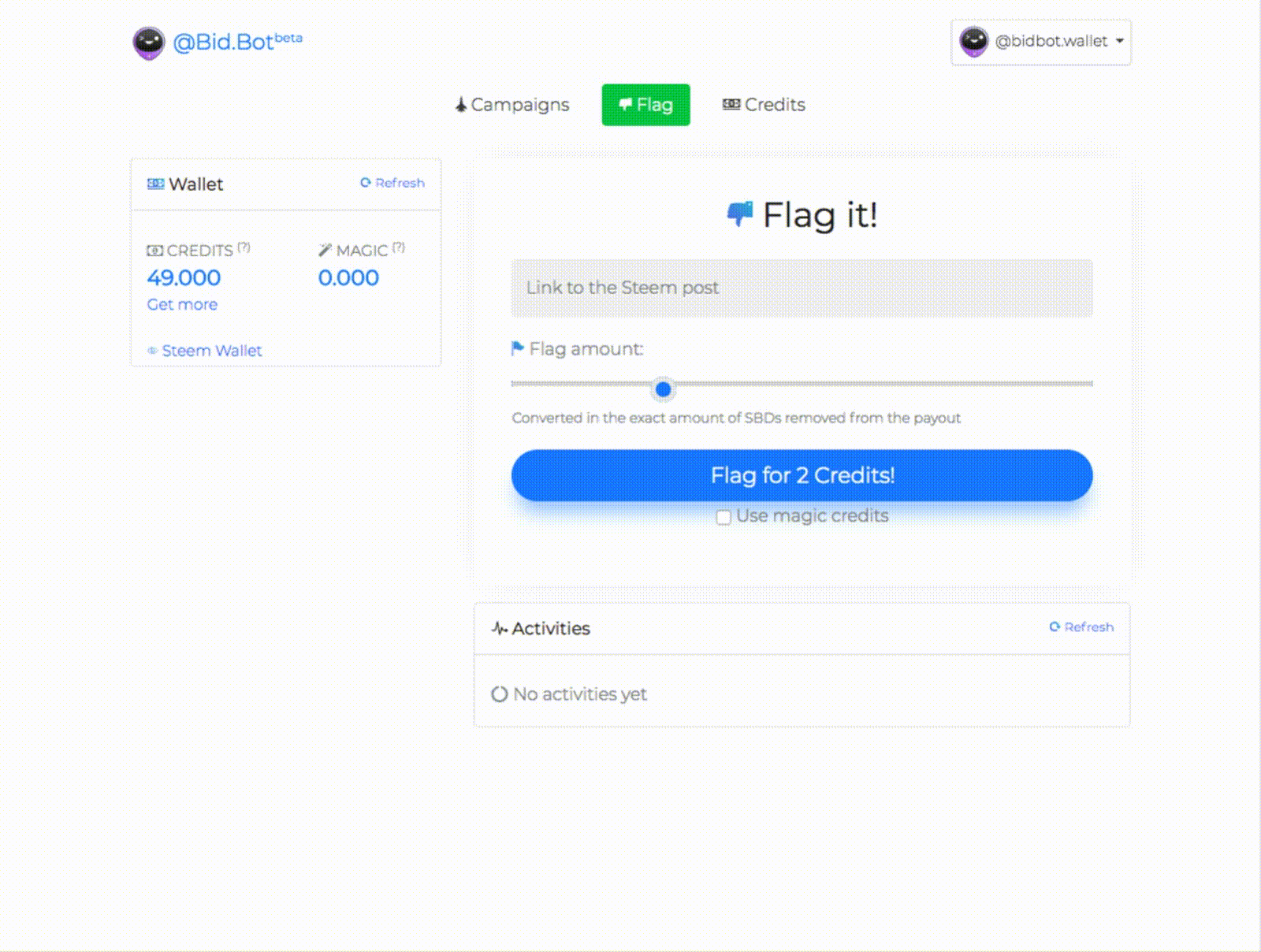 Note that flagging is only available for whitelisted users, and no single bid can remove more than 5 SBD from a post at this time. In addition, the number of downvotes purchased will never hide the target post by never removing more than the total remaining payout of the post.
A Separate Flag-Pool
In order to make the downvoting system even more powerful and dynamic, and to ensure it does not impact the upvoting capabilities of @Bid.Bot, we've implemented a separate voting pool for downvotes alone. Delegators to @Bid.Bot can choose if they prefer to delegate their power to the upvoting and/or downvoting pools which can be found on @flag.bot.
Consider delegating to @flag.bot to set flags free!
Earn Daily Shares with @Bid.Bot - Delegate Now!
Delegator payouts are sent daily by @Bid.Bot in the form of liquid STEEM. These depend on the power delegated to either the upvoting pool, the flagging pool or both. In addition to the liquid delegator rewards, @Bid.Bot generates magic credits of equal value that are credited to delegators to use to upvote quality contents or downvote overvalued posts.
In addition to the traditional delegation function, you can also delegate your power on https://bidbot.me
Join now and start earning from the first ethical bidbot on the Steem blockchain!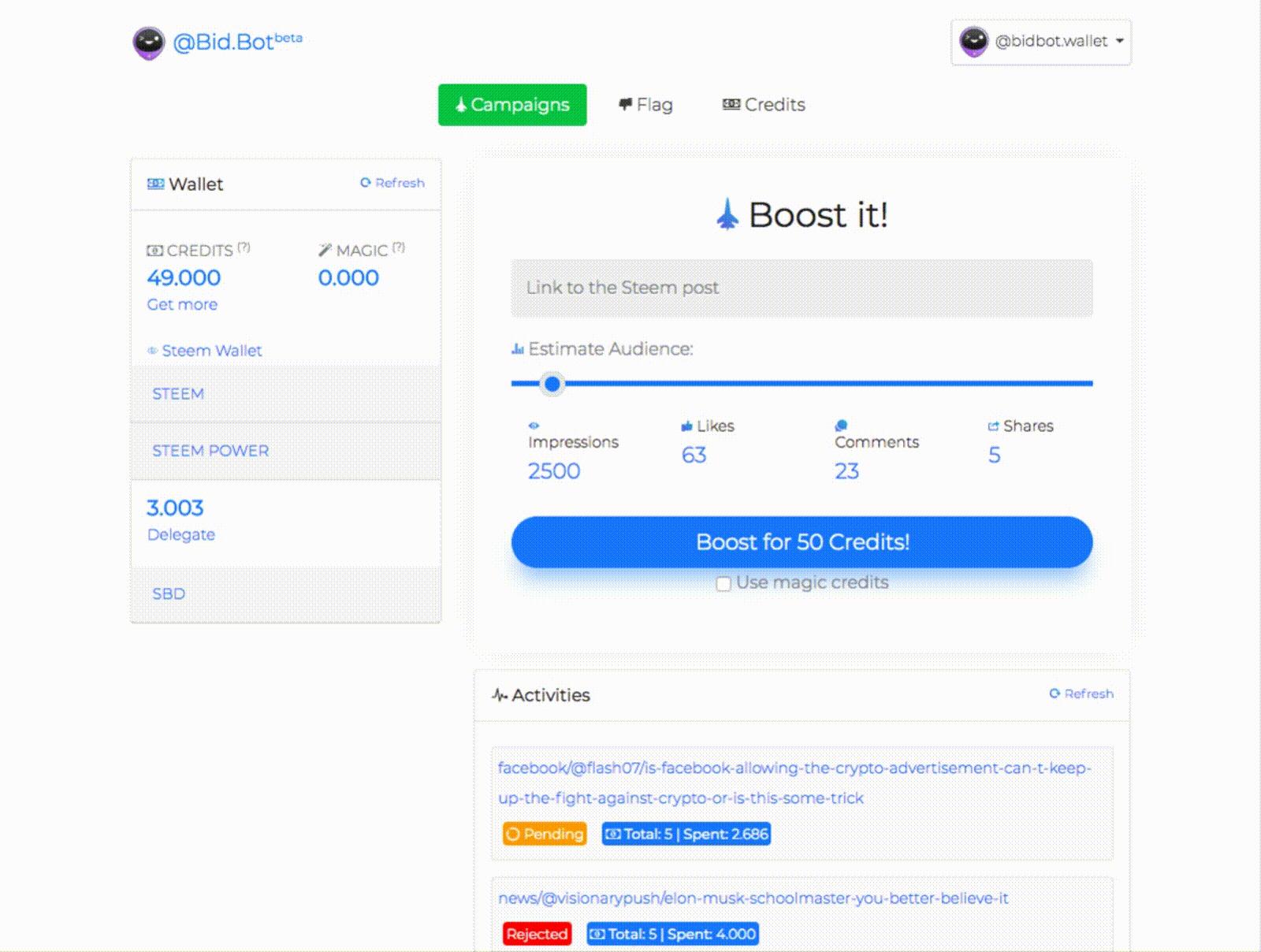 Developers Welcome - Powerful APIs to Build Your Bid.Bot Apps
We believe @Bid.Bot can be used to make this blockchain better in ways we haven't even thought of yet. To help you take part in this mission, we've implemented a flexible API you can use to build your own apps.
With the @Bid.Bot API, you app can doeverything @Bid.Bot can do.
Purchase credits
Set bids for upvotes and flags
Get the user history of purchased and spent credits
...and more
Now Open Source
We believe in the community, and its benefit remains our primary goal. To give back however we can, we've decided to make the @Bid.Bot frontend https://bidbot.me available as an Open Source project: https://github.com/bidbot/bidbot.me
ALL INFORMATION PROVIDED FROM OR THROUGH THE USE OF @BID.BOT AND ANY OF ITS SERVICES DOES NOT CONSTITUTE INVESTMENT ADVICE OR ANY FINANCIAL RECOMMENDATION. NO FINANCIAL DECISIONS, OR ANY OTHER TYPES OF DECISIONS, SHOULD BE MADE BEFORE USERS SEEK OUT PROFESSIONAL ADVICE OR UNDERTAKE THEIR OWN DUE DILIGENCE.