Announcing The "MARKET" Token: Diving Into The Economics
Recently, I announced the Steem Marketplace initiative, an umbrella set of projects that aim to create a thriving suite of marketplaces on the Steem blockchain.
The MARKET token has now been created on Steem Engine and in this post, I will go into detail what the token aims to do, why it was created the technical specifics behind the token itself.
Work has also been started on the Gift Card Marketplace front-end, which you can follow along with here: https://github.com/steem-marketplace/giftcard-frontend and similarly, an overview of all planned projects and issues can be found here: https://github.com/steem-marketplace.
While the project is still in its early stages, all forms of contribution are welcomed as well as any code review. Just keep in mind it is still early days and things have yet to be set more concretely.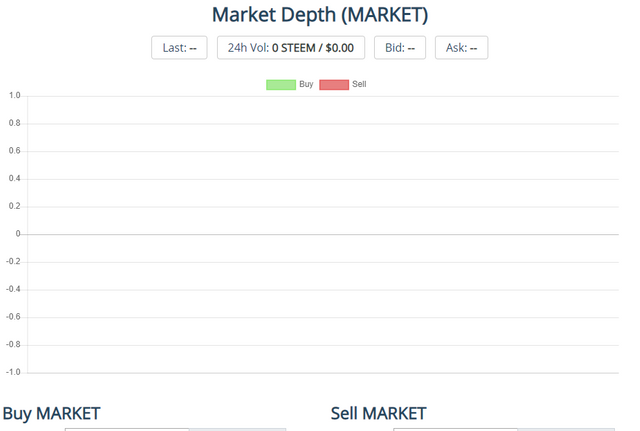 Token Details
Maximum supply: 42 million (twice the amount of Bitcoin)
Current supply: 2 million -- issued and sent to my account @beggars (more details below on why)
Decimal places: 8 decimal places
Symbol: MARKET
Initially, the first planned application under the umbrella is the Gift Card Marketplace. The MARKET token will be extensively used for the Gift Card Marketplace as the primary currency.
Token Value / Pegging
When the marketplace launches, tokens will be pegged on the market at a price of 0.5 STEEM per 1 MARKET token (backed by STEEM sitting in the bank account). The value will be derived from the marketplace pricing MARKET tokens at this pegged STEEM amount. Markets sold on the open Steem Engine DEX might be more or less, no outside market actions will influence the pegged pricing.
Because MARKET tokens will have real value, it is expected the market would not over or underprice their own tokens outside of the site and they would be sold at the same pegged price (or very close to it).
It is important to differentiate between pegged token value and the price you pay when purchasing MARKET tokens (which is explained further down in the platform economics section).
Initial minting of 2 million MARKET tokens explained
A very valid question might be, "why did you issue 2 million MARKET tokens to yourself, from the 42 million maximum supply?" these tokens are NOT being minted for self-gain or use, they're actually going to be used for the platform and its development.
Promotion
As part of promoting the MARKET token and marketplaces, tokens will be given out, used to fund competitions and other promotion efforts. A tentative amount of 50,000 MARKET tokens has seen set aside for promotion purposes. At the proposed pegging of 0.5 STEEM per 1 MARKET token, this values 50,000 MARKET tokens at 25,000 STEEM. At current prices, this is $12,500 USD.
What constitutes a promotion will extend beyond giving away tokens. Competitions will be funded, paid promotional materials (videos, online advertisements) and so forth. Initially, these tokens will be worthless. It is anticipated that the initial use of these tokens will be for competitions and future use when tokens have market value.
While this small amount of tokens seems quite low for promotion, ongoing promotion efforts will be undertaken and funded by profits from the platform.
Presale
Of the MARKET tokens initially minted, aside from marked token use cases above, there will be a presale which will allow people to pre-purchase MARKET tokens. To prevent dilution, presold tokens will be sold at the pegged rate of 0.5 STEEM per 1 MARKET. However, perks will be provided to those who pre-purchase, including valuable upvotes as funds generated through the presale will be used to power up an account specifically for rewarding users who participate in the platform.
These perks will be thought out and announced at a later date. The presale will have a referral feature where those who refer additional presale purchasers will themselves earn extra MARKET tokens.
Leftover tokens
Any left over tokens after the presale will be moved to the main marketplace account (name and creation to be determined) to fill up the bank, where users who purchase MARKET tokens will buy from. It is anticipated there will be a few tokens leftover (two-million is a lot).
Token Utility
The Gift Card Marketplace is the first of many planned marketplaces (as already mentioned), the MARKET token is going to be the main transactional currency on the platform for all marketplaces. Users will "top" their accounts up with STEEM which is then converted into MARKET tokens. Think of MARKET tokens as an in-game credit, like you might have in a mobile game.
This credit based approach is leveraged by sites like Shutterstock.com, iStockPhoto.com and other sites that offer the purchase and sale of digital assets.
Operations where MARKET will be used:
When a user lists an item for sale, the price is pegged against STEEM, but the transaction itself when the sale completes is done so using MARKET
Users can withdraw their MARKET tokens for liquid STEEM. A waiting period applies for free withdrawals, users can choose to pay a small fee to expedite their withdrawals if the money is required in a lesser amount of time
End users do not need to pre-purchase MARKET tokens if they want to buy an item, users can purchase items using STEEM and at the point-of-sale, STEEM is converted into MARKET tokens which are either held in escrow or transferred immediately to the seller
Sellers need to purchase MARKET tokens to create listings. MARKET tokens can either be purchased in a bundle at a reduced price or bought on a per-listing basis at a premium (incentivising sellers to purchase MARKET tokens). MARKET tokens can be used on all planned marketplaces, balances are shared between them
Additional features can be added to listings (featured on the homepage, platform marketing, highlighted, extra images) these additional features will cost MARKET tokens
As you can see the MARKET token is the equivalent of STEEM. Instead of value being derived from the market and demand, it is a set price pegged by STEEM itself.
Why a credit based system?
You might be wondering what the point is in creating a custom token for users to use when STEEM is already a perfectly fine token. In most circumstances, paying with STEEM would make a lot more sense and be less work than a custom token, but there are valid reasons for doing so.
The platform makes money from credits purchased
Because the platform has no fees, the platform itself makes money from the purchase of MARKET tokens either the right amount for a listing or bundles at a reduced price (as discussed earlier). A feeless platform is one thing, but if the site is only taking STEEM in for MARKET and then allowing users to withdraw at the same purchased value, all platforms would fail.
Because infrastructure requires money, the platforms need to fund themselves from the sale of MARKET tokens, being sold at a small percentage higher than their pegged value of 0.5 STEEM per 1 MARKET.
If you want more details on the fees and how tokens are valued, please continue reading or skip-ahead to the "Platform Economics" section and subsection, "Token Credits Model" listed below.
Platform features require smarter tokens
While STEEM is a great token for basic transactions, when it comes to required features such as escrow, things begin to fall apart. Is it possible to build escrow functionality that works with liquid STEEM? Absolutely. The contracts feature in Steem Engine means that functionality involving the movement of coins is offset to the node itself.
When you're writing code responsible for moving assets around, especially in a situation where two parties are making an exchange and the middle man (in this case, the smart contract) needs to be impartial and have no bias, a traditional escrow feature written in code is not ideal, it should exist within a contract like it does for other platforms like EOS or Ethereum.
Steemit Inc has plans to launch Smart Media Tokens (SMT's) which have been promised to provide the same contract like functionality and custom token support, however, STINC has de-prioritised them and they have been constantly delayed. Steem Engine is a functional product available right now and it works well, with ongoing development and features like a consensus layer coming soon.
The intent is to make the contract responsible for crucial features like escrow, rewarding users with bonus/incentives and minting more tokens to be all open source and provide a means of verifying that the provided contract is the contract currently deployed. Users need to feel safe that the platforms are operating with honesty and transparency, including the fees being charged.
Platform Economics
Here we discuss how the platform will work in more detail, what kind of fees users will pay, how money moves between users, safeguards in place for ensuring the platform as an ecosystem thrives and is self-sustaining.
Fees
There will be no fees. While the platform itself will cost money to run (independent of the Steem blockchain), fees will not be charged.
Token Credits Model
As has been reiterated numerous times, token value itself in the context of existing on the platform is pegged to Steem. However, the tokens themselves when purchased (when the user tops up their account) have a different point-of-sale price.
While the fundamentals have yet to be worked out in how this will work and how much things will cost, we can spitball some theoretical examples of how this will look and scale. Please note these are not final values, but it provides an example of the user purchasing MARKET tokens for platform use.
The user wants to sell some items on a marketplace, let's say it's a couple of gift cards
User logs into the platform with their Steem account through Steem Keychain
The User goes to the deposit area to top their account up with MARKET tokens
The user is presented with a variety of different purchase options. Users can buy MARKET tokens for multiple listings and features, or for one listing only (which can also happen at the point of listing creation)
The user chooses the 10 MARKET token pack, which has a value of 0.5 STEEM per MARKET, totalling 5 STEEM in value. However, at the point of purchase a small premium is applied, instead of 0.5 STEEM per MARKET, the user is actually paying 0.7 STEEM per MARKET, this means the user is paying a 2 STEEM premium for this particular pack
If the User decides to instantly withdraw their MARKET tokens, they would get 5 STEEM back
As you can see, the intent is to charge a small premium on purchased tokens, without diluting the market value of the tokens themselves. This does not take into account users who buy tokens off of the open market, however, it is expected that users will primarily use the withdraw and deposit feature on the platform itself to buy and "sell" MARKET tokens.
Using this approach, the value of MARKET is stable. The operation of the platform is sustained through the premium paid at the point-of-sale of MARKET tokens. The premium will use a sliding scale, the more tokens the user buys, the lower the premium is.
In the above example, if the User decided to buy the 20 MARKET pack, they might only pay a premium of 0.6 STEEM per 1 MARKET, or if they bought a 50 pack of MARKET, their premium might go as low as 0.55 STEEM per 1 MARKET. The economics here will need to be worked out at a later date.
How money moves on the platform
The platform will not hold user funds itself. All actions performed on any of the marketplaces will be agreed upon by the user at the time said action is requested. This means all funds live in the users Steem account, the platform cannot access your funds nor strip you of them.
Through the use of smart contracts, money will move between users (peer-to-peer) without a third-party. The platform will offer an escrow feature which will leverage a smart contract to move funds from User A to User B, by acting as an intermediary. In this specific instance, funds would be moved from the user B to the contract, the only time a user doesn't have possession of their MARKET tokens.
Users may withdraw their MARKET tokens at any time. Initially, withdrawals will be handled manually. A queue based withdrawal system will eventually be implemented, prioritising withdrawal requests.
Eventually, users will be able to perform trades on the platform. A trade is an exchange of one item for another, it's still technically a sale, however, it will use escrow-like dynamics where both users confirm a successful trade before MARKET tokens are moved.
Want some free MARKET tokens?
While MARKET tokens currently do not hold any value, eventually MARKET tokens will be used as the primary means of transacting on the marketplace (and eventually, all marketplaces). As an introductory gift, I am offering 10 free MARKET tokens each to the first 30 commenters below.
This means 10 MARKET tokens will be worth 5 STEEM when the platform launches. However, you are free to trade these tokens on the Steem Engine marketplace here beforehand if you would like to do so.