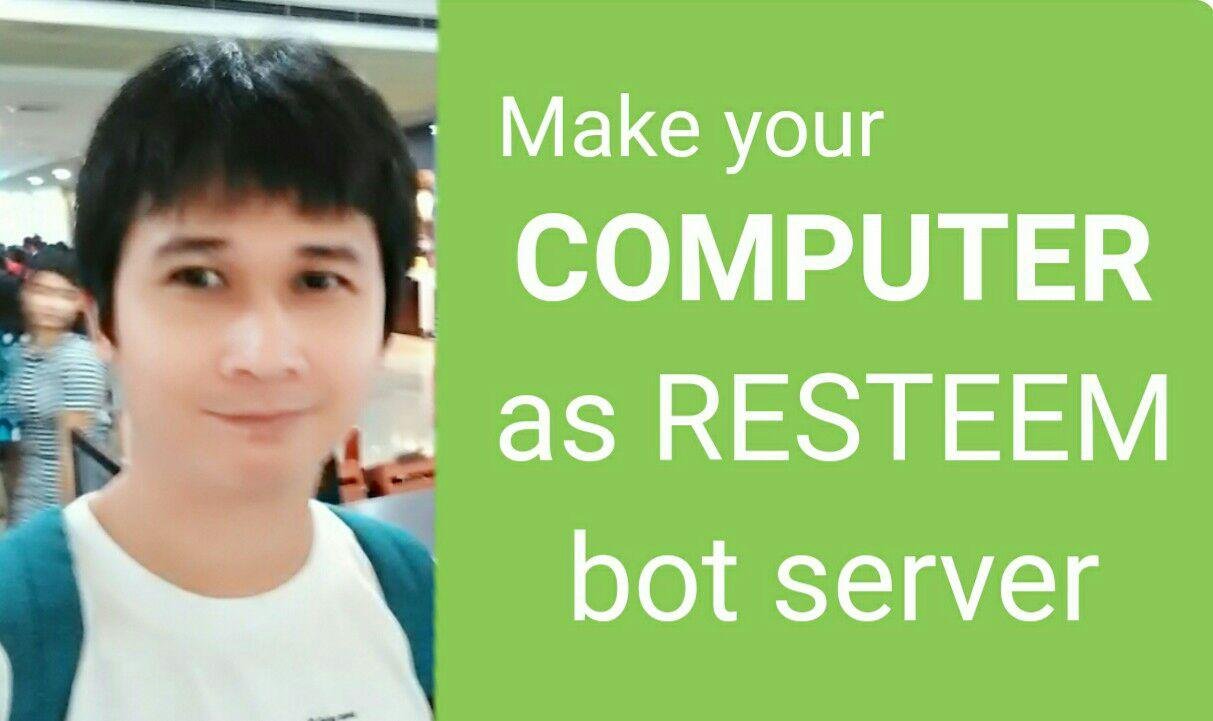 Creating a steem upvote bot is so easy with this tutorial I will post. Read this very carefully to understand how you can convert your computer or laptop into a steem upvote bot. Everyone now is dealing with bots to gain more upvote and earn more than usual posting on steemit. Today you will gonna learn how to make your computer become a upvote bot server.
Before we start the tutorial, thanks to surpassinggoogle for promoting my post Get FREE P50 to P1250 on Gcash Promo. So always follow me @aizfren to receive feeds from me.
Installing Nodejs

Figure 1
Nodejs is the most important item in creating a steem upvote bot. It allows you to run javascript codes even without a browser. Yes, you heard it right, you need to install this software before we can proceed to the next step. You can download nodejs from their website and select Recommended For Most Users. Follow the instructions on how to install it correctly.
Creating the Directory and Installing NPM
After you successfully install Nodejs, next thing you should do is to create a folder on desktop and name it whatever you want but make sure the name has no space on it. I almost forgot to tell that this tutorial is available only for Windows 7 users, otherwise it will not run smoothly.
Now open the folder you created and press SHIFT + right click (you can see a menu like the image in figure 2). Select the Open command window here and dos command window will appear like the image in Figure 3. Type the following code below in the command prompt.
 npm intall
 npm intall steem --save
 npm intall express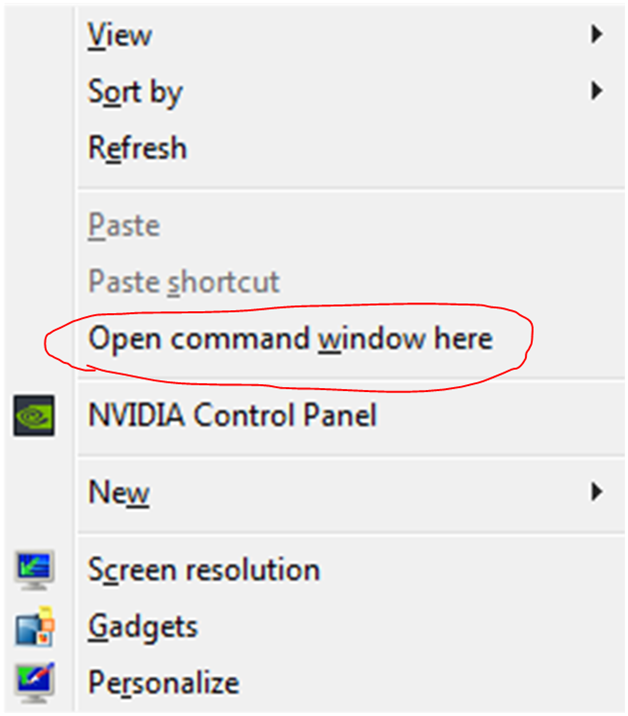 Figure 2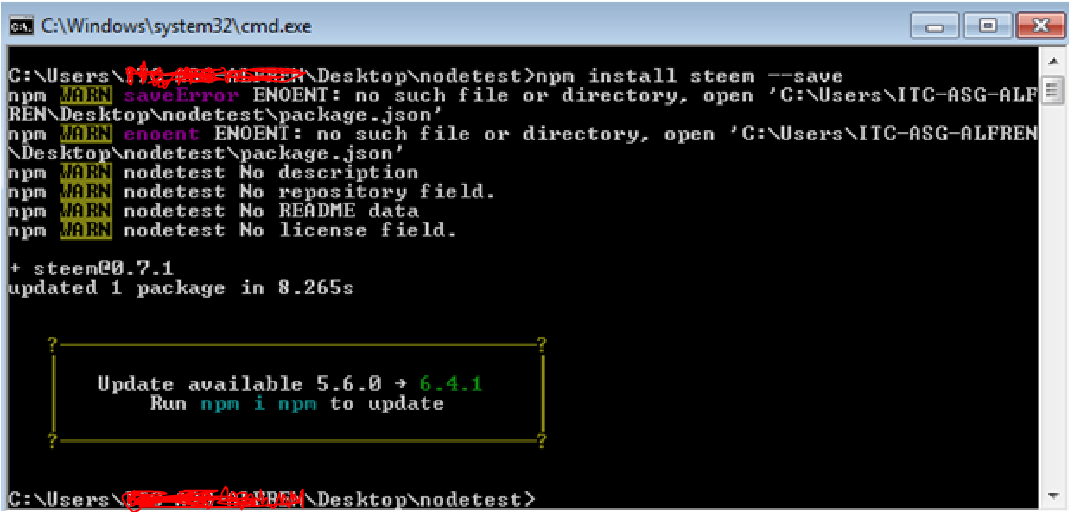 Figure 3
After installing some parameters, close the command prompt and let's start coding. I hope that you know how to code using javascript because we will code a javascript codes. Nodejs can run javascript codes even without a browser. If you do not know how to code it, well, just follow my instruction below and you will find it like a copy paste procedure.
First, we need to get the details of the steemit account that you want to use as a steemit upvote bot. The only thing we need is the user account and the posting key of that account. You can find your posting key under wallet, permission. After getting your posting key and username, let's start the coding. Download a sublime or notepad++ as your text editor or code editor but I probably recommend sublime.
We need to get the details of the transaction done by the account you will use. This is very important, why? If someone send Steem or SBD to your account, we need to identify who it is and what is the purpose of that transaction. But first we need to get his last transaction number. How can we do that? Follow the code below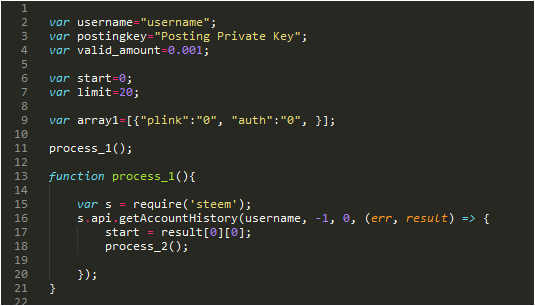 After we get it, we will set up another function code that provide a task to find items on the account you will use. By the way, change the username into your steemit account username and Postingkey. The valid_amount should be the amount they will send so together with the url in the memo. Do not change other codes, just the three items I mentioned. The next thing is to add the following code below.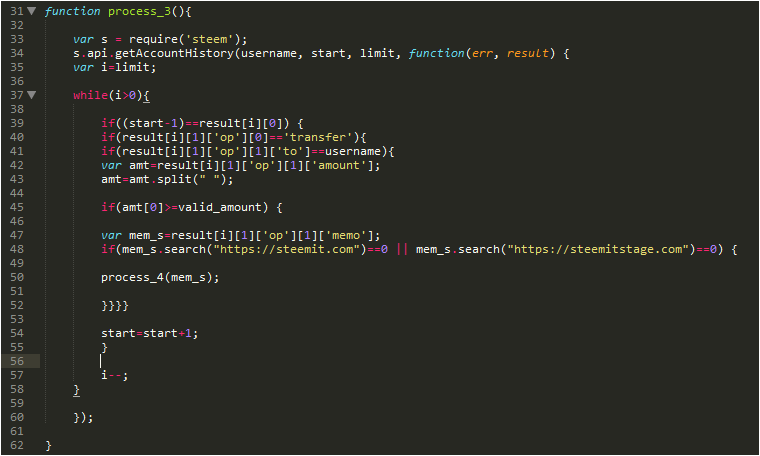 The code above finds anything in your account history that matches to the given data. First, it will find if the what is the last history of your account, then it will test if what kind of history of it and it will only execute all history with a type of "transfer". It will also test if the amount it send is valid to the amount you declare above. It will also test if it is for a resteem through the memo. Lastly, add the following code again below.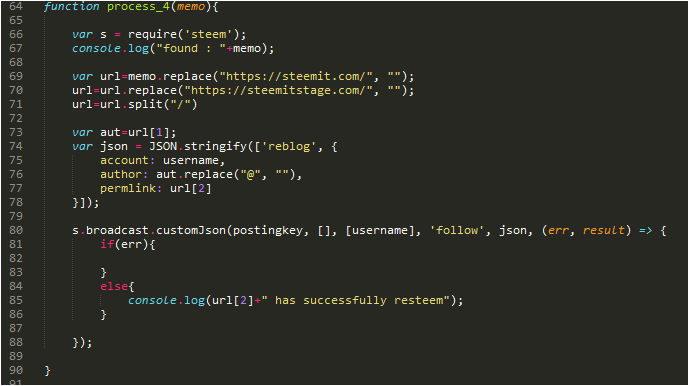 The code above fires a resteem function to whatever data that process_3 found. The resteem will fire after 20 seconds to prevent errors in resteem time service. The last thing you need to do is to save that code to the folder you created on your desktop. Name it as "run.js". Then open the folder you created and press shift+right click then select command prompt like what you did before we start. Then Type in the command the code below
node run.js
Then your resteeming service is running. Take note that if you close the command prompt, your resteem service will not run so just run it. It will continuesly execute until you exit it I hope you made it. See my result below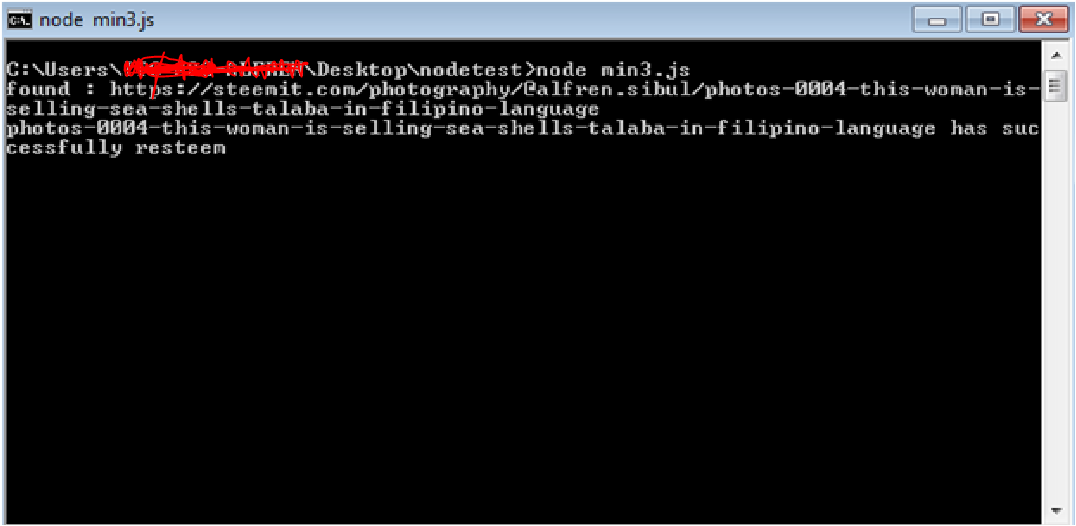 Upvote/Resteem this post and Follow me on
TrybeOne :
https://trybe.one/members/aizfren/
Steemit :
https://steemit.com/@aizfren
Youtube :
https://www.youtube.com/channel/UCcWILOvkGccumWauKrB3AcQ
Facebook:
https://www.facebook.com/alfren.sibul
Twitter :
https://twitter.com/sibul_alfren