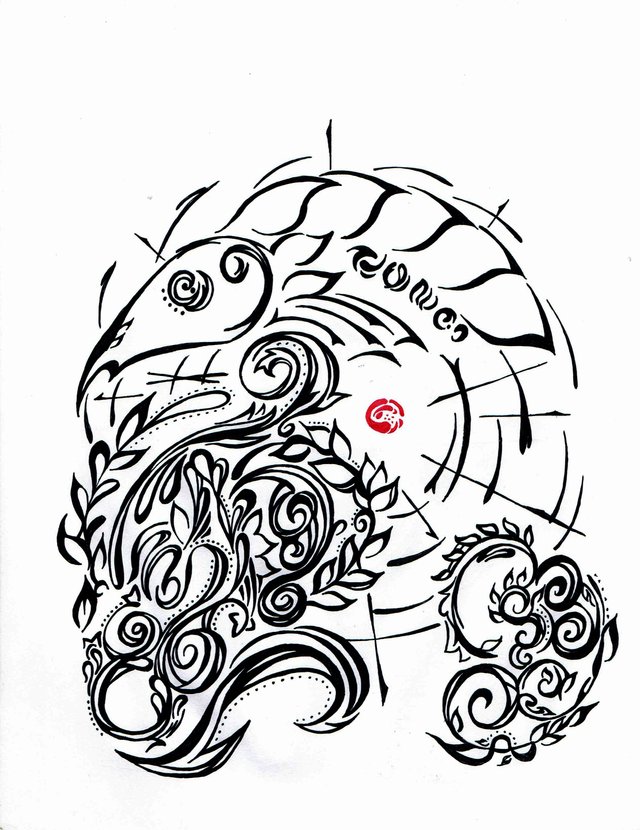 The objective of this post is to share how image plagiarism has affected the posting habits of artists in the Steem Blockchain. The statements provided in this post are based from my observations.
Summary of the Post:
Background/Inspiration of the Post
Case Example
The Trend of Adding Process Shots
How Does the Phenomenon Affect Curation Efforts?
Conclusion
---
Background:
I have been posting my line arts in the platform for almost a year now. I didn't realize the depth of why process shots mattered when posting on the blockchain. It was only when I got fed up with explaining the process of how I do my content. You can see that my recent works have less words written on them as much as I used to. Should I even be going the extra mile to prove that I created my own content?
The thought just stayed with me as I reevaluated my old posts. I'm not really fond of explaining the process of my works. They are self explanatory most of the time. But do I need something added to the main content to let people know I created them? Why do I even want to stretch the post when the attention span of most internet users are already limited?
The prevalent reason is trying to prove to people I made my own content. It is only this place and personal blogs that I see artists showcase their process shots as part of the content. I don't often get to see that on other arts sites. So why the trend?
Apparently, the habit is a precautionary measure to prevent people from putting some doubt in my content. Image plagiarism in the platform is rampant and continues to exist despite efforts to stomp out fraud visual artists. #photography #foodphotography #art and other visual art related tag contains a lot of authors that fake their content. They rob the real content owners of recognition and rewards they deserve and worked hard for.
---
I have used this case on my previous post and will use it again because it's a perfect example of the problem.
The owner of that account has been confirmed to have created several accounts and plagiarized art content. Fakes that are caught with a simple reverse image search from Google have little creativity to hide their abuse. But the good ones are those that hardly get caught.
All it takes is some time learning how to filter photos in an editing software and clear out brand marks that could lead people to suspect it ain't your content. Successful plagiarists are not the ones you can catch with an SEO verification tool. These are content fakers that intentionally copy and alter some other person's content and claim it as their own.
---
Process Shots Adding Value to a Post
Explaining their process should come easy to the artist creating their art. In theory, this makes perfect sense but then not everyone is gifted with technical skills in writing their thoughts well. I myself had trouble explaining how I create my content from the beginning. Drawing has been my hobby for the longest time and I'm at the point where I don't need to actively think about how I'm going to approach the piece. I just let my hand do its thing often and make some edits if necessary.
Now one might ask, if an artist includes process shots on the post, will that protect their work from potential plagiarists? Well, not entirely. These fakers are getting better and better at the crime of stealing original works and pose as the original creator. You can take this post for example.
This was easier to catch because this plagiarist copied the entire process shots. The fraud became easier to detect. For artists making original works, it would be easier to make a little bit of description on the process you made. You can showcase your technical knowledge about the art process you are employing in your work, again, proving the originality of your art.
Aside from proving your work is an original, process shots also add flare to the post as it builds up some anticipation and helps other artists to learn from your techniques. It brings the audience, artist or not, into the journey of your msterpiece. It is certainly more appealing compared to a post with a single photo.
---
How Does This Affect Curation Efforts?
Between two unknown artists that recently started out in the platform, one that only posts a single photo over one that consistently posts process shots, which one can convince a curator to tell they are the real deal without a reverse image done?
The last thing any self respecting curator would want is upvoting a plagiarized content. Curators would naturally not want to spend a long time deciding over content that bears some red flags. Process shots look more appealing to the post and establishes some degree of credibility. Add a few paragraphs here and there and the content becomes high quality.
Good curators would still consider authors with single image posts for upvotes, granted that these authors have other means to prove they are legit. I'd like to think that not posting process shots does not put other artists at a disadvantage with curation. Maybe it's just my bias that I happen to get more curators noticing since I started posting process shots. This blockchain is the only place I posted my art works. I know I should have started building a profile from other art sites to get my name out there but this is just hobby blogging.
Artists need to learn how to add process shots to their posts to be competitive in the platform. I personally don't like this idea but it's what works unless artists have an established reputation somewhere else. I am a firm believer that artists should be free to post however they like and let curators see value in their works. But for most unknown artists out there, process shots are a step to get some credibility in this blockchain until you have proven your name time and time again.
---
Conclusion
If tolerated, image plagiarism in the blockchain makes this platform less attractive for content creators. It is understandable that no one could stop anyone from posting a copy paste text or photo but it's another thing to reward them for doing no effort at all. As an adaptive strategy, including process shots on an artist's post has more benefits on both the artist and the audience.
It's also worth mentioning the tools I used for detecting image plagiarism include Google Reverse image search, Tineye, and NooBox. But these tools are no substitute for critical thinking. If you have a gut feeling that the artist is fake, pursue that thought and investigate to prove you're wrong. It's better to investigate thinking that you are the one doubting your hunches so as not to be blindsided about plagiarism when there isn't any.
Reverse image searches are really helpful but even these also fail. Check out the watermarks in the art of areas where the image seemed cropped. Check is the quality of the image shared is low/pixelated because those are signs that the image might be screenshot of taken somewhere not from the original creator. There's not one hit solution in fighting abuse and I think abuse fighter should be as creative as offenders in their fight.