Several weeks back I got a message from @mender1 that Rosebank Mill had been infiltrated by the 'heavy gang'.
What that means is someone's made a big fucking hole in a previously sealed entrance so now we can all go in, look around, take photographs and leave hopefully with our scrotums still attached.
Rosebank Mill - August 2019
Rosebank Mill - January 2019
I had seen the state of this mill on my last visit and some parts were extremely hairy. Me being more daring than 6 months ago agreed to go as there was another reason for this visit.
@mender1 had taken his drone in seeking some aerial photography, it had lost the signal and died.
These things are supposed to return to base, but this one didn't. Such is the quality of today's technology.
He had an idea where it landed but didn't want to go alone for fear of falling through the rotting beams and experiencing death alone.
Better for ME to possibly die being impaled by sharp bits of wood instead. Well, I'm a bit lighter than him though he may disagree.
'If you're not up for a bit of danger then take up knitting with grandma' - @slobberchops
The view from the bridge looked rather different than 6 months ago, much greener. Summer does that.
Approaching the entrance where I could have got in last time due to a ladder being placed nicely, the entrance was quite apparent.
It could well be sealed again while you're reading this. All this happened several weeks ago.
Considering it's the middle of summer, the interior was muddy and walking was a little uncomfortable, at least on the ground floor.
Much of this mill has been eroded by the persistent rain and damp we have to endure in the British Isles.
Stone stairs are always good as you can't fall through them and break your neck. Some of the flooring is also stone so you can walk with confidence.
This small gap looked out on to devastation. I toyed with the idea of jumping on to the wooden stairs but thought better of it. One always needs a retreat plan.
@mender1 told me his drone was 'down there on the right somewhere'. The floor was a little shaky but I have walked on worse.
Does my arse look big? – Used with permission by @mender1
Boards and planks hindered my progress, and I had to crawl under this one to continue.
Same again with these, they look easy to move but are not!
While I got some good photography at the bottom end of the first floor, sadly there was no sign of the missing drone.
Some areas, I will not walk on, or even jump over
While it was good to see the 'rest' of Rosebank Mill though I thought there might be a little more to look at.
There is a decent amount of graffiti, but little atmosphere left.
There's been a couple of suicides in the last ten years (mentioned in my previous visit) due to it being in such a remote area. I think I have the place truly photographed now and I wont be going back.
Some places are more trashed than others, and this is verging on the high side.
If there happens to be a fire, this is surely the way out?
Before leaving we vaulted the open windows into a couple of outhouses, next to the mill. There was a little more graffiti but little else.
This is the door I was considering leaping from I mentioned earlier. Different visual perspectives can change your mind very quickly.
Some stairs can be creepier than others. This one has rather more bark than bite.
Rosebank Mill is derelict and shrouded by mist.., er trees. It's not creepy, spooky and I'm not going to attach those stupid ghost sounds to some video and add it. I tell as I see it.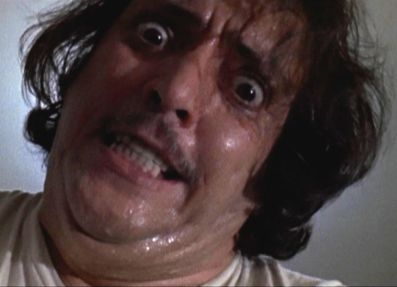 If you found this article so invigorating that you are now a positively googly-eyed, drooling lunatic with dripping saliva or even if you liked it just a bit, then please upvote, comment, resteem, engage me or all of these things.