Hi everyone!
It's Friday here in Malaysia, and I would like to keep everyone in progress on the overall Plea: Prayer Request, Donations, Upvotes, Whichever Works - For A friend of a friend that I have started 6 days ago.

If you have just saw this post, it all started when I ran this donation, upvote, resteem and prayer request drive for my friend's highschool buddie Debbie who is currently battling stage 3 Breast Cancer and also at the same time battling for alimony for her son. To read more, please click on the original post:
I have also started a special Care Act Challenge 4 days ago for Debbie so that while prayers are out for her, plus upvotes, resteems and donations, I am gathering all steemians across the world to hand write / doodle an encouragement letter message that will be embedded into an A3 Get Well Soon card raffle style!
(which means you get to win a prize - handmade by me)
So far the response has been good and I would like to make a special shout out to @elizacheng and @liewsc ; who are donating one of their posts' SBD into the fund raising cost!
If you would like to join their challenge cum fund raising, please head over to their posts:
I would like to also give @shadowspub a shout out for creating a wonderful platform for people who wants to promote their posts on a special weekly Pimp Your Post Thursday segment, where I went in for the first time last night to help promote fund raising cause for Debbie, which got some really positive response to it.
At this point of time, here is what we have so far:
Donations only into this active account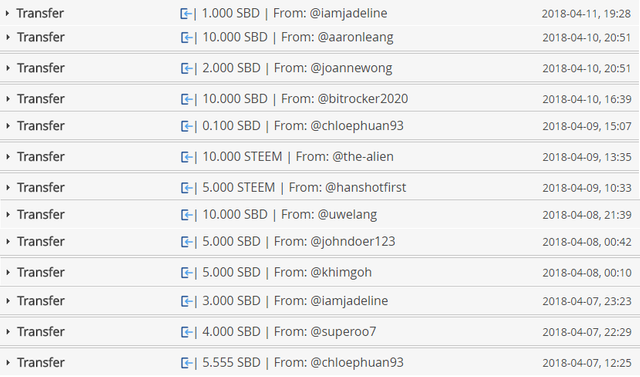 Donations only into @craftsofluv (where the card making challenge is posted)


Note: All 0.001 SBD transfers will be used to fund the postal fee for the prize
We had 2 entrees of STEEM donations, 15 STEEM in total, which is converted into 17 SBD as of today's rate
And what we have in total right now, based on donations only, is:

We still have about 40% to go; and with the original plea post,care act challenge post, Eliza's Make Me Smile Challenge + Donation Drive post, and Liew's special WhatIF Challenge post we will have something tangible to convert now that SBD is hovering around USD 2.70
If you would like to donate for Debbie's fund raising cause, please send to my active account @littlenewthings with the memo: Cancer Fighter: Debbie this will enable me to filter out all the donations.
(I hope I am doing this correctly)
So far, we are almost hitting the target, and I am hoping that with this post's SBD payout, that will also be added into the donation drive, will reach our intended target by next Friday when I try to make an appointment with Linda and see if we can visit Debbie on Sunday. (I have a class to attend on Saturday so I won't be able to make it)
In the mean time, I will be raising against time to design the front cover of the card, but if you would like to join the fun and raffle please do not hesitate to keep sending your hand written note / doodle via this post, including following the rules to win a raffle ticket.
Let's see what happens by tomorrow. And I know,
Nothing is impossible for God
Luke 1:37
for a miracle to happen for this donation drive, because He has created this super awesome, beautiful creation - Human beings.
I personally believe that we are all created in Love, by love (of our earthly parents) and for Love, to be the greatest impact in the history of this timeline.
I truly appreciate and thank each and every one of you all and to everyone who has chipped in every of their available effort to make this happen.
Just so you know. You guys rock!
 
Let's continue to prove the world (that is falling apart with wars and rumours of wars) wrong that good prevails in all circumstances.
wishing you all a pleasant day today and a blessed weekend ahead!
Until then

Thank You All in Advance and Thank You for Your Time