As of today, we received a total of 91.500 SBD from these people/groups and 23 SBD from my post.
@paradise-found - 20 SBD
@steemitdiversify family - 15 SBD
@appleskie - 5 SBD
@steemph.uae - 1.5 SBD from the post-payout charity
@canadian-coconut and steemian's vote - 23 SBD from the post-payout.
@henry-gant - 50 SBD
It is day 15 of my #upfundme post for a month's immunotherapy of my mother-in-law. I am happy that I have reached half of the month's target as well as Sir @henry-gant sent 50 SBD just today. At our most difficult time, I am grateful that there are many people, especially the steemians, are willing to help even with people they don't know personally.
I am very lucky that I have been a part of this platform. I don't know if how many more months or years to take for this therapy but we are not giving up. We will try to do something just for her to be ok, with less pain and I am thankful that my post reached to my fellow steemians with kind hearts.
I just had a talk with my mother-in-law a few minutes ago. She told me there was a fire again near their place. Few weeks ago, they evacuated because of fire and now, it happened again and she was shaking in fear because no one was in the house except her and her grandchild sister-in-law's 3-year old daughter. Fortunately the fire was controlled but they don't have electricity there. I am worried because the weather in the Philippines is very hot today as she couldn't walk outside to have some fresh air because of the pain her legs. I hope the electric power will be back before evening comes there.
A little update for her condition, her leg hurts now because 2 days ago, after she got up from the long wooden chair where she sleeps (she couldn't use the stairs to her bedroom in the 1st floor of the house) she didn't notice that the small chair which she uses to support her legs was not in the place. All her weight was on​ her legs and now hurt. Bone cancer is very painful!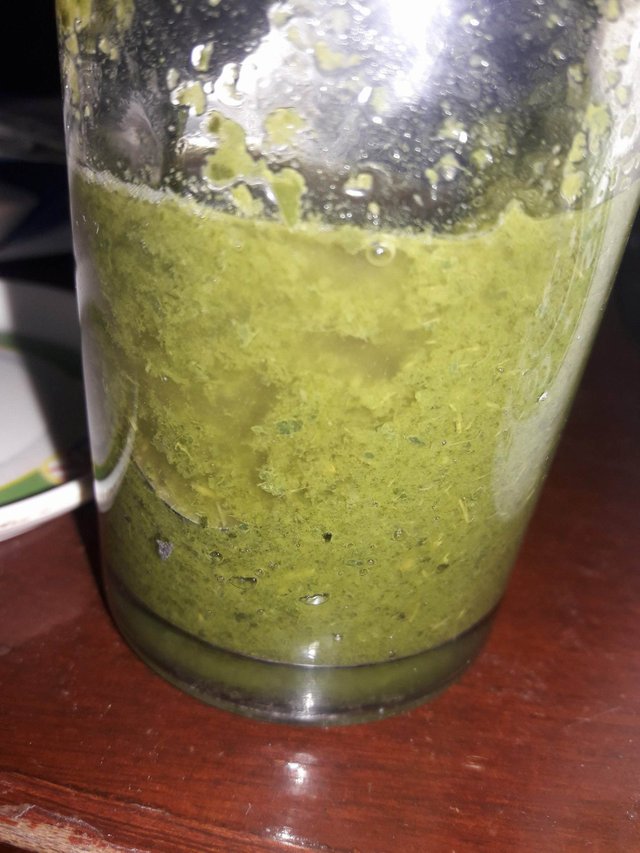 This is one of the blends she is taking along with the Boston​ C and foods Dr. Farrah Bunch, the immunotherapist gave her. She said all of these taste awful but she must take this in order to be ok. My sister-in-law bought a blender for this to blend all of these, a mix of organic vegetables and spices​. This organic meat​, vegetables and spicy alone are pricey and for the meat, they need to buy it from the local organic store, a 30 minute-1 hour travel.
Our hometown is rich in organic fruits and vegetables since in it a province but no one will take care of her if she will be in our hometown and going to Tarlac from our hometown, a travel by plane or land and sea travel(She lives in Las pinas now) will cost us more since they require her to visit the clinic every month.
---
This post is to update everyone on​ my mother-in-law's condition and also to continually​ thank these generous people who help us in this trying time. Thank you again on​ behalf of the Magsipoc Family. We cannot thank you enough for your help! You are nothing less than a blessing from God!