Howdy Steemians! all over the world! How are you all doing? Hope all is well and safe. I am so happy because even just for a moment my whole family was here last night , but they have to leave for province at the same night , but no worries at all i am still grateful to have that time with them ,almost complete and blessed to a new blessing for my father , we are all blessed indeed. Anyway, so glad to see and tell you all that we're now on the 44th round. Still kicking , right? LOL. Again , my endless thank you to all who have been very supportive on this. God bless us all. Alright! , let's continue to get the challenge going. Here is the list of the participants in Round 43 and their recommended steemians.
List of Participants in Round 43
1.) @edencourage - recommended @janyasai post
2.) @deantonio - recommended @joancabz post
3.) @jurich60 - recommended @dobartim post
4.) @dizzyapple -recommended @purple.parrot post
5.) @oluwashinaayomi -recommended @factism post
6.) @nasreena - recommended @pele23 post
7.) @lonejaveed - recommended @davedickeyyall post
8.) @njjasim77 - recommended @hangin post
Thank you all guys sooo much for joining
AND NOW I AM OFFICIALLY OPENING #UP-GAGE ROUND 44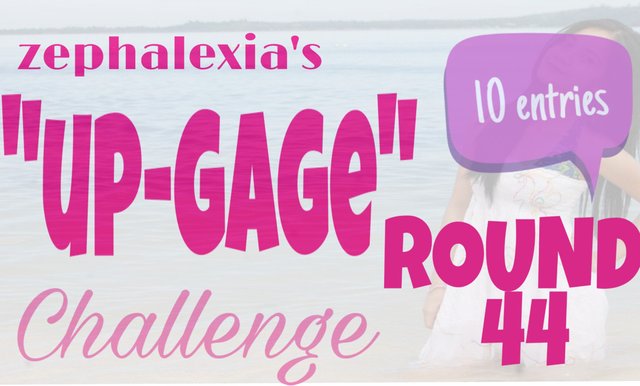 UPDATES+RULES REMINDER
#UP-GAGE CHALLENGE 's PURPOSE
I came up with this challenge as my giveback move to the very kind samaritan who delegated SP to me. I want to promote engagement first Thru commenting with others' post and give upvote as my support.
The challenge is open to steemians whose reputation are 55 and below.
I post the challenge every Wednesdays and Saturdays
SIMPLE THINGS TO FOLLOW TO JOIN
Recommend a post and Comment it on the challenge post . All you need to do is look for a new post , preferably 1 hour old post , but as much as possible, get a 15 minute-old post or below. And please recommend a post that has at least 30-50 words or less to explain what is it about the photo , not just one photo. Unless it's a photo story or an entry to a photo contest that doesn't require any explanation. Then get the post link and comment it to the challenge post.
Leave a meaningful and related comment to your recommended post with #up-gage . As you visit and recommend a post, please don't forget to comment on it , a worth reading comment for engagement purposes as well ,and of course please add the #up-gage on it.
The challenge will be open for FIRST 10 ENTRANTS, IF ALL SPOTS TAKEN, ROUND WILL BE CLOSED
What can you get out of the challenge
You and your recommended steemian will get my upvote for your recent post( my vote value would depend on your post content) and your comments for #up-gage plus 0.100 for each valid participant sponsored always by my supportive sister @avhyaceulip. And of course you got to interact with a lot of other steemians..
There, very simple to join . Hope you can read this carefully and follow what you have to so we'll be fair to everyone. But don't forget to enjoy and have fun as well. Again, thank you to everyone who has been supporting #UP-GAGE CHALLENGE since round 1. I really appreciate all the efforts. I cannot tell until when i would have the delegation, but i hope even without that i can still run this challenge. But i should say, yeah sure I can, but the delegation has been a big help of course and i am so grateful for it. Again, let's keep steeming guys, like what i said will get tired ... but will never quit! Continue fighting and smile to the world!
---
Special Corner / Other Fun Contests / Writing Challenge
@mermaidvampire's - Universal Basic Steem Income + Engagement + Proof Of Steem + Anti-Spam + Anti-Plagiarism Rolled into One Simple Daily Game
@travelsbyblue 's - WORLD'S DAILY FOOD PHOTO CONTEST
@izaid 's guess the right amount contest
@atongis' - SP DELEGATION & UPVOTES GIVEAWAY
@shikika's - shikika-giveaway
@vdux 's - Haiku Contest
@freewritehouse Adopt me!!! ; freewritemadness and many more
@mariannewest - Freewrite Challenge
You may visit them all and join the fun!
---
---
---
much love,