ULOG QUOTE DAY 1 - YESTERDAY, TODAY AND TOMORROW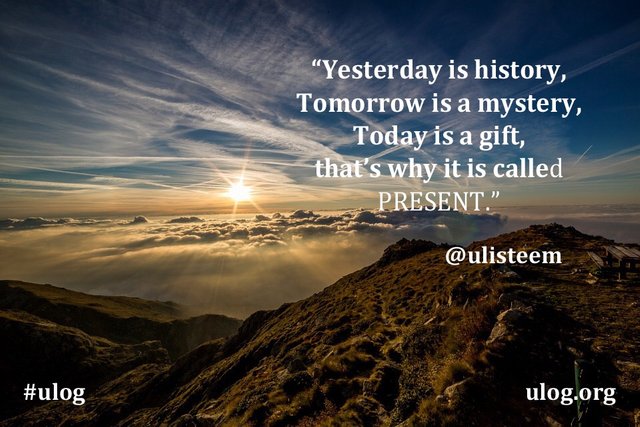 Hello Uloggers!
I would like to bring you my #ulog-quotes for today.
"Yesterday is history, Tomorrow is a mystery, Today is a gift that's why it is called PRESENT."
Every day is a gift from our creator, we should spend each day according to his will. Let's not waste our time doing earthly deeds but we must focus on how to gain eternal life. We should make each day a memorable life on Earth. We need to put more effort on uplifting the lives of our fellowmen. Spend each day helping other people and doing the works God has told us to do.
Spend each day like it is your last day on Earth. Make it meaningful and righteous.
If you want to see the next day always respect and love God. He will prolong your days.
Proverbs 10:27 The fear of the Lord prolongeth days: but the years of the wicked shall be shortened.
I hope you learn from this quote.
Follow me @unlisteem