[ESP/ENG] ¡Primer ULOG! / First ULOG! - ¿Por qué lo hacemos? / Why are we doing it?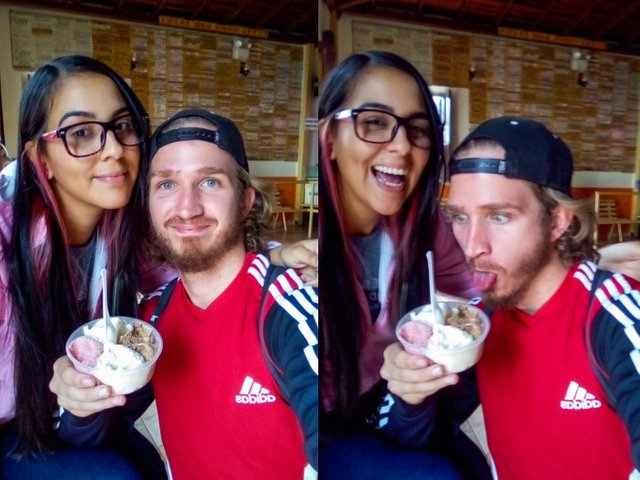 La palabra BLOG es la abreviación de WEBLOG. En español significa "registro web". Como un sinónimo en español podría explicarse como una "bitácora/diario digital" para introducir/registrar información de interés personal o público.

Un VLOG es la abreviación de VIDEOBLOG. Lo que en español seria como "bitácora de video".

Y ULOG es la abreviatura fonética de YOULOG. Es decir, un referente a TU BLOG o BLOG SOBRE TI
---
Entonces,
¿Por qué vamos a empezar a hacer ULOGS?
      Bueno, vemos a Steemit como un lugar para compartir lo mejor de lo mejor. Quiero decir, ponemos mucho esfuerzo en nuestros posts, los diseñamos, prestamos atención a cada detalle, tratamos de hacer siempre lo mejor posible.
      Con ellos, a veces conseguimos sólo una fracción de una moneda, a veces conseguimos Curied, a veces conseguimos mucha exposición pero sólo un par de centavos, a veces conseguimos un 100% de voto de un solo delfín que de alguna manera vio nuestro contenido y le gustó.

The word BLOG is short for WEBLOG. Which means "web registration". As a grammatical and functional synonym, it could be explained as a "digital log/logbook" that is used to enter/register information for personal or public interest.

A VLOG is short for VIDEOBLOG. Which means that the entries here are made with videos.

And ULOG is the phonetic abbreviation for YOU-LOG. That is, a reference to YOUR BLOG or BLOG ABOUT YOU
---
So,
Why are we going to start making ULOGS?
      Well, we see Steemit as a place to share the best of the best. I mean, we put a lot of effort into our posts, we design them, we pay attention to every detail, we always try to do our best.
      With them, sometimes we get only a fraction of a coin, sometimes we get Curied, sometimes we get a lot of exposure but only a couple of cents, sometimes we get a 100% vote on a single dolphin that somehow saw our content and liked it.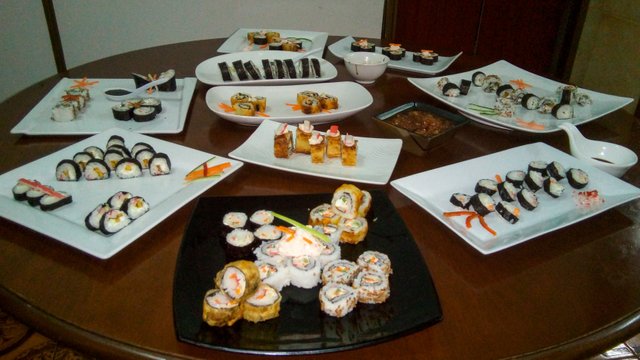 Aqui una foto de un montón de Sushi porque... ¿A quien no le gusta el sushi? / Here's a picture of a bunch of Sushi because.... Who doesn't like sushi?
      Nos encanta compartir ese tipo de cosas, un par de centavos, un par de monedas, un par de resteems, un par de docenas de monedas, no importa, siempre apuntamos lo más alto que podamos, hacemos cada post como si fuéramos a conseguir 1000 STU (Steen Token Units) por ellos siempre dando lo mejor que podamos.
      Pasamos de un par de días a veces una semana entera o más desarrollando un post. Eso es mucho esfuerzo, y no nos importa, de hecho nos gusta, eso nos demuestra lo comprometidos que estamos con el contenido que compartimos para la comunidad de la Plataforma Steem y esperamos estar transmitiendo eso a quienes nos leen.
      We love to share that kind of stuff, a couple of cents, a couple of coins, a couple of resteems, a couple dozen coins, it doesn't matter, we always aim as high as we can, we do every post as if we were going to get 1000 STU (Steen Token Units) for them always giving our best.
      We spend a couple of days sometimes a whole week or more developing a post. That's a lot of effort, and we don't care, we actually like it, it shows us how committed we are to the content we share for the Steem Platform community and we hope to be communicating that to those who read to us.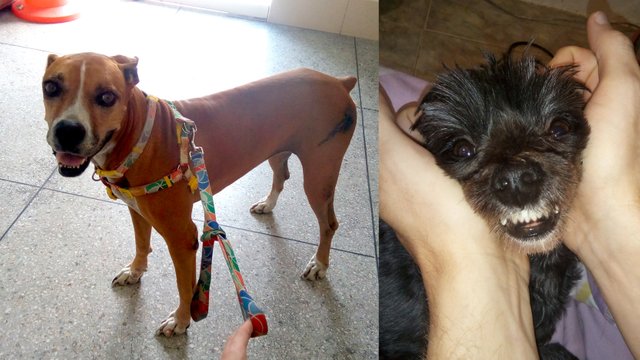 Dakota: 70% boxer, 30% pitbull, 50% donkey. Avril: 50$ poodle, 50% yorkie (Poorkie)
Victoria odia cuando digo que Avril es Poorkie. -W
      El markdown de dos columnas que usamos para los posts en español e inglés es genial y se ve muy bien, pero es un reto hacer posts largos con ella. Los dos idiomas es también que algo lleva siglos.Generalmente nos leen en ingles aunque nuestro idioma natal es el español, pero incluso en español escribimos algunas locuras, pensamos en la versión en inglés, tenemos que revisarlo todo tres veces.
De hecho, las comunidades hispanas/latinas no son muy unidas, al menos las más grandes, hay mucha "competitividad" entre todos, no demasiado apoyo entre usuarios. Por otro lado, las comunidades más internacionales nos han recibido como si fueramos familia, muchas personas incluso nos han escrito de manera privada por Discord para saludar, conocernos o simplemente comentar algo sobre nuestros posts.
Victoria hates whn I say that Avril is a Poorkie. -W
      The two-column markdown we use for the Spanish and English posts is great and looks great, but it's a challenge to do long posts with it. Usually we are read in English although our native language is Spanish, but even in Spanish we write some crazy things, we think about the English version, we have to check everything three times.
In fact, the Hispanic/Latino communities are not very close, at least the largest, there is a lot of "competition" among all, not much support among users. On the other hand, the most international communities have received us as if we were family, many people have even written to us privately by Discord to greet us, to get to know us or simply to comment on our posts.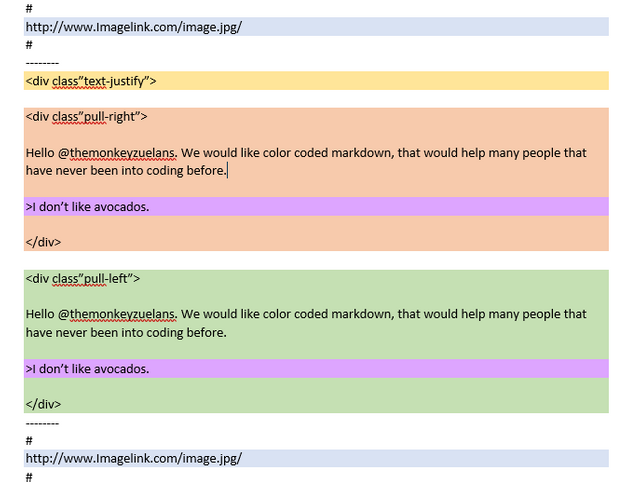 Esta imagen fue usada en el Discord de @SteemPeak para sugerir algunas características. ¡Pronto publicaremos sobre @SteemPeak! / This image was used in the @SteemPeak's Discord to suggest some features. We will post about @SteemPeak soon!.
      Como probablemente ya has visto no usamos ninguna imagen que no nos pertenezca (casi), ni siquiera de sitios web de código abierto, aunque lo hayamos hecho un par de veces y probablemente lo volvamos a hacer de ser necesario, pero sobre todo intentamos hacerlo todo por nosotros mismos. Editamos y procesamos cada imagen antes de ponerla en un post, diseñamos todo lo que necesitamos para nuestros posts, además, intentamos que cada imagen que compartimos interactúe con el modo día y noche de Steemit, que es otro reto a veces porque no es muy fácil hacerlo con todas las imágenes.
Todo eso significa que ahora estamos publicando cada 2-4 días y eso significa que no tenemos muchas interacciones con nuestro contenido entre los días de publicación, lo que es realmente malo.
      Estamos muy orgullosos de lo que hemos logrado en nuestros primeros 6 meses en Steemit. Sentimos que hemos crecido mucho, que hemos hecho buenos amigos e incluso estamos teniendo algunos trabajos de diseño gráfico a través de Steemit, que es excelente.
      As you've probably already seen, we don't use any image that doesn't (almost) belong to us, not even from open source websites, even though we've done it a couple of times and we'll probably do it again if necessary, but we try to do it all ourselves. We edit and process each image before putting it in a post, we design everything we need for our posts, and we try to make each image we share interact with Steemit's day and night mode, which is another challenge sometimes because it is not very easy to do with all the images.
All that means that we are now publishing every 2-4 days and that means we don't have many interactions with our content between the days of publishing, which is really bad.
      We are very proud of what we have achieved in our first 6 months at Steemit. We feel that we have grown a lot, that we have made good friends and we are even having some graphic design work through Steemit, which is excellent.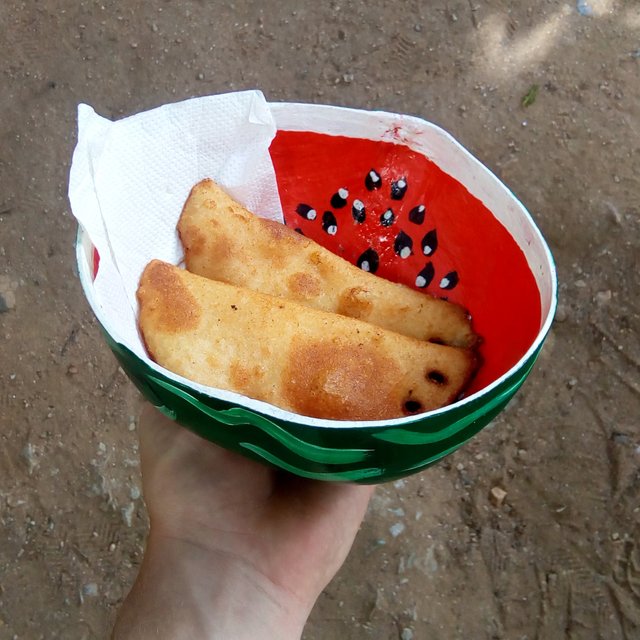 AMADAS EMPANADAS, nada más que decir / BELOVED EMPANADAS, nothing more to say.
      ¿Pero qué hay de nuestro día a día? ¿Qué hay de las anécdotas diarias? ¿Qué hay del hecho de que nuestras perritas fueron al veterinario hoy? ¿Y qué hay de lo que hicimos ayer para cenar? ¿Qué hay de aquel día de la semana pasada cuando estuve en el trono y me quedé dormido durante casi una hora y pensé que mis piernas no iban a reaccionar nunca más?
      Bueno, estamos viendo una oportunidad para compartir cualquier cosa que queramos diariamente con estos ULOGS que animan a la gente a compartir más cosas sobre ellos y sus vidas sin mucho más que una anécdota sobre el desayuno de ese día y unas cuantas fotos de tu smartphone regular.
      But what about our everyday life? What about the daily anecdotes? What about the fact that our little dogs went to the vet today? Ehat about what we did for dinner yesterday? What about that day last week when I was on the throne and fell asleep for almost an hour and thought my legs would never react again?
      Well, we are seeing an opportunity to share anything we want daily with these ULOGS that encourage people to share more about themselves and their lives without much more than an anecdote about breakfast that day and a few photos from your regular smartphone.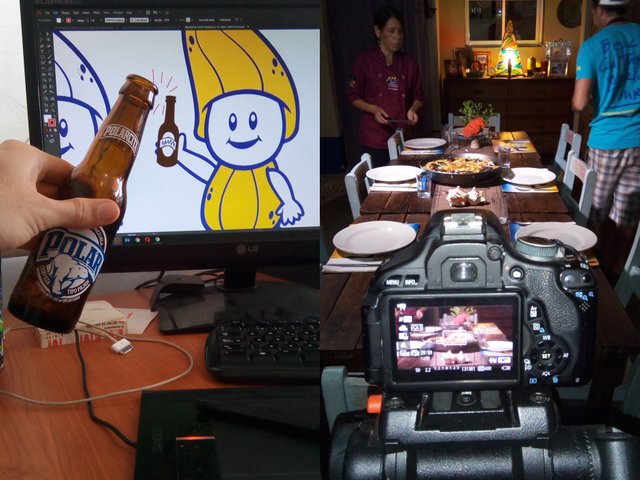 El pequeño bananin tomandose una fría conmigo y un guapo Risotto siendo protagonista de un comercial. / Lil' banana guy getting a cold one with me and a good looking Risotto being protagonist of a commercial.
      Esto no significa que nosotros (y otros uloggers) vayamos a empezar a compartir un pobre contenido de esfuerzo, eso sólo significa que a través de ULOGS podríamos compartir más y más cosas geniales sin tener que pasar cien horas desarrollando un contenido impresionante, pero simplemente contenido entretenido. A veces corto, a veces un poco más largo, a veces en español, a veces en inglés... Nuestro ULOGS podía salir en cualquier presentación.
      Pasamos la mayor parte de nuestro tiempo fuera de casa/computadora. Despertarse temprano alrededor de las 6 de la mañana y terminar alrededor de las 12-1 de la mañana, trabajo de diseño gráfico, trabajo de fotografía, correos electrónicos, llamadas telefónicas, tienda de comestibles, cachorros, clases de chef, clases de pole dance, entrenar, ducharse, tiempo de pareja, conducir, conducir, conducir, comer, comer, comer,... A veces los días son agotadores, pero a menudo terminan con al menos una historia interesante.
      This does not mean that we (and other uloggers) are going to start sharing poor effort content, it only means that through ULOGS we could share more and more great things without having to spend a hundred hours developing impressive, but simply entertaining content. Sometimes short, sometimes a little longer, sometimes in spanish, sometimes in english... Our ULOGS could came out in any presentation.
      We spend most of our time away from home/computer. Waking up early around 6am and finishing around 12-1pm, graphic design work, photography work, e-mails, phone calls, grocery store, puppies, chef classes, pole dancing classes, training, showering, couple time, driving, driving, driving, eating, eating, eating, eating,... Sometimes the days are exhausting, but they often end with at least one interesting story.
---
      Por eso vamos a empezar a hacer ULOGS y este es el primero.
Gracias!
-V&W
      That's why we're going to start making ULOGS and this is the first one.
Thank you!
-V&W
---
Somos miembros de... / We are members of...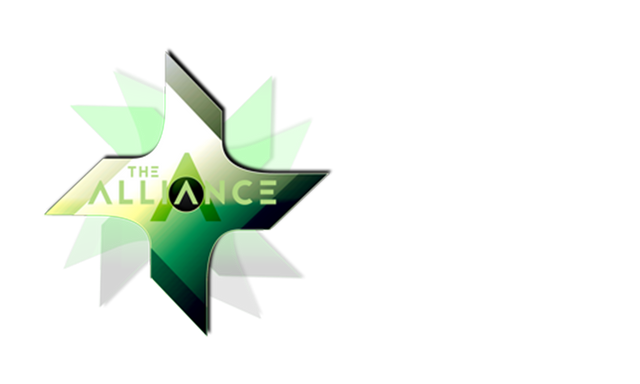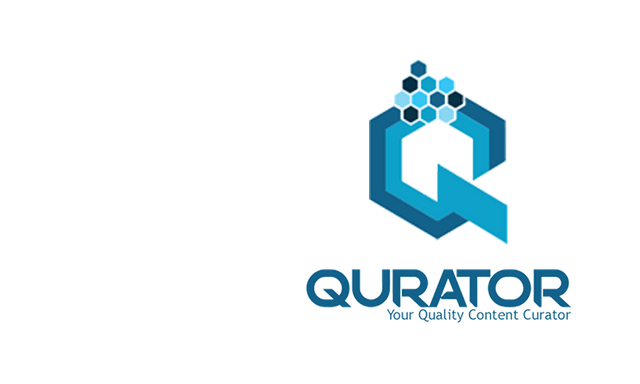 @qurator
@thealliance
---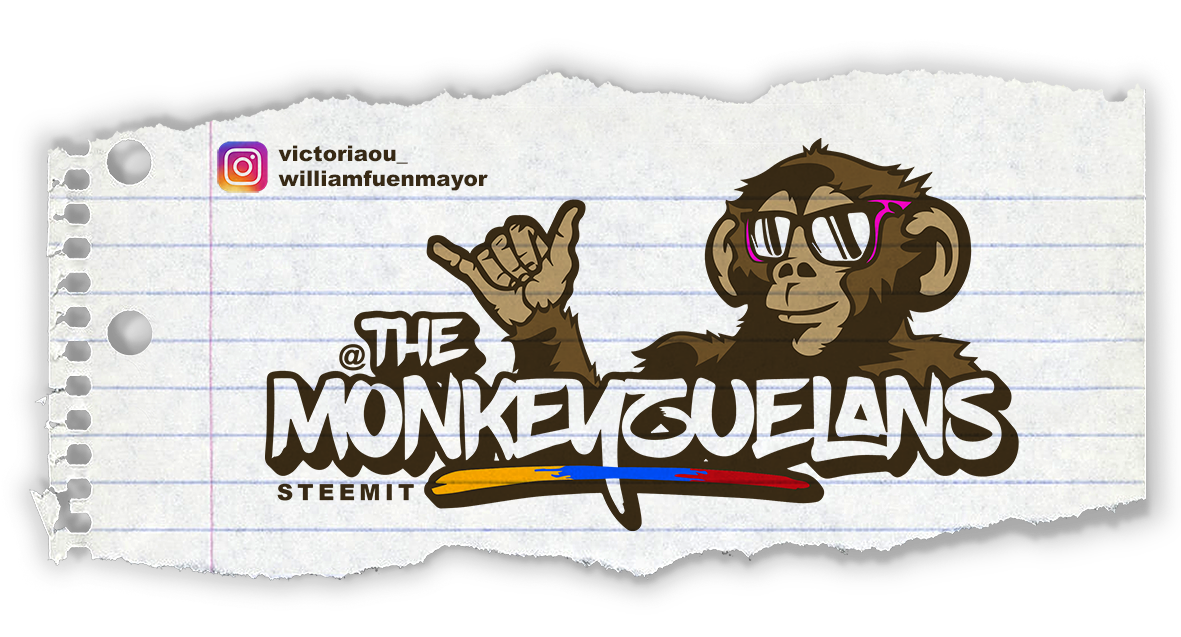 Toda la información, los textos, el relato, las imagenes y fotos, donde no se especifique lo contrario, son de nuestra autoría y propiedad

iPod Touch 5, iPhone 5, BLU R1 HD, Nikon Coolpix P520, GoPro Hero 3+, Sony Alpha300
Diseño de Logo y Firma por @themonkeyzuelans como Multitakers