Ulog 61: Super weekend (Part 2)
We didn't finish touring George Washington's home until late in the afternoon. Initially, I wanted to stay until the evening so that we can go through the entire property. I planned dinner at Peking Gourmet Inn (http://www.pekinggourmet.com/) - more to come on that restaurant in a little bit. However, my brothered needed to go home. So off we went to find food again.
My brother enjoyed eating at a small restaurant called Rice Paper (https://edencenter.com/stores/rice-paper/) in the heart of Eden Garden. Rice Paper is a relatively small restaurant with only a few tables. Known for their more exotic dishes not found in other Vietnamese restaurants, we often ate here when we went on day trips. They have all of the standard fares plus some tasty snail dishes. It was packed when we got there, and with a larger party, we did have to wait for a table longer than usual. However, I think that you will have to wait for a table regardless if you have a small party or a larger one. My brother ordered some appetizers, including various versions of the snail dishes. We, of course, ordered the rice paper dish where one has to roll rice paper with meat and herbs into a "spring roll" individual wraps. It was quite tasty. We didn't want to overeat because we have reservation planned for another restaurant two hours later. My brother finished his meal, and we went and bought some snacks for him to take home to his wife. I got him sugarcane drink and che from Thanh Son (https://edencenter.com/stores/thanh-son-tofu/). They are known for tofu, but they have a line that serves different versions of che, banh bao, and smoothies. It took an hour to get through the line and finished with the order.
After bidding goodbye, my brother left to go back to Harrisburg with his kids. My parents, MIL, wife, kids and I went back to the hotel to relax for a bit. We brought the stuff up into the room. My dad and I watched football on TV while the women freshened up and caught up on their social media accounts.
At around 5:30 pm, we packed back into the middle van and headed out for dinner. I booked this restaurant two days for 6 pm before because they were known to be packed during dinner time because it is such a favorite place. I was glad that I did it. When we got there, the line was out of the door. I parked the car, let the passengers and drove around the parking lot looking for a spot while the rest of the family went in and announced their presence so that they could get our table ready. 10 minutes after I parked the car, our table wasn't ready. There were so many people waiting in that tight space.
Peking Gourmet Inn is known for its Peking duck carved and served tableside. Many famous people have eaten here, and this being in the Washington D.C. metro area, that included numerous politicians. The owner took pictures of many of the celebrities, and you can see them on the wall of the restaurant. The second exciting part about the restaurant is that they grow their vegetables on a farm situated a few miles out of the metro area.
When we finally sat down at our table, our server came and asked for our order. I started with a mixed drink, my parents ordered red wine, and my daughter wanted orange juice. The server asked whether we wanted to start with one Peking duck to which we obliged. They have a full menu of Chinese dishes. I ordered family style for the family: Chinese Winter Squash and Sea Scallop Soup, Lamb Chop Peking Style, Seafood Imperial, Jeo-Yen Shrimp, Yang Chow Fried Rice, and spinach.
My parents enjoyed the Peking duck. We couldn't finish the other dishes, so we packed them to go. I don't have an appetite for ducks - never did and never will. So I can't pass judgment on the taste of the delicacy. However, based on my observation of the restaurant, I think the food of this restaurant is good overall. Yet, I don't know if I would want to return and eat because of how crowded it was. I like to have some space when I eat. Too many people into my personal space and the meal doesn't go as well. I am sure everyone is different. It was a memorial meal to remember though because we get to experience a unique dining experience that isn't available in other spaces.
We were done with our meal at approximately 7:30 pm. We took our food home, decompressed a little while, and then I took my parents and mother-in-law to the MGM Casino afterward.... to be continued..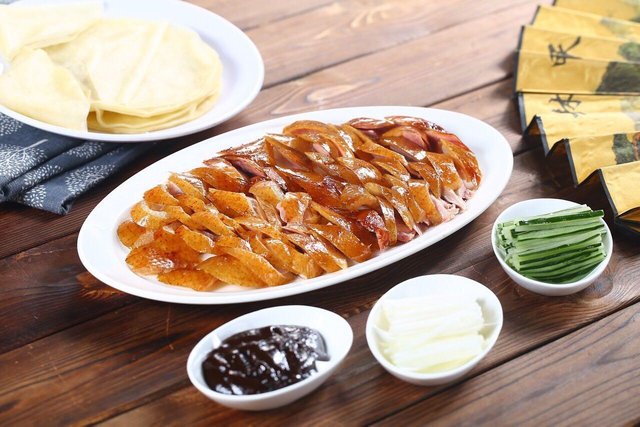 Image source: Pixabay Mobile App - no link provided.