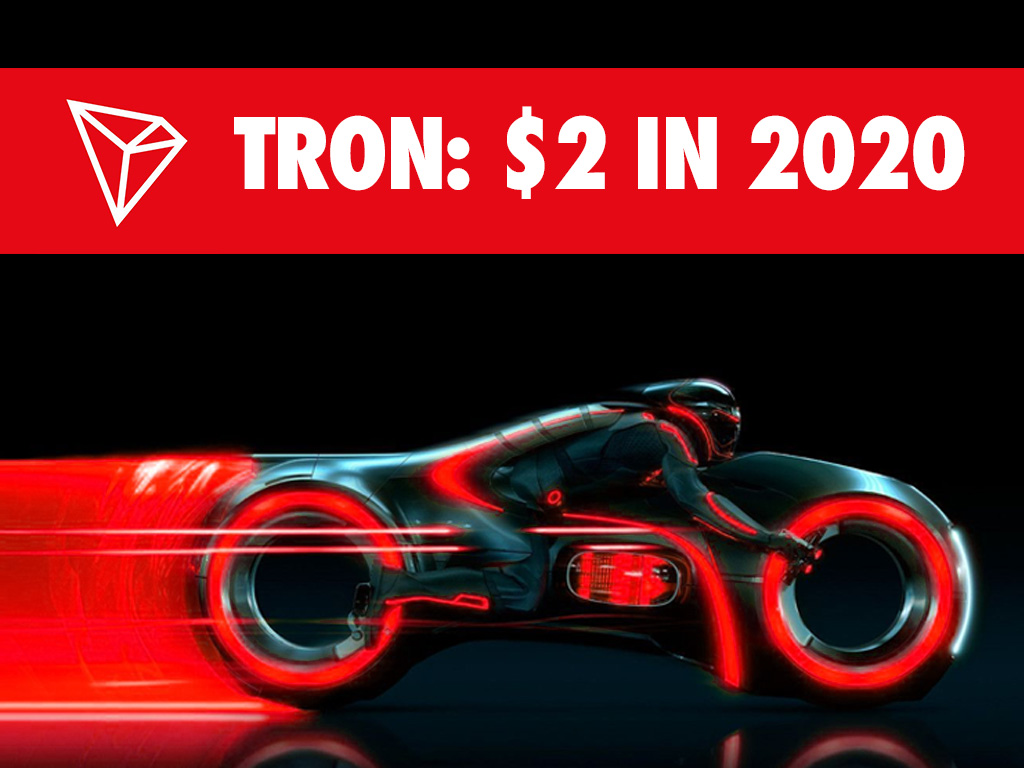 What Is TRON?

TRON by Tron Foundation is an exciting and incredibly ambitious blockchain-based and ореn-ѕоurсе project on the grand mission to decentralise the web by creating a worldwide entertainment platform, that provides content creators full control over their content. Basically, think about TRON as a decentralised combination of Netflix, Hulu, Spotify, YouTube Google or Apple apps store, etc., where anyone is able to upload their content directly to the TRON blockchain without the "middle men" and censorship. For example, Youtube have absolute control over how much they pay their content creators and what kind of content is allowed on site. TRON hopes to make this a thing of the past. For the past three months' development, TRON already have half a million token holders and millions of supporters. TRON is one of the cryptocurrency with the largest crypto communities in the world.
Another strong part of TRON's future vision – #dApp (decentralised application on the blockchain) ecosystem. It is believed, that in the future TRON will compete with Ethereum as a dApp platform and will have much larger ecosystem than Ethereum. The reasons for that: ridiculously cheap transactions ($0.000005 per transaction). Huge transaction volumes (TRON is be able to handle more than 1000 transactions per second!). Custom smart contract support and integration of current partners into the Tron network after main net launch this month. TRON already have 100 million users on their dApps (Peiwo, Obike, Uplive, Game.com, Kitty live, Bit Guild, Trip.io, and Mico), and they will migrate all the dApps to their own network. Lastly – consistent coin burn (TRX will have consistent coin burn vs ETH unlimited supply), community rewards (TRON will devote 1 billion USD to support community developers and supporters to make TRON grow further) and mobile user platform (Ethereum doesn't have experience in developing such user based platform).
Operating in an industry that was worth $1.8 trillion in 2016 and long list of impressive partnerships already – are not the only advantages of TRON. Project have China's government endorsement as well and considering China's negative stance towards cryptocurrency, this is definitely a good sign for the long-term potential of the project.
TRON's current progress: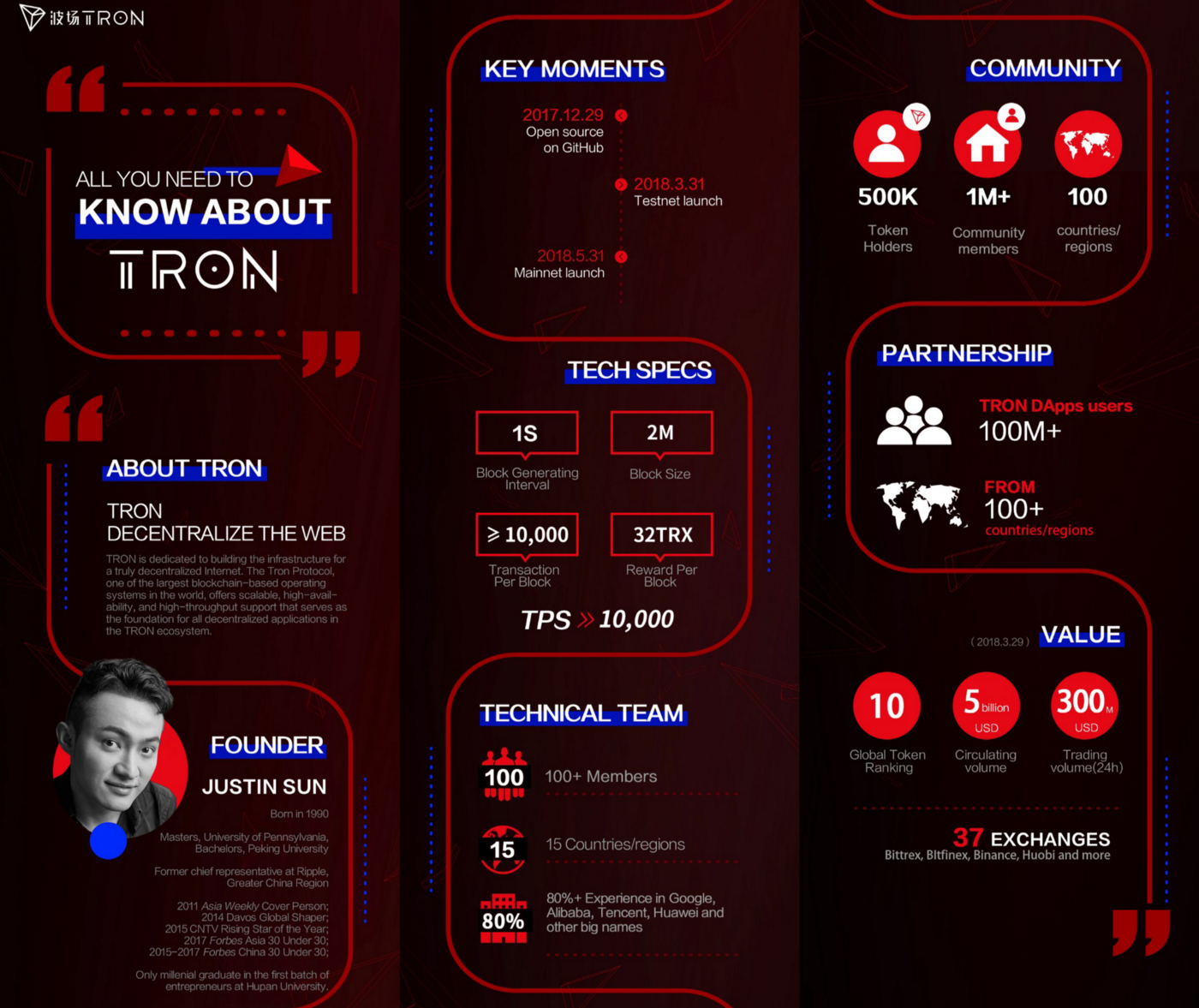 TRON Roadmap:
Exodus. 2017-2019 – Content distribution platform
Odyssey. 2019-2020 – Content empowerment to encourage ecosystem growth
Great Voyage. 2020-2021 – Content creators will be able to create their own tokens
Apollo. 2021-2023 – Building the full decentralised trading platform for tokens
Star Trek. 2023-2025 – Decentralised gaming platform for users to create their own games
Eternity. 2025-2027 – Users will be able to build their own gaming platforms.
The TRON Team and Justin Sun
TRON possess what looks to be a very strong and well-rounded team. Since the beginning of 2018, the frequency of TRON's code update has been at the forefront of all blockchain projects, and achieved the highest frequency of updates in a single week several times.
The leader of the Tron Foundation is the young and ambitious Justin Sun, who has an insanely impressive background for someone at any age, let alone, someone who is 27. To start with, he founded the Peiwo app (a Chinese social media platform with over 10m users). Secondly, Justin Sun previously was working with Ripple as chief representative for their Greater China Region. He has also twice been listed as one of Forbes 30 under 30 (2015 & 2017), showing the strong reputation he has within the business world. Lastly, he's the protégé of Jack Ma who is the founder of the Ali Baba group. Jack Ma handpicked Justin Sun to study at the prestigious Jack Ma Hupan University, which has a lower acceptance rate than Princeton. Justin Sun is also graduate from the University of Pennsylvania.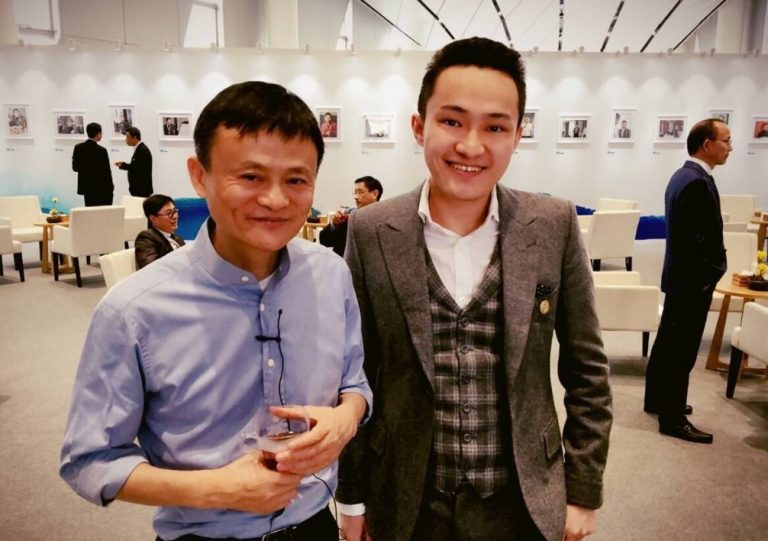 Beyond Jack Ma (left), Justin Sun (right) surrounded himself with an even wider team of all-star mentors, including Feng Li and Tim Berners-Lee. For those of you that don't know, Feng Li is an advisor of Ripple and led investment at Coinbase. Tim Berners-Lee is famous for inventing the World Wide Web.
What Is Tronix or TRX?
Trоnіx (TRX) is the сurrеnсу of TRON platform, available for purchase / trade on the various exchanges. TRX is required to access the TRON platform and is also used to buy and sell content upon it.
Also, there's possibility to "lock up" your TRX and run a node. Locked TRX coins become TRON Power (TP) and gives user voting rights and other privileges in the TRON ecosystem. Anyone can own an node but you need to be elected by the community to be able to be rewarded. The more TRX you have the more voting/ electing influence you have. The rewards for mining is set at $100 million / year, so it should be very profitable. Tron Power is not tradable and would of course be a long-term commitment.
Last thing to mention – TRON 20 Token, which allows solo developer, startup or any organisation to create dApp as well as issue their own tokens. When somebody creates dApp on TRON, they will have to spend 1024 TRX, and this amount is burned forever. So the more dApps will be created on TRON ecosystem, the bigger price TRX will have.
Basic Tronix statistics (as of today):
Total Market Cap: 4.5 billion USD
Circulating supply: 65 billion TRX (remaining supply locked until 2021)**
Total supply: 100 billions TRX
Global Rank: 10th most valued crypto in the world
Availability: **available on 37 exchanges with 7 fiat pairings
Mainnet launch date: May 31st.
TRX Price speculations:
If you are looking for crypto currencies with a good return on your investment, TRX could potentially be a low-risk, high-reward investment option for anyone looking to diversify away from bitcoin and some of the bigger alt-coins. Cryptocurrency itself is very young. We're talking the internet in 1990 here. There were many investments that people made in internet companies that came good and many that didn't. TRON could very easily be the kind of success story that makes people a millionaire off a $500 investment.
For a long term, some experts believe, that the price of 1 TRX could be roughly ~$10-12 by 2023. So if prediction will come true, a $200 investment today into TRX may be worth ~$30 000 within a 5 years period.

In short term, even with the latest gain, TRX is worth a mere seven cents (and that's a ~70% decrease from it's all time high price 4 months ago) and there are educated guesses by websites Trading Beasts or Coincheckup, that in the end of this year TRX price will be a minimum of $0.28 and a maximum of $0.41. That's at least 300% gain.

For 2020, various crypto experts believe, that there will be another great bull run, so the price of TRX can increase up to $1-2. Isn't that a nice opportunity to invest? I think so, but i'm not a financial advisor and please, don't risk money you can't afford to lose.
HOW TO BUY TRON. Step-by-step guide
*If you are new in crypto world, but decided that you want some TRON, here's a full step-by-step guide. Using this guide you will learn how to buy bitcoin and exchange bitcoin to TRON (or any other crypto). Let's get started!
Step 1. Register at Binance exchange (right click and open the link in the new page). I recommend this crypto-exchange not only because Binance is my favourite, but because Binance with active multilingual support channels, community-driven promotions and fast-growing exchange capabilities one of the most widely used exchanges in the world.
To start, just click Create new account or Register (top right corner), fill your email and password and confirm the Terms of Use. If referral ID is empty, you can add 11607978 (this is optional).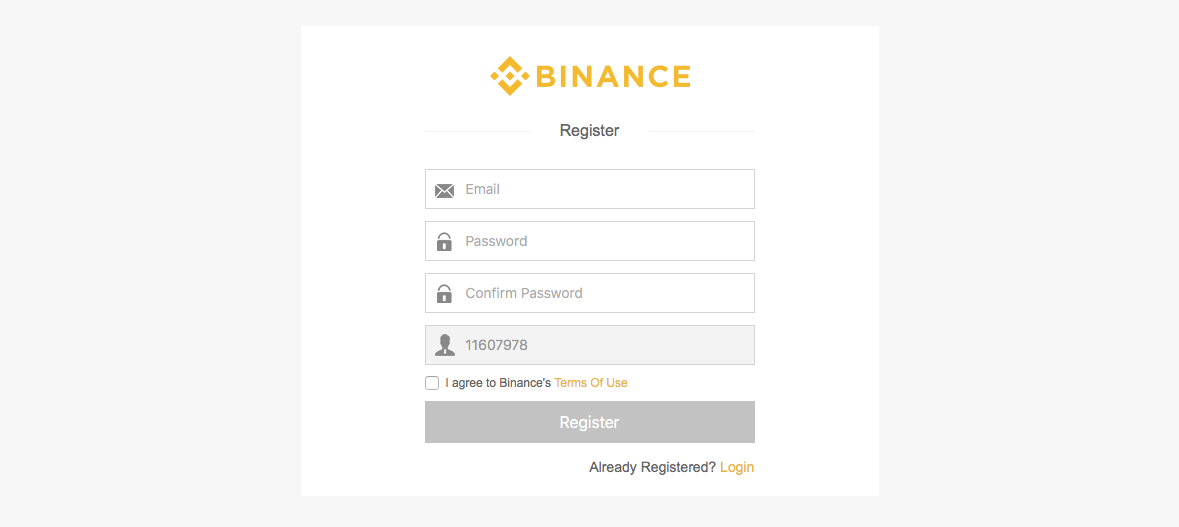 After that, drag the slider in popup screen to fit the puzzle piece. Now go to your email and confirm registration. The only thing left is to do – log in to your account, read and agree to safety risk notices. To enable Two Factor Authentication (2FA), you will need Google Authenticator app in your smartphone (available for iOS as well as for Android). Skip 2FA for now, but don't forget to enable it later, after you had downloaded application for your smartphone.
Warning! Don't delete the app and don't forget to transfer 2FA data to your new phone (if you buy the new one), because you will potentially loose access to crypto-exchange. You must always back up the data and keep it safe!
Step 2. Let's find out your Bitcoin Wallet address in Binance exchange by clicking Funds and selecting Deposits option form the menu:

After that, enter "BTC" in search field and select BTC – Bitcoin from the dropdown menu:

Step 3. The long list of letters and numbers is your new Bitcoin wallet address! You can give it to anyone, and people will be able to send you money using this address no-mater what. You can put this address for example in your YouTube videos and ask for tips, etc.! The possibilities are unlimited and hey – you just joined the crypto community! Click Copy Address for later use.

Step 4. To exchange bitcoin to TRON (or Ethereum, etc) we have to buy bitcoin and send it to your Binance bitcoin wallet. If you already have some bitcoins, just send to address created in Step 3 and skip to Step 9. If you don't have any bitcoins – let's learn how to buy them! BTW, you don't need to buy whole bitcoin! Just like you don't need to buy one kilo of gold, if you decide to have some gold. You can buy 1%, 5% or any amount you want.
There are few options to buy bitcoin, choose the most suited for you bellow (right click and open the link in the new page). And because you followed my guide, when you buy bitcoin you will get extra $10 or 5€ (depending on option you choose)! How cool is that?
– Coinbase for people in United States of America using credit or debit card, bank transfer
– Luno for people in Asia or Europe, using bank transfer
– Bitpanda for people in Europe, using credit or debit card or bank transfer
So if you are in United States or somewhere in Asia, you have only one option for now. For Europe, you can choose Luno or Bitpanda. The main difference: you don't need ID verification using Luno, but your buy limit until you verify – 1 000 Eur. Also, bank transfer takes 1-3 days.
If you choose Bitpanda, you will have to verify your ID, but after that – no limits to buy or sell bitcoin. You can also use Credit or Debit card to buy instantly, or do the same using #Skrill or #Neteller accounts (they are Europe's Paypal rivals).
I recommend Bitpanda, because ID verification is fast, and Bitpanda is Europe's most popular digital currency purchase platform with many payment options. Because of this, next steps to buy bitcoin is for Bitpanda (but the process is similar for Luno or Coinbase).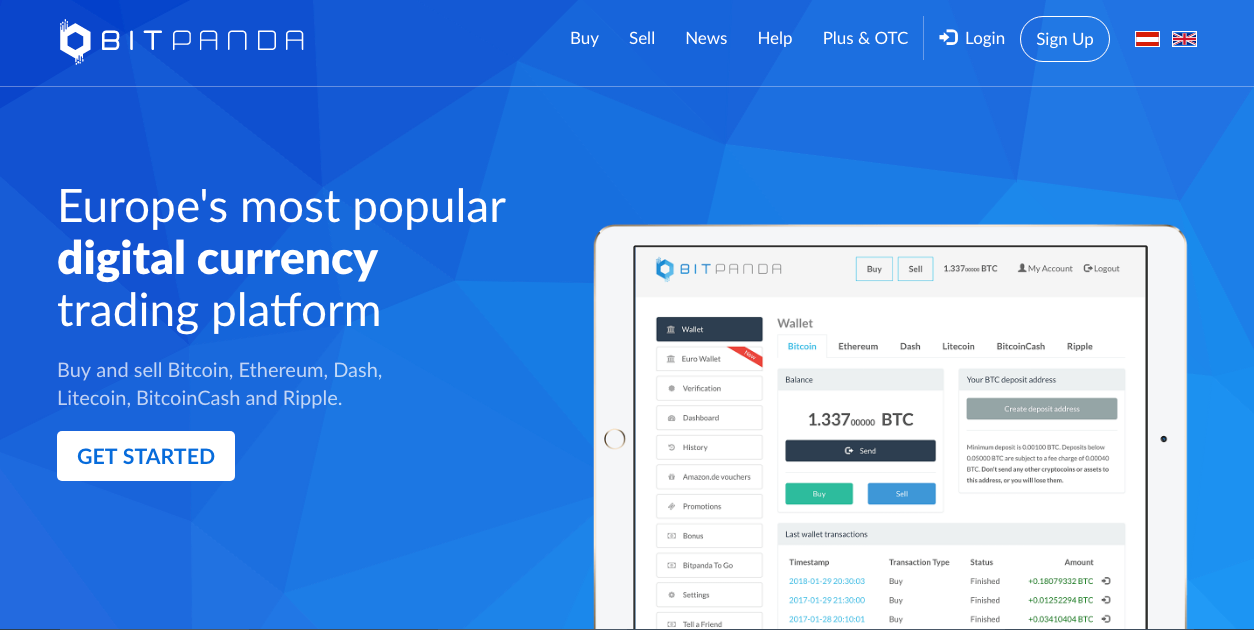 Step 5. Register an account using your email address and solving puzzle. Go to your email and verify your account. In the next step – create password and finish registration.
Step 6. To get Gold verification level you will have to provide your cellphone number, your residence location and show your passport or ID card to Bitpanda agent for security reasons (to know, that you aren't ISIS terrorist). Don't worry, it's safe and will take you 10 minutes. Click on Verification tab and choose IdentityTM or IDNow service to start. After that, enter you cellphone number
Step 7. After your registration is completed, click on Wallet, make sure Bitcoin is selected on the top, and click Buy.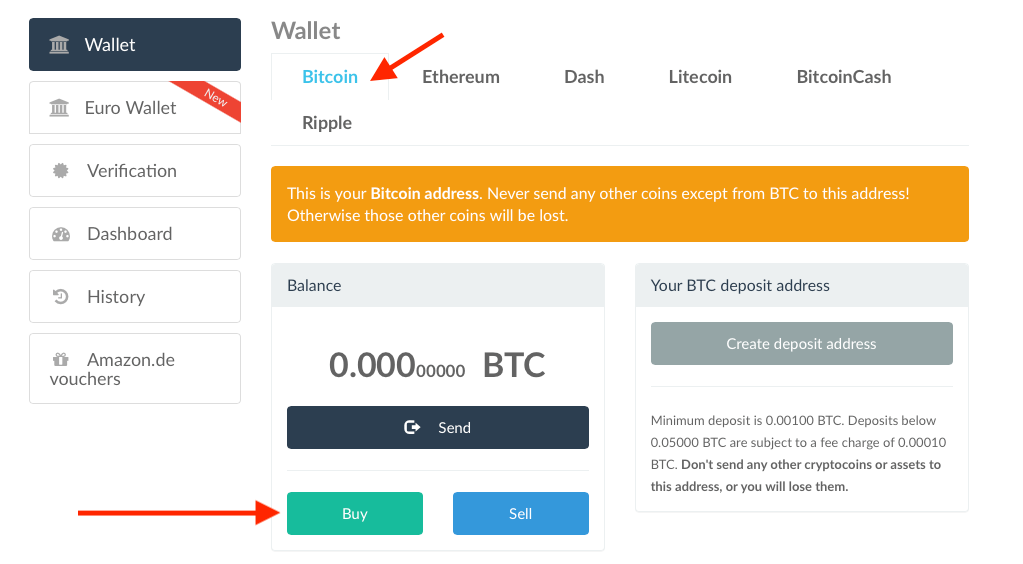 In the next screen selection payment option, which is best for you: Bank transfer, Visa / MasterCard, etc. Also, enter how much money you want to spend on bitcoin.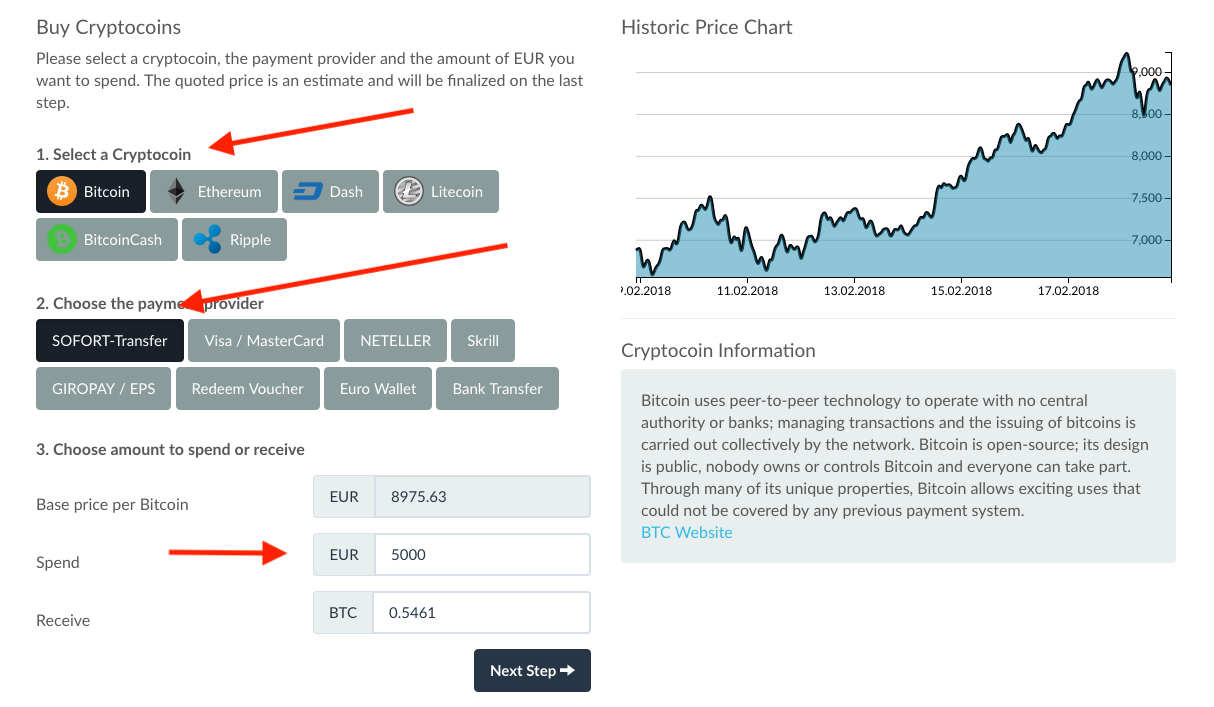 After that, finalize your order in 45 seconds by clicking on "I hereby agree to.." and "I confirm that..". If you didn't click in time, price will be recalculated. Proceed with the payment.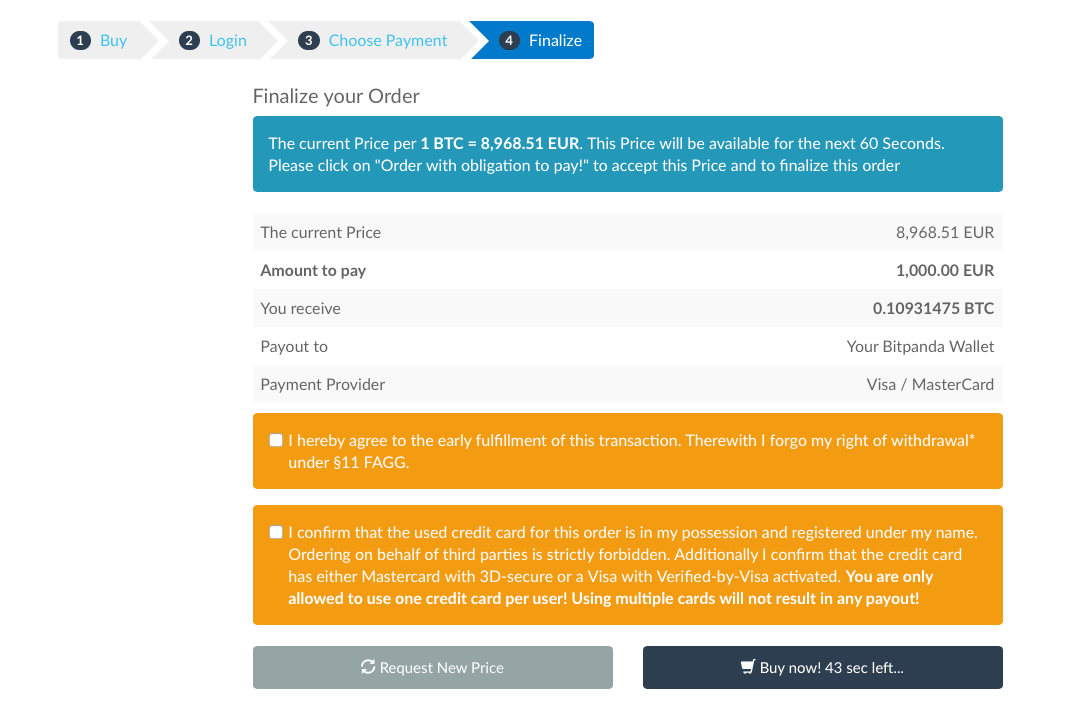 Step 8. You will see your Bitcoin amount in your balance after 1-3 minutes (sometime it can take longer). Now go to Wallet section, select Bitcoin and click Send. It's time to send your bitcoin to Binance wallet, that we created in Step 3.
Paste your Binance wallet address in Payout address and double confirm it (you will lose money, if you send your bitcoin to the wrong address!). After that, click All near Choose amount to send all of the bitcoin. If you set-up Two Factor Authentication (2FA) for Bitpanda, you will have to enter 2FA key. After you click Send, please go to your email, and confirm pending transaction.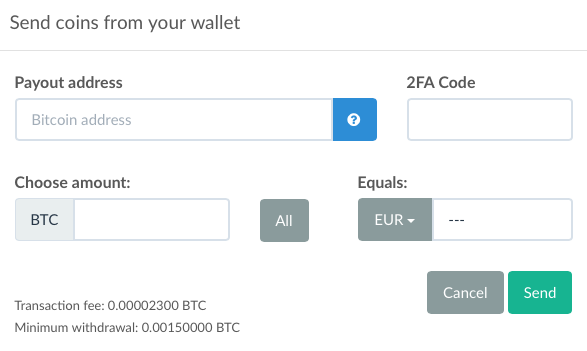 For Luno and Coinbase – the process is the same. Buy desired amount of bitcoin, find Send option and paste Paste your Binance wallet address, created in Step 3.
Step 9. Go back to Binance exchange. Once again click Funds, then Deposits and wait for Bitcoin transaction confirmation. Usually it takes about 10-15 minutes (but if the bitcoin blockchain is extremely busy, it can take hours or days, so don't panic!).

Step 10. After your bitcoins successfully drops in Binance wallet, it's time to exchange it to TRX! In order to do that, please click Exchange, and then Basic (*you can learn Advanced mode on your own later).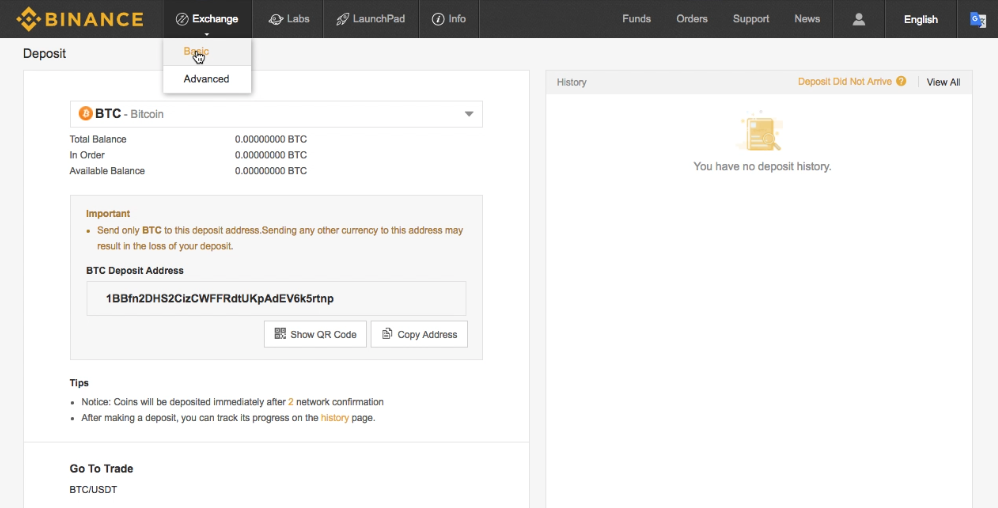 Now, you will see a screen with a lot of numbers and charts, and people behind your back will think that you are very smart! But the thing you need to do, is to enter TRX in search field and click on TRX/BTC in search results.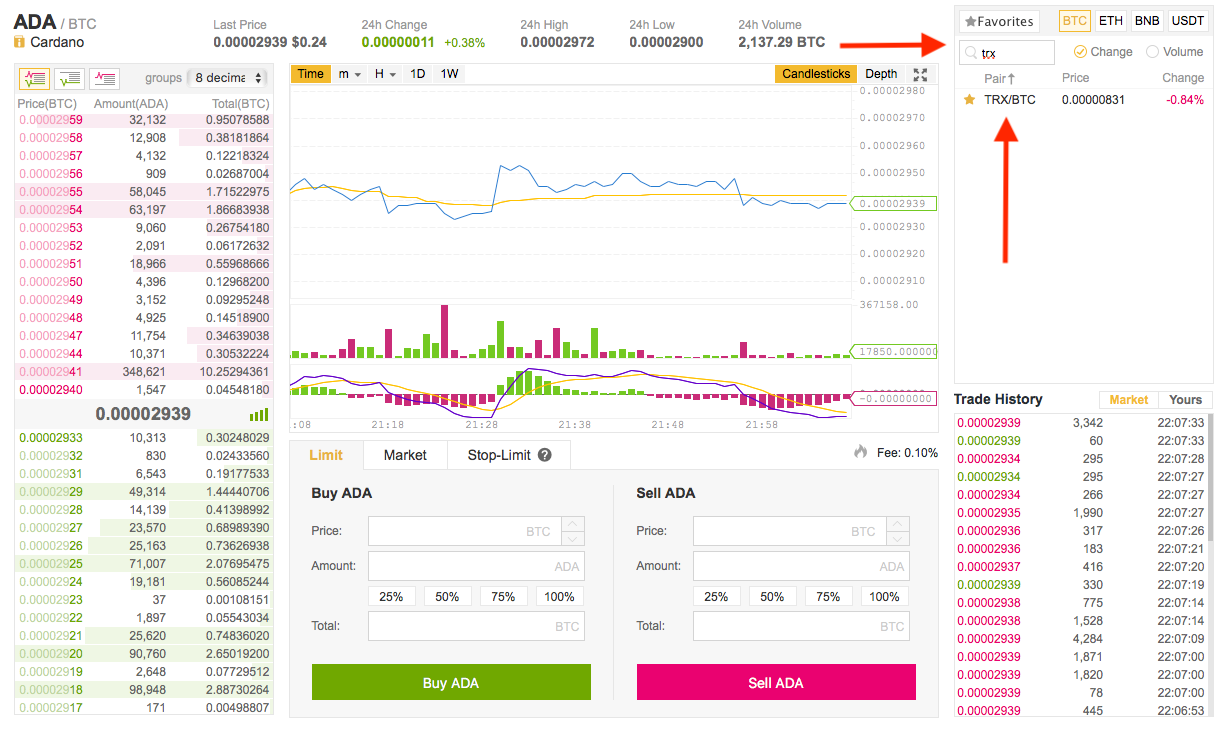 Now click on Market and 100% below amount. This means that you are exchanging 100 % of available bitcoin to TRX. If you want to change half of bitcoin amount, for example 50% – click 50%, etc. Finally, click Buy TRX.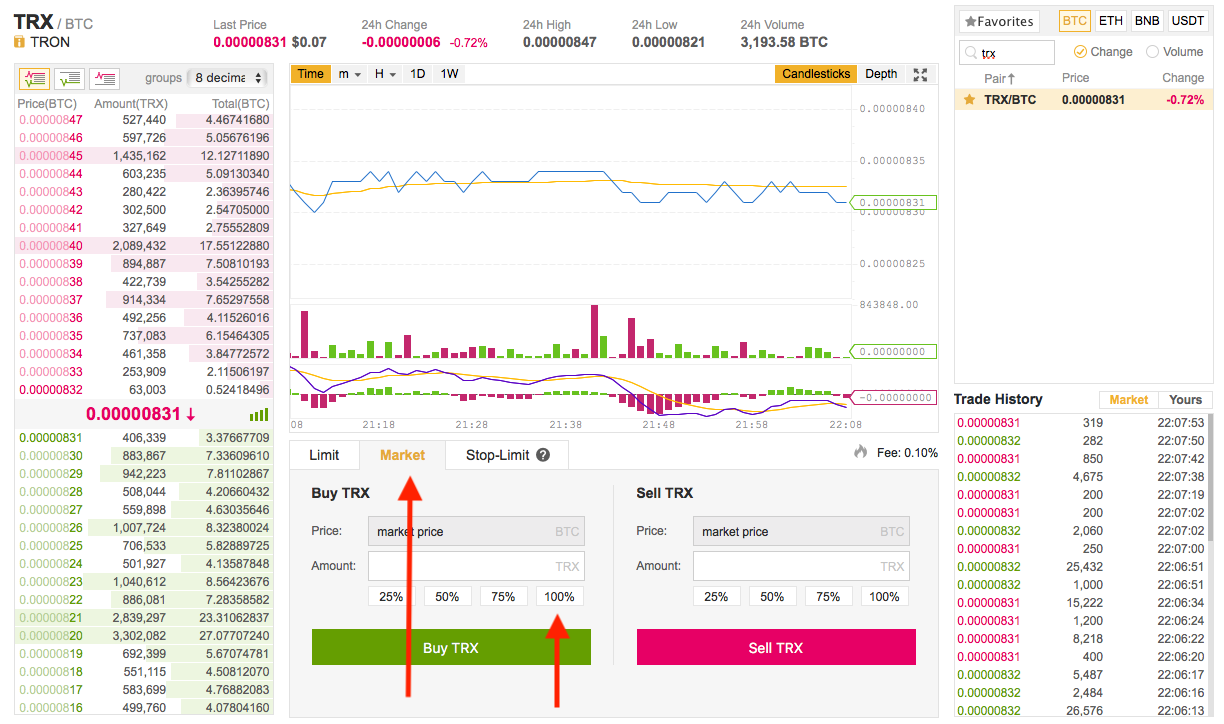 Step 11. Congratulations! You just did it! Now it's time to check if exchange was completed. Click Funds, then Balances and review your purchase. You can click Hide small assets so all the other coins (that you don't have) will be hidden.
Conclusion
Once again – I'm not telling you to buy or sell, and I'm not giving financial advice here. I'm just urging everyone to think rationally, not emotionally or recklessly. Don't act based on panic thinking like "OMG the price is going to $0.01 and I will miss my chance forever to retain some value if I don't sell right now".
Nothing rises in real value to infinity. That's impossible. I can guarantee that there will be a large and long-lasting crash/downturn at some point, when your only option would be to stay strong and wait for better times. Bitcoin was dead more than 100 times, but every-time –value went back up and reached new heights. The same goes for TRON. So be strong, have strategy and sell when you reach your goal!
Interesting stuff:
– How to exchange bitcoins to EOS, Tron, Cardano or any other coin?
– Lithuanian girls are the most beautiful!!!
– Everyone Is Making AI-Generated Fake Porn Now
– Would Ripple become $1000 coin?
– Fortnite is better than PUBG?
Don't forget to share, and upvote! Thanks! 🙏 😍✌️