BEING WORRIED AND OPTIMISTIC at the same time - my personal view on TRON and STEEM situation
Within the next several days, I will celebrate my 2nd anniversary since I joined Steem/Steemit.

So far it has been an amazing journey, along with some major hopes and disappointments.


INTRODUCTION

One thing I'm pretty sure is, the fact, that nothing ever brought as many emotions, anger and fear as recent Justin's and Ned's announcement. We've all learned that Justin Sun (representing TRON) bought STINC and this day will be surely remembered by many.
Since several users asked me recently about my own approach (curious how can entire situation impact @project.hope managed by me) - I decided to add my own 2 cents to this topic and share my own view - so those who collaborate with me would know what's my take on that issue.
So if you care about my opinion, then please continue reading. Otherwise close this post and do not bother.
ARE WE AN ASSET OR LIABILITY?

I've read a large number of posts and comments related to this discussion and generally speaking, it seems that the initial fear settled down a bit after AMA (Ask-Me-anything) with @Ned and @justinsunsteemit.
It seems too obvious to me, that Justin and his TEAM do not know YET what to do with the purchased product and it's community. And as much as we're wondering what to do next, they are probably wondering the same. We're making our own conclusions - and so are those people too.
It's important to acknowledge that during such a "fusion", things always change. And our community is being studied and judged as well. Justin and his team need to decide what will be their approach to our community. We may end up being viewed as valuable assets. Or as an unwanted liability.
And it does matter.
UNWANTED BEHAVIOURS

Our response will partly determine our own future. And comments like "You fool [Justin]. I don't need your fucking money." or "WE ARE YOUR WORST NIGHTMARE, JUSTIN!" are not the way to go. Weather we like it or not - such remarks are not going to help our community to survive or progress.
So to wrap it up: we may be valuable assets or nothing but a liability / unwanted problem that came as a part of the package. It's simple as that. Which one do we want to be?
SOME VOICES OF REASON

There are naturally people out there, who seem to share the similar business approach to this topic and @rentmoney in his recent publication pointed out a few things, out of which I would like to highlight one part: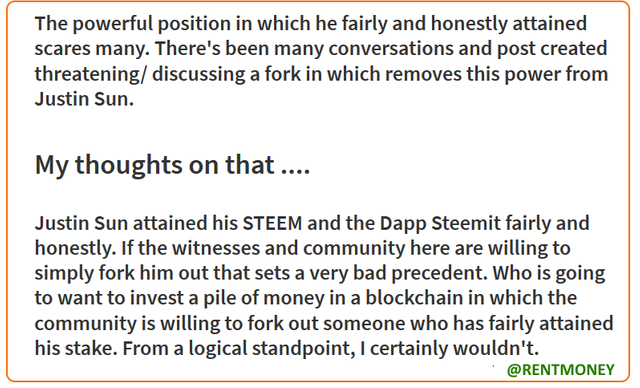 And I fully support his words, hoping that more people will share this mature approach.
So let's stay focus and let's be prepared for the unclear future to reveal itself. However, at the same time let's try to be more open-minded and not so openly hostile. That's my personal intake.
TO SUMMARIZE

I will summarize it all in one sentence:
After watching interview with @exyle and @andrachy ( link to the video on 3speak here ) I DECIDED TO BE OPTIMISTIC.
Yours, Piotr
---
cc: @ritxi, @blockchainfo, @achim03, @lanzjoseg, @fucho80, @neavvy,
@juanmolina, @jadams2k18, @machnbirdsparo, @honarparvar, @guruvaj,
@alokkumar121, @devann, @edgarare1, @flash07, @djennyfloro,
@culgin, @spirajn, @varioso, @gandhibaba, @forykw, @reverseacid,
@focusnow, @ulqu3, @tysler, @yonnathang, @pedrobrito2004, @cadawg,
@gbenga, @thetimetravelerz, @chireerocks, @mintymile, @hardaeborla,
@reinaldoverdu, @the01crow, @block.token, @ajewa, @henry-9ja, @jjqf,
@solarwarrior, @oluwatobiloba, @phgnomo, @futurekr, @mojubare,@ojerinde