How to use thermal mass to harness the incredible power of the SUN and to grow food year round!
Last winter I buckled down and built myself a 15' x 40' greenhouse. I built it on a shoestring budget and I'm actually pretty happy with it. It needs some stuff (like automation) but it sure gets the job done! One day I'd like to write more about how it was built...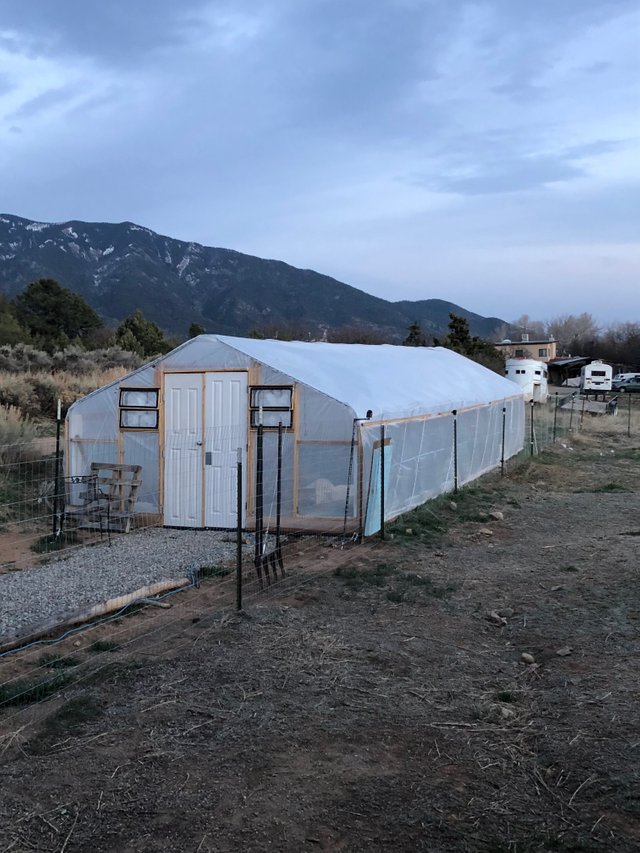 I considered this greenhouse an essential for the farm. With it I was able to start plants much earlier than the last frost, and I'll be able to grow into the fall and even the winter this year if I choose to do so. Next year I'll really get a jump start cause I won't be so busy building everything and can just focus on planting!
Heating costs for a greenhouse can become a major expense very quickly.
However, the sun puts off abundant amounts of heat. It's right there, all around us... IF we can just learn to harness it's power. And here's another thing I like about solar power: Most everything in our lives has been commodified in one way or another, but no one can ever slap a price tag on the sun. It's abundance of power will always be free.
So I needed to do two things to harness and keep the power of the sun in my greenhouse:
First, I needed to insulate the greenhouse as much as possible. I did this by making the house "double walled", which means I used two layers of plastic instead of one. Then, I added a small blower to inflate the space in between the plastic. This creates dead air space, which is pretty decent insulation.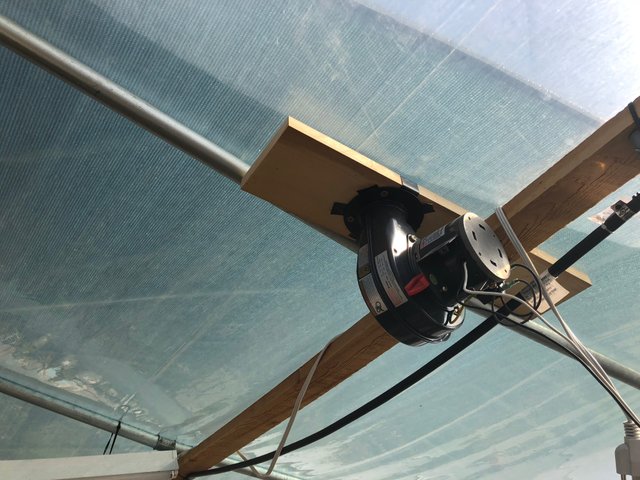 This is the blower that inflates the two layers. Low cost and effective.


Second, I needed to create thermal mass. Thermal mass is anything that collects and holds heat. Water does the best job at this, followed by rock, and then soil. This isn't a new idea. People have probably been using thermal mass to help grow plants since the beginnings of agriculture. For example, the ancient Romans grew espaliered fruit trees, which are basically a fruit tree trained to climb a south facing wall (thermal mass) to protect it from frost and extend the fruiting season.
I got lucky, because on the property I am stewarding, there were quite a few old, rusted out 'stock tanks' lying around. These are the big metal water tanks that are used to hold water or feed for livestock. They had been rusting and cooking in the sun for a very long time so I needed to find an effective way to get them to hold water.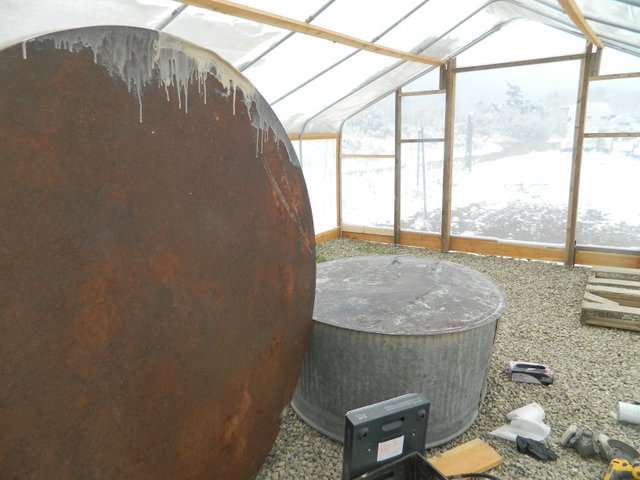 Here we have two of the tanks. The one on the left has a pretty sloppy fiberglass patch on it, and the one on the right has the entire bottom resurfaced with fiberglass.
I used fiberglass and epoxy to resurface the tanks and make them usable once again! I don't have very good pictures of this process, but it wasn't incredibly difficult. I just painted on the clear epoxy, laid out the fiberglass sheets, and then painted it again. If it was a particularly bad hole, I thickened the epoxy with "microbubbles" which is a thickening product used in boat building. You can also just use wood flour to thicken epoxy. You can do some amazing things with epoxy and fiberglass!
Here are a couple pictures of the finished tanks filled with water: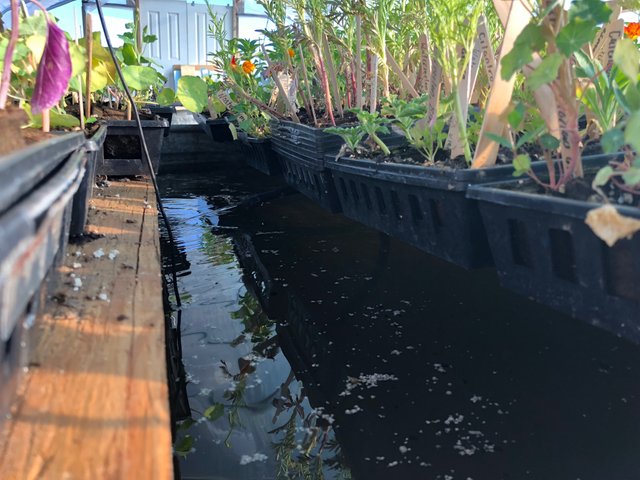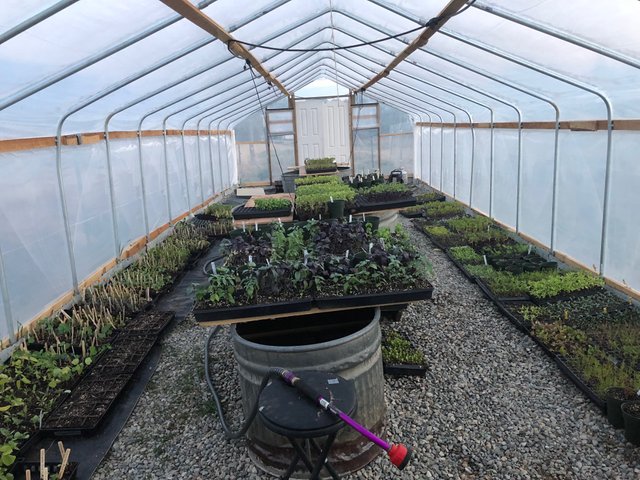 There are four tanks total. They are all in the second picture but you can't really see them because they are covered in starts. I am guessing they hold somewhere around a 500 - 700 gallons of water, but I'm not totally sure.
During the day, the hot sun heats up the water in these tanks (they weren't covered in starts in the winter, so they got more direct sunlight). If they were painted black, they would do an even better job at this. Then at night, they slowly release the heat, keeping the greenhouse warm and increasing the humidity level... Which is a good thing here in the desert.
I have a small pump in each tank that creates a little fountain effect in the middle. This aerates the water to keep the microbial life healthy, and also adds some humidity to the air.
I also make my earthworm teas in these tanks, so they serve a nice double purpose.
Soon I would like to add fish and aquatic plants, and hook up a line out that feeds into my drip system, but I haven't tackled those projects yet!
During the winter months, these tanks made a HUGE DIFFERENCE in my heat bill. I was getting a solid 10-15 degrees of temperature gain most nights just from the tanks. I would supplement that gain with a small propane "Mr. Buddy" heater, but many nights I didn't need it.
By the time I got everything setup and had plants in the greenhouse, we were still experiencing nights going down into the low teens. I never had to turn the propane heater any higher than the lowest setting, and many nights I didn't use it.
This is a 15' x 40' greenhouse with 8' of headroom in the middle. That is a big space to heat!
I added up my propane costs, and my heat bill was running me... wait for it.. just about $10 a WEEK.
Compare that to $300 - $500 a month without the tanks (conservative estimate)!
It's crazy to me how simple these kinds of systems are and how much energy is available to us for free if we can just capture it and use it. This doesn't just apply to the sun.. there is energy everywhere in nature waiting to be captured or unlocked. It's in the soil in forms of insoluble minerals that microbes can release, and of course in the rain water. We just need to build or help nurture the natural systems to hold these forces in place so that us and our plants can benefit from them before they dissipate back into the universe.
I believe strongly that the key to growing healthy plants - and for that matter just living a good life - is to work with these systems of nature instead of against them. These could be as basic as harnessing the sunlight, watching the movement of rain water through your fields, etc... or as complex as the music you play, the art you create, your personal life, business relationships, etc etc..
I hope y'all found some insight or inspiration from this post. Thanks for reading... and if you like what you've read, please resteem, upvote, or comment below!