Chapter 6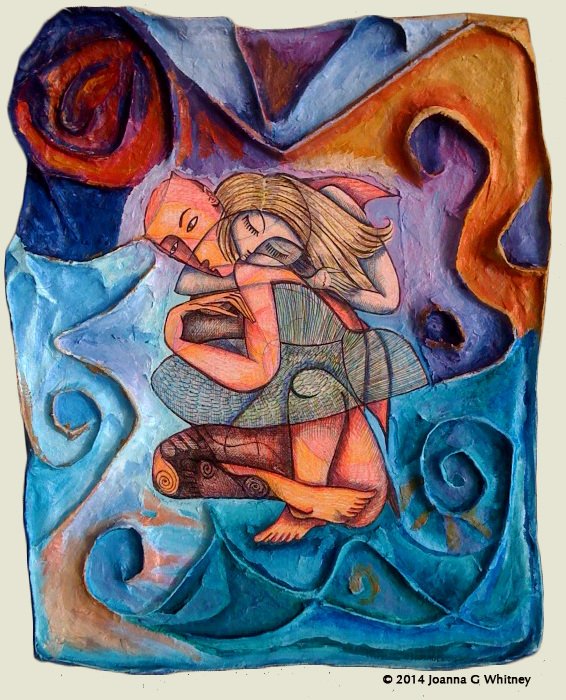 Love Conquers All 15" x 17.5", oil & paper mache on wood, Relief $475
On his birthday she took him to her sister's house in the country. The yeti began to fall in love with the mermaid, and the mermaid had not had a partner for many years and had to stave off those feelings herself because she knew where that would lead. It was just a distraction which would easily destroy their bond. She knew that he was just in love with Love, and that it was another mechanism to send him back reeling into space when she ended up being uncontrollable. She got a lot of advice from her friends about this.
The roommates did not like the yeti. The roommates seemed to sacrifice people who are not like them, and keep them in a portion of their minds where they are separate and need to be caged or scorned. This seemed to make the roommates feel better about themselves. One of them had an eating disorder. Another went to detox every month. Another was cooking meth in his room. They needed to make the yeti worse than them to justify their behavior.
Even though the yeti was attempting to become a member of society again and give up his wild ways, the roommates did not offer much help. They told the mermaid that the yeti could only be near the house 10 minutes before she was planning to leave - because "what would the neighbors think?" Really? Yes, they really said that.
This was so unusual to the mermaid that she shuddered to hear it. In the Queen City, where the mermaid used to live before she stumbled "back home", people she knew play the Good Samaritan everyday if need be. With all her difficulties, the mermaid never went without a roof over her head, and she was used to seeing her spiritual family going out of their way to help those who ask for help and really meant it. She had never seen such cold hearts.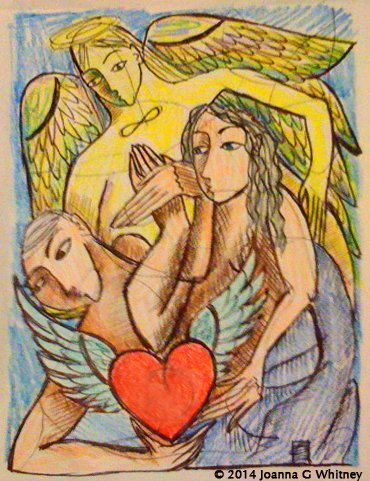 One day, the mermaid awakened to buckets of rain pouring out of the sky. She ran outside and put the yeti in her car which is parked just past the house. That was the day that the mermaid decided that God would place the Cloak of Invisibility on him so that he would be safe and not be seen by the roommates.
It rained hard and steadily for 5 hours while the roommates watched a PBS Special about helping people who were less fortunate. The roommates never asked the mermaid, that day, how the yeti was faring in the rain.
After that day, the mermaid no longer cared what people thought or about whether her roommates would kick her out. The similarity to "no room at the inn" was too close to this situation. She could not allow the yeti to sleep outside anymore. She prayed for an answer.
An intuitive thought came that she could park her car over by where the 18-wheeler trucks park overnight and she could let the yeti sleep in her car. She would have to give him her extra set of car keys and trust that he would not get behind the wheel. She was worried about this a little, but she decided to trust him. She could walk back to her house to sleep and get up in the morning and bring him coffee and oatmeal. Then at least, he would not be outside on the ground and susceptible to the dangers of the streets in the unfriendly city.
After months of work: sleepless nights. great interference with what she would rather be doing, interruptions to her work, the jangling wee hour phone calls, driving on dark roads with the scary guy, innumerable dealings with the police & sanitariums, sharing food, money, & home and car...finally the yeti's hard exterior began to crack open.
He told the mermaid that he loved her & that he trusted her to lead him to the Ocean where he knew that he could remember how to be himself again.
The mermaid went with the yeti to his shrink to find out his diagnosis. She helped him get back on his medication. She knew this might be only a temporary solution - that with a sufficient spiritual experience, all his selves could Unite under one Guardian, and he could drop that man-made answer that just takes the edge off...
She talked to his brother about his rantings and ravings and found out that everything he said is actually true. His family has decided that he is "happier" on the street. That's just "family-speak" for "we are unwilling to go to the lengths necessary to find him what he really needs". His siblings are all wealthy and many have empty houses, but would not give the yeti a place to live. The mermaid sees this happening in her own family.
The yeti needed someone to live with him. He is Up and Down and All Around, but not in the ordinary sense. In the Aquamarine City, the mermaid knows people who have come back around the corner from that which the yeti suffers. She knew that she must get him back there to find someone who could help him.
Previous Chapters
https://steemit.com/art/@in2itiveart/the-yeti-and-the-mermaid-the-true-story-of-2-people-who-needed-help-and-helped-each-other-chapter-1
https://steemit.com/art/@in2itiveart/the-yeti-and-the-mermaid-the-true-story-of-2-people-who-needed-help-and-helped-each-other-chapter-2
https://steemit.com/art/@in2itiveart/the-yeti-and-the-mermaid-chapter-3
https://steemit.com/art/@in2itiveart/the-yeti-and-the-mermaid-chapter-4
https://steemit.com/tribesteemup/@in2itiveart/the-yeti-and-the-mermaid-chapter-5
Source
https://joannawhitney.weebly.com/blog/the-yeti-the-mermaidthe-true-story-of-2-people-who-needed-help-helped-each-other