Tioman, a tropical paradise in Malaysia
White beaches with palm trees. Crystal clear water. Cheap beers. Who cannot be tempted by these features? But where can you find them? Of course on many places, but did you ever considered the island of Tioman near the southeastern coast of Malaysia? Probably not =)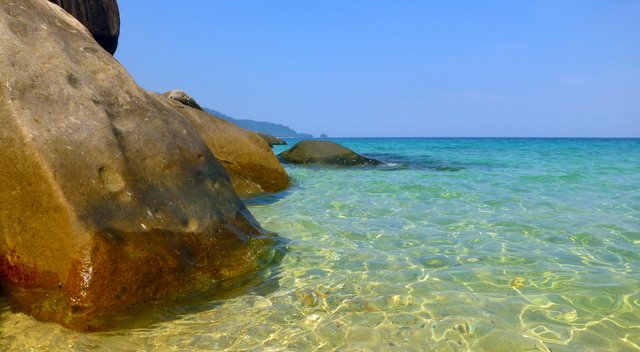 Tioman is the biggest island of the Mersing Marine Park, which consists out of 64 islands. I think most Dutch people already know the islands since multiple seasons of the popular series Expeditie Robinson have been filmed there. It's a perfect location to do some diving, snorkeling, island exploring or just some extreme relaxing.
I visited this island with some friends during my trip through Malaysia and Thailand. From Kuala Lumpur, I took a bus to Mersing via Malaka (stayed there for a night as well). Mersing, in bygone days just a small fishing village, now mostly known because of the ferry to Tioman (and some other islands) that departs from its harbor. After arriving there by bus, we had to wait a few hours for the ferry to leave. So after buying the tickets, we decided to eat something at a restaurant near the harbor. We also walked around a bit only to find out Mersing is a pretty boring place.

Views from the Mersing harbor
Finally, the ferry arrived and everyone happily hopped on board. Looking through the windows of the ferry it was hard to imagine we would be in crystal clear waters soon. But we did. Out on the open sea things cleared up pretty fast and by the time we arrived on Tioman, the water was as blue as the sky. We jumped on the docks and walked to the accommodation we had already booked. Our accommodation was a bit too much compared to what I usually book, but we kind of underestimated the availability of them on the island when we booked something the day before. We ended up at Nazri's Place (number 1). A sweet brick building with very nice rooms.

Nazri's Place and beachview
We stayed in the northwestern part of Tioman in a village called Air Batang (also known as the ABC area). Here you will find some of the cheaper accommodations, most of them are right at the beach because pretty quick after the beach it's just steep jungle-clad hills from there on. Backpackers also tend to go to Salang which is in the north of Tioman. Accommodation in that area is mostly budget related and most parties can be found here. Salang also has great snorkel opportunities. We did not really care to go there for some beers since in front of our accommodation was a beach bar =) So quite soon we founded ourselves in a plastic chair, sipping from a Duty-free beer. Yes, another great thing about Tioman is that it's a Duty-free area!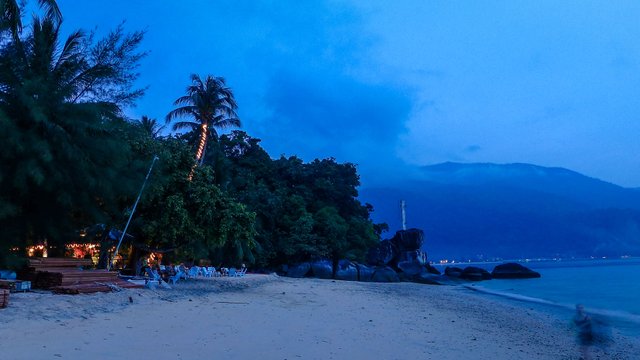 Beachbar
During the next days, we enjoyed ourselves mostly at the beach. We also walked north one day alongside the shoreline in search of the so-called monkey beach. Although hot and humid, the walk is very beautiful and will take you through different parts of Tioman. Beachy area's, jungle, fancy resorts. We even spotted multiple big lizards in the jungle. After walking north for most of the day, we had to turn around at some point in order to make it back in time (before dark). Although we spotted some awesome beaches during the walk we had no idea which one was Monkey Beach, or if we ever made it that far.

3-legged monkey and a lizard

Sea shots during the walk up north

Jungle trees and a beach we encountered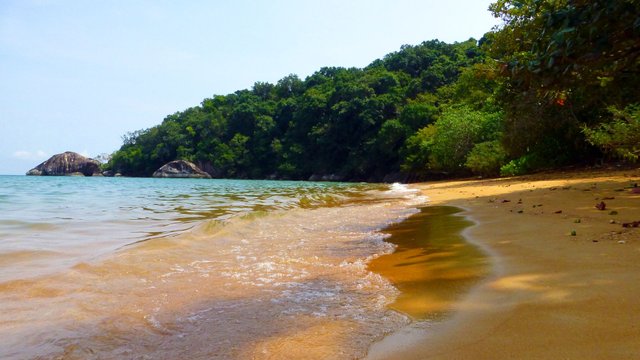 Another sweet beach
In the evening we usually walked in a southern direction to the "capital" of Tioman. On this route, you'll pass by some locals who live near the beach and even by the islands' only airport. A great walk to see a different side of Tioman since in the ABC area you will mostly find tourists. The locals are really friendly and at the beginning of the evening, a lot of kids are playing outside.

Sunset is kicking in and local houses

A lot of jungle when you go inland and fruit bats

Later on the evening
When to go?
Like most countries in tropical regions, Tioman can best be avoided during the rainy season. The period from October/November till February is usually the wettest. The best months to visit Tioman are June and July since the weather is pretty calm and sunny by then. The sea is calm as well which is nice if you're planning to go diving or snorkeling. I was there at the end of July and the weather was indeed good.
How to go?
Like me, you can take a bus to Mersing and from there you can take the ferry to Tioman. Alternatively, you can fly to Tioman. At least theoretically since there is an airfield. To be honest I have no idea if it's possible nowadays. Berjaya Air is said to fly there via a private charter, but you will need to check yourself if they still do. Will probably cost a fortune as well.


Visiting Tioman was a good choice. My girlfriend visited the Perhentian Islands when she traveled around Malaysia. Both are very beautiful places and will probably give you the same experience and joy.
Have you ever been to any of these islands? Or maybe even both? Would love to hear what you think of them!
More shots: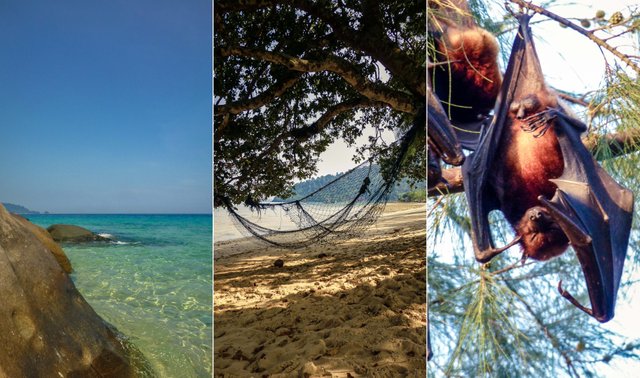 ---
If you enjoy my work, please consider upvoting it and follow me for more travel blogs around the world. Also, check out my Steepshot account for regular photo updates!

---
Similar posts that you may like:

!steemitworldmap 2.836516 lat 104.160520 long Tioman d3scr