Few days before my flight to Singapore, my colleagues were teasing me of "pasalubong" or gift souvenir to them when I come back. One of them mentioned that the nail cutters will be good. I laughed. Yes, the three-in-one nail cutter, key chain and bottle opener in one is cute and perfect for souvenir item since it will not be just for display but has more useful purposes. I know about the nail cutters because I still have this mine which was among the souvenir items that I bought when we visited the country in March 2010. Now, I wonder where we bought the souvenir items back then.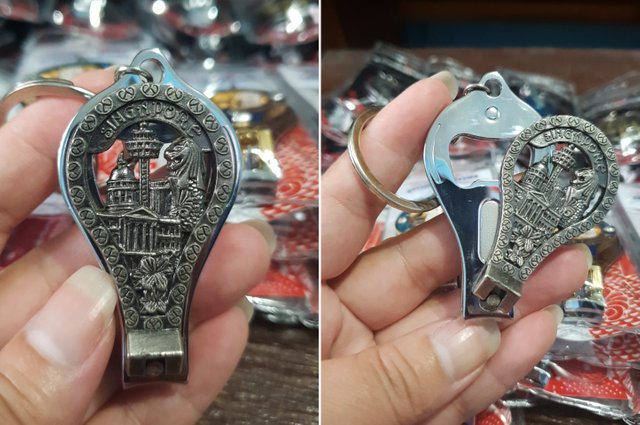 After I left my luggage at the hotel, I got out and tried to find a place to eat. Walking down New Bridge Road, I came to the corner of Pagoda Street. For some reasons, I turned into such street and smiled. "I remember you!" I thought. Yes. Now I remember the place in Chinatown from more than nine years ago. This is where my friends and I bought our souvenir items long time ago. I was not expecting to discover it again on this day.
If you are in a hurry, the easiest way to get to Pagoda Street is book for Grab car or hail a cab. However if you want to save money and have time to spare, you can take either the blue or purple line of MRT and alight at Chinatown station. You just have to be conscious of which side of which street you will get out from the train station because it can be confusing. There is one exit that will lead straight to Pagoda Street on the corner of New Bridge Road. Though if you happen to get lost of which exit you took, it should not be a problem because it will just be a couple of streets walk. Take that as your exercise for the day.
From the corner of New Bridge Road, there are many souvenir items lined up to the other end of Pagoda Street.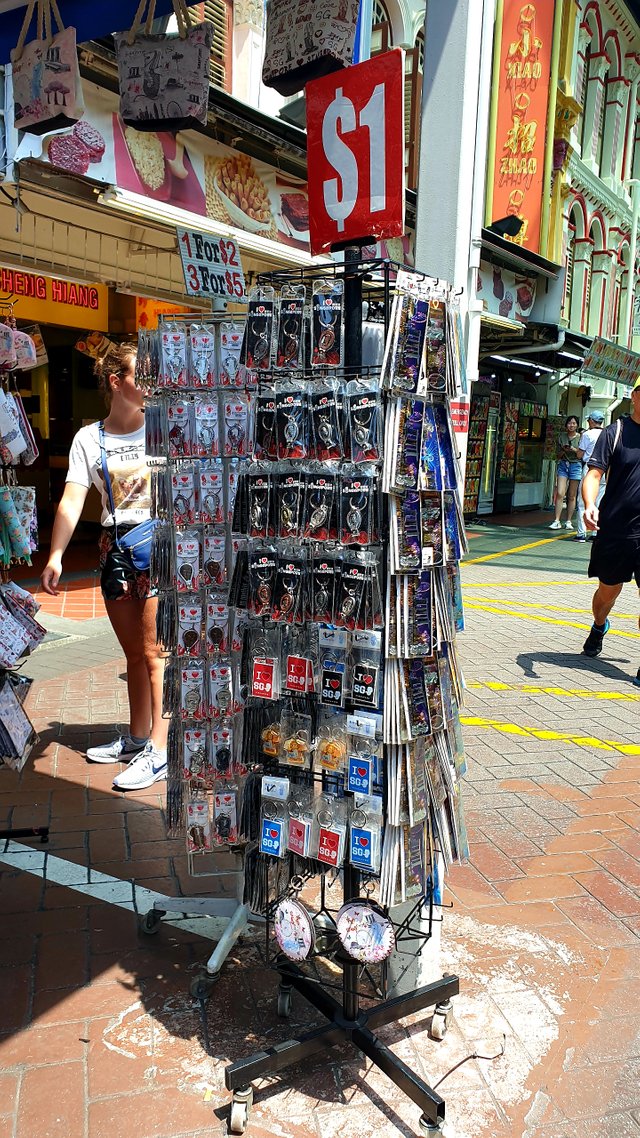 Most of the souvenir items are the three-in-one nail cutter that I mentioned. There are also many of the ref magnets in different shapes and sizes.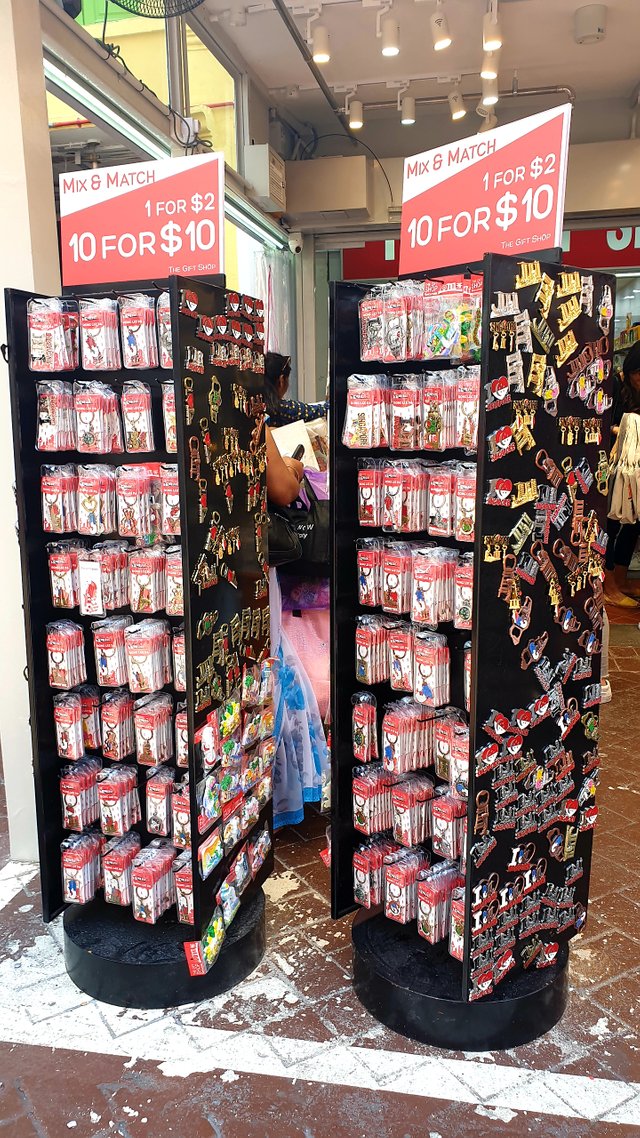 There are T-Shirts and bags printed with Singapore identifiers.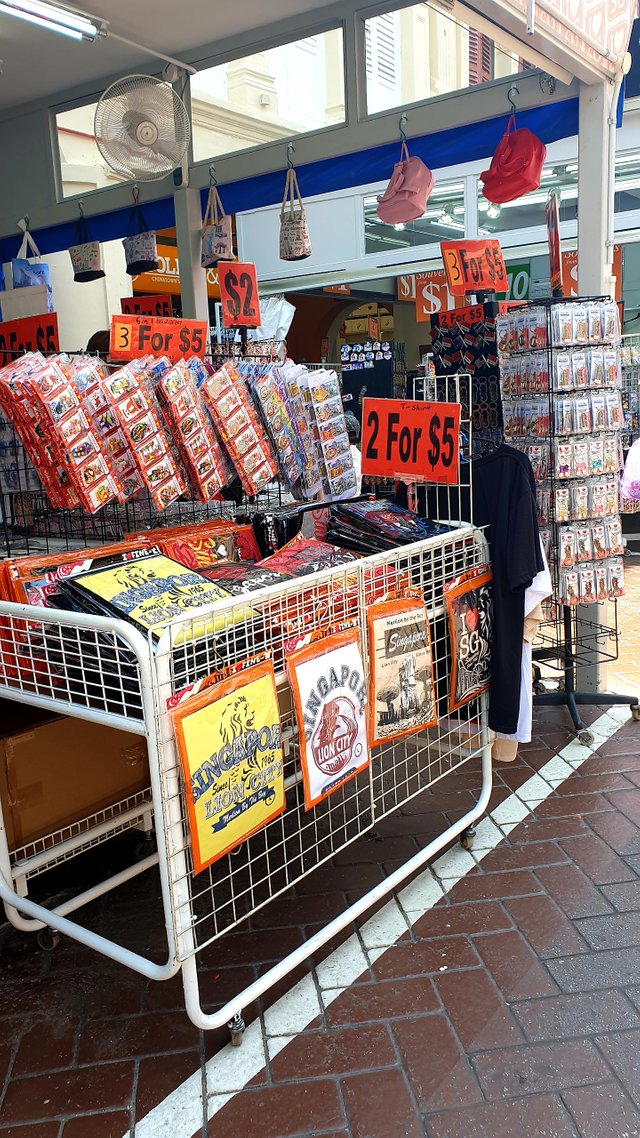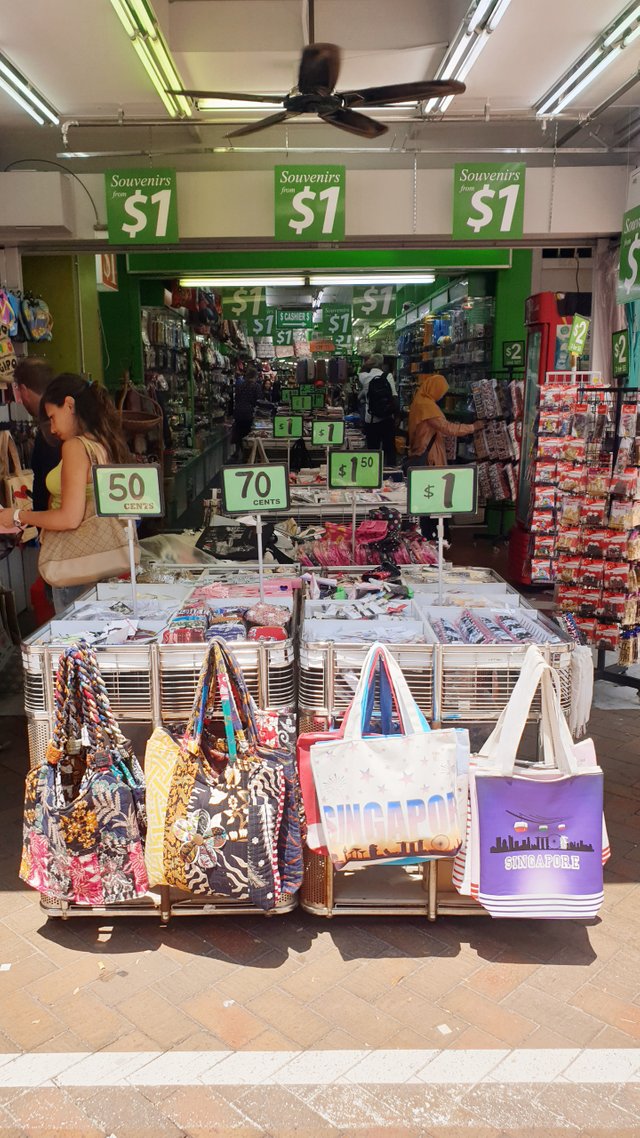 Many other options are table display, lamp shades and other house decors.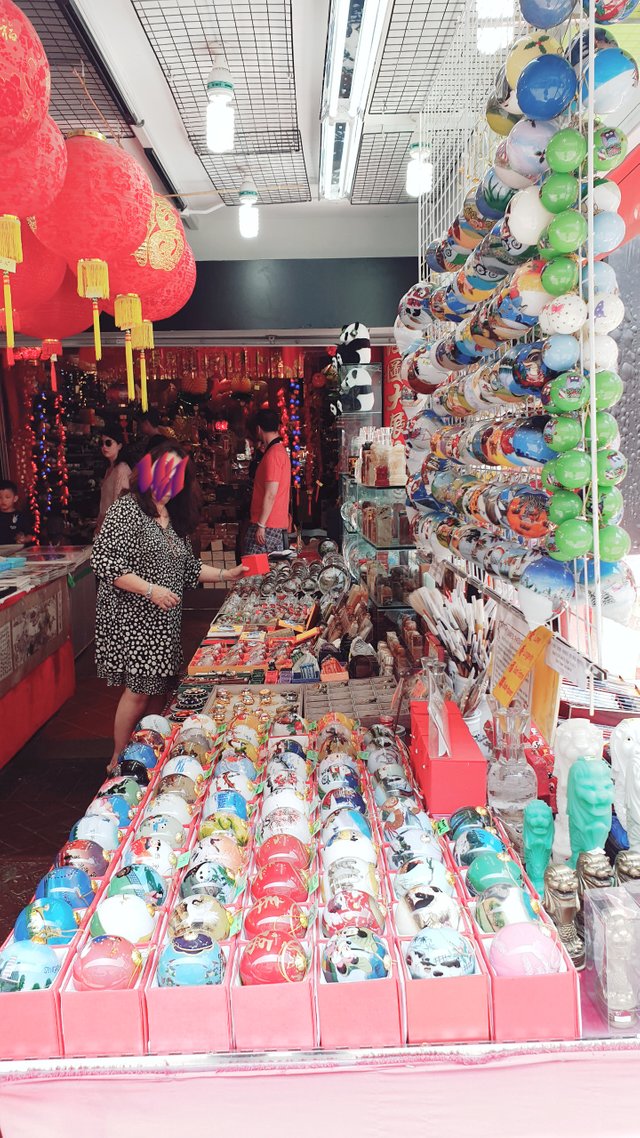 There are also displays for ladies accessories like these bracelets.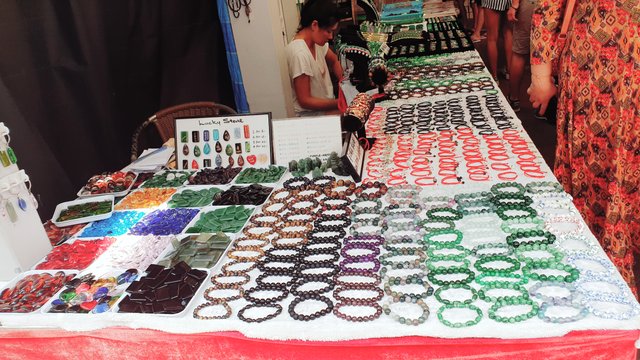 At very affordable prices, one can feast on selecting all there is to choose from the endless options.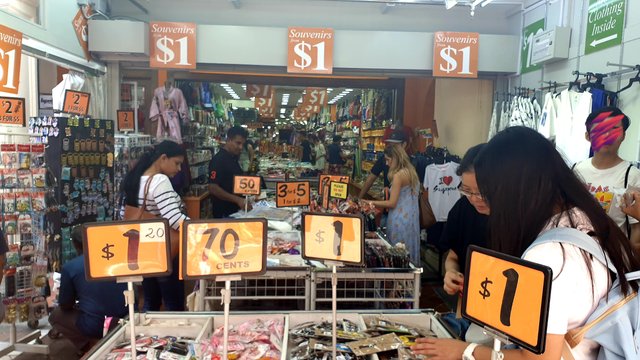 If you get tired of thinking and looking and thinking and looking again on which to buy, you can take a rest at the restaurants along the street. It may be better to dine inside though if it is at high noon because temperature can be pretty high in Singapore. I did not check back then but I thought it felt like 30 degrees Centigrade.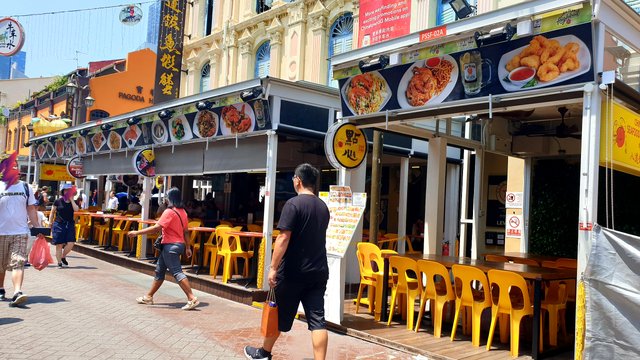 Moving on to other stores, there are these cute china wares.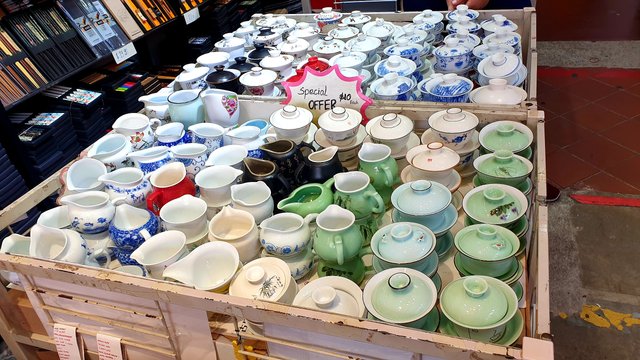 I thought of buying a few of these but the challenge of transporting them overseas scares me. I always have this hesitation that they might get broken in transit. I'd rather not take the risk.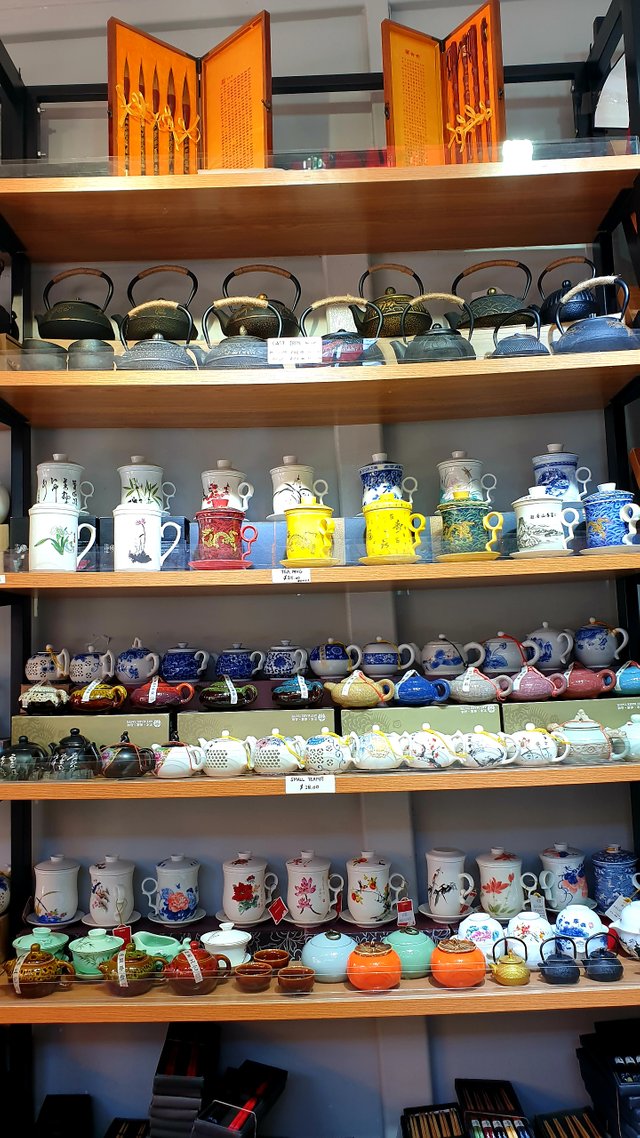 I tried to remember how this Chinatown Heritage Center looked like more than nine years ago. There were none of these sculptures in front and the theme was not grassy back then. Or maybe I do not recall that much.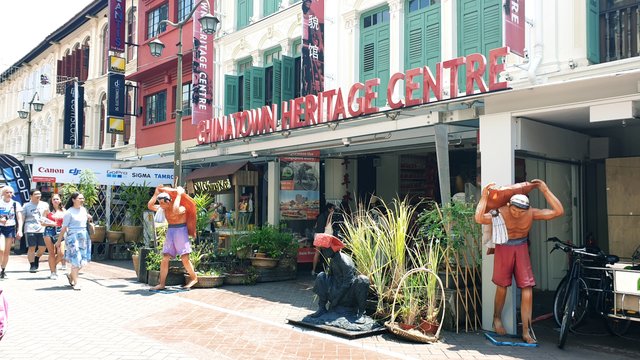 If you want to dress like traditional Chinese then you have the option to buy a souvenir Chinese costume, both for male and female.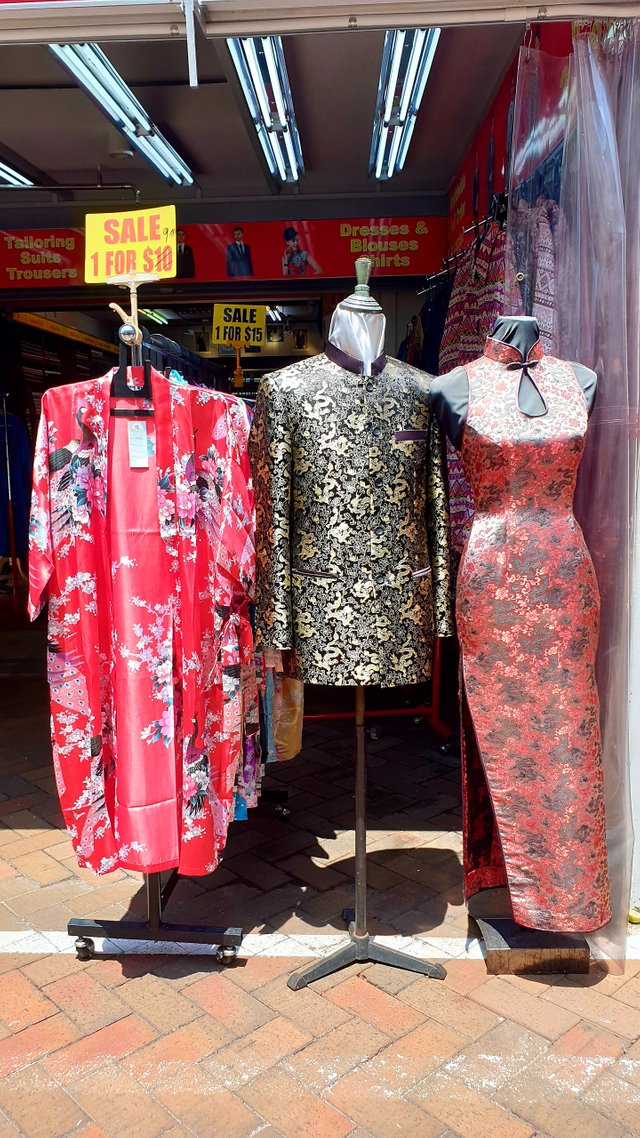 Postcards are not exempted. They are also everywhere.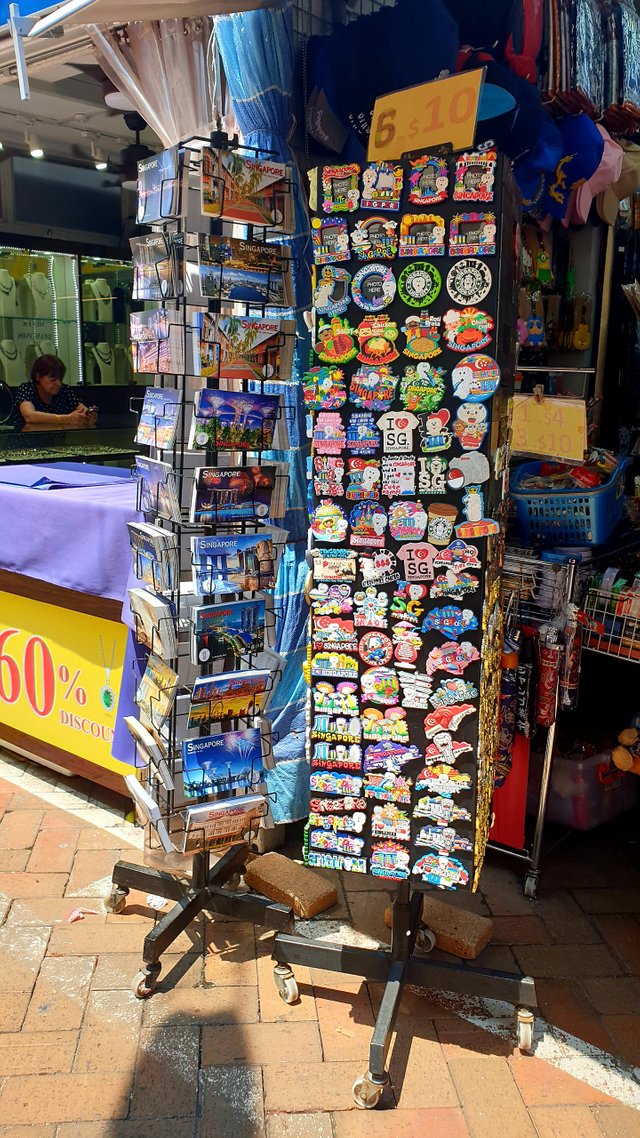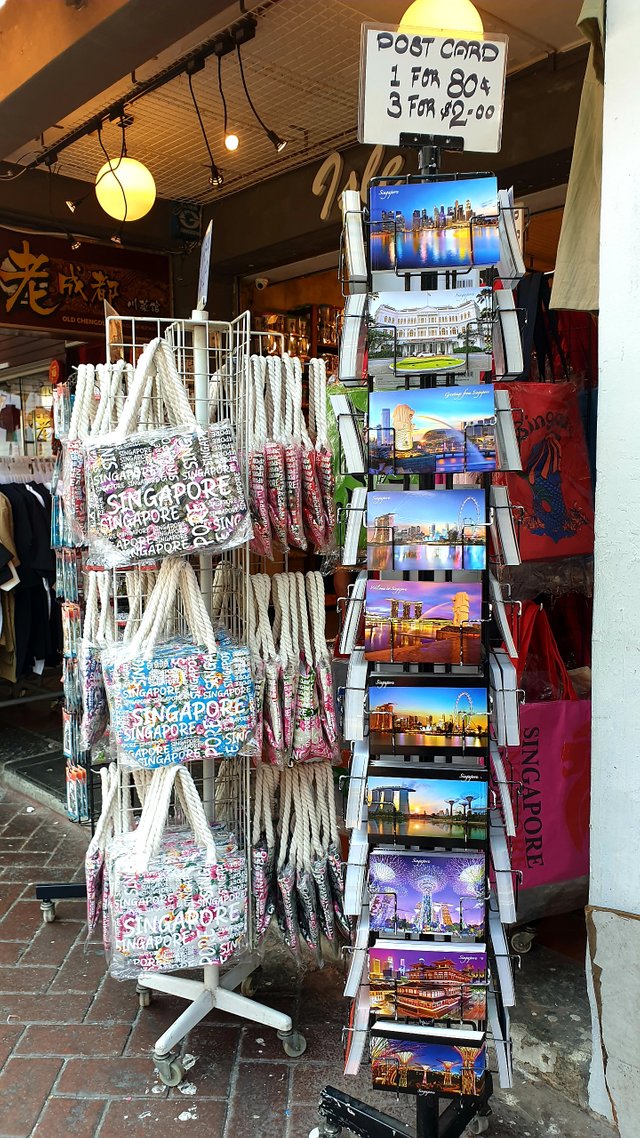 Then I came into a store which sells lamp shades. I was so drawn by the colorful shades all over the place. I looked up the ceiling and it's the more that I got drawn to get inside. There are bigger ones that look so beautiful as chandeliers!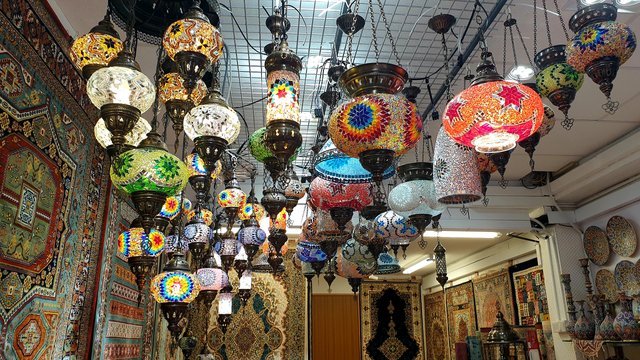 The owner kept saying to us onlookers, "No problem, no problem. No problem about price. Just choose which color you want and we will give you discount."
I asked how much is the seven-piece chandelier. She said, "Three ninety. But no problem. Just choose which color you want. I will give you discount." That's Singaporean dollar.
"How much is your discounted price?"
"Three twenty." That's still expensive for me. And it looks like the owner have read my mind.
"How much is your bargain?" She asked.
"Two fifty," I said. She shook her head.
I almost burst into laughter. She kept saying "no problem" about the price but now that I gave my bargain, she can not give it. That "no problem" phrase was misleading. In spite of that, my hands are still itchy to take a chandelier set home.
I asked if they accept credit card. She said no, cash only. Cool, that saves me from spending outside of my plan because I will not pay for cash with such amount.
I said I do not have enough cash. She pointed to one side of the street saying there is an ATM machine there.
Even so, I will not pay for transaction fees between international banks so I will not withdraw money overseas unless it is extremely necessary. To console myself all the more, I remembered my hesitation of transporting breakables. I don't think it will be allowed for extra hand-carry as I already have laptop and I would not take the chance of checking it in. Okay, I give up. I am not buying. Thanks to the cash only transaction because I could have really bought a seven-piece set if they accept credit card.
Moving on, I saw more of not just souvenirs but also house decors that I thought Chinese consider as lucky charms.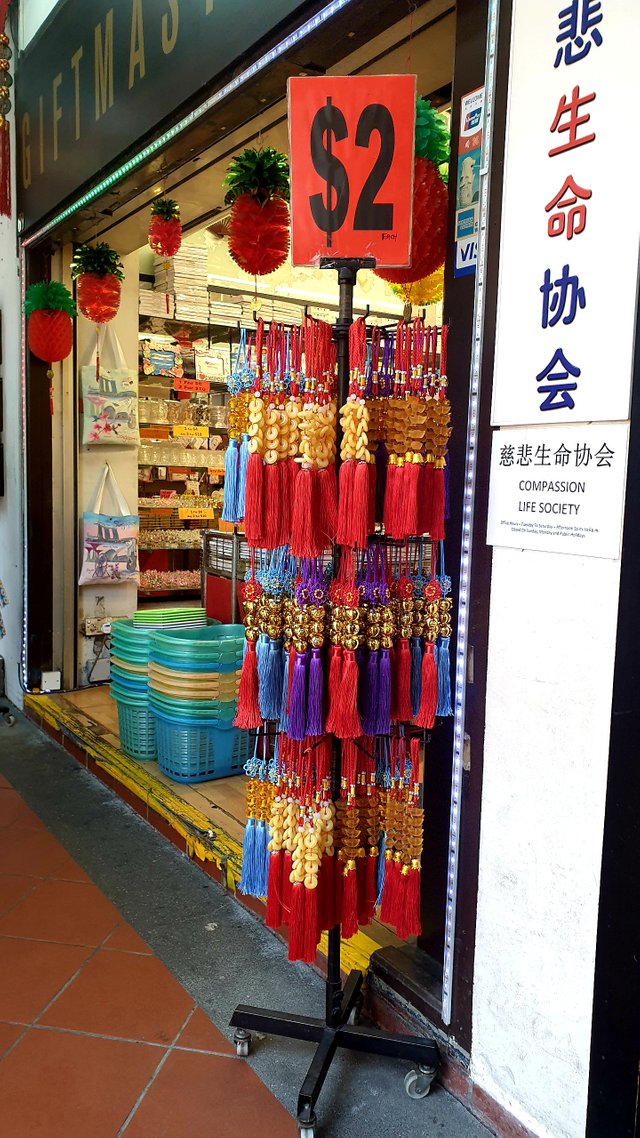 Okay, enough with the window shopping now. I have to buy the "pasalubong." From the time I started going around, I have been looking for the same style and material of the nail cutter I got from nine years ago. That is because I thought the materials seem more durable and the design is simple yet elegant. However, I can no longer find one like it. I have no choice than to get other designs.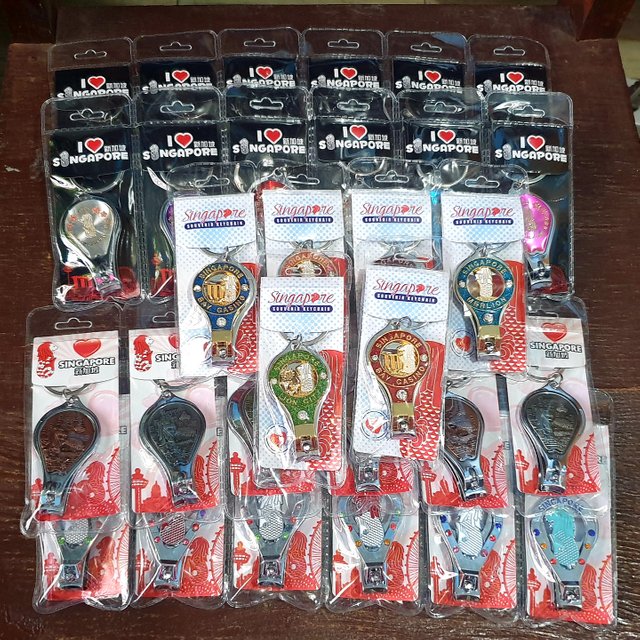 In the evening after I had my street dinner, I walked back to my hotel and passed by Pagoda Street again. It was amusing to see how the street is livelier than day time. There are more people, more so foreigners mingling around.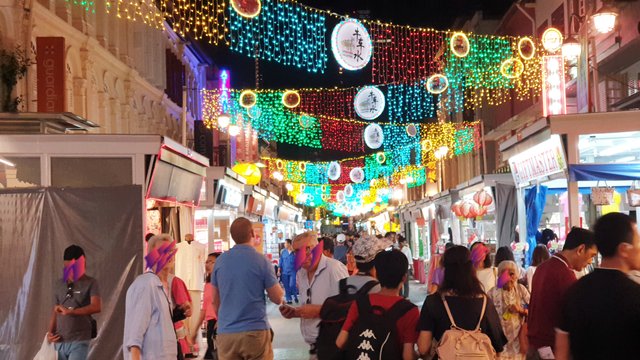 There was also this guy who was singing along the street. Many people were watching and singing along with him. I do not understand the lyrics of the song but it is a lively song that seem to have enliven the spirit of people around. Many were also taking a video of him so I thought he does mind but enjoy the exposure.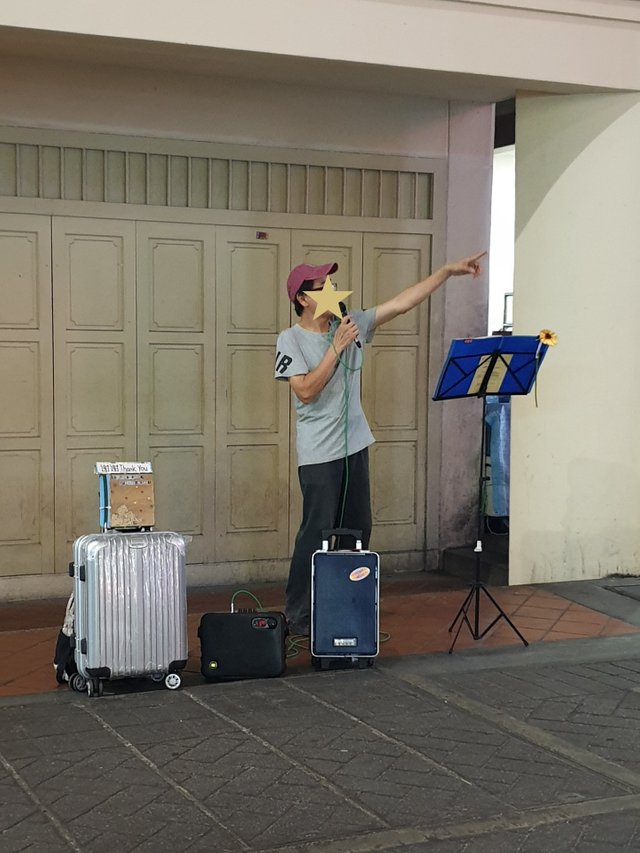 Join #ccc for Guaranteed 👍 Daily Income 💵 and Payout 💸 for Newbies (2.0) 🐟 🐜 🐛 in #ccc 👣 and Follow 👣 the Honor Code 🏅 - the Creed (Conditions and Limits Inside) AND the latest update <<< please click to read.



---
View this post on TravelFeed for the best experience.