Aruba: Up Close and Personal at Arashi Beach and a Sunset Cruise. Duty-Free addendum!
(Out of respect, I changed the first photo which showed up as a close up of mermaid cleavage in the pic below, to an image less likely to offend.)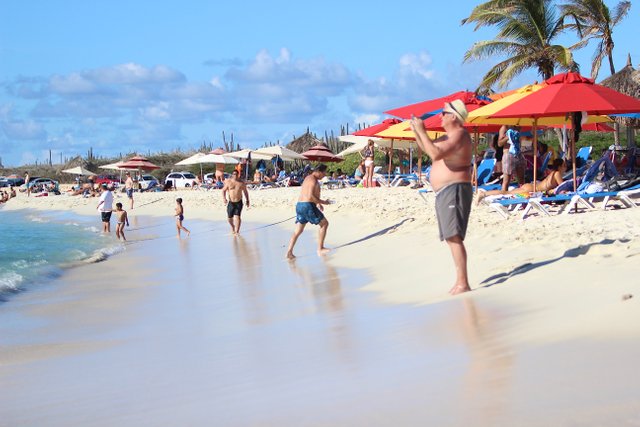 Well, today was our last full day in Aruba. How to end a week in paradise? Our good friends arranged a sunset cruise followed by dinner at Pelican Pier. But first, my wife was keen to visit one last beach so we went a 1.5 mi up the road to Arashi Beach.
The day started dark and early before the sun rose. I went out for a 4 mile run down past the Ritz-Carlton. I managed to run right into a bicycle ride/race fundraiser for cancer awareness. I chatted up a Harley riding volunteer about the event and riding on the island. He said there are a lot of riders. I asked about all the sand on the island possibly making rides dicey. He said it wasn't that bad and the wind was not an issue either.
We were joined by this vibrant blue whiptail at breakfast.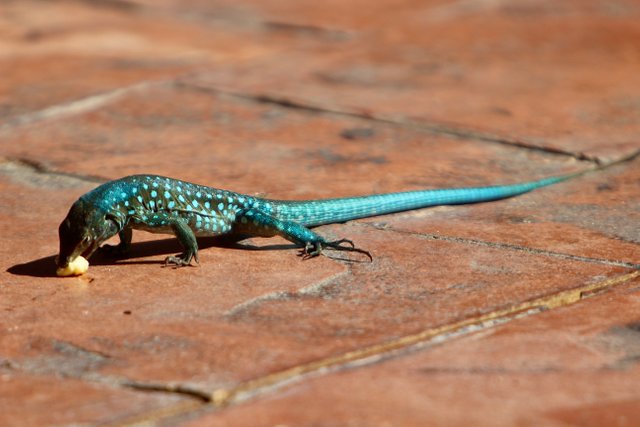 After breakfast we headed up to Arashi Beach. I'll take you through the experience.
Here is the parking lot, and a typical 4-wheeler that many tourists rent. It is worth noting that the East side of the island has miles of dirt roads for off-roading. Some of the rental cars actually have stickers that say, "If you see this car off-roading call xxx-xxx-xxxx."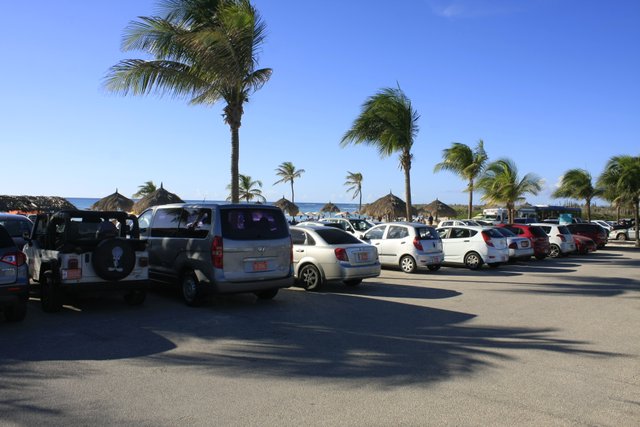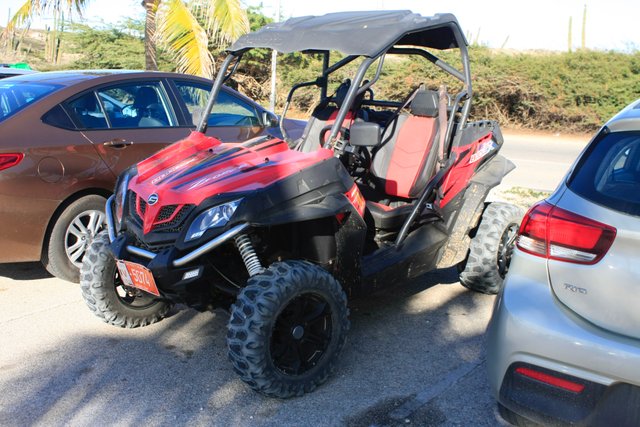 Parking is free.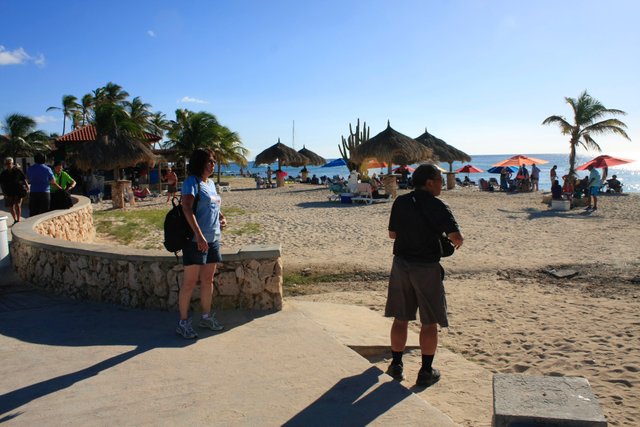 Many cruise ships send excursions to Arashi Beach. Here are some cruisers fresh off the tour bus. Sunday is typically a very busy day at the Aruba beaches. This was the most crowded day we saw at Arashi all week as we drove by almost daily.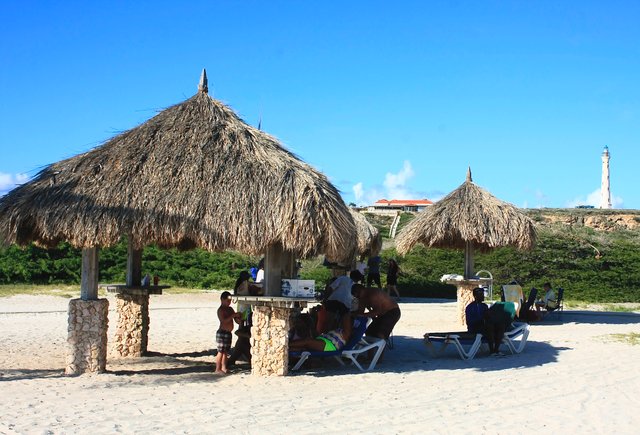 Find an unclaimed palm umbrella or hut or share one. You can also rent beach umbrellas or sit in the shade of a palm tree or cactus.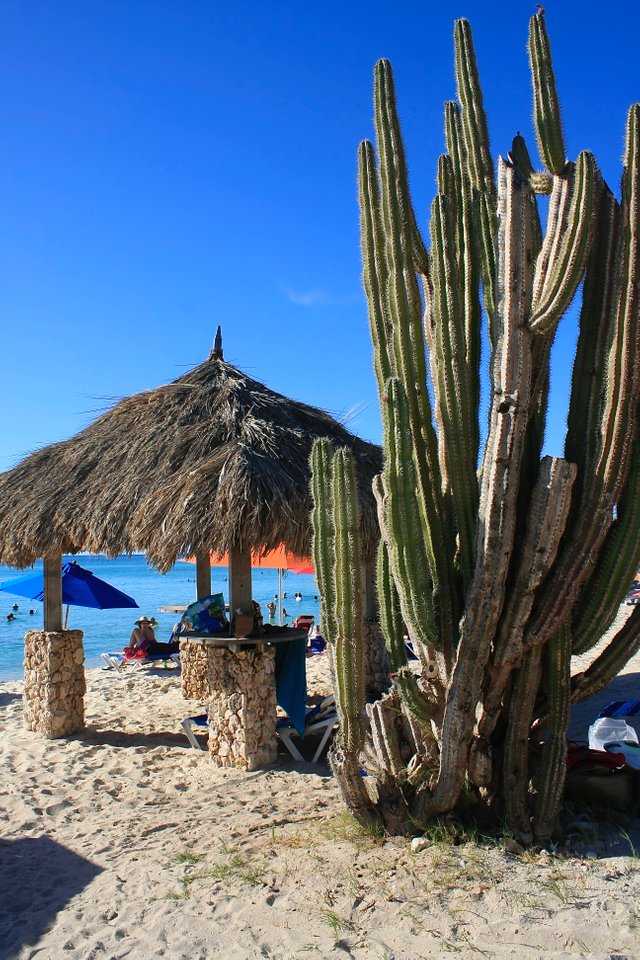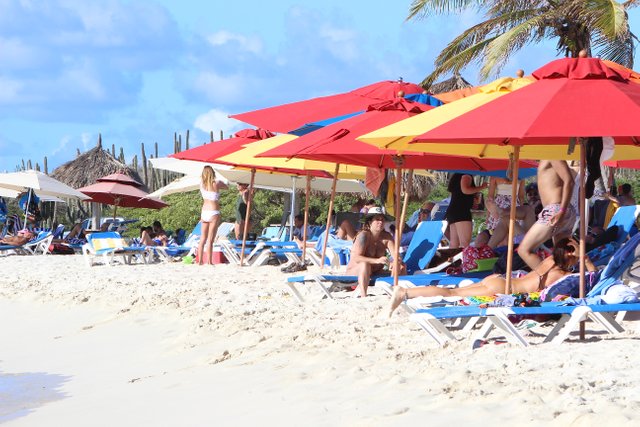 The snorkeling here is quite nice. There is a large roped off area although you can swim pretty much anywhere. The water has very high visibility. You will see areas of rocks and concrete blocks where fish congregate. If you are barefoot, beware of spikes from sea urchins. The surf is very gentle so it is easy to swim around in the shallow water and not get battered by waves.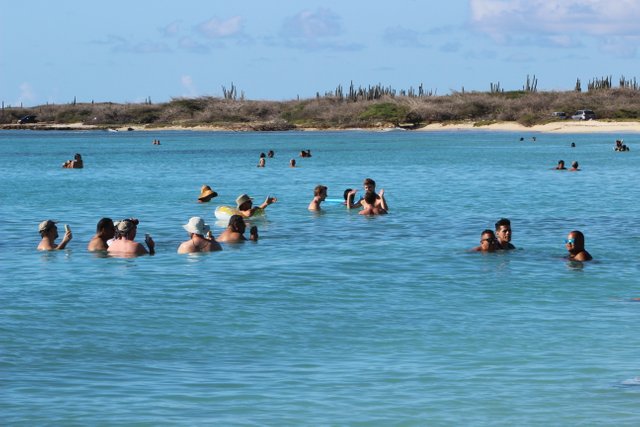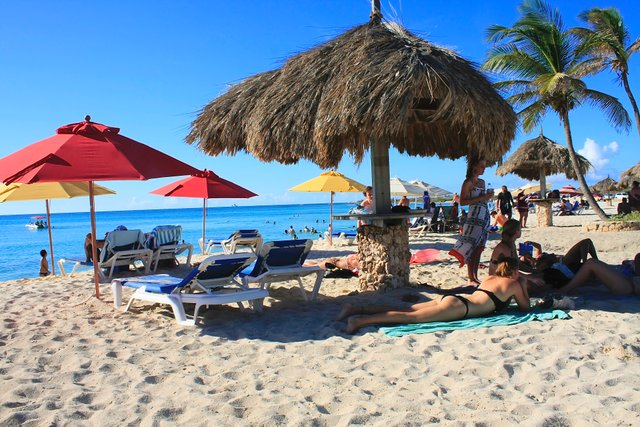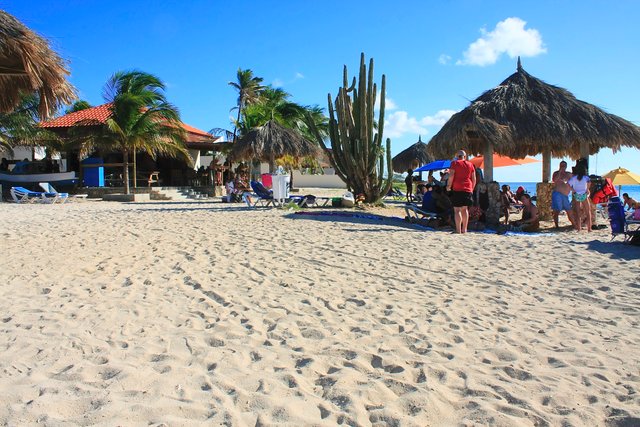 I then found this guy trying to grab some food from the many picnickers at the Beach.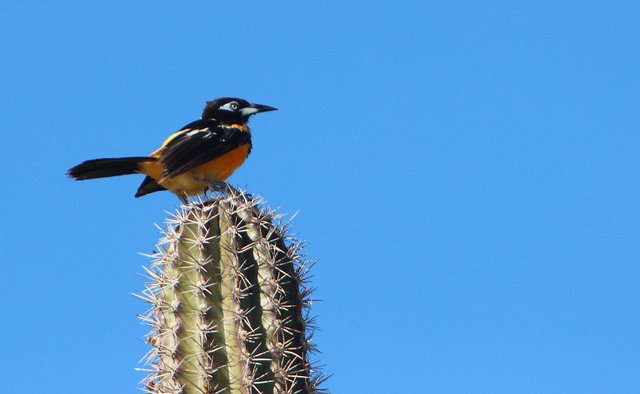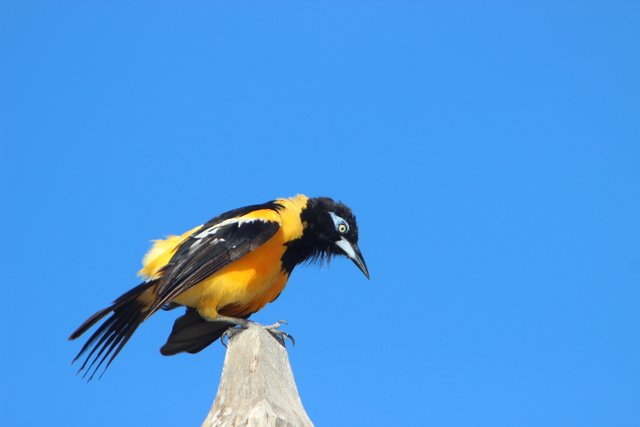 Across the street and through some scrub there is a golf course that has wild donkeys that roam on it. This is not a great picture but I hope it gives you an idea of what to expect from these mobile golf hazards.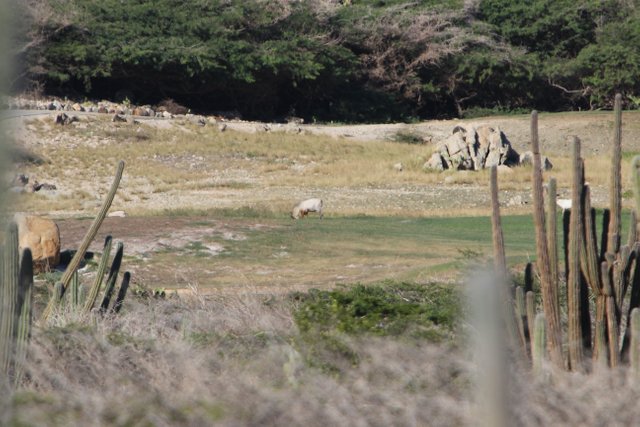 We headed back to the beach house, grabbed a quick nap and a shower before heading down to Pelican Pier for our cruise.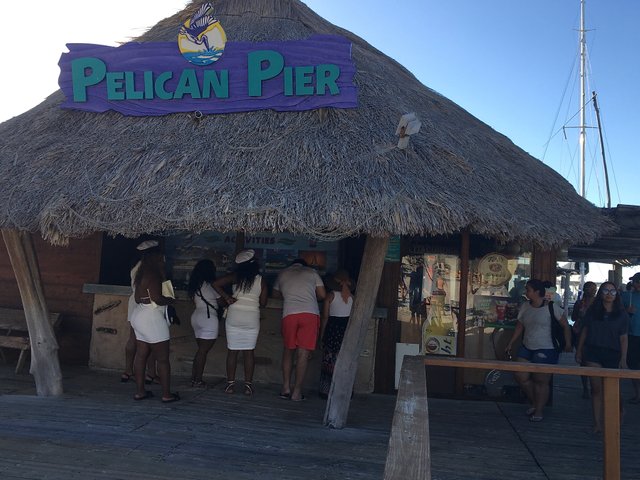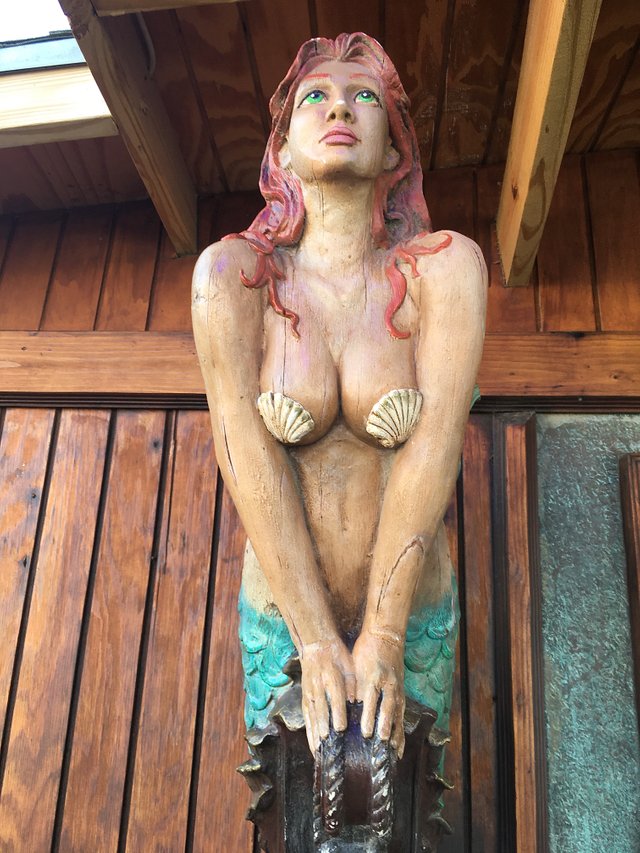 Pelican Pier is on the beach amongst various resorts.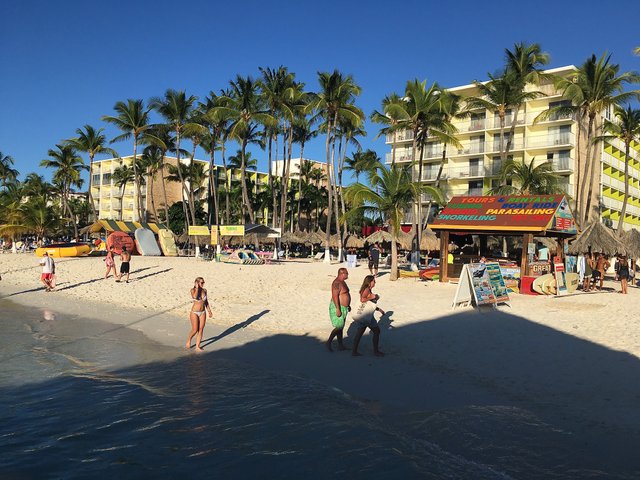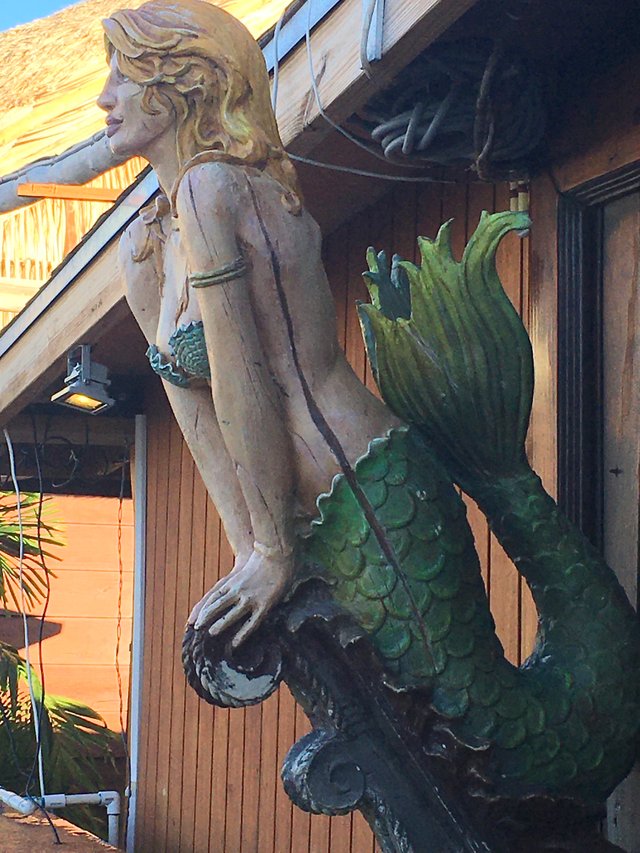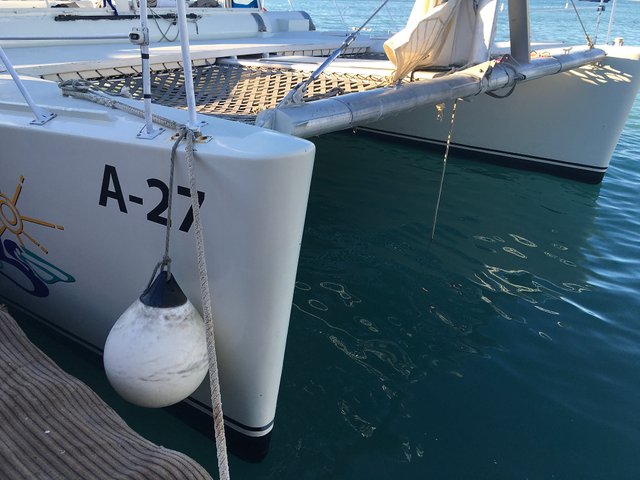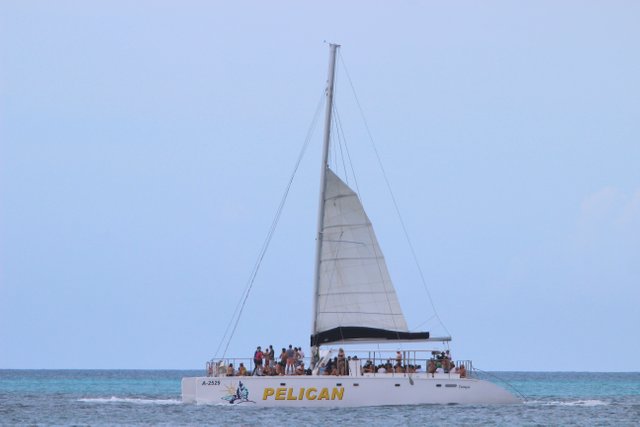 There were about 20 folks on the cruise, most of them couples. The boat had an open bar and some appetizers. Pretty sure the drinks were watered down but hey, it's an open bar so who cares?! The appetizers were fine and the sea calm enough that motion sickness was not really an issue. They also had a play list blasting which was a bit annoying. Some of the songs were ok, but it made conversation difficult.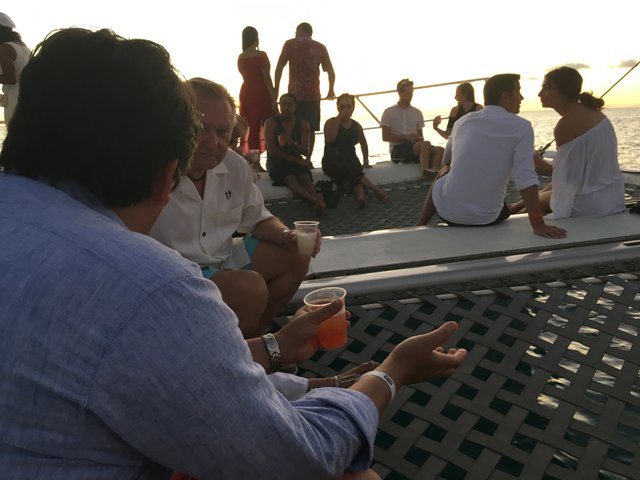 That said, the view and sunset was beautiful. My wife commented that this was one of her favorite things from the entire week.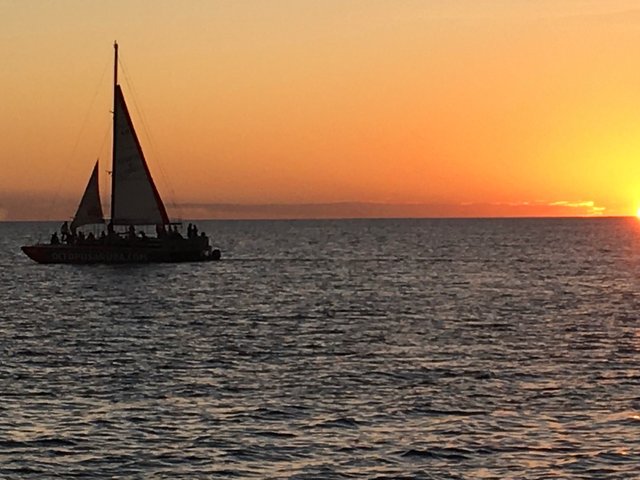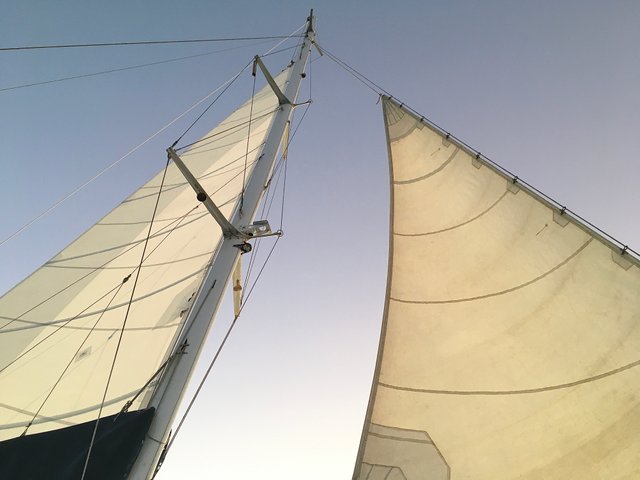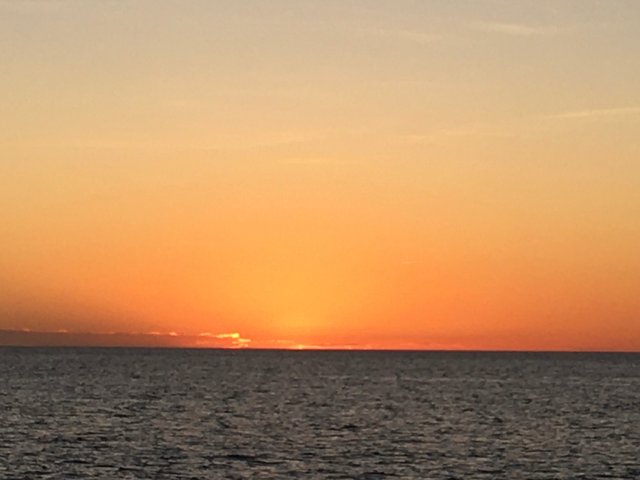 Back at the pier we enjoyed our dinner, all part of this sunset cruise package. I had broiled fish and my wife went with the filet mignon. Both were quite delicious. A glass of wine or soft drink was also included and then dessert of cheesecake or chocolate cake.
I think the cost was around $60 US/person with tip included. Tomorrow we fly back to the cooler climes of the US midwest and the stress of piled up work.
Addendum: I do want to pass along some information about leaving Aruba and returning to the US. We were advised to get to the airport 3 hours before our flight. US customs is cleared at the Aruba airport. After checking in and sending your bags you enter a shopping area. This is the place to buy your duty-free goods. They had some good deals on whiskey and scotch. If you wait until you get to the airport gates you will technically be on US property and will have to pay sales tax. If you purchase now, there is no US sales tax. From there, you pick up your bags again and put them on a new bag check conveyor belt and pass through a security point. As you head to passport control most people tend to go to the automated passport station. Skip it and go to manual passport control. My experience is that line is much faster and shorter. After that you hit Customs and the line is pretty long but moves ok. If you have Global Entry, the kiosks are to your right and you can skip the line. But wait, there's more! You go through yet another security check and then carry on to your gate. There are food kiosks and duty free shopping but you will pay US tax in here.
Thanks for reading my posts. I really hope that if you visit Aruba you find these posts helpful.