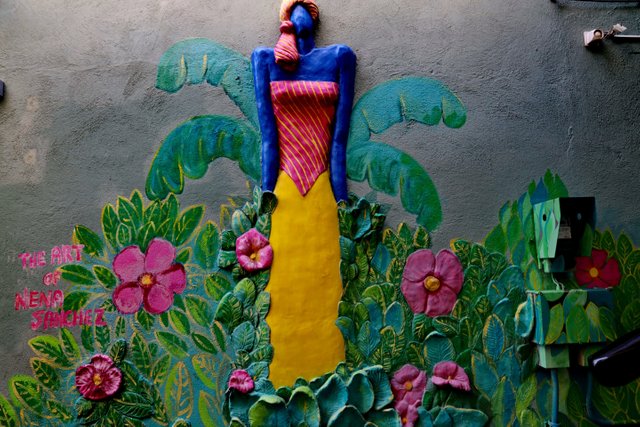 The graffiti littering the walls leans on the artistic side of culture. Sometimes, I can see my thoughts running wild, letting me think too much, even if it is like the sun bursting forth and brightening my day. Does it really matter, those inconsequential pieces of wrong logic running through your head? if you can close your eyes and imagine that in the bigger scheme of things, where logic stands clear, street art can be appreciated fully if given a half a chance. Or two. Some call it vandalism, and a part of me doesn't disagree. Does it matter? Truly, does it?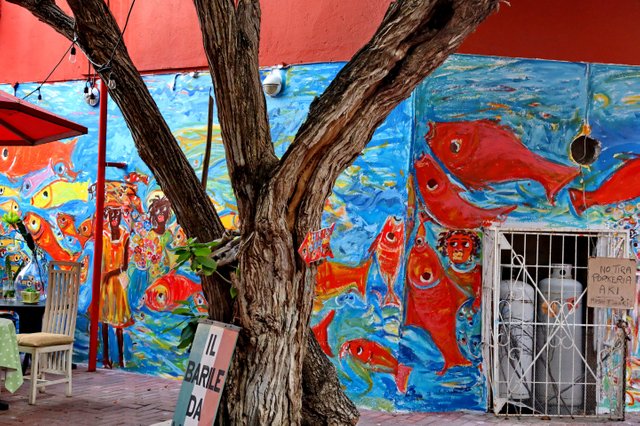 Let's go for our #WednesdayWalk with @Tattoodjay. You can see his post here. It has all the rules guidelines so that you can join too! Get yourself ready to stroll the streets on the island of Curacao! We are going now! Let's start here, where flowers have been provided, courtesy of a local painter, making the world more colorful!
Today is a beautiful day. The sun shines brightly with a side of clouds. Who could ask for anything more?
Grafitti. Street Art. Creative Expression. Whatever one wants to call it. I have come upon the beauty of this art running along the sides of subway cars and trains, making the old look cheerful. When I stop and think about it, the old cargo trains were the first place I saw it, at least a hundred years ago.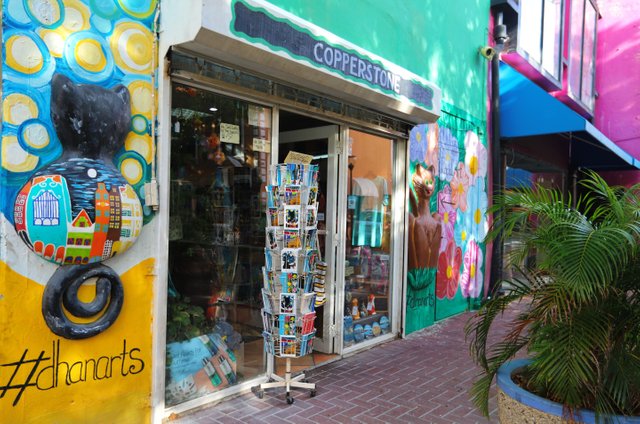 I have come to love this island, Curacao. When I went into the Bureau of Tourism, one of their signs read: The people of Curaçao are the country's greatest attraction. I raise my hand in agreement. This very same place offered to drive me to a place that I was looking for. The bus transportation on the island is intermittent and doesn't cover a lot of areas. She finished up her work and drove me several miles, waited while I took about 50 pictures and drove me back to the port as it was nightfall. Seriously nice and out of the goodness of her heart.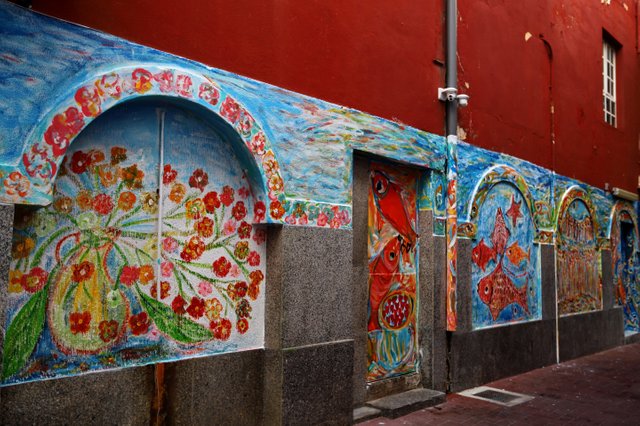 Street art is usually painted with permission or commissioned. Graffiti is word-based, whereas Street Art is image-based. "Graffiti art", if one had to name it, gives the two form's artistic overlap. Graffiti Art is elaborate and figurative graffiti combined with images. source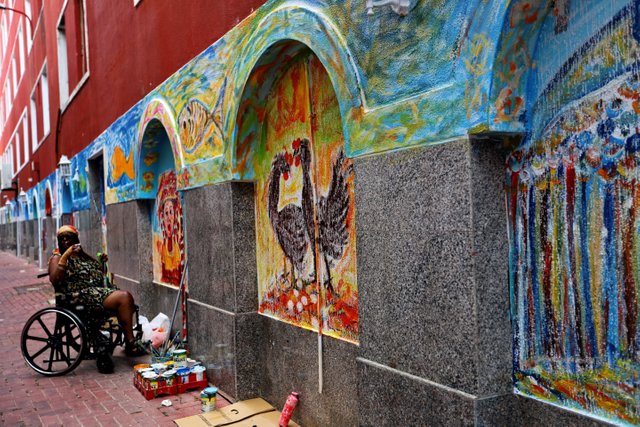 I have to wonder who is sponsoring this massive effort that spans about five city blocks. It is an amazing running mural, a unique artistic approach that pleasures my eyes. Not leaning in the direction of artist, It is always interesting to see just how the different artist approaches their canvases. Oh, wouldn't I love to live in their head for a day or three.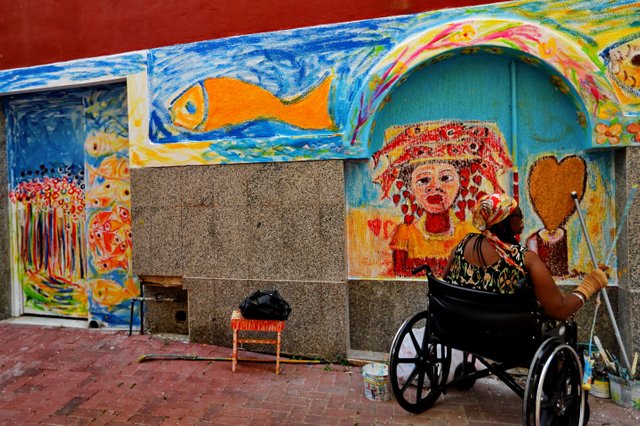 I was wowed when I stumbled across this street artist. She was just starting this block when I first saw her. She had completed several blocks behind her. You have to be awed by her tenacity and skill. It is such a magical stroll through the alleys, with 3D flowers and other objects and colors that make your eyes pop. It is a brilliant display of street art. I spoke with her and I took a video of her on my phone, painting and telling me her story. But, that is a story for another blog.
In the downtown area of Willemstad, there is a lot of interesting architecture, with some falling to disrepair and abandoned. The city has taken possession of those and has made it their job to make the city look less empty and more friendly in terms of tourists.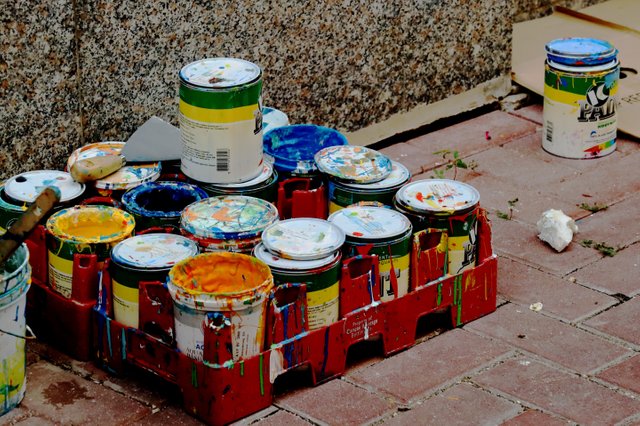 The supplies. She works deftly, using whatever means to reach places that are too high a stretch. What we see here is only a rough draft of her work. She will come back again and again, filling in the spaces with more color and imagery until one day, nothing else fits. It is like a party for my eyes.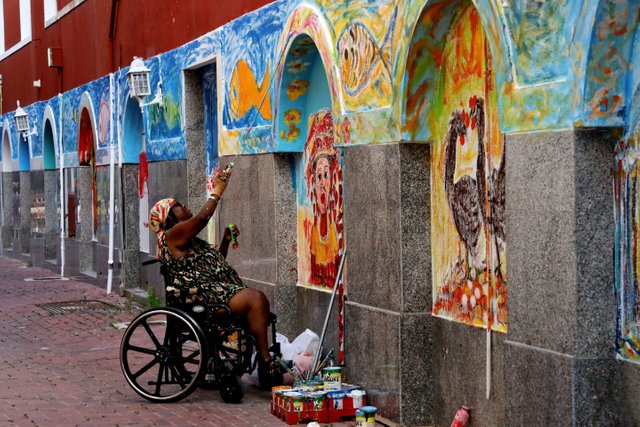 She says that this has allowed her the freedom to feel once again. When I go back again, I will take a picture of her finished projects in the different stages I have. She does this every single day.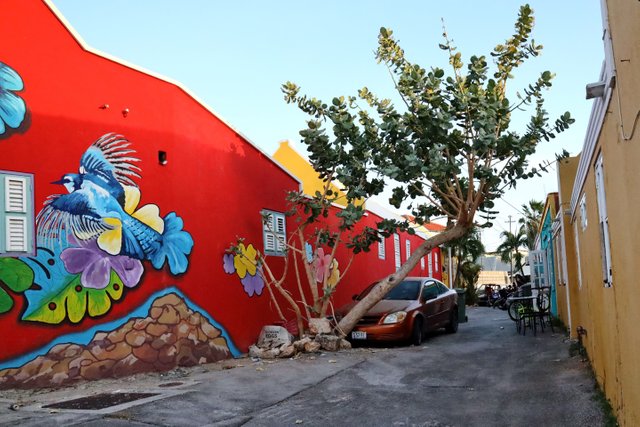 There is love in the splash of color in an otherwise lonely alley. I walk through the back alleys, enjoying the view that has been offered to me. This is such a scenic little town to walk through. Who could resist the colors and the bird caught in flight? There is happiness all around, the people treat you with kindness and there is always a smile. How can you not love it? One of the local gathering places, where everyone comes to see and be seen.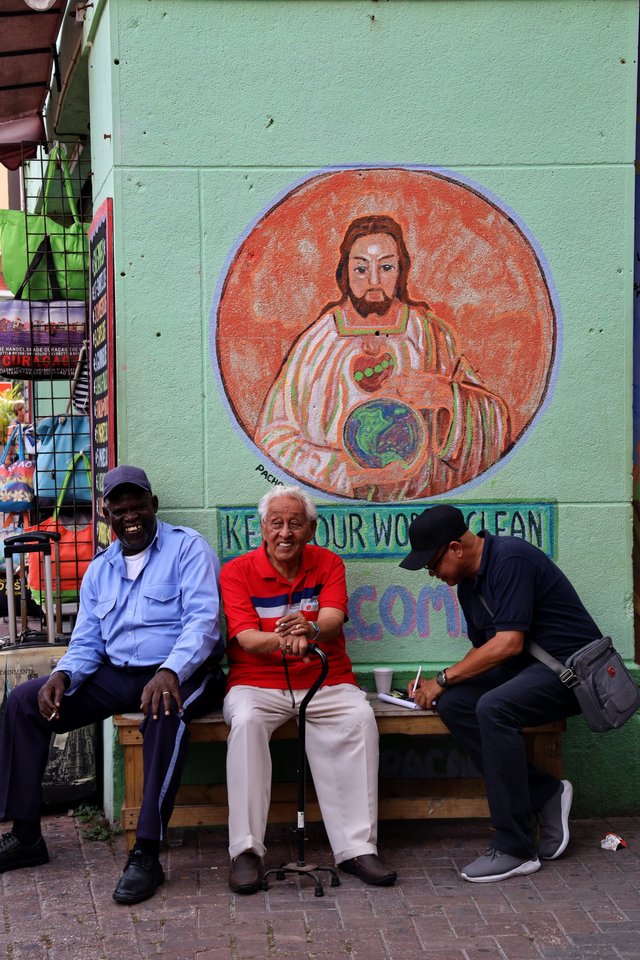 Thank you so much for joining me on my #WednesdayWalk. I had a wonderful time showing off what makes my day while here in Curacao. There is so much to see, so much to do and truly remarkable people to do it with. Life is good. Embrace it! Then don't forget to embrace it all over again.
Love is all around you!

As always, a flower. This flower is dedicated to #WednesdayYellow #Colorchallenge by @Kalemandra, who colors my world every single day.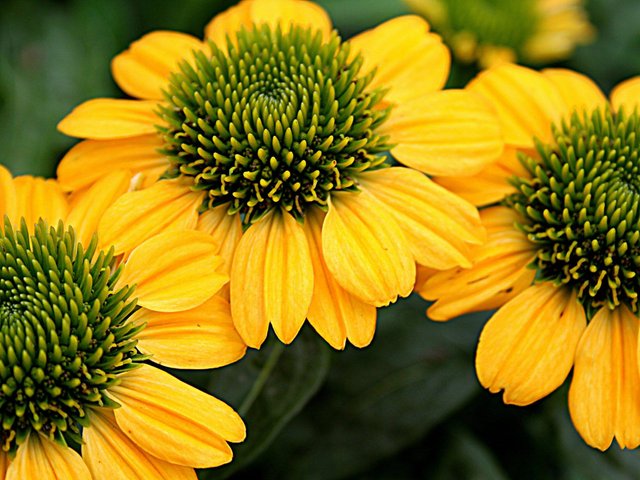 And just that quick, this show is over. Tag me and I will visit you too! Thank you for allowing me to muse about and as always, I wish you a wonderful day!
¸.♥´¸.•♥¨) Let the sun shine in on your life
So the joy may touch your soul
(¸.•´♥ (¸.•´ ♥

---
Thank you for visiting my post 💖 Because of you, I come back to post again and again. And remember always- kindness counts. Wherever you go, whatever you do.
I always post this poem down at the bottom of my posts. It is one that has become so near and dear to my heart. I only post the most famous part of it, but, wanted to post it in its entirety today.

they set my aunts house on fire
i cried the way women on tv do
folding at the middle
like a five pound note.
i called the boy who use to love me
tried to 'okay' my voice
i said hello
he said warsan, what's wrong, what's happened?
i've been praying,
and these are what my prayers look like;
dear god
i come from two countries
one is thirsty
the other is on fire
both need water.
later that night
i held an atlas in my lap
ran my fingers across the whole world
and whispered,
"where does it hurt?"
it answered,
"everywhere"
"everywhere"
"everywhere"
warsan shire

#Steemusa is a growing community of quality-content people from the United States or those living here. Check us out on Discord!