Share your Steem posts on Twitter and win @ocd and @ocdb votes!
Now wait, it's not as easy as just sharing your post on Twitter and voilá, you automatically get free votes from
@ocdb
and
@ocd
. No no, it's not that easy.
I was just clickbaiting you to click on this article and read it. It's worth the read. But my my, I didn't think I would have to clickbait you into reading more about getting more votes on your posts!
Steem needs traffic. If we want our blockchain and coin to be used by more people, we need to promote it. It's that simple.
What's the point of having all these cool Dapps if people don't hear about them?
To what end do we have highly used social media frontends if our friends don't even know they exist?
How can we be the most succesfull blockchain that allows their users to monetize their content and yet we don't make any efforts to spread the word?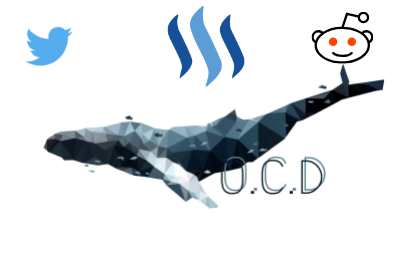 Ignore the Reddit logo, this whole shanaeningans has to do with Twitter but I'm not a designer and I have no idea how to make a decent thumbnail with only the twitter and steem logo
That's exactly why in @ocd we came up with #POSH - Proof of Share
Basically, #POSH means let's cut the crap, we want new users. I don't care if they come as content creators or content consumers; it's irrelevant to me if they come as Dapp junkies or investors; it's the same to me if these users become Actifiters or Splinterlanders.
We want more Steem users. We have one of the best Blockchains but we as a community are doing very little - in terms of social media awareness - to make Steem go viral.
Well, that's over.
From now on, every post that you post and is shared in your Twitter accounts - but your Twitter account, not just that new account you created for Steem engagement - will get more attention from @ocd and @ocdb and thus, a higher upvote. The only thing we ask you is to use on your Twitter post the hashtags #steem and #steemit/peak
The post still needs to be top quality, of course. We are not giving away free upvotes. The vote we would cast on your post will be higher if you share it on Twitter BUT, it has to be a post that we were already thinking of voting, regardless of the #POSH. Remember, you should use on your Twitter post the hashtags #steem and #steemit/peak
Scenario 1:
I am browsing the tag #art and I find a post that looks good, I open it and after reading it, I decide that is not very good. I then decide I shouldn't curate it with @ocdb. But then I realize it was shared on Twitter using the hashtags #steem #steemit/peak... well, I wasn't going to curate this post anyway, so I won't vote on it.
Scenario 2:
I am browsing the tag #travel and I run into a post that looks interesting, I open it and I realize it's one of the best posts I've seen today! This post deserves a 20-25% vote I think... I reach the comment section and I notice that the user share it on their Twitter account! That's great, that's #POSH! This post automatically gets a +10% vote, totalling a 35% vote :)
And then, all you need to do to get your Steem post an increased visibility is use the tags #oc and #posh, and leave a link to your Twitter post in the comment section of your Steem post.
Yep. It's that easy.
So, what are you waiting for? Go Make Steem turn viral while doing high quality posts and sharing them on Twitter!