EuroVelo 7 - Cesky Krumlov to Hluboka 50 km
Today's post highlight is from the EuroVelo 7 route somewhere close to Hluboká nad Vltavou in Czech Republic.
It was a beautiful hot afternoon on the 1st of august 2017 when I left Cesky Krumlov. Continued following EuroVelo 7 North to Ceske Budejovice without a clear destination in mind but confident that eventually I'll end up in a nice place and that's exactly what happened.
Everybody is at the river in the summer and people seem to take good care of their dear Vltava cause I haven't seen any garbage around, it looked very clean.
Took a short break to cool down on this bench in the shadow after pushing the bike uphill from the river level, it was quite hot, around 34 degC.
Outside Ceske Budejovice the route reunites with Vltava and more people from the city can be seen here doing their afternoon sports. Such a simple thing as a paved cycle route free of traffic can have such a big impact on the wellbeing of the community. Everybody can come here and do their sport, either jogging, roller skating, biking or just walking. Love to see this, it's a good indicator of the quality of life in that community.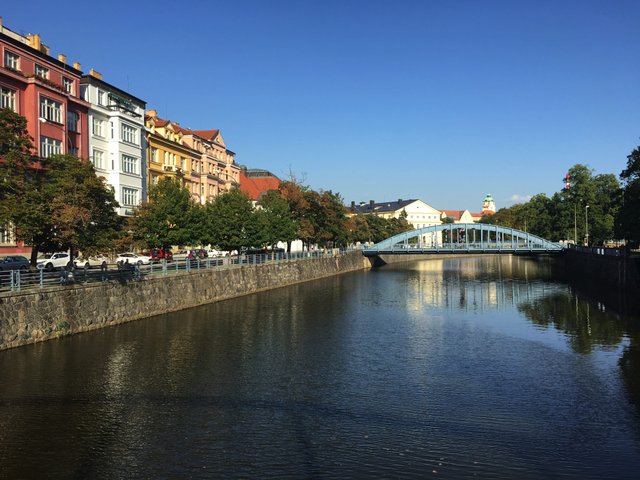 The town square of Ceske Budejovice is quite large and beautiful, surrounded by 48 colourful buildings, one of them being the Town Hall, built in 1555 in baroque style. The square is dominated by the Black Tower on the left side and the Samson Fountain in the middle of the square, which is a popular meeting place for locals. It was very quiet in the afternoon when I arrived but I think everything comes to life later in the evening when its not so hot. There are a lot of cafes and pubs where you can enjoy a coffee or a cold beer. Speaking of beer, Ceske Budejovice is known for its beer, brewed since the thirteenth century, one extra good reason to come for a visit.
| | |
| --- | --- |
| | |
The Black Tower stands strong 72.3 m high above the ground level. It was finished in 1577 by three italian builders to protect the town agains enemies and fires. It stands separately from the nearby Church of St. Nicholas, which is not very common in the Czech Republic. Not even Prague has such a tower, despite being called the "city of a hundred spires". If you climb its 225 steps you will be rewarded with a beautiful view of the historic part of the town as well as its surroundings. Unfortunately it was closed when I arrived but just staring at the entrance gate made my day.
Did you noticed the big fly in the middle of the tower? Do you think you can catch it, cause it drives me crazy to see it on my monitor :)
| | |
| --- | --- |
| | By the time I finished visiting the beautiful old center of Ceske Budejovice I also finished all the calories left from that 3 egg omelette I had for breakfast in Cesky Krumlov and decided to look around for a place to eat. Found a nice terrace and had some good pasta accompanied by an amazing cold czech beer. It was around 5 PM, still too early to stop and decided to continue as you already know, I love cycling on long summer evenings till the sun goes down. |
Here the route got bumpy for a while and I think this was the place where I eventually broke two spokes, didn't noticed it till later on.
I still remember this portion of EuroVelo 7 till this very day, the sound of gravel under my wheels, the mirror like waters of Vltava on the left and the beautiful straight line of trees on the right while the sun was fading away in the distance. Sometimes there are unique moments like this while bike touring that will stick with you forever and reminding you that's more to life than the daily routine. Sometimes I feel I just need to escape from the city walls, especially in the summer when Europe is so green and beautiful.
| | |
| --- | --- |
| | |
While I was entering Hluboka I started hearing a strange noise coming from my bike. The back wheel rim was touching the brake pads at regular intervals which made me stop for investigation. I discovered that I had two broken spokes and my first thought was that of bad luck. But you know that sometimes what seems to be bad luck proves to be good luck later. This incident stopped me from going further which was a good thing in the end. I had no idea at that time about the amazing Hluboka Castle which was only 5 minutes away, even though I saw it in the distance as I was approaching but without any thought in my mind to stop. With my bike needing urgent repairs I decided to remain in Hluboka for the night and try to fix my bike the following morning. I took out my phone, opened Booking.com app and commenced searching for accommodation nearby. I was lucky to find a room at a nice hotel only 2 minutes away from the castle and not very expensive for what I later discovered to be quite a big touristic attraction in the area. So I ended up in a nice place after all, near a castle :) just wait until you see it in the next post!
| | |
| --- | --- |
| | |
That's it for today hope you discovered interesting new places in this post with me, until next time, keep on travelling!
---
I would like to donate the rewards from this post to @mrprofessor who's bike got stolen recently in London during his winter bike tour across Europe. Good luck Arthur, may the crypto market be with you!
---
©Discover EuroVelo
---
Do you plan to travel in the future? You can use my link here to get 10% off your next hotel room on Booking.com while also supporting Discover EuroVelo project (I'll get US$15 from them too), so both of us can travel a bit cheaper next time. Thank you!