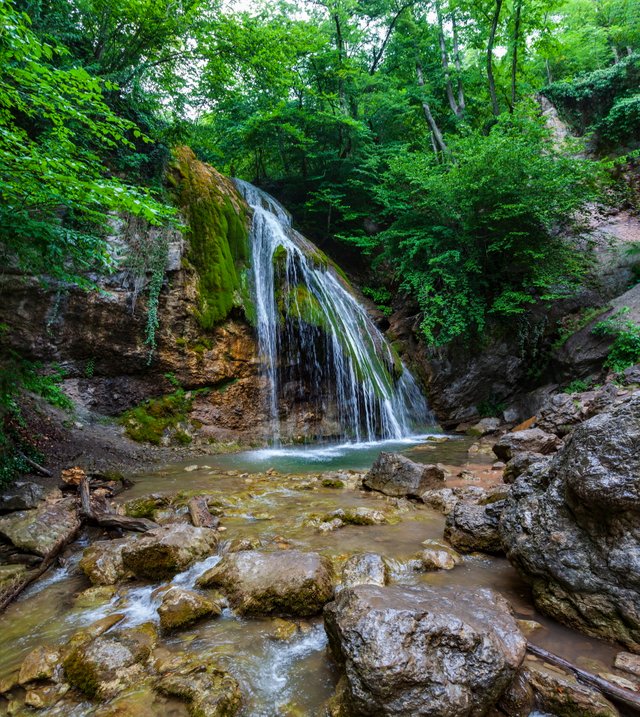 Jur-Jur Waterfall
Another story from my Crimean trip. It was at that moment when the weather was just getting better. According to the forecast, it could rain, but there was not a cloud in the sky, and we decided to go on a short trip to the largest waterfall in Crimea. In general, there are many waterfalls in the Crimean mountains. Once we went to one of them and for a long, long time went uphill along a path along a stream. But it was hot, there was not much water in the stream and the waterfall was very weak.
At that time, we could see the waterfall in the full sense of the word.
A beautiful road led along the Black Sea coast. An hour and a half drive from the city of Yalta and we arrived at the town of Generalskoye.
A road leads uphill from this village. If you walk, it will take about 30 minutes. The route is not very difficult. Locals make money by providing transportation for lazy tourists. Here and there, voices shouted for those who offer a jeep tour.
Moreover, these barkers mislead you about the length of the path. In words, they greatly increase the distance that you need to go to the waterfall, so that tourists use their services, which are very expensive.
Of course, a tourist is a sacred cow that needs to be milked, but everything has its limit.
But this is not so important, because I decided that it was worth going uphill on foot.
As soon as we passed the first third of the route, a big black cloud came to the sky and it started to rain.
That was fun.
When I went to the waterfall, the water fell not only from the mountain, but from the sky in general.
The view of the waterfall exceeded expectations. There is noise and streams of water.
The thunderstorm, which began at the very moment when I went to the waterfall, added drama to this scene.
As we walked back, the clouds fled and the sky became blue and bright. The way back after the journey was beautiful.
I did not say that this waterfall is called Jur-Jur. There is an opinion that the waterfall got its name from the Iranian word, which means murmur.
I would say that this waterfall is quite beautiful, despite the fact that it is not very large. Crimean nature gives a lot of everything that is nice to see.