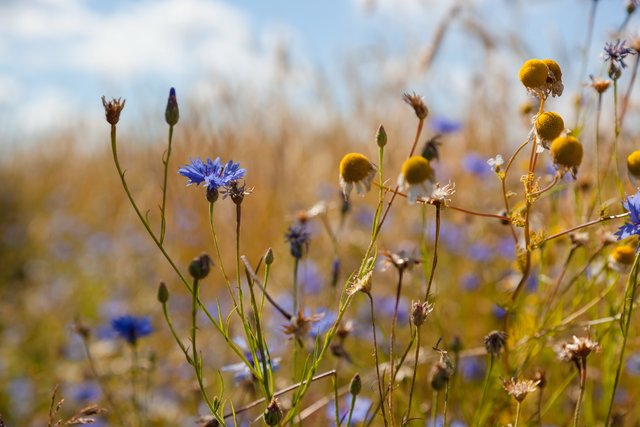 Fields in central Russia
The last few articles I have dedicated to traveling to Crimea. There is still much that is worth talking about and showing photos.
But today I have a desire to show beautiful Russian fields. These are ripe yellow open spaces under the blue sky. These are blue cornflowers and white daisies in green grass.
I just drove by car to the village from the city and my attention was attracted by the yellow spiked cereal crops, which were already ripe and ready for mowing.
I just stopped the car on the side of the road, got out, lay down in the grass and looked in all eyes at the grass against the sky. It was not only beautiful. I immersed myself in micro life around. There are insects and smells and some new sensations.
By and large, nothing special, but still there is something in it.
In the far, beyond the fields, a village is visible. A simple Russian village. Life in a Russian village is not easy, but could it be better next?
The main thing is that the weather would be fine. So far, the weather is not very good. Now it's raining outside, which is more like September. Shallow, cold, wet rain.
To warm my soul and body a little, I took out a bottle of dry red wine and drink it with pleasure.
And I decided to look at the August photo galleries that I have. And so, my gaze fell on the blue of the sky and the yellowness of the fields.
A completely impressionistic plot and this look perfectly suited the taste of dry red wine.
Still get some cheese, it would be generally fine.
But, I hope, in the best time, the weather will be corrected and summer will come again. I want summer. There was almost no summer this year. The cold front from the Arctic came to us at the very beginning of summer and continues to host here. Cold, rain, holon wind.
Maybe it will be warm in the fall?
Of course, rain, humidity, this is a good opportunity for mushrooms. I saw in the bazaar that mushrooms are being sold and this suggests that I should get ready for mushrooms in the forest. Mushrooms with potatoes are very tasty. Mushrooms are one of the important parts of Russian national cuisine. I really like to fry mushrooms with potatoes. In addition, I really like salted mushrooms with sour cream.
If you take positively the vagaries of the weather - maybe it's worth it to get at least mushrooms from nature?
I'll try to visit our Kostroma forests next week. Maybe there will be mushrooms. If I find it, I'll show you right away.