What To Do When Your Priority Pass Lounge Card Expires While Traveling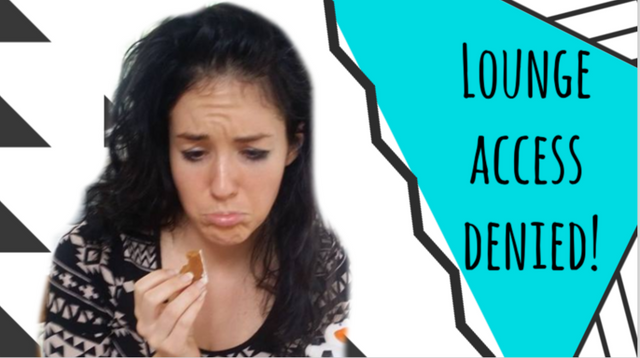 You hear the words, "Sorry, we can't let you in the lounge. Your card expired a few days ago."
Your heart stops beating for a second because the thought of not getting to charge your cell phone, have a free cappuccino or a nap on the cozy lounge couch is too much to bear.
Access denied.
Ouch.
That hurt...especially knowing how much I like the Bali lounge.
Now you're going to have to pay $10 for airport food like all of the other peasants out there.
And trek the one mile through the airport to find the one available charging outlet, and then fight off those other traveling hobos to the death like animals in the jungle over it because you NEED to it for your phone.
If you lose the fight, your phone is going to die while you're on the plane...
...and you're flying a budget airline with no inflight entertainment.
How will you keep entertained? What will you do for 7 hours?
Take a nap?
Yeah, right.
The seats are uncomfortable and the guy next to you surprisingly doesn't appreciate you drooling on his shoulder.
The horror.
It happened to me when I tried to get into the airport lounge a few days ago.
They turned me away and I was in shock.
I thought, "What? This lounge access is a credit card benefit, and I still have the card. How DARE you deny me! The lounge is the whole reason I have this card!"
I felt so sad, knowing I had a 6-hour flight ahead of me, a 3-hour layover, and another 5-hour flight after that.
All of which I'd have to pay for several overpriced $2 water bottles while feeling angry about it because the cheap side of me detests spending $2 for a bottle of water and $10 for a sandwich.
So I did what any other desperate person would do-
I turned to the internet and starting googling vehemently (except I used presearch, because I'm not into google anymore).
So while presearching, it dawned on me that I had a member # on the Priority Pass website.
I'd just read a blog by someone saying they wish they had known to renew their card before traveling.
For me, it's impossible to renew because I've been traveling for over a year and haven't gone back to the US to renew it.
I didn't even know I had to do it.
But unlike the other blogger guy...
...I refused to give up.
Thankfully, I'd written down my password for the priority pass site and was able to login to see my membership #.
There, I also saw something super lucky!
My "virtual" card doesn't expire for another 2 years...
...so I grabbed my computer and took it over to the guy at the desk.
He scanned the QR code on the website and BAM.
I was granted access!
Sweet cappuccino and biscuits, I was in!
He told me that you can download a "Priority Pass" app onto your phone and just have your QR code scanned in the future instead of carrying a physical card.
That sounds like a much better option for me.
If this happens to any of you, and you frantically google like I did, don't feel discouraged if you come across the other blog post where the guy had to give up and just accept not getting into the lounge.
You can get in!
Just log on to the website and voila, you're good!