Remember that the person who speaks here is NOT me, Vincent Celier (@vcelier), but @terresco, a French guy.
---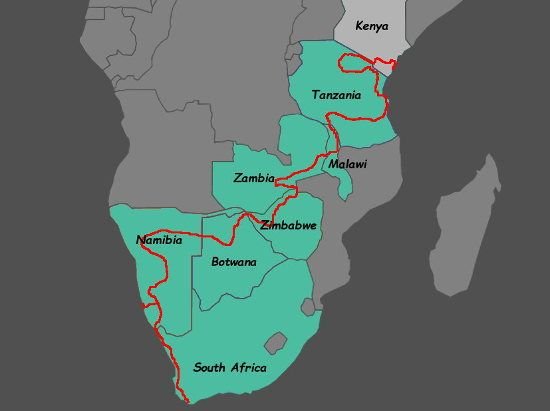 The country before last of our trip through Africa. Tanzania. A more touristic country than those before, at least in its northern part with Kilimanjaro and Serengeti. We spent some time in the south, less visited and pleasant, with beautiful national parks like Ruaha, unjustly abandoned by tourists, where the lion is king. Having written a lot about the national parks and animals of Africa in my last articles I will not describe the chills felt near families of lions or approaching the invasive roars at night.
Tanzania welcomes us with the big smile of the policeman who flashed me with his handheld radar. He's going to get some cold beer that I had reserved to celebrate the crossing of the border, a border for which I was not quite in order. But his big smile gave me a great hope on the kindness of the people in this country, hope that never failed.
* * * * *
(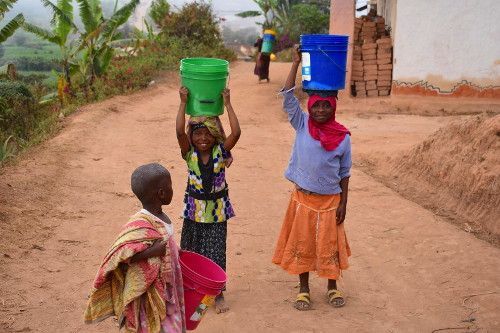 Tanzania was born in 1964 from the merger between Tanganyika and Zanzibar. Not very imaginative as a name but it's pretty and I guess it made everyone agree. The road to the coast is under construction. One of the many Chinese companies with a strong presence in Africa is doing it with vigor. I had the impression that they had started on 200km at the same time, it is a sequence of deviations by tracks following more or less the construction. Broken, flooded, cluttered with trucks that have broken down or stopped there, of course.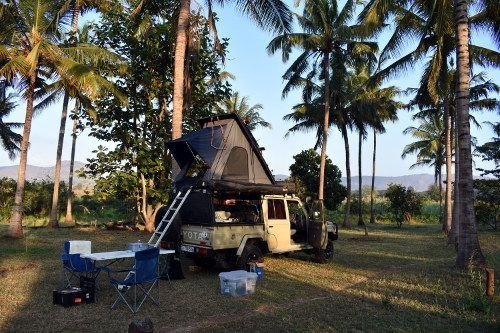 We spread a little in the camps
There are actually a lot of Chinese expatriates. It's pretty funny because they are very interested in our car. They come close as if they did not see us, photographing everything, including our crate for safekeeping, a simple case of transparent plastic, with their latest smart phones. At first it's a pretty disconcerting, we tend to steer and get angry a little. In making an effort we realize that those are very nice people, curious about everything and interesting. Just a cultural difference. They know the country well and allow us to understand many things.
Kiswahili
We arrive in Kiswahili area, where the language is Swahili that we had begun to discover in Malawi. It is interesting because it is rare in Africa, during a traveling trip, to be able to speak a long time the same language (English and French except obviously). No sooner have we learned to say hello than we changed ethnicity and language area. It's always a little frustrating.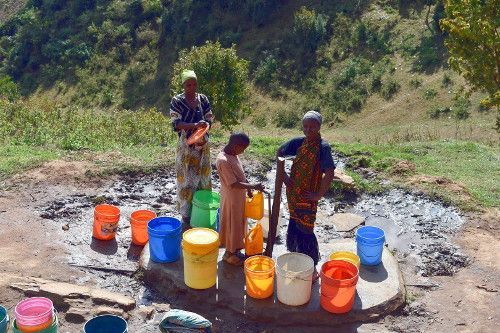 Wells, meeting places to frequent
This time it's different we'll have almost a month to have fun learning a few things. Our focus and effort systematically facilitate relationships. The first purchase will be a Swahili / English dictionary. There is at least one word we all know without knowing it in Swahili: Safari means traveling. I did not know wither. I do not know why I thought that Jambo (that I heard like Djumbo) was elephant; well, no: elephant is tembo and Jambo means hello! A
false friend
.
To make the route easier we have to know how to say: We come from [Name of the previous city] and We go to [Name of the next city]. Attention it must be said by pretending to make a great effort of memory, even if it is repeated 20 times a day. It's like a password that gives you access to a loud laugh followed by a "Do you speak Swahili? That you recognize easily. There we answer modestly kidogo (a little), we take the opportunity to "switch" to English and we are introduced. I can spend whole days, furnished with these discussions, I love this fleeting discovery of a life that 5 minutes before was totally unknown.
The coast
The coast is also beautiful, typical of the Mozambique Channel for what I know of the Malagasy side. Large beaches of fine and very white sand, fishing canoes that use the principle of thermal winds to come and go at the rhythm of the wind, others who have found an old engine that will abandon them to their fate one day or the other, more or less far from the coast fish markets full of colors, of atmosphere and of course of smells.


Return of the fishermen with the thermal winds of the afternoon

Dar es Salaam is, like all African capitals, eventful, full of traffic and of energy. It is a large port at the mouth of the Msimbazi River. Administratively, Dar es Salaam is no longer the capital of Tanzania, it is Dodoma, a more central city. In fact it remains the economic power and largely administrative. Zanzibar is nearby but we cannot go everywhere, although it's probably very beautiful and full its glorious past; we give up for fear of too much tourism, we prefer to enjoy places even more authentic.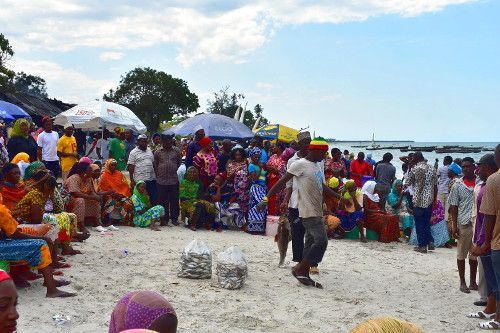 Fish market, well organized on the beach. It's fresh!
75km away,
Bagamoyo
, the ancient capital, had its eighteenth century glory. Founded by a Sultan, it became an important place for the transit of ivory and slaves sent to Zanzibar. It has been the starting point for many expeditions in Africa in search of sources of the Nile for example. Today the only remaining explorers are equipped with backpacks, it has lost its luster and is abandoned.
* * * * *
(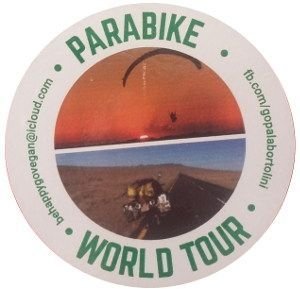 An interesting meeting, as we often do on a trip, will decide our next step. A biker is stopped at the edge of the road, I stop to see if he has a problem and the discussion is done in a mixture of English, Spanish and Portuguese of the most charming. Bernardo is Brazilian and he has been on the road for 30 years. He has his bike, his tent and his
paraglider
. He travels the world looking for places to fly and lives from a little trade in semi precious stones. He tells us about wild mountains, isolated tracks. It does not take more, the decision is made, the route changed on the GPS ... direction the
Usambara mountains
. The subject of the next article.

-- @terresco
---
Africa, the long crossing
From Cape Town to Mombasa: South Africa
From Cape Town to Mombasa: Namibia
From Cape Town to Mombasa: Botswana
From Cape Town to Mombasa: Zimbabwe
From Cape Town to Mombasa: Zimbabwe, part 2, by @terresco
From Cape Town to Mombasa: Zimbabwe, part 3, by @terresco
From Cape Town to Mombasa: Zambia, by @terresco
From Cape Town to Mombasa: Malawi, by @terresco
---
All pictures are property of @terresco