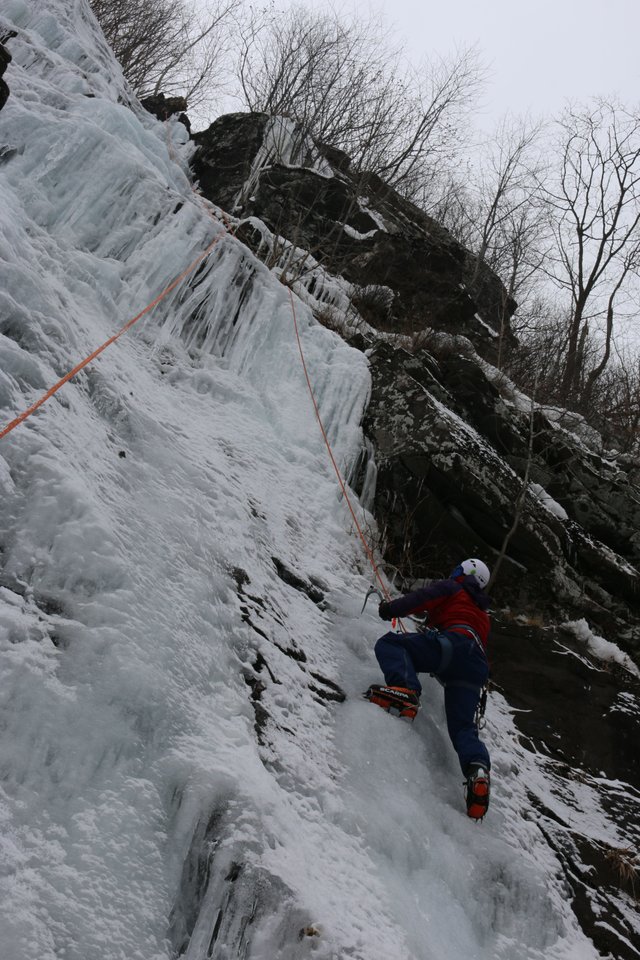 High on the Wall.
It has been a long training winter learning the skills that will enable me to go higher. Ice climbing season extends all the way into March in the Catskills; the dedicated can then begin traditional rock climbing soon after. So I have been away for awhile...
Here I'm working my way up a 70 M (about 200 feet) icefall. The crux, or most difficult portion of the climb, will be just adjacent to the rock cliffs to the right. Efficiency is key, the less I use my arms the more likely I will get through there without falling.
If you zoom in on the picture you get the exact feeling the one gets of the ice wall looming directly in front of your face.
(please click on the photo for a larger image)
---
To my Steemit explorer friends,
I have probably taken over a million photographs of the natural world since childhood; this is a daily series of some of those I most treasure.
Where They are From
Many are from an organic orchard that I created on the hill above my home. When you are raising trees from saplings you are out in all weather at all hours and see remarkable things.
Some are from my art studio and my efforts there- especially those on behalf of the Tibetan people.
Still others are from my wanderings in the wilderness with compass and map my companions. Many are featured from posts I have created here on Steemit and I will link to those whenever possible if you wish to read more of the how, when and where.
Please upvote if you liked this post, and follow for more journeys through our mysterious and amazing world. And please comment as I greatly value these and will answer any questions you may have (and generally go to look at your posts of course since I consider a group of friends the most valuable possible outcome from efforts on Steemit.
*This photo was taken with the Canon EOS 70D, 18-55 mm lens