Dear Steemit Friends :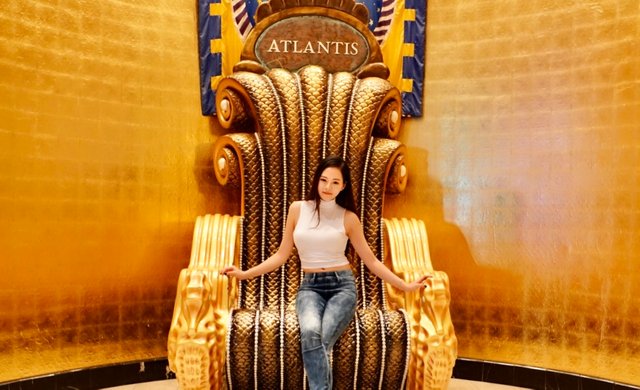 As you know, I've had the opportunity to stay at the Atlantis Resort in Bahamas for part of my travels in Bahamas. I've had the wonderful opportunity to explore things like The Marina Village - a small Bahamian settlement style shopping street home to some really delicious Bahamian style food at Bimini Road.
Of course, perhaps the highlight of the Atlantis resort, is their open air aquarium called The Dig which is home to some of the largest collection of exotic tropical fishes in the world as well as some of the best reconstructions of 'The Lost City of Atlantis'.
With the entire hotel designed in the theme of the legendary lost city, most of the interior design is made to match. Perhaps one of the most popular ornaments in the Atlantis hotel is the Big Chair which I believe is the chair for the Greek God of the sea, Poseidon. I of course had to take home a snap with me the chair too! Looks like it's big enough for someone 10ft tall!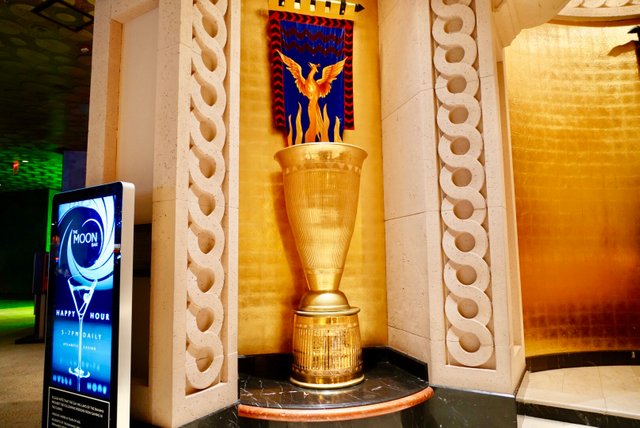 Beside the Big Chair people often miss the large golden trophy statue, and if you look just above it, there is the Phoenix rising from the ashes. According to Greek Mythology, the Phoenix rises from the ashes of it's predecessor to be born again, living over a thousand years before falling and then rising again.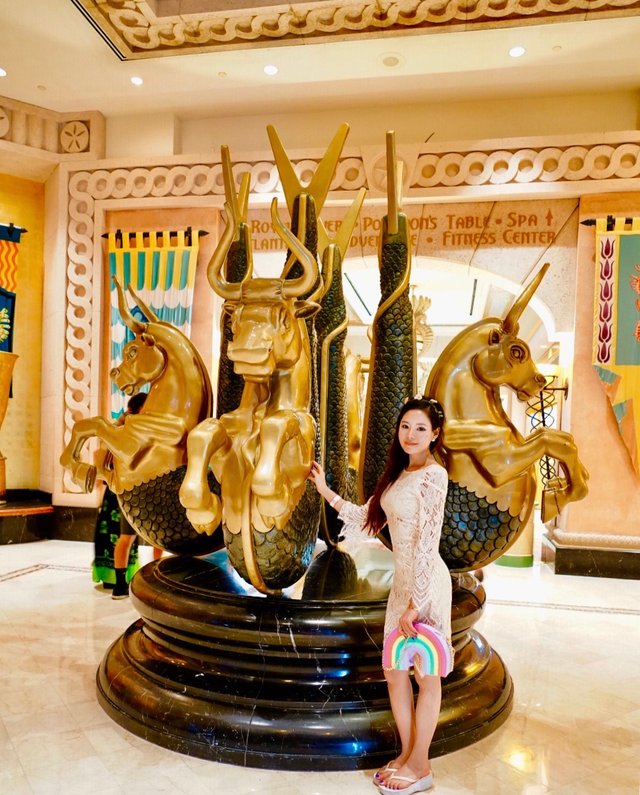 Seahorses form an intricate part of the architecture of the Atlantis hotel, and across it's main building you will see these ornaments used. Inside, I came across this statue of four golden seahorses with some pretty pointy horns and armour like scales. These I imagine are the war seahorses used to defend the underwater city.
Atlantis Casino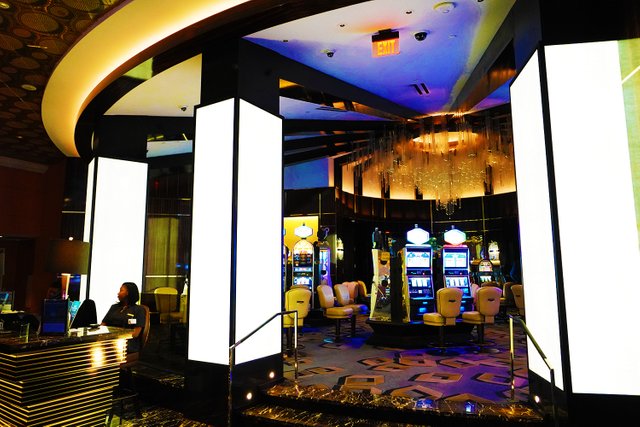 Perhaps one of the most attractive aspects of Atlantis Hotel, is it's very large casino. Maybe you weren't aware that in China, Casino's are banned from operation. It's only allowed in places like Macau and that is why Macau is become like the Las Vegas of the east. For many people coming to the Bahamas, a trip to the casino is a must, even if they're not big gamblers!
I'm not the gambling type of person and usually come to casino's just to enjoy the atmosphere and watch other people gamble.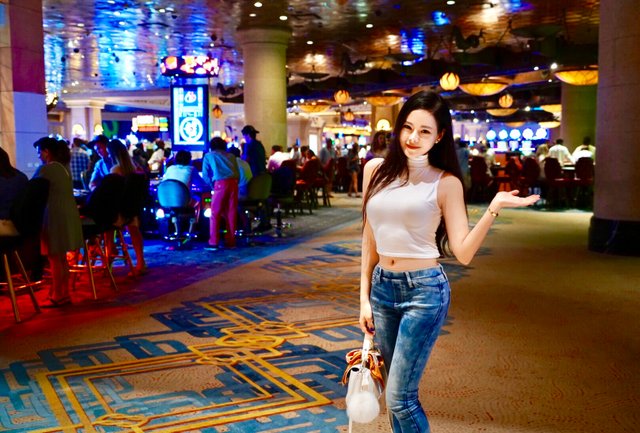 As you can see, it is a very luxurious and spacious casino with many different kinds of slot games, and table games.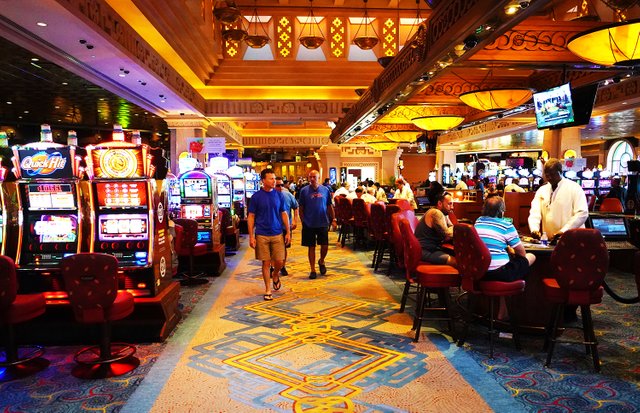 Most of the people seemed to be more interested in playing the table games like roulette and blackjack.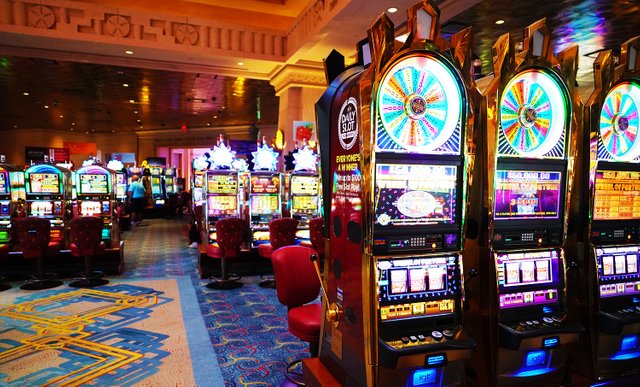 Slot machines make up most of the games at the casino. I can't understand why people find them so fun. It must be all the pretty colours and flashing lights?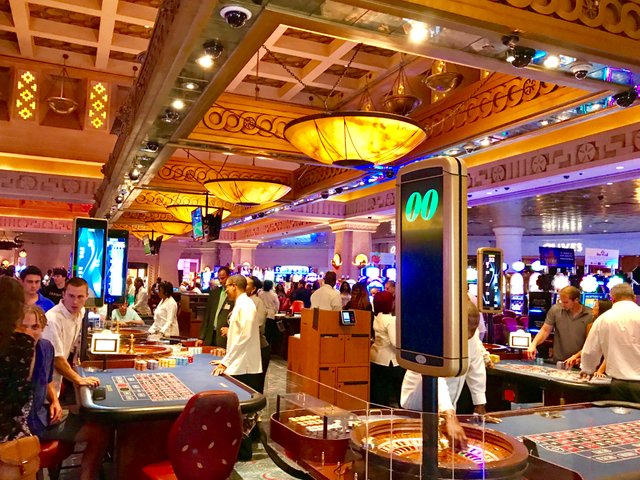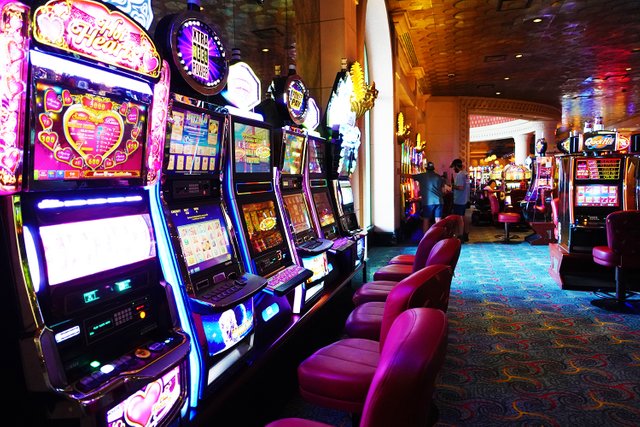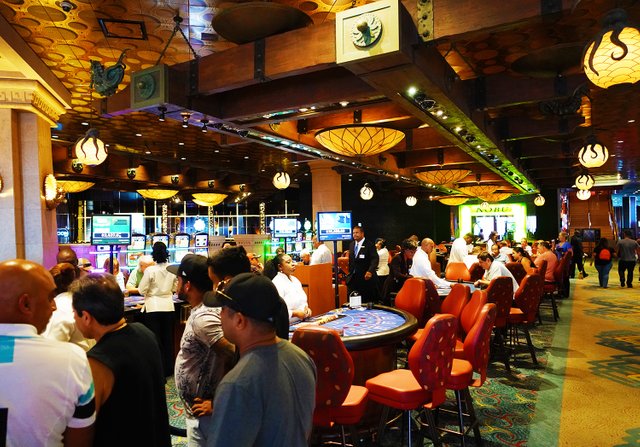 Within the casino there is also a night club which is open Thursday - Saturday.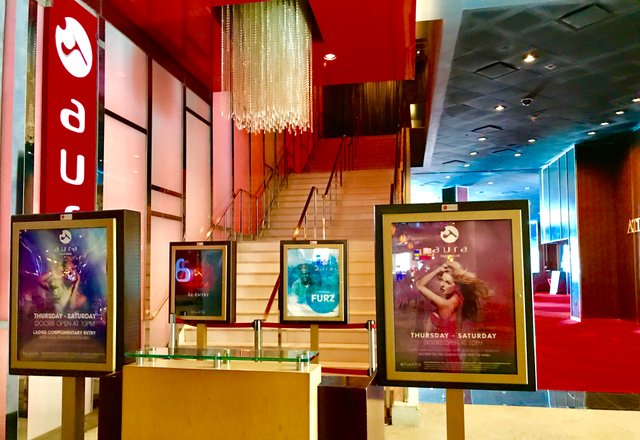 For people who are keen on sports betting, Atlantis has a very large area dedicated to just this!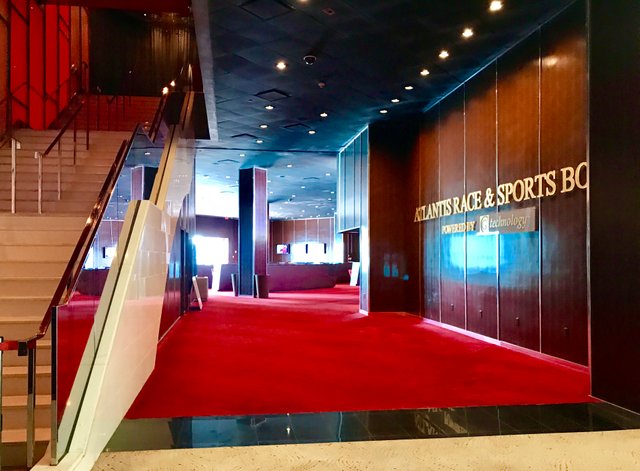 Seems like it was baseball betting day.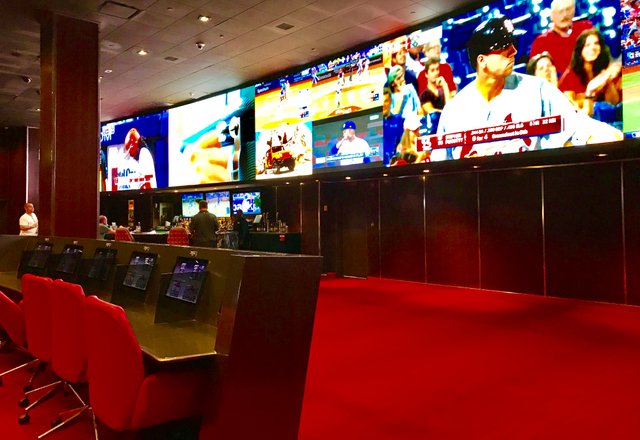 For me, this was probably the highlight of the Casino. These beautiful sculptures made from blown glass!
If you have a keen eye and good memory, you would have seen one example of these glass sculptures in my visit to the Victoria and Albert Museum
They are all made by the American glass sculptor called Dale Chihuly who specialises in blown glass sculptures.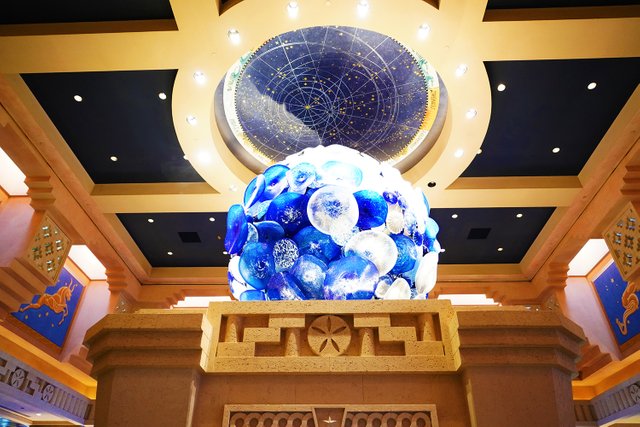 This seems to be a glass sculpture of a planet and constellation of stars right above it. All around, are the 12 different star signs.
Right below this marvellous Glass planet, is a gift shop.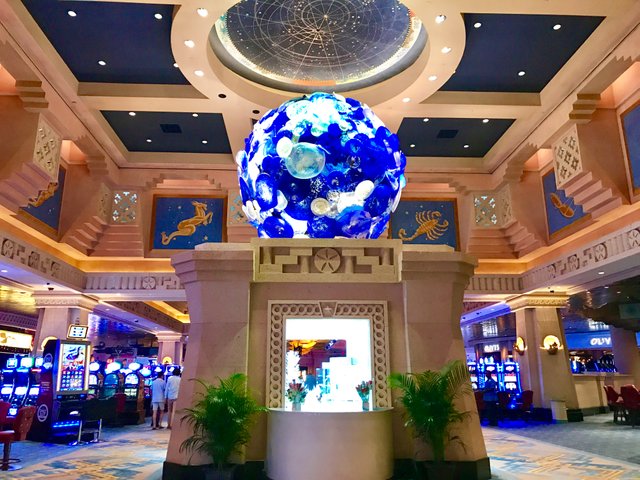 Do you know your own star sign?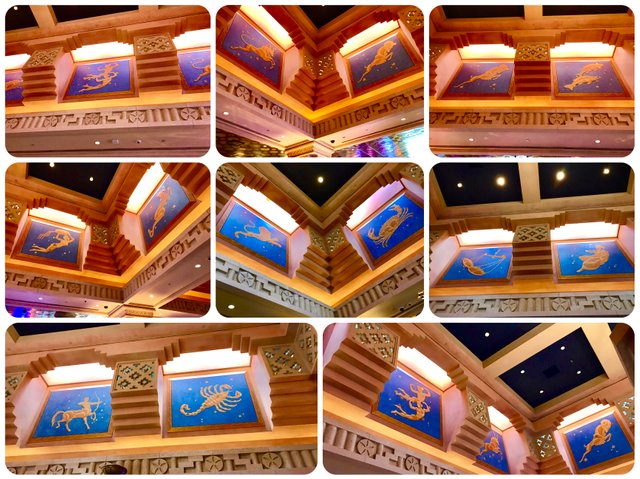 Over at the other shop selling Cigars, we have the glass blown sculpture of the Sun. A very fiery red, even more formidable when the lights are turned on.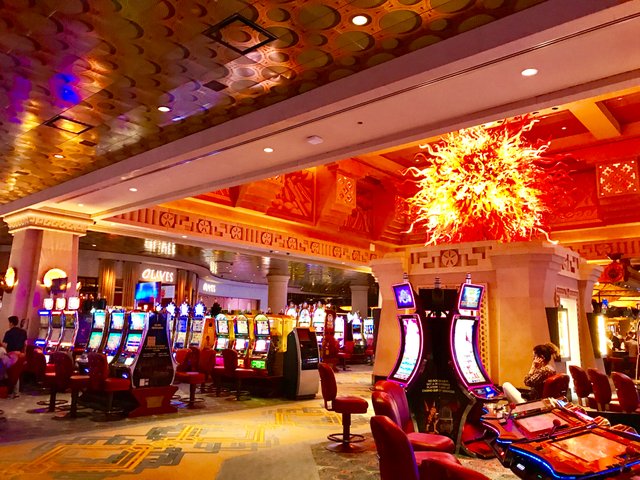 It's pretty amazing looking at all the little "Rays" coming out of it.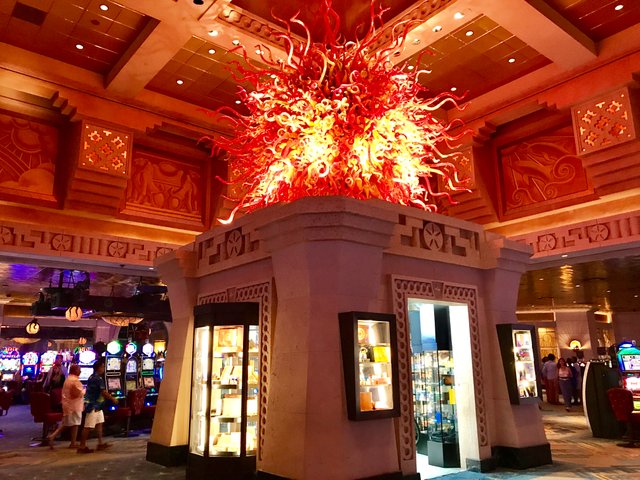 Finally, we have this gorgeous sculpture called "The Crystal Gate".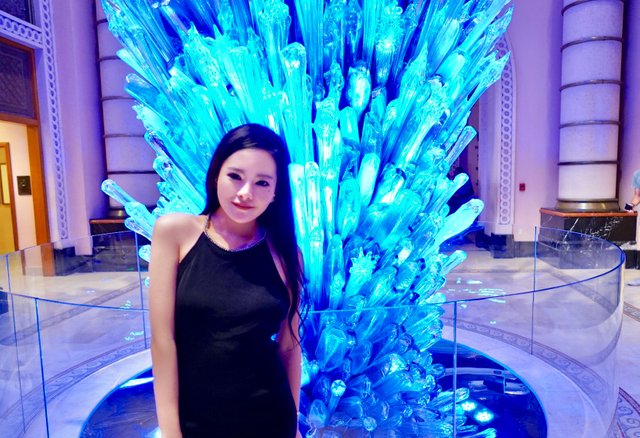 It looks like something from another world. Maybe a world made from ice crystals?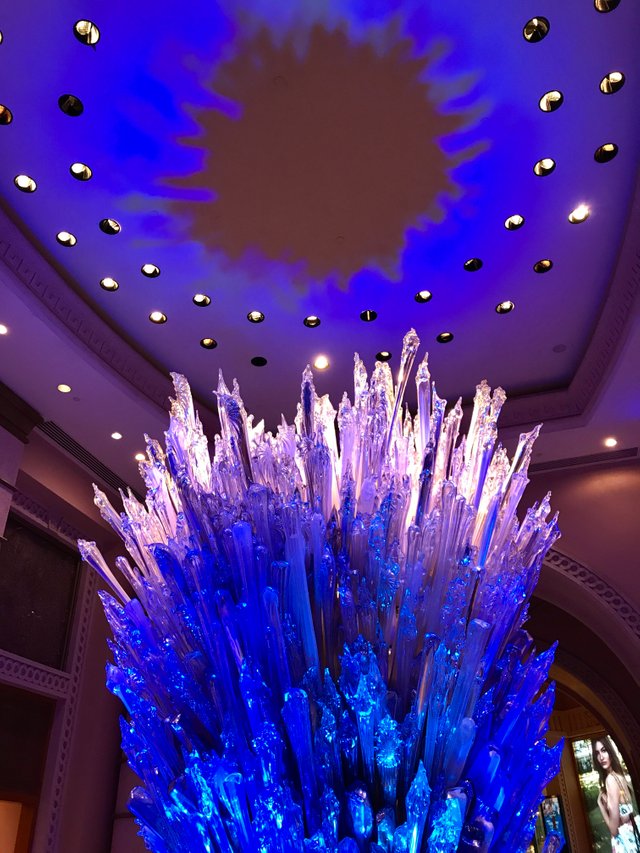 With the lights turned on, it emits such a brilliant glow of blue.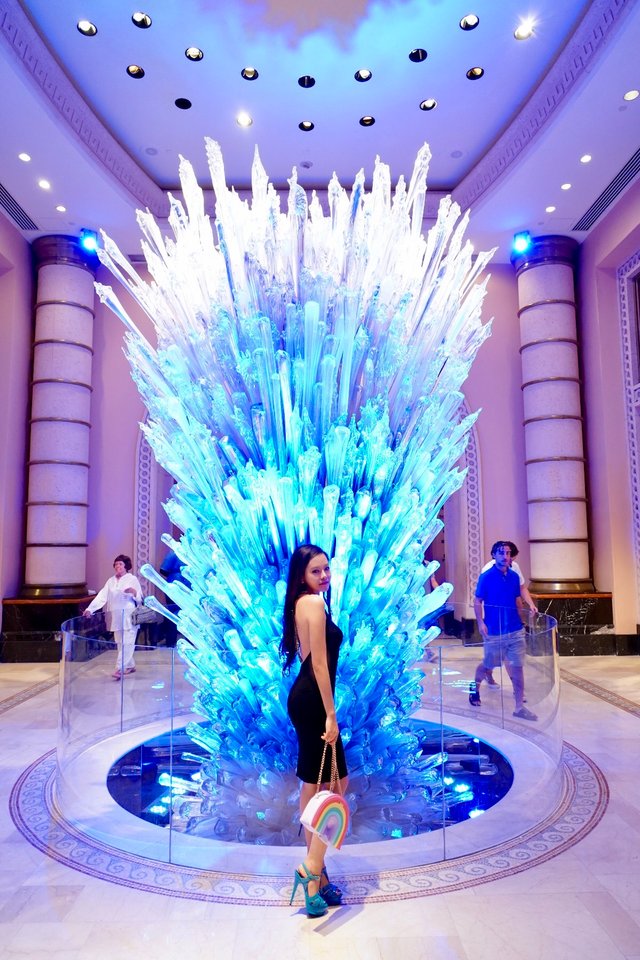 The Crystal Gate is one of the most photographed glass sculptures in Atlantis, not only because it's a stunning piece of work, but also because it's the only one that you can stand at ground level and get a full picture with it.
---
Like with most other large casinos, there's always bars and restaurants inside. I imagine they would want their customers to have no reason to leave!
The Moon Bar over looks the entire gambling floor.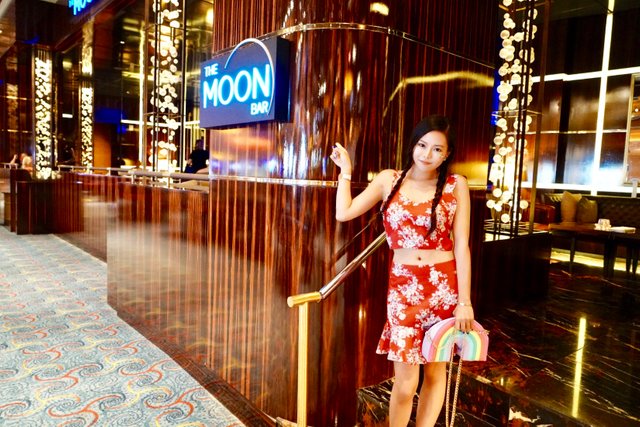 At this time of day (day time) there's usually nobody drinking.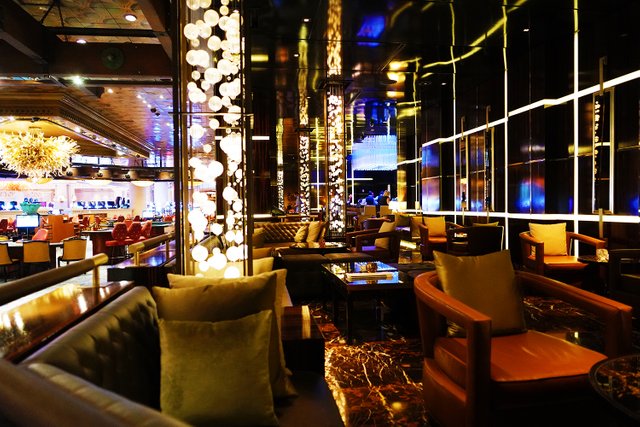 So, I have the entire bar, and apparently most of the gambling tables to myself! Hoorah!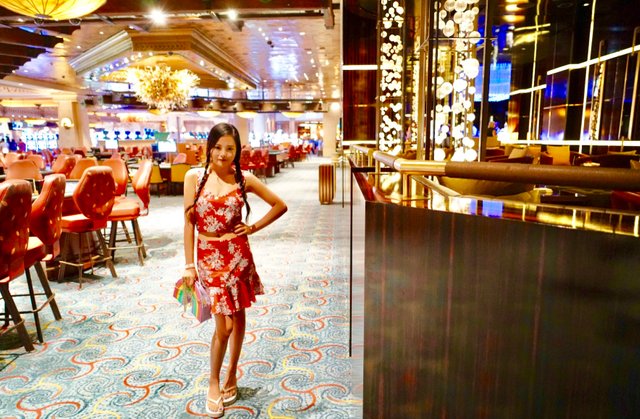 This is OliVES, one of the restaurants inside the Casino. One of the saviours of night time snackers like myself as it is open until the early hours of the morning.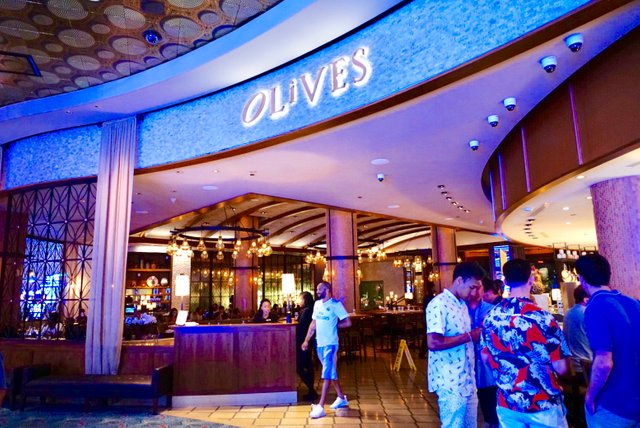 As you can see, it's not just me that gets hungry at night time.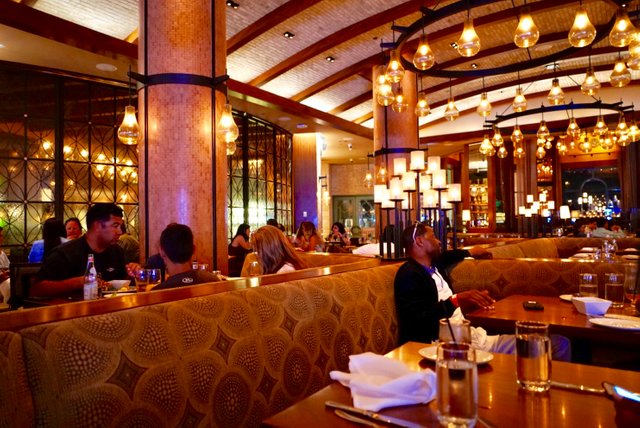 Again, this restaurant has views of the gambling floor, so I will always catch the emotion of winners (or losers) as they happen.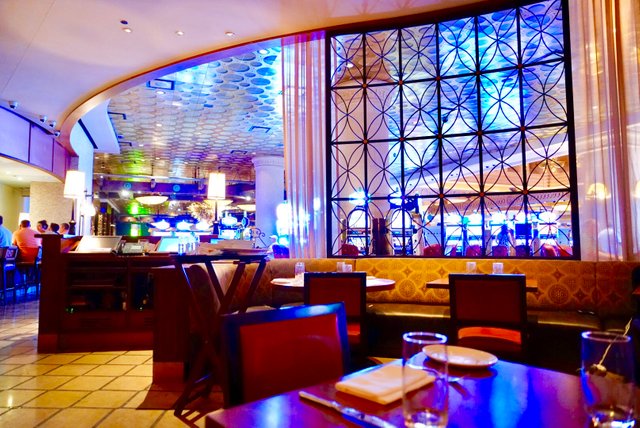 It also has it's own well stocked bar. It seems every establishment here at the very least serves alcohol. Probably a good way of encouraging people to keep gambling and loosing all their money!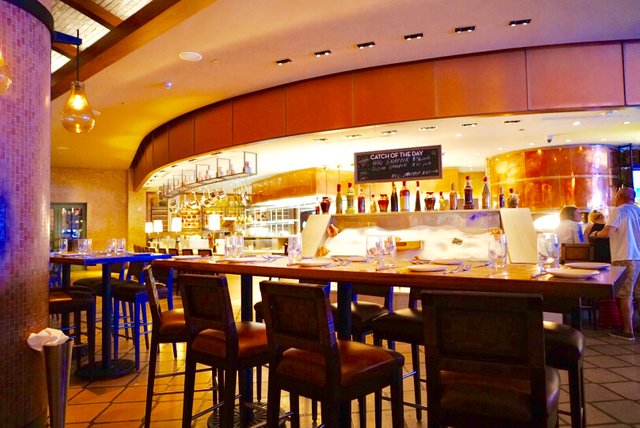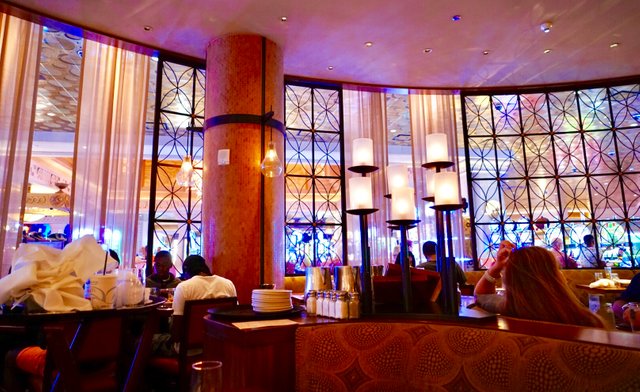 The menu.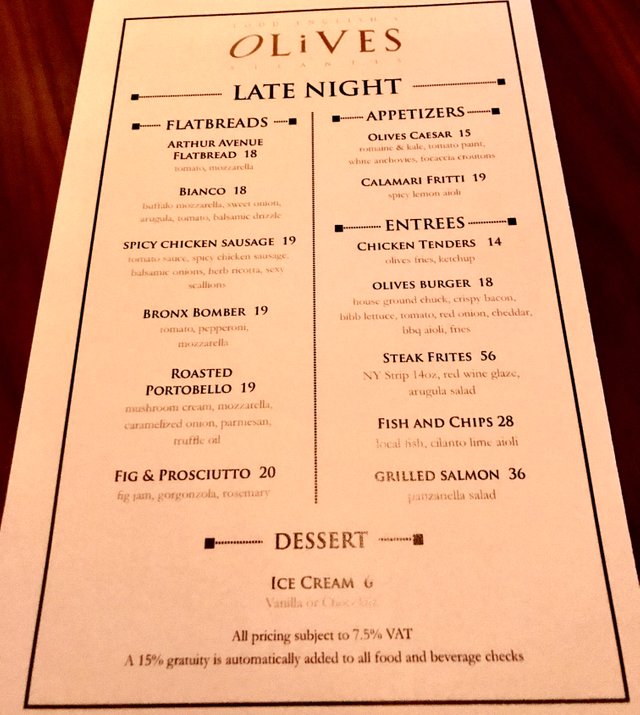 At this time of night, and inside the casino, I really wasn't expecting this to be worthy of a Miss. Delicious post. Still, the quality of food is pretty decent. People spending loads of money gambling and staying at the hotel expect at least some sort of standard when it comes to food, and I feel that Olives just about makes the cut.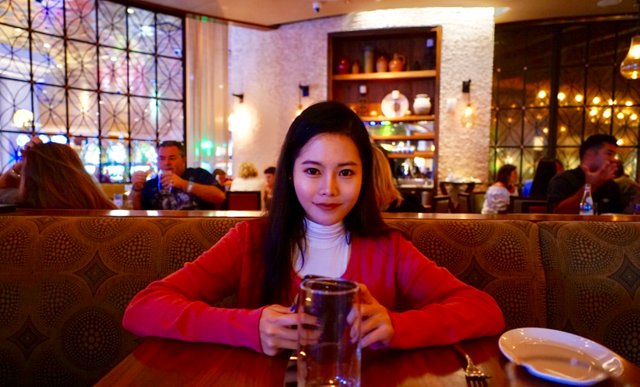 First up, the Olives Caesar Salad. Large chunky lettuce, and a generous portion of cheese certainly helps make this quite a high caloric salad!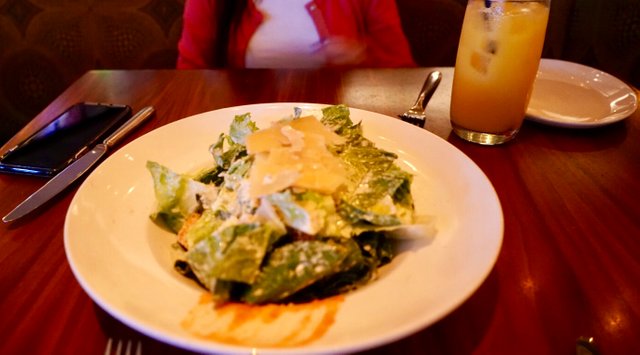 Chicken Tenders with fries. This was actually quite nice! I was surprised how delicate the chicken meat was. I guess that's why they call it chicken tender.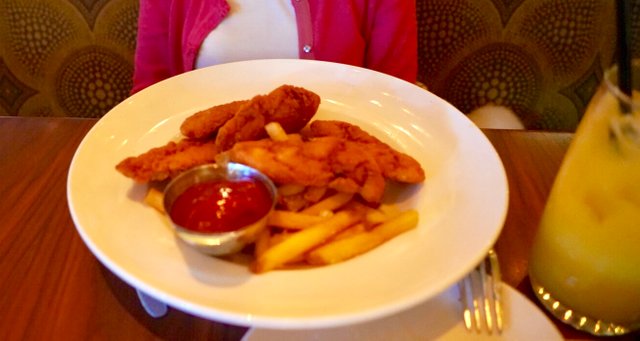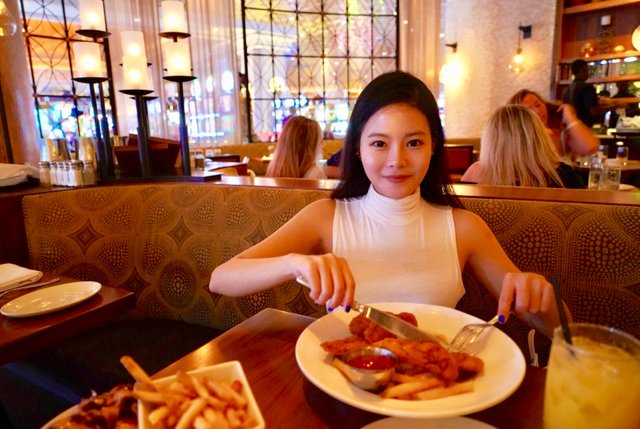 This little monster is the Olives Burger. On the menu, it says the burger has house ground chuck, crispy bacon, bibb lettuce, tomato, red onion, cheddar, bbq aioli and fries!
Seeing as it's late at night, I can forgive the 'fish and chips' and 'Burger and Fries' motive going on. After all, it's meant to be a night time snack, and not a full on dining experience.
I left Olives a very satisfied happy bunny. (Fatter one too)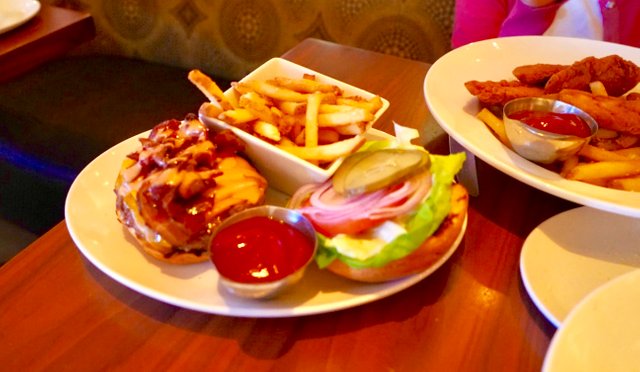 Do check out my short video of the Casino for a better feel of the atmosphere!
Hope you enjoyed my tour of the Atlantis Casino and it's amenities!
I'm sure many of you are keen gamblers out there who might fancy a game of Poker, Craps, Roulette, Baccarat or Blackjack. Atlantis seems to have all of that covered and then some. Aside from Olives and the Moon bar, there's also another Japanese restaurant called 'Nobu' and a 'Dragon' bar and club. Plenty of night time activities to get up to!
As a non-gambler, I really appreciate the Dale Chihuly glass sculptures, as well as the bars and restaurants inside. The atmosphere was also really nice, every few minutes i'll hear a cheer from someone who just won, and always more grunts from the grumpy losers.
Remember folks, don't gamble what you can't afford to lose!
As always, I appreciate your upvote if you liked my post, a follow if you wish to see more, and a comment to let me know what you think!
---
今天我想带大家继续去探索一下亚特兰蒂斯酒店,很多人提起巴哈马,提起拿骚,都会想到赌场。没错,赌场收入一直是巴哈马重要的财政来源。虽然我是一个特例,来拿骚巴哈马旅游并不是冲着赌场去的,但是还是准备进去参观一下。毕竟亚特兰蒂斯酒店的赌场是当地最大也是最豪华的,除了里面有上千台最新投币式游戏机和百种桌面游戏,并且连赌场里的装饰都是些价值连城的艺术品,现在大家就和我一起来探索一下吧。
赌场门口就是整个酒店最标志性的亚特兰蒂斯帝国的王座,每个人都想上去坐一坐,不知道是不是大家相信坐了国王座椅,一会运气就能好一点。坐上去真的好威风,感觉上面可以坐3个我。边上2个金色的奖杯,闪着耀眼的光芒,也很显眼。在宝座的南面,大厅的正中央, 一个圆形基座上安放着四个前半身是马,后半身是鱼的动物,并且4个马头分别朝向着东、南、西、北,像是飞马雕塑,据说这是当年亚特兰蒂斯民族的图腾。走进这片全年无休的赌博天堂,热闹极了,不仅有欢快的音乐,不时还可以听到胜利者的欢呼声,到处装饰的金光闪闪,这里也是很多电影的取景地,例如007系列就是在这里拍摄的。在赌场的一旁,还分布着夜店还有专门赌球的地方。接下来看看赌场顶上的水晶灯,听说每一个玻璃工艺品都是上百万美金的价值,从威尼斯制作后运输过来的。这个蓝色的圆球是Temple of the Moon(月亮神庙),由900多片蓝色和白色的圆盘组成的圆球。圆球的顶上宇宙的图案,边上为了一圈各种动物图案,是12星座,你是哪一个星座的呢? 接下来这个鲜红灯带着很多像触角的东西,它是希腊神话中蛇发女妖美杜莎的蛇发造型,又像是一个太阳射出光芒,所以也被大家叫做Temple of the Sun(太阳神庙),。接下来这巨大一块天然的水晶 是Crystal Gate(水晶门)。闪着蓝光非常漂亮。这三件都是著名玻璃艺术家Chihuly的作品,在伦敦的V&A博物馆里也有展示。
因为时间很晚了,所以只有赌场里的餐厅是通宵开着的,所以想带大家探索一下赌场里的餐厅酒吧。首先经过的是酒吧月亮吧,灯光非常漂亮。但是今天我要带大家去边上的美式简餐Olives尝尝美味,喜欢这家餐厅的透明磨砂玻璃,让赌场五颜六色的灯光照进来,就像教堂里的彩色玻璃一样好看。简单的菜单。先上来的是蔬菜沙拉,味道很新鲜。接下来上来的是炸鸡肉调配薯条,没有想到是这么大一盘,我看到有些吓呆了。最后是牛肉汉堡,美式餐厅的分量真的是超足,如果不是很擅长吃淀粉和肉的朋友们,可以2个人点一份就够吃了。希望大家喜欢我带大家参观的亚特兰蒂斯赌场,下面是我之作的视频,希望大家喜欢。