Travel with me #104 : To the Caves of Cappadocia!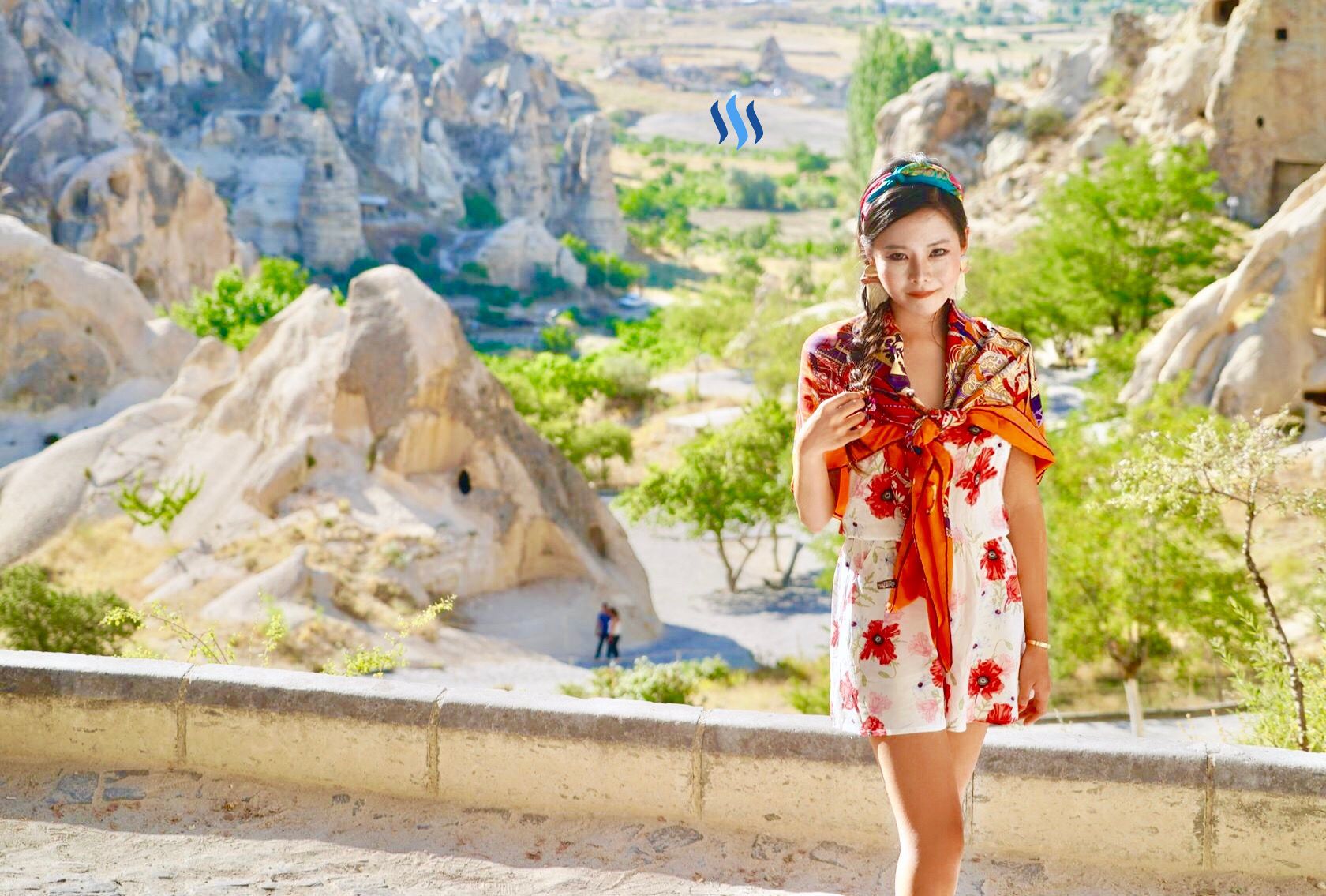 Dear Steemit Friends :
Today, I'll be taking us to one of the most scenic regions of Turkey where fairy chimney's and cave dwellings are a vivid reality. What magical place has fairy chimney's and habitable caves you might ask? None other than Cappadocia of Central Anatolia (Turkey)!
Cappadocia is famous for several things, but perhaps the most famous would be the hot air balloons which grace the skies from just before the wake of dawn. Today however, I will be introducing one of the other peculiarities of Cappadocia, the caves dwellings! In my own silly little mind, I always thought living in a cave was for the Neanderthals and cavemen, or even just a joke about guys and their man caves, but when I heard that people actually lived in these caves up until very recently, I had to come see and experience it myself.
The landscape in Cappadocia can only be described as out of this world. It occupies the central most region of Anatolia and stands around 1 kilometer above sea level. The dramatic landscape of this area is often described as being Martian with its slightly dyed colour rocks and of course the very distinctive fairy chimney's. With closer inspection, you'll actually realise that most of these fairy chimneys have been made into Cave dwellings forming a beautiful harmonious landscape with little evidence of human perturbation.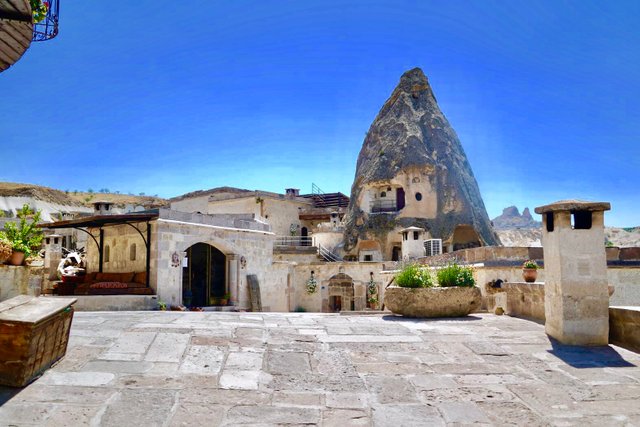 Arriving at the Kelebek Cave Hotel I felt like I'd walked in to a fantasy world, a fairy tale. The world kelebek means 'the butterfly' in Turkish, and that's a great name for the beauty surrounding me. The cave dwellings at Cappadocia have been inhabited for thousands of years, with Persian texts telling of the caves from as early as the 6th Century BC. The hotel is a fascinating blend of authentic, ancient cave life and modern convenience.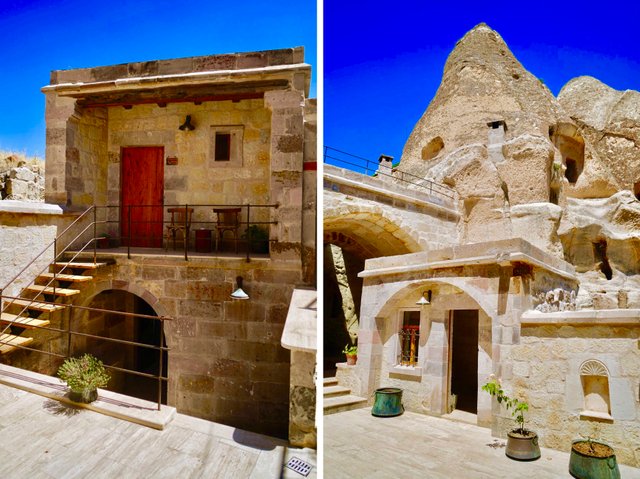 You can almost imagine that little fairies might just poke their heads out of a window at any minute as you walk through the maze of cave dwellings that make up Kelebek Cave Hotel. As I was guided to my room I stopped at nearly every cave room that I saw because they were all so cut and magical.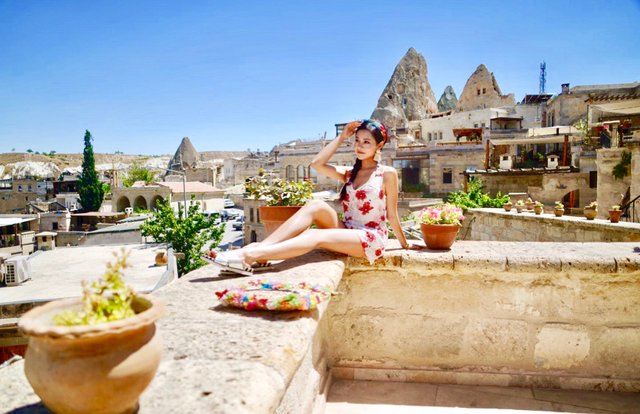 The cave dwellings are everywhere across the landscape and are tucked into every part of the strange rock formations. Some have extra stone work and others are built purely out of the natural rock. In all cases it feels like the rooms, windows and doors are so organic, as if the human and natural are completely at one. The local people call the strange tower like structures 'kales' which means castle, though they are completely natural. I learned that these fairy chimney shapes were built by a group of ancient volcanoes, called Mts. Erciyes, Hasan and Melendiz. Over the years wind and rain carved away the softer rock to leave these unusual spires behind.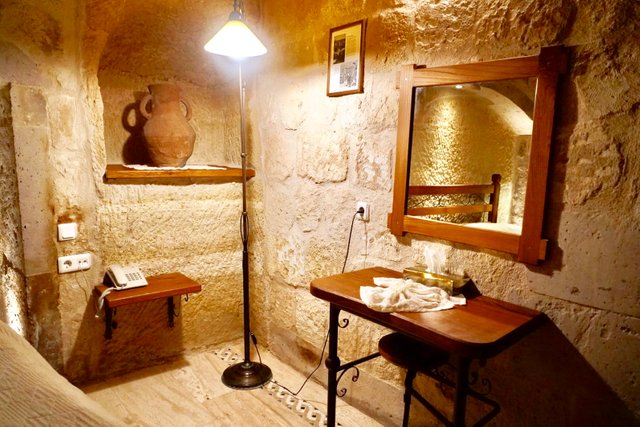 Every room in the hotel is unique because you are experiencing the real caves, carved out by ancient people. Look carefully at the walls and you can see the thousands of tool marks that texture the walls. Every cave dwelling was hollowed from the rock by hand, using primitive hand tools. As I explored my room I was in wonder at the hard work that it must have taken to shape this room, and this whole area, by hand. Can you imagine trying to make a bedroom like this? I couldn't believe it.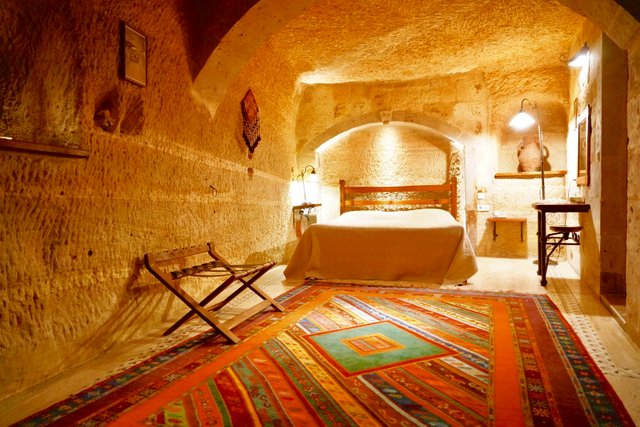 The ancient cave dwellers cut shelves in to the walls of their homes for storage and chimneys up out of the rock so they could have a cooking fire. Kelebek Cave Hotel faithfully kept these original features, so you feel like you're really living how the people once did. The real fire was such a treat. Of course, it couldn't be a hotel without some modern features and, as you can imagine, I was delighted by the beautifully designed en-suite bathroom.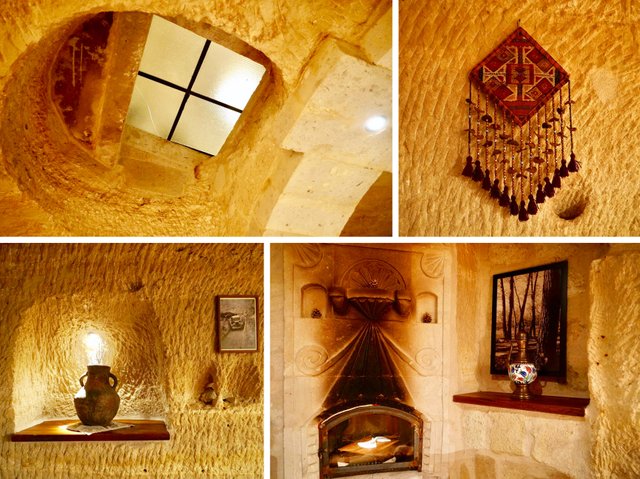 I was just settling down for my first night to experience this lovely room, when this very cat climbed through my window. I couldn't hold back my delight and surprise, and at first thought I might scare the cat away with my noises of joy. Who is this little guy?
I like to imagine he was a long term guest, who's job it is to come and welcome new guests who might be unsettled by their new environment. After all, I was sleeping in an ancient cave! My new little friend wandered up to me and rubbed himself, purring against my leg. He looked up at me and meowed and I felt like he was asking, 'are you feeling all settled in?'
It was like a real fairy story and I was a Disney princess. After he'd checked I felt welcome at the hotel and was relaxed in my room, he hopped up on to the window sill and gave me a meow of farewell. Who knew that the hotel had such a good personal welcoming service!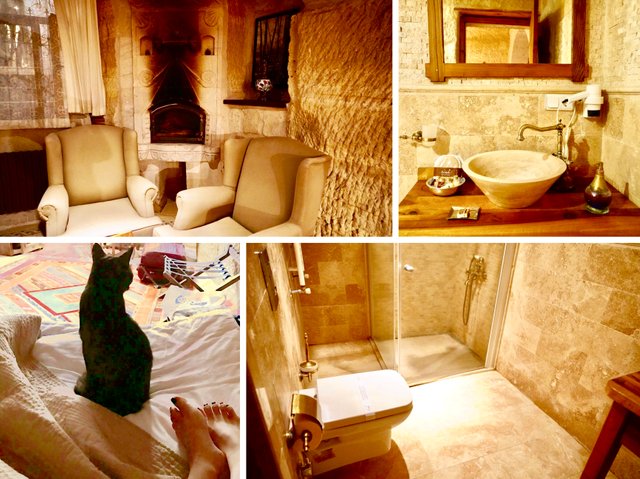 The next day I just had to get up and explore this magical landscape. Every direction I looked I could see little windows and doors poking out of the rock face. Not a single place that could hold a dwelling was left without the touch of man.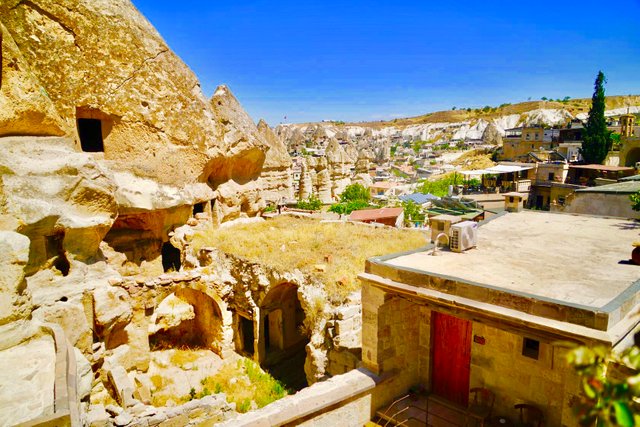 The restaurant for lunch was situated with lovely views of the surrounding region. I didn't know where to look because the food was so beautifully presented and the landscape was so enchanting, that I had trouble knowing what to focus on in this moment!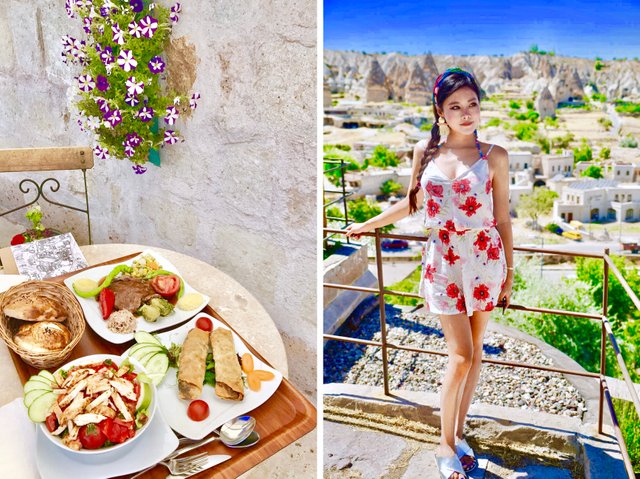 This fresh salad had such an interesting mix of Turkish spices on it. The heat of the chicken really complimented the cool juiciness of the cucumber and tomatoes.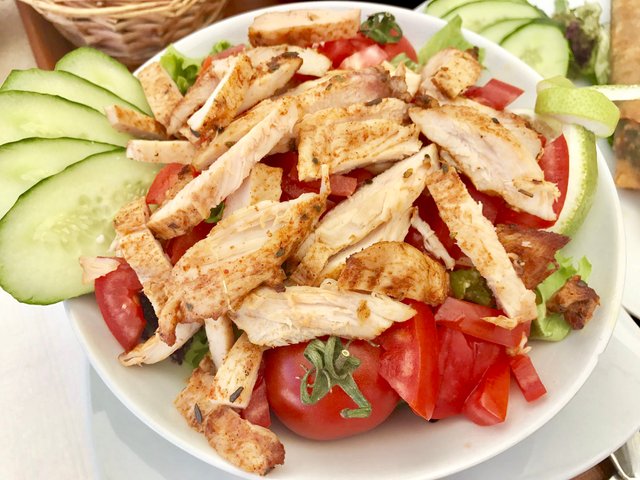 Traditional local bread to accompany the meal, freshly baked that day.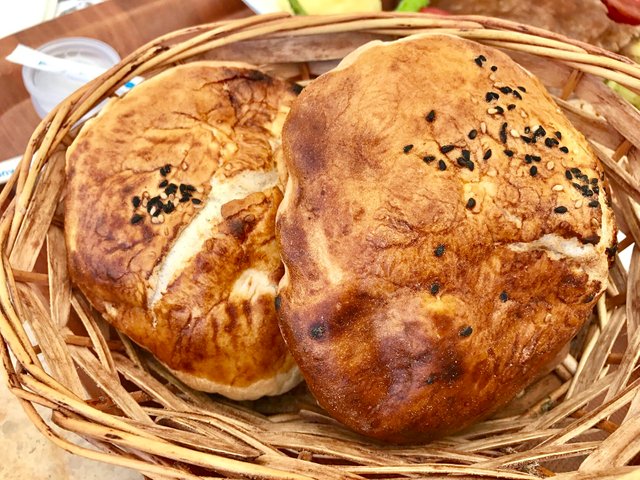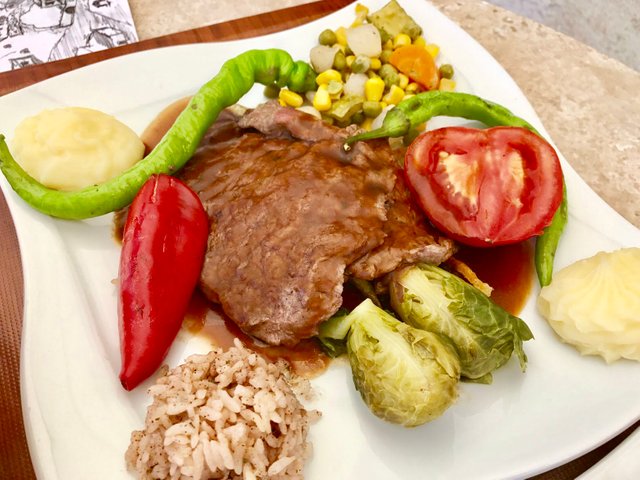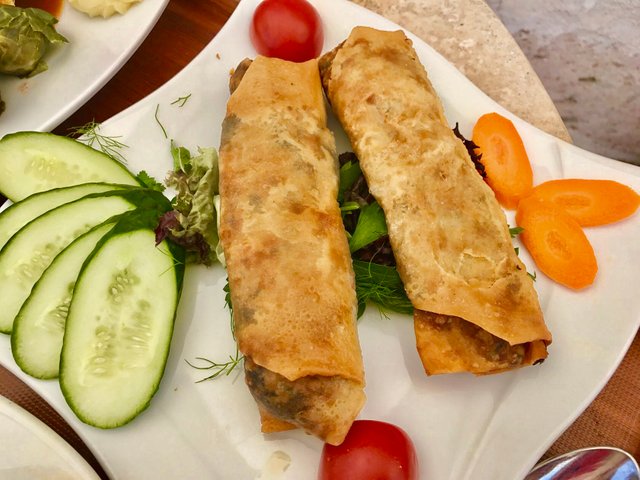 These Turkish pastries were amazing. But I forgot to ask what they were! Does anyone know who can help tell me what they are?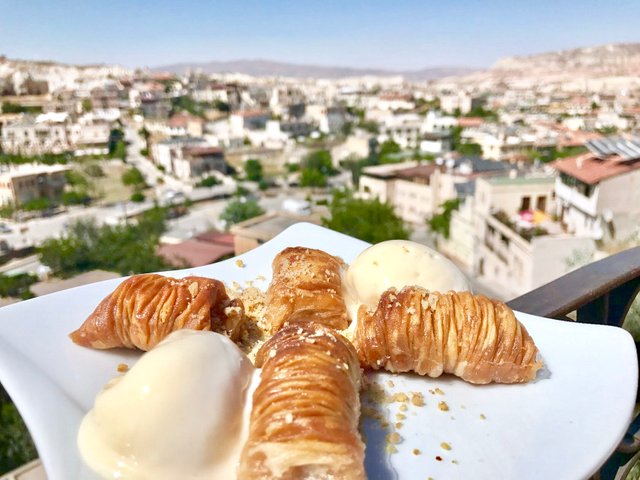 The sun, the food and the view. A spectacular place to enjoy such lovely local cuisine.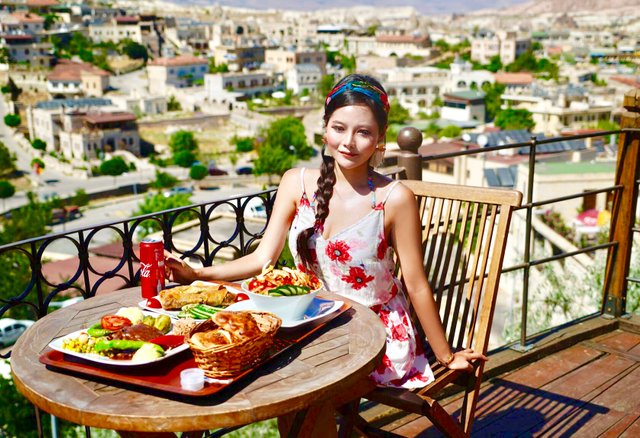 After lunch I travelled to Goreme Open Air Museum where I would learn more about the historic people who used to live in the cave dwellings of this region. I was surprised how much history and differing landscape could be packed in to one area.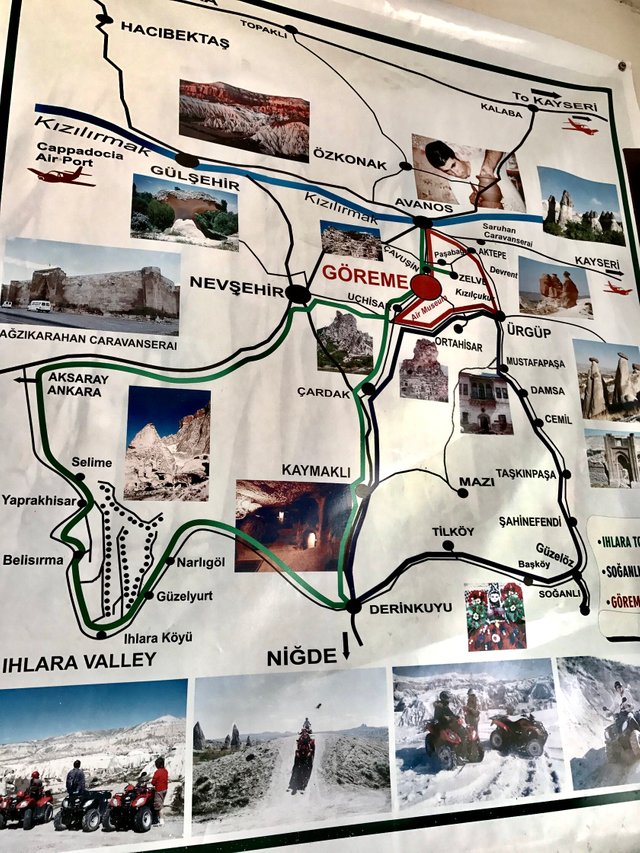 As I entered the museum, the dramatic spires of the landscape were clearly visible, giving an otherworldly view. The Goreme Open Air Museum stands right in the heart of the Cappadocia region and has been a member of the UNESCO World Heritage List for over thirty years. It was the first of only two UNESCO World Heritage sites in Turkey. The museum has thirteen different cave churches, and associated monasteries, all placed side by side to each other. Most of these churches were built between the 10th and 12th centuries AD.
The monasteries are entirely based in the caves, but they had everything needed to live, work and worship there. I was fascinated to find that the churches and their associated living areas had everything carved for them right out of the rock. Everything from tables and chairs, to shelves and storage, to alters for praying – it was all carved out of the natural stone by hand.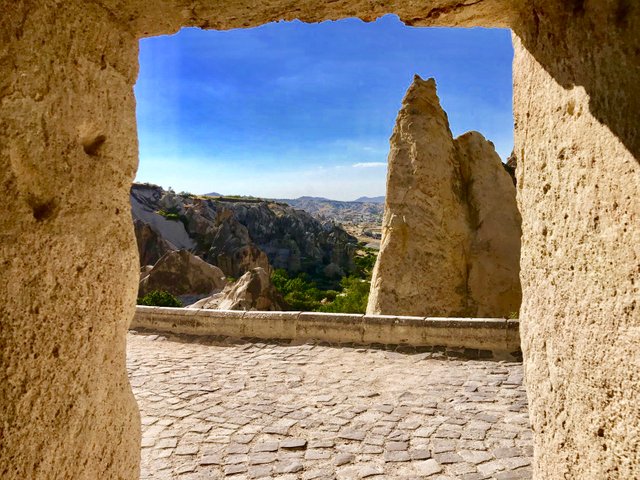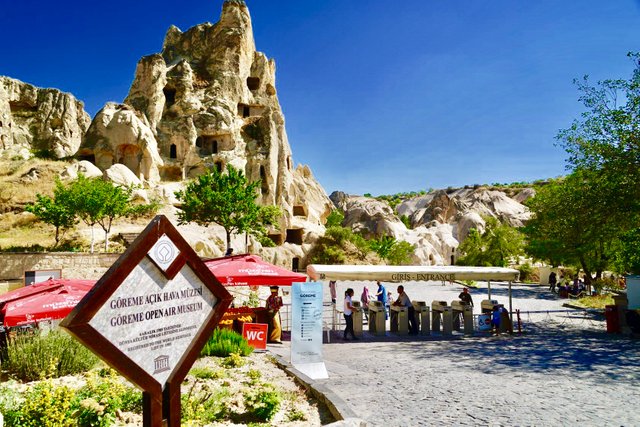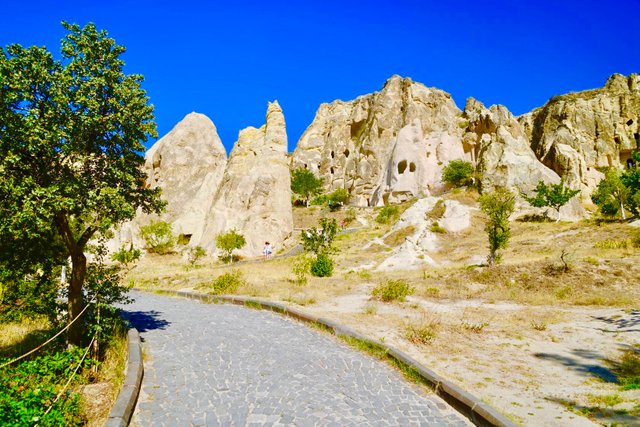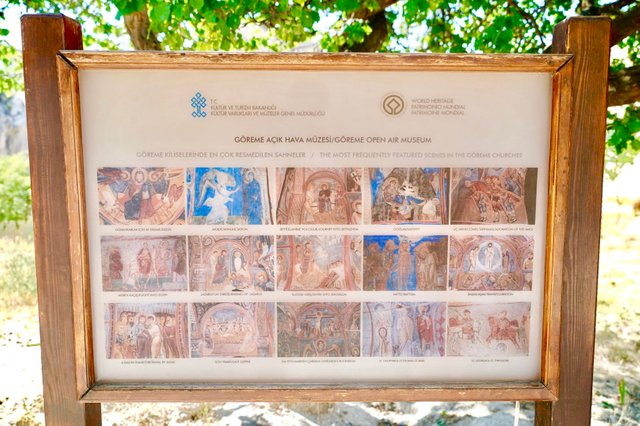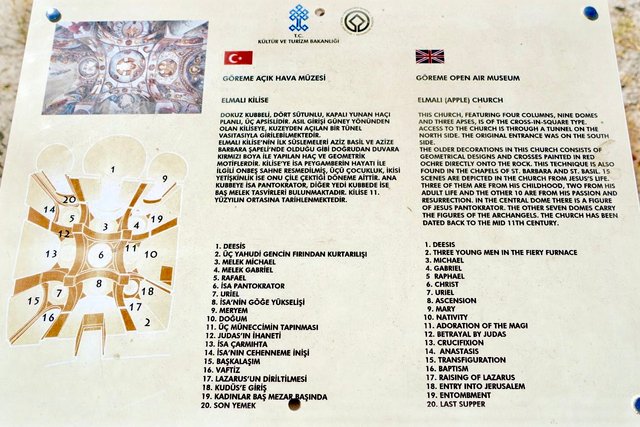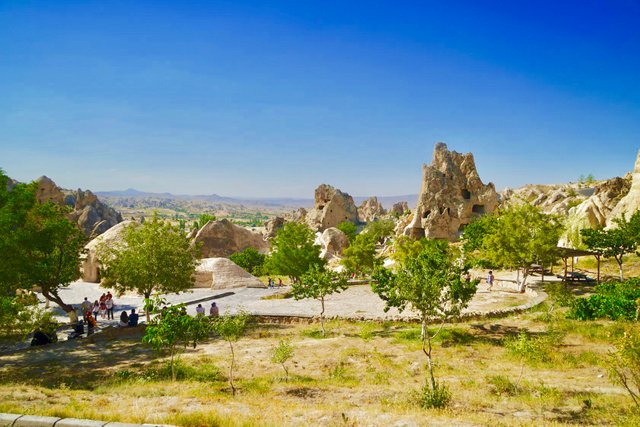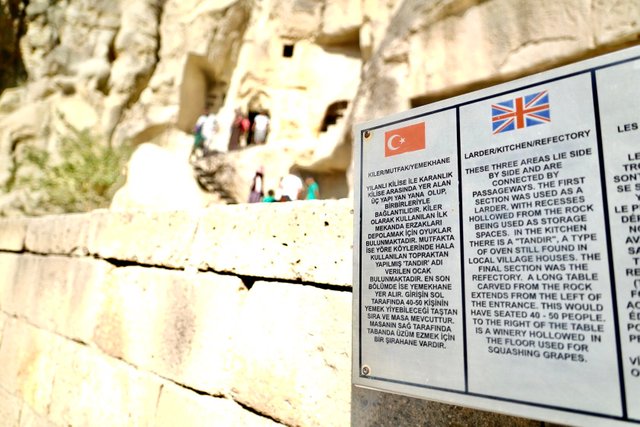 Life always finds a way. This little bird had built its nest on the side of the rock face by picking up mud with its beak and sticking it to the rock. Can you imagine how many hours it must have taken for this cute bird to build a nest for its baby, one small mouthful at a time? Her baby must have been very hungry because I could hear it chirping loudly as mum flew backwards and forwards to the nest. How fascinating for humans to be living in the natural rock and for birds to be building their own structures on top of the rocks.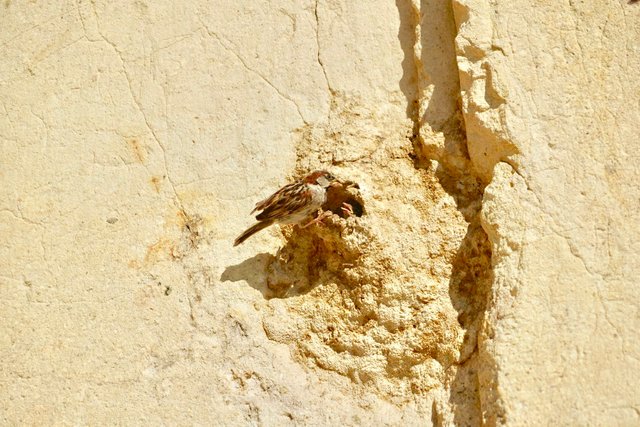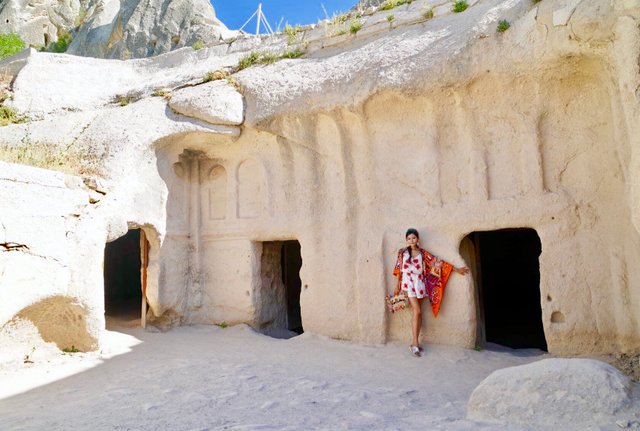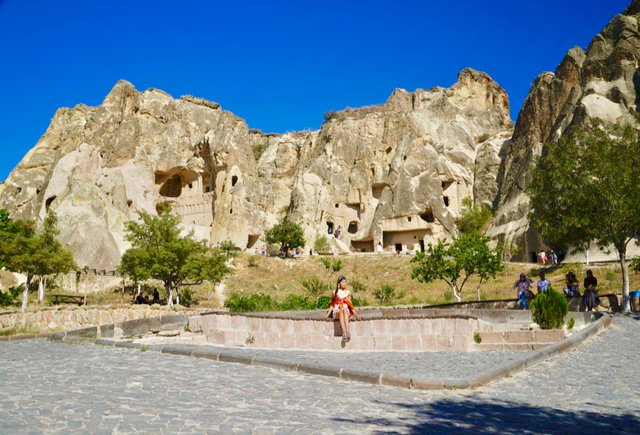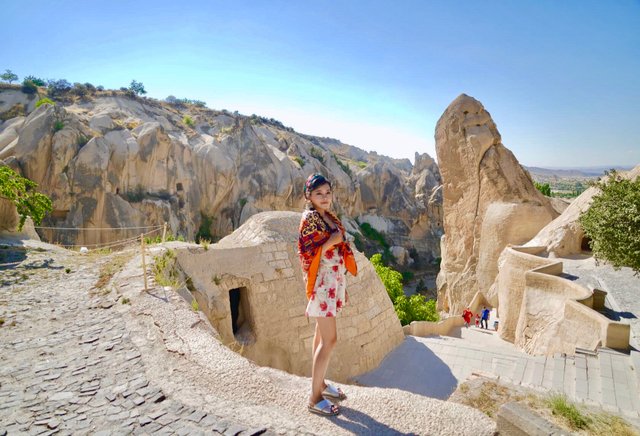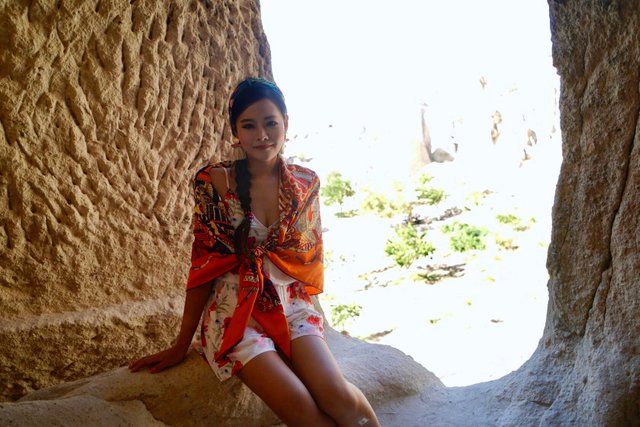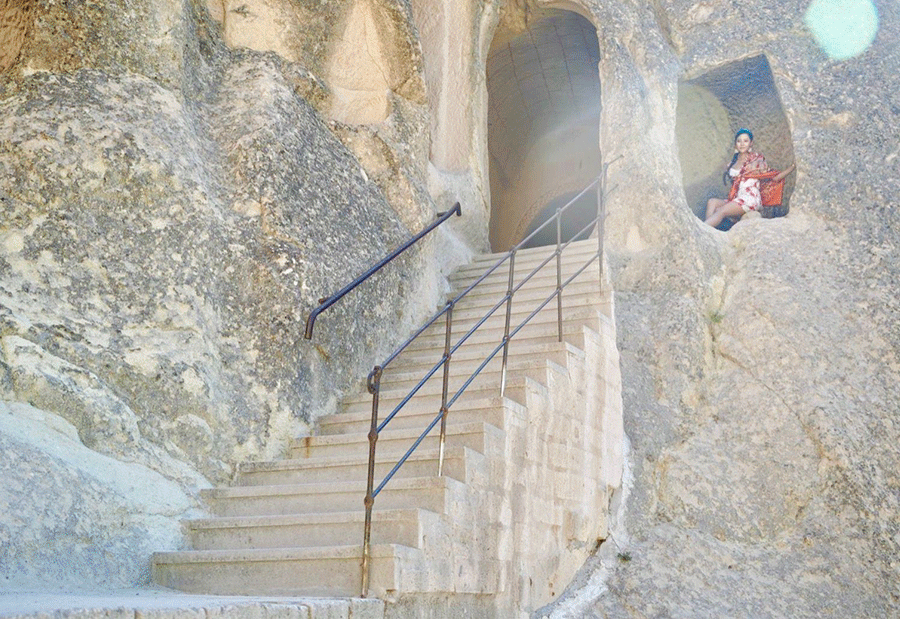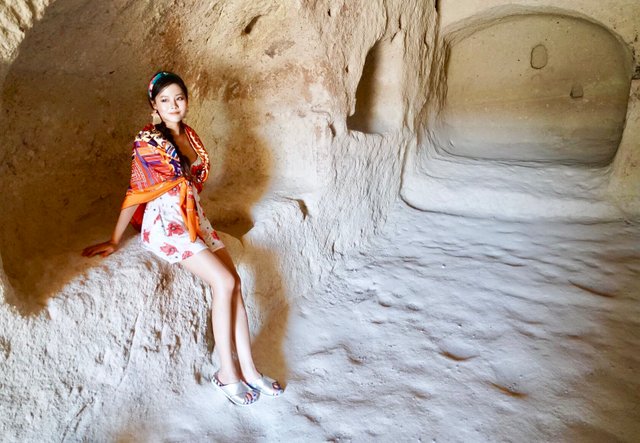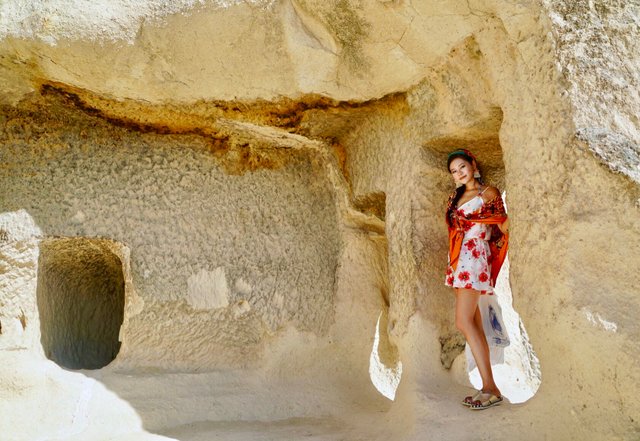 The murals in the churches were well preserved and many are undergoing restoration, to ensure that this amazing history is not lost to weather and time. It must have taken so much time to create these patterns and images on the bare rock.
The churches found at Goreme Open Air Museum represent some of the earliest examples of Christian churches, with some dating back as far as the 10th Century AD. This region of Turkey was one of the first areas of the world to strongly adopt Christianity and the inhabitants were persecuted for their beliefs for many years.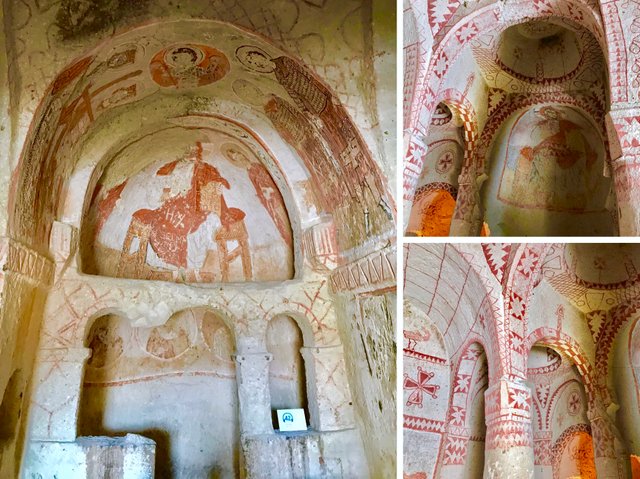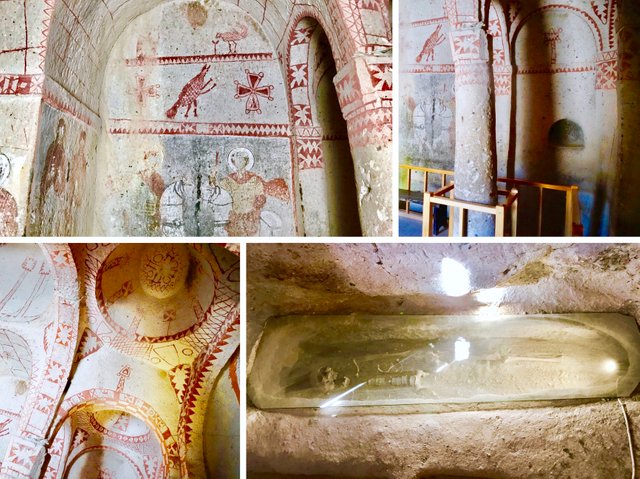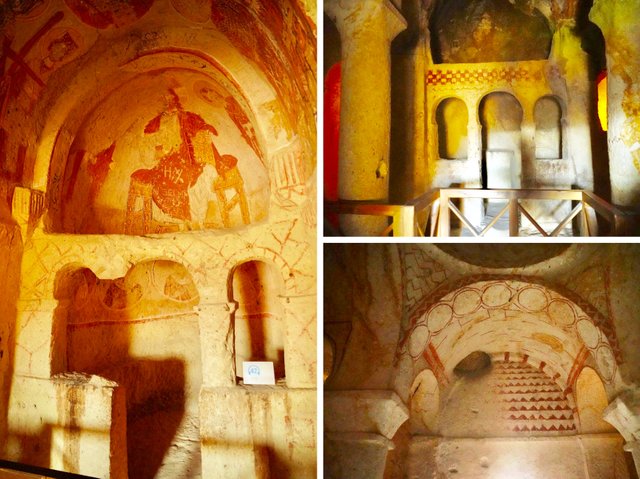 You can see that they created church like windows from the rock too! I was in a silly mood so I just had to take this silly picture with my head sticking out the top window.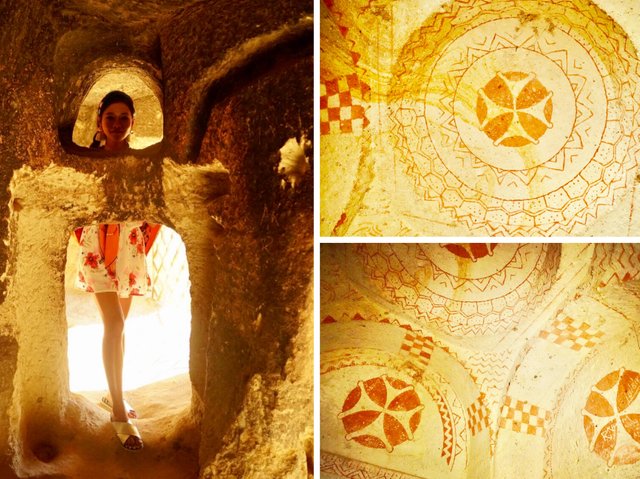 Here's an amazing example of the ingenuity of the early people who lived here. They created many different rooms for different purposes. Some for storage, some for sleeping and some for sanitation. They carved out of the rock all of the things they needed. Even more amazing, because these cave dwellings are deep inside the natural rock, the air temperature stays the same all year round. Because the Cappadocia region can get up to forty degrees centigrade in the summer but can also get snow in the winter, this natural temperate inside the rock is important. The people who used to live here could survive the very hot summer or very cold winter without discomfort because the living areas in their caves would always stay the same temperature.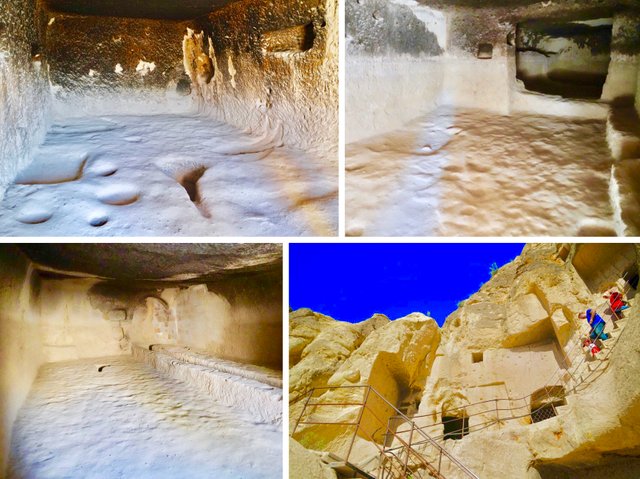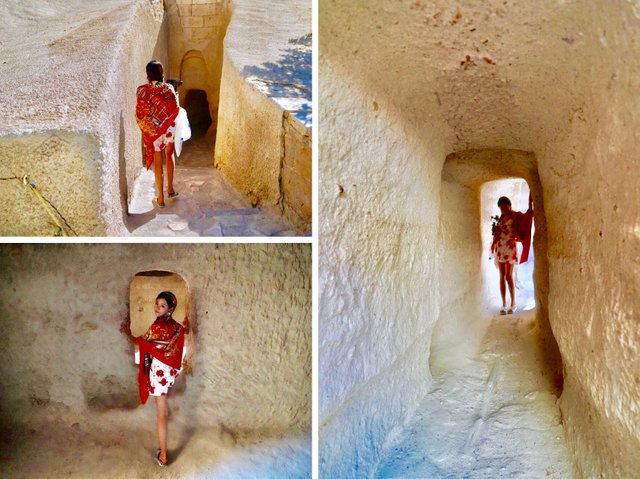 Because of the natural rock pillars, some of the monasteries rise up to seven stories high. I was disappointed to find that you couldn't visit the highest floors but for safety reasons only certain areas of the museum are still accessible.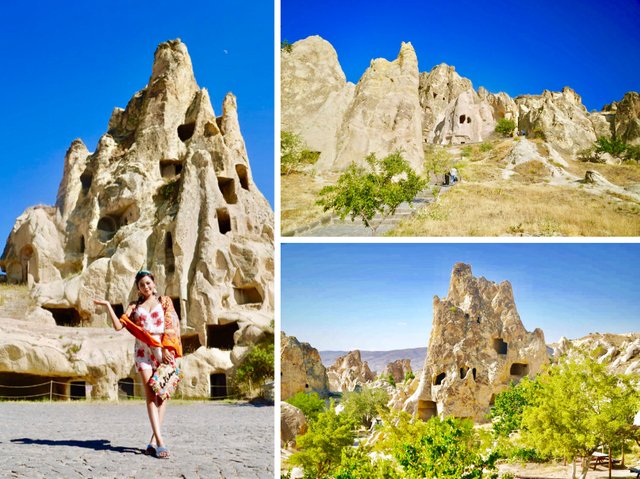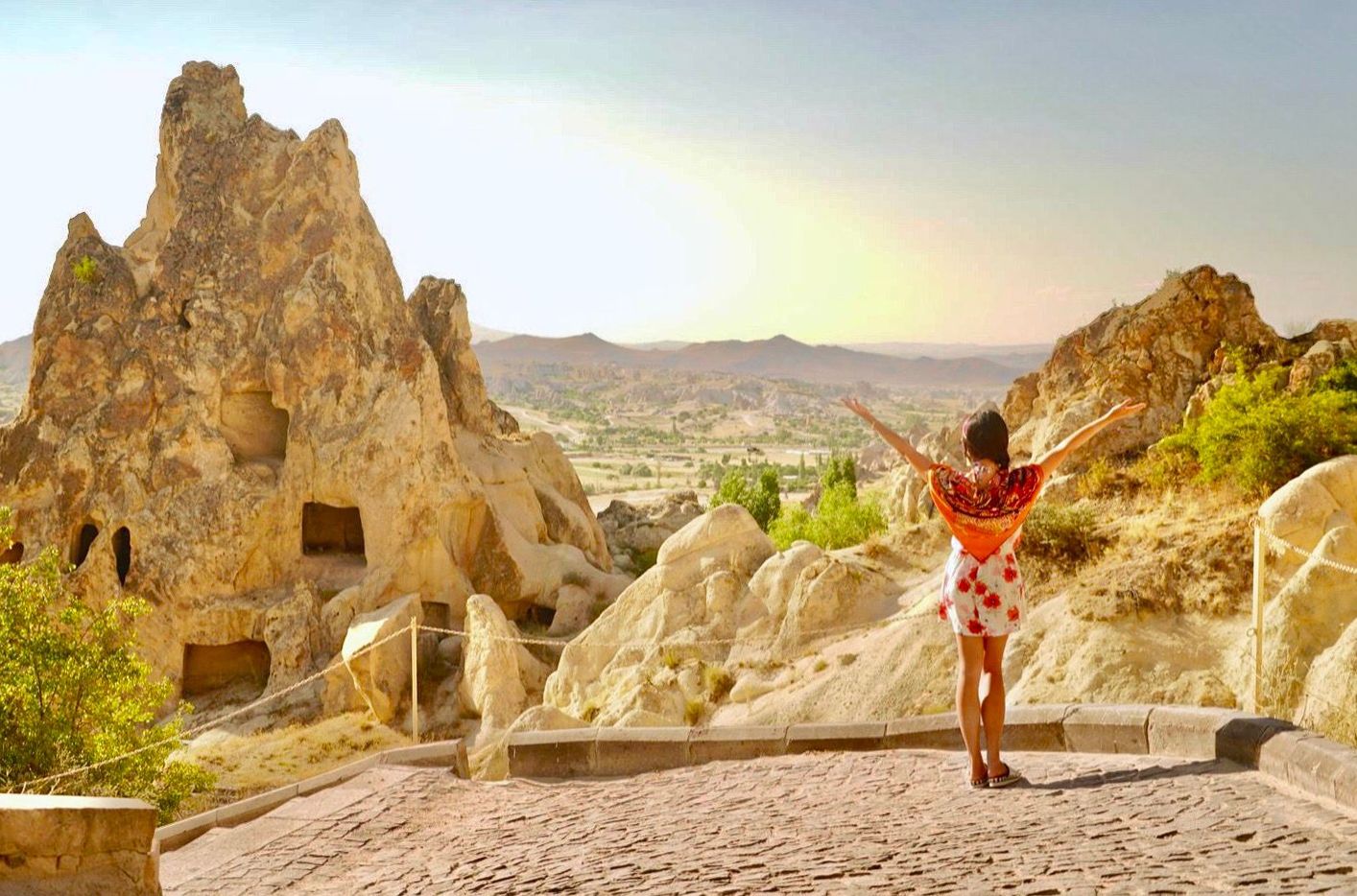 Check out the video!
I am so glad you could explore this hidden world with me. My favourite part had to be the beautiful Kelebek Cave Hotel because I felt like I was living inside a spire from a fairy tale. My little cat friend coming to share his warmth with me just made the experience seem all the more magical. Walking around the winding paths and seeing the different shaped caves, doors and windows made me feel like I had gone back in time. Can't wait to share my next travel experience with you all soon.
Don't forget to upvote if you liked the post, follow me for more travel blogs and leave a comment to let me know what you think!
在旅行中,我总会遇到一些难以置信的惊喜,旅行最有魅力的地方就是对于下一秒的未知感,而这些未知的故事是我想要不断去挑战和探索的动力,从旅行中收获的精神力量总是出乎我意料之外。这次的土耳其之旅,终于到了最令我期待的一刻,当汽车慢慢驶入卡帕多西亚地区,眼前瞬间一片另一个星球的既视感,一个只存在于梦中或是科幻片中的场面。如果你想去到一个与你生活的城市迥然不同的地方,甚至远离整个地球上看到的习惯性风景,那么卡帕多西亚就是最好选择了。
卡帕多西亚是一片独一无二的神秘土地,是地球造物者鬼斧神工的杰作,也是世界上最像月球的地方。它独特的地貌带给我无与伦比的视觉震撼,这片土地因为千年前的火山爆发和长年风雨侵蚀,形成了形态各异的怪石堡,和犹如童话般的斑点岩层,这些景观不断挑战着我想象空间的极限。我觉得可以来到卡帕多西亚的人们是幸运的,不用遭受缺氧,失重和太空船的考验,就能搬去外星球住上几宿,是多令人难忘的经历呀。卡帕多奇亚位于土耳其中部安纳托利亚高原,有着惊艳绝伦的火山岩洞、地下洞穴还有充满历史感的山谷裂缝,和最为标志性的"精灵烟囱",这片土地上的特殊景观毫无疑问被美国《国家地理》评为全球最神奇十大美景之一,这次我选择了位于格雷梅的蝴蝶特窟酒店。格雷梅集中着卡帕多奇亚最美的山谷,这里当仁不让的成为卡帕多西亚地区的旅游中心,这里最吸引人的体验就是洞穴酒店。我发誓看到这些山洞里的民居,我都还没有意识到这就是我的酒店,第一次体验这样与众不同的酒店,我又好奇又激动。
这里洞穴酒店的历史可追溯到千年以前,在历史的长河中,这片看似荒芜倍感沧桑的地带,其实和基督教有着千丝万缕的关联,这里起初是基督教徒躲避罗马迫害的避难处,所以开凿出无数洞穴作为教堂、居所和隐修地。这一次我决定当一回洞穴人,以洞穴为家,入乡随俗,体验都市之外的生活。傍晚走进洞穴房间,黄色的灯光打在岩石墙壁和穹顶上,金碧辉煌的感觉,地上铺了一块土耳其民俗地毯,绚丽的色彩好像瞬间点亮了我的心情,房间的一角有温馨的壁炉,传统家具和手工织物装饰,让我感觉像回到了家一样悠闲自在。第一次住在山洞里面,觉得这里的温度应该是冬暖夏凉的,就像国内的窑洞一样。正当我收拾行李,准备享受人生中第一晚山洞之夜的时候,发生了一个可爱的故事。就像我说的,土耳其从来不会给你平淡的感受,美丽的意外就不知不觉的向你靠近。在我收拾完行李一转身,发现一只黑色猫咪望着我叫,我先是一愣,发现原来是房间窗户开了个小缝隙,我的另一位房客就这样悄无声息的来到了我身边。
在之后的几十分钟,我走到哪里,黑色的小猫咪都跟到哪,好像并没有要离开的意思,我渐渐意识到,也许这只猫咪并不是一位访客,而是这个房间的长期房客呢,它来到这里是为了迎接我这个远道而来的客人,为了让我迅速适应陌生的环境,在这个不太像房间的房间进入放松的状态,猫咪施展着体贴友好的身体语言,向我示好以便我尽快融入当地的生活。从我进入了梦乡到第二天清晨醒来,这只黑色小猫一直默默的趴在我腿边陪伴着我,不过分靠近打扰也不忍心离开,有猫咪陪伴的洞穴散发着甜蜜温馨的氛围。我感慨土耳其不愧是与动物友好的国家,而这家洞穴酒店不仅有热情的工作人员接待,还有猫咪小管家的体贴问候,真是太幸福了。在太阳放射出刺眼光芒之前,我来到酒店的游泳池边吃了一顿健康清爽的早午餐,因为酒店拥有山洞至高点的视野,所以可以尽情览阅格雷梅的壮观月球地貌风景。在研究了一番卡帕多西亚不得不看的风景名胜之地后,我决定先前往距离酒店不到两公里的格雷梅露天博物馆。
一听到这个名字,我就格外激动,曾经只去过室内的博物馆,原来世界上还有露天博物馆,这完全突破了我的认知。格雷梅露天博物馆其实是土耳其第一个世界文化遗产,是在自然风化形成的尖形山地貌基础上,经过人工打造修建的建筑群,可以看作是人力的"神迹"。这里是早年基督教隐士的居所,包括石窟教堂、礼拜堂和修道院。想亲眼目睹这自然地貌和人文景观完美结合的绝美风景,我需要足够的时间和体力,穿梭攀爬于陡峭的山谷之中,用身体和心灵一同感受大自然的艺术和历史悠久的人文故事。在这汇集了大大小小三十多个不同特色的石窟教堂里,满满是浓缩的土耳其艺术精华,那教堂内部刻画着色彩斑驳的精美壁画,美轮美奂,令人向往。今天神秘美妙的卡帕多西亚之旅就要告于段落了,之后还有更多精彩的卡帕多西亚游记故事想要和大家分享。