Dear Steemit friends :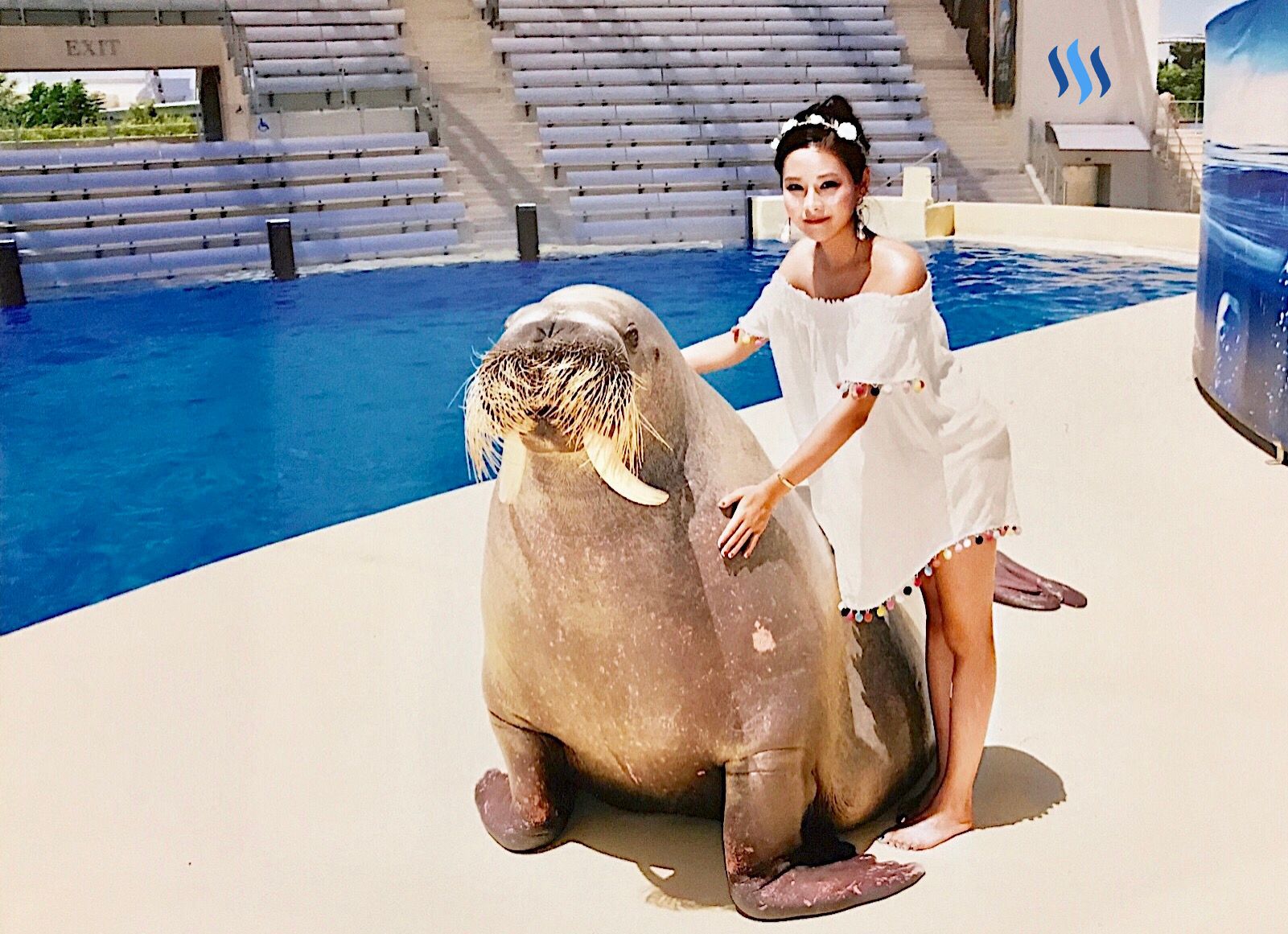 The Land of Legends in Antalya, Turkey is a new concept resort combining a luxury themed hotel suitable for families with young children, as well as a shopping arcade and water park to boot. It is the largest of it's kind in Europe and looks to be a compelling attraction to visit for all travellers to Turkey.
Although Turkey is known for it's Greco-Roman cultural attractions, the Land of Legends offers something completely different and more importantly, something the children would likely appreciate whilst parents can takee a break from intellectual stimulation for a couple of days. I remember as a child, I thought cultural travel was a very painful experience, whether it was museums, art galleries or visiting historical sites, I couldn't hold my attention to them, even when I knew how important they were. All I wanted to do was wade in a sunny place with pools of water everywhere, and fun activities to indulge in. Growing older, that desire hasn't really changed, but the difference now is I appreciate the cultural side just as much.
So, with that said, today we'll be having a look at the water park at Land of Legends and what activities and attractions you can expect find in this all-in-one resort.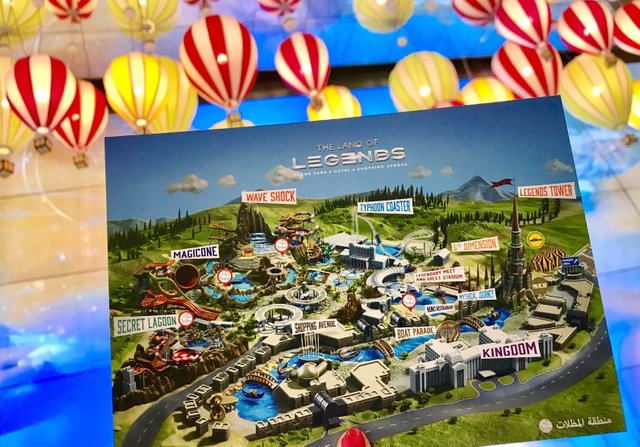 This is the map of the entire resort. As big as the hotel is, it is but a small part of the resort, the larger part belonging to the water park. This is the main attraction of the Land of Legends. In-fact, more than half of the visitors to the water park do not stay at the resort, and are either coming from the Rixos Downtown Antalya, or other hotels in the catchment area.
The water park cost around $1 Billion dollars to construct and occupies approximately 280,000 square meters. The wide array of attractions mean that there is something of interest to everyone, whether you're a 5, 13, 30 or 50!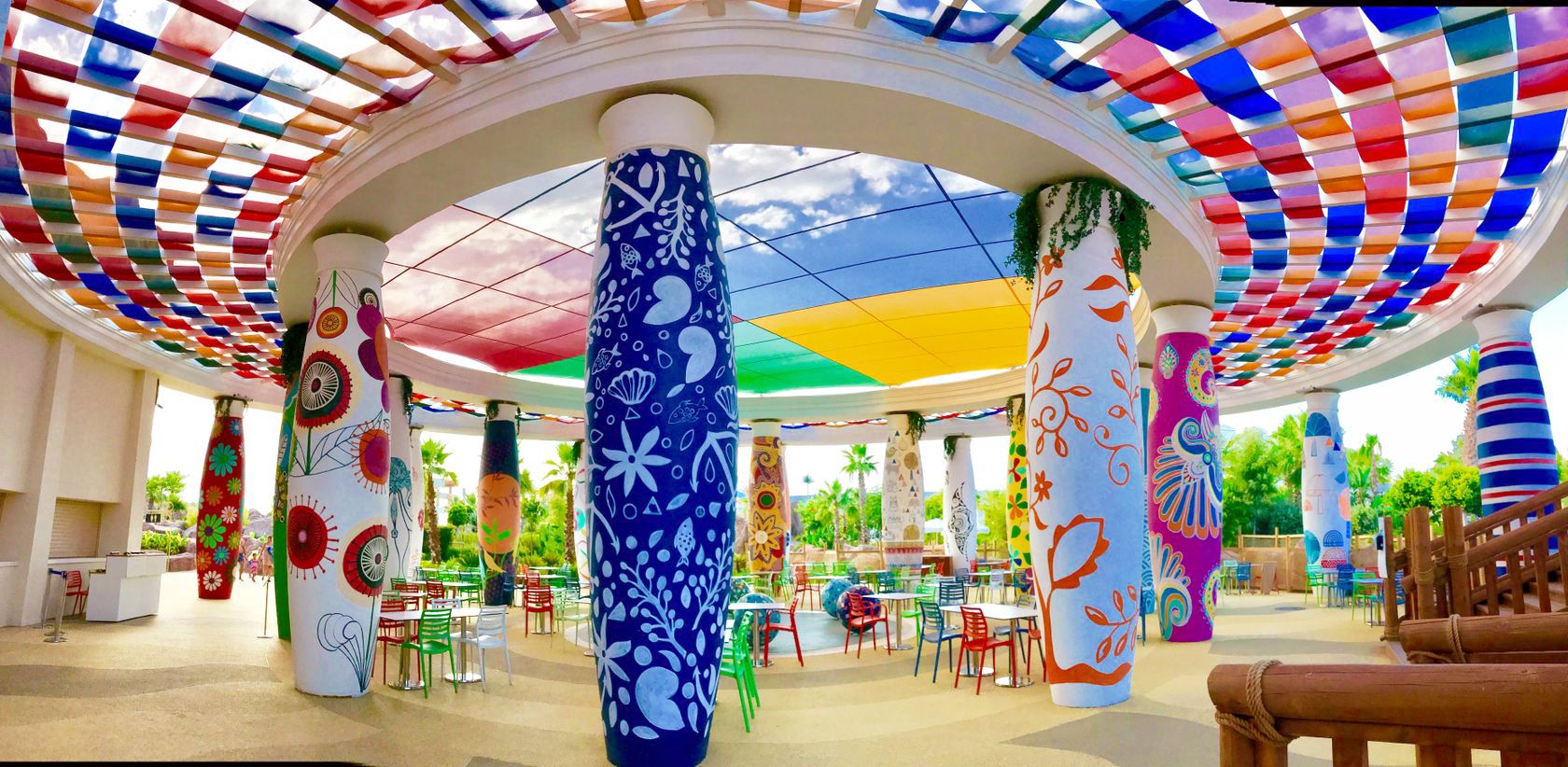 Probably the most striking feature on the map is the huge wave pool in the very heart of the water park, around it are many different adventure bases, dolphinariums, and safari parks.
At the Land of Legends, there are exactly 72 water slides or water chutes. Some of them are constructed high in the sky and resemble roller coasters, winding around like giant snakes in the air. Other slides are more akin to water flumes, with gushing flows of water pushing the riders at immense speed down the slippery pipes.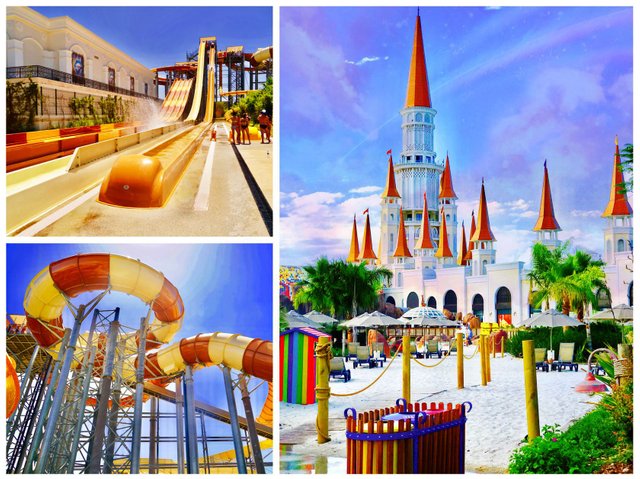 In many ways, the design of the water park compliments the hotel. It's adventure theme coupled with greco-roman architectural elements help to keep the entire resort consistent in it's look and feel, but also gives the designers a great deal of freedom to experiment with crazy rides, slides and wave pools.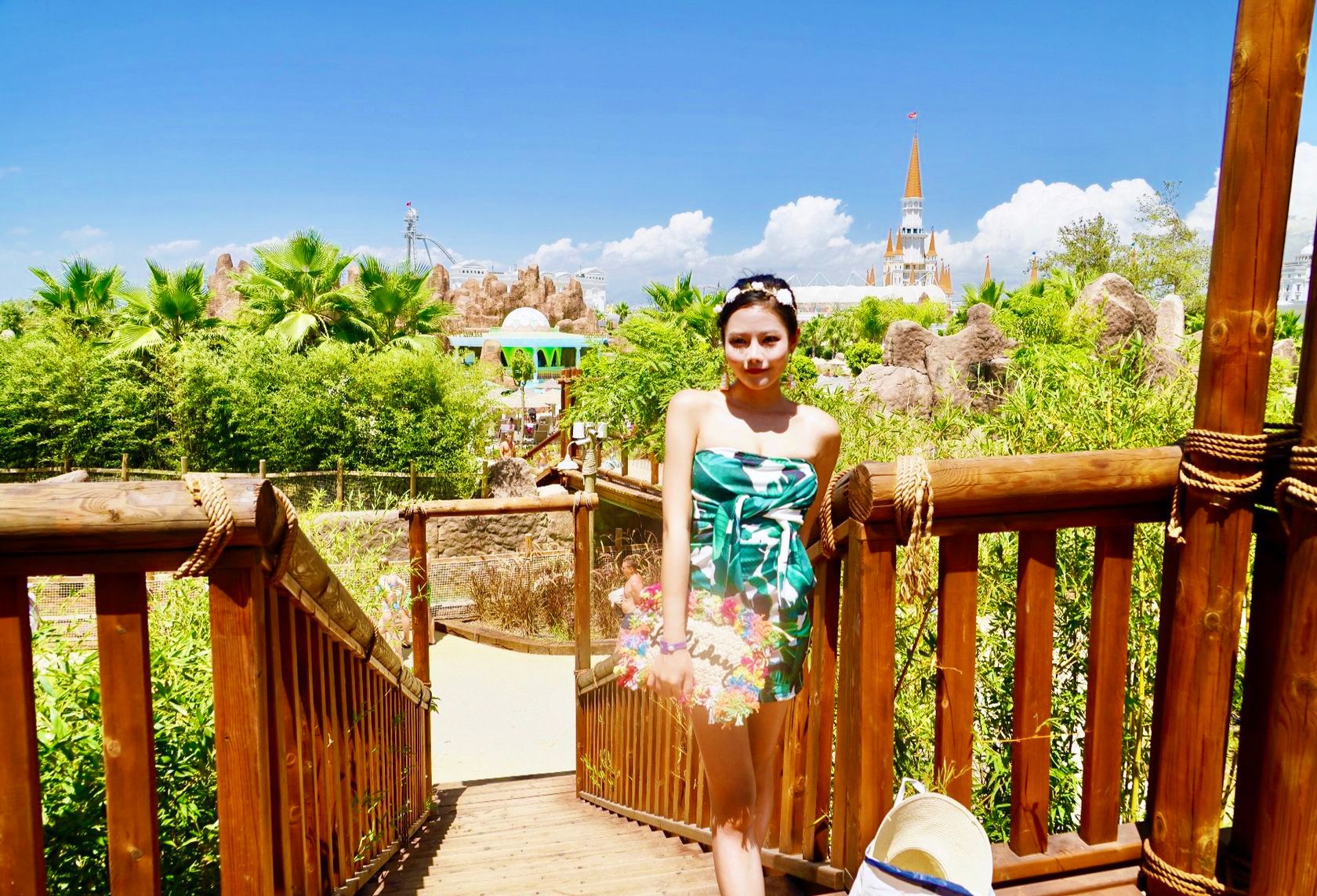 Children under a certain height have their own area with their own downsized water rides. Parents only need to lightly supervise their children whilst they paddle in the shallow pools, and get splashed by the overhead bucket of water which tilts over once it is refilled.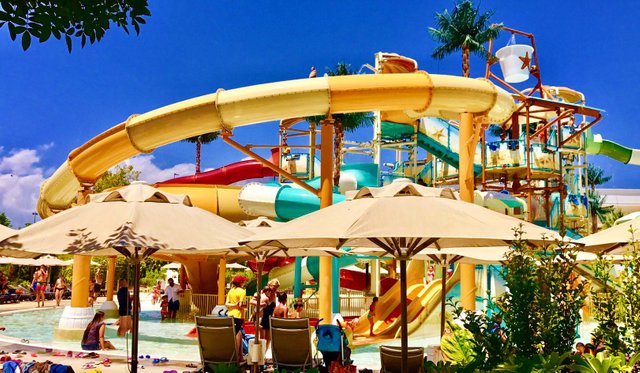 Shallow pools of water can be found in each of the areas. After-all, who doesn't enjoy lounging around or paddling in the water whilst cooling off? With the temperatures soaring north of 40 degrees Celsius, each pool becomes like an oasis for those seeking a sanctuary from the blistering heat.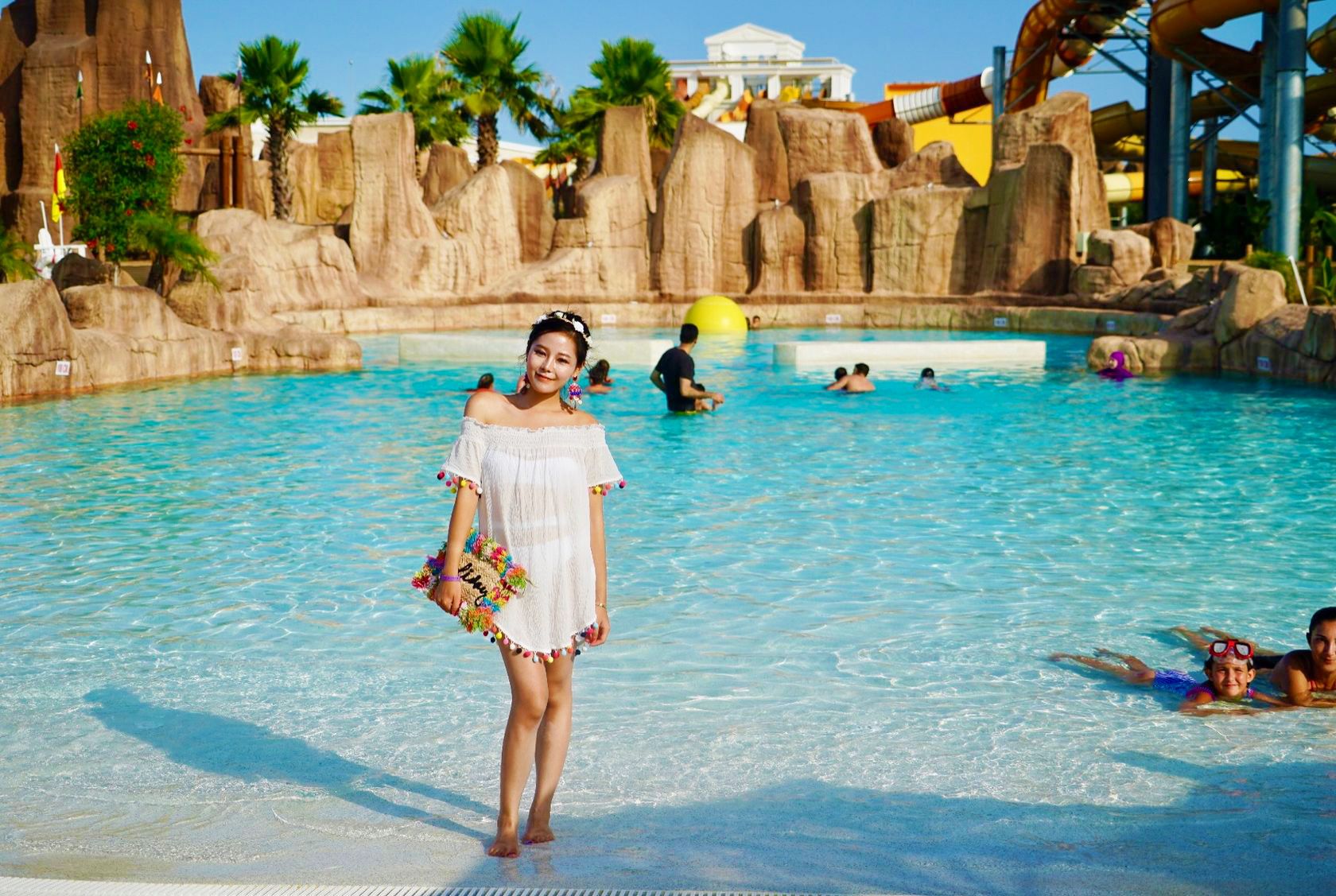 Other rest areas are also available, for example, this little area in the center of the park is where you'll find some shade from the sun, but also many refreshments from ice cream, slushies, to regular soft drinks. Even this area makes use of outrageous numbers of colours. The roof, the tiles, and even the pillars, all extremely contrasting in design as well as usage of colour.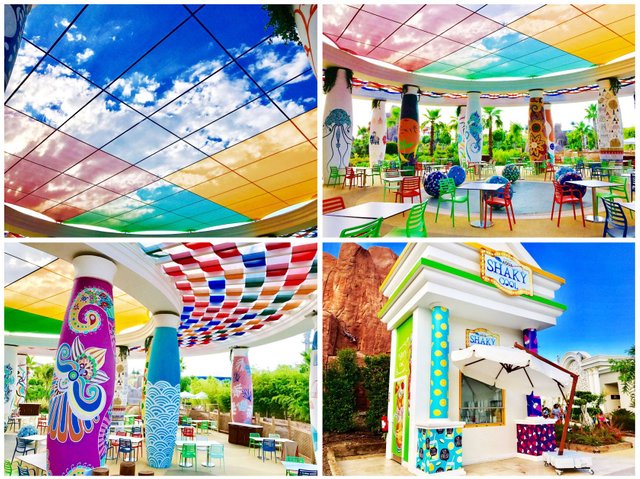 This little corner is called the Secret Lagoon, it's the less garish part of the park without any of the large rides or water slides. It's perfect for people who want some peace and quiet. Naturally most of the people will congregate around the big water slides and big pools.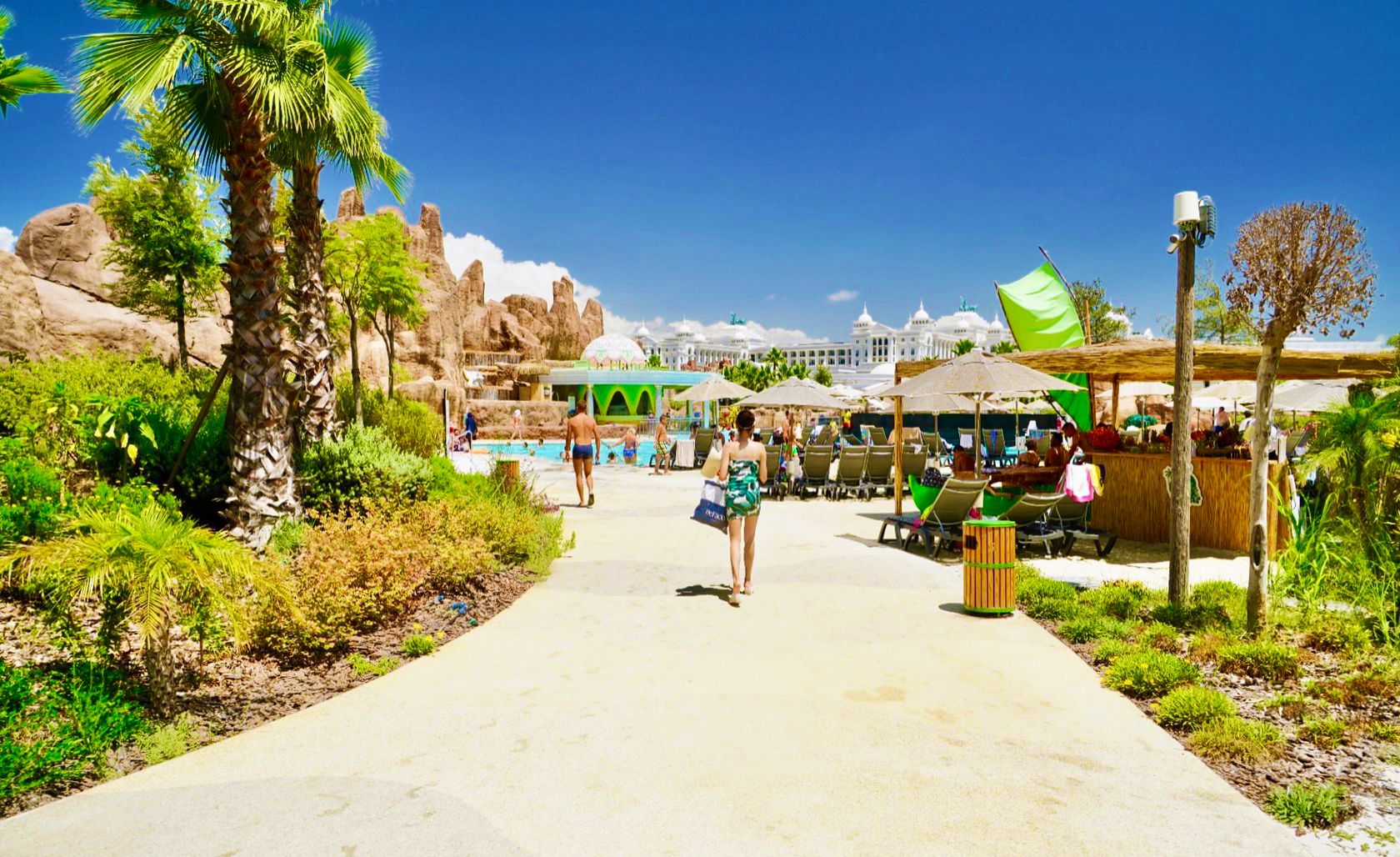 This is Wave Shock, the tallest slide in the park and one which starts from inside the rock.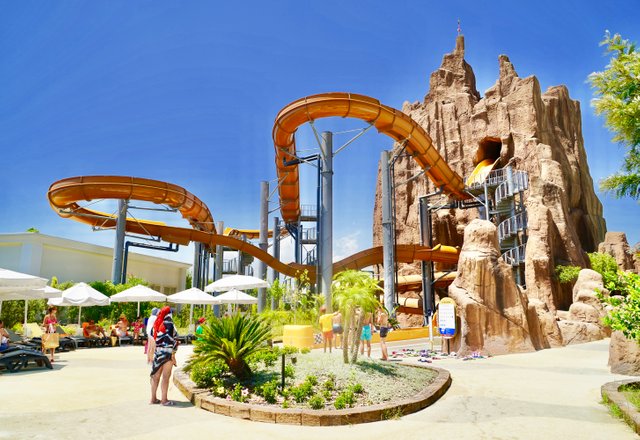 Beside Wave shock, it's younger and more tame brother, My dive.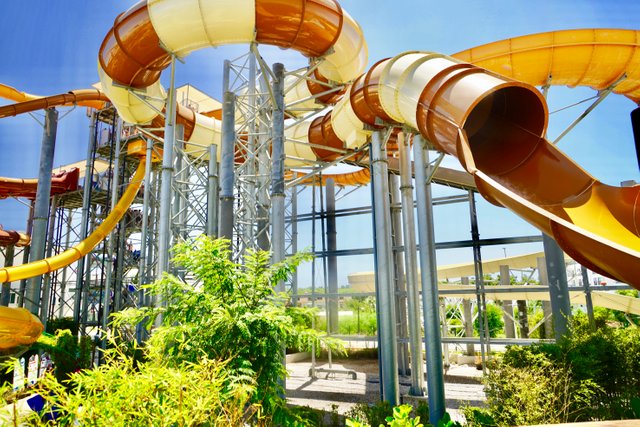 Magicone, the cone shaped slide which makes you rock from side to side like a skateboarder on a half pipe. It was really fun but the queues were immensely long!
There are also a variety of rides with floats; river rapids, sea voyager, flow rider, tower falls, and the abyss are all very good options. A good way to 'break the ice' is the river rapids. It's a very light 'ride' which involves doing nothing but sitting on a float, and drifting around the fast flower river around the park.
Two of the pools in the resort have the ability to create waves. The first, is called Wave Ball and is a miniature pool for the younger children under the age of 10. The waves here are as shallow as the pool which even for me is only knee deep. This is a taster for the larger version..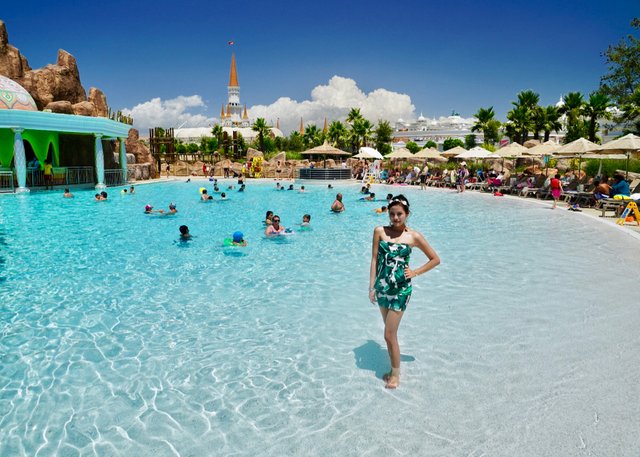 Named Wave Shock, this is the larger pool and the one which the majority of people will hang around. Not only does it have the most amount of "space", it is also where the largest waves are created. They are so large infact, that "shockwaves" can be felt right to the edge of the pool.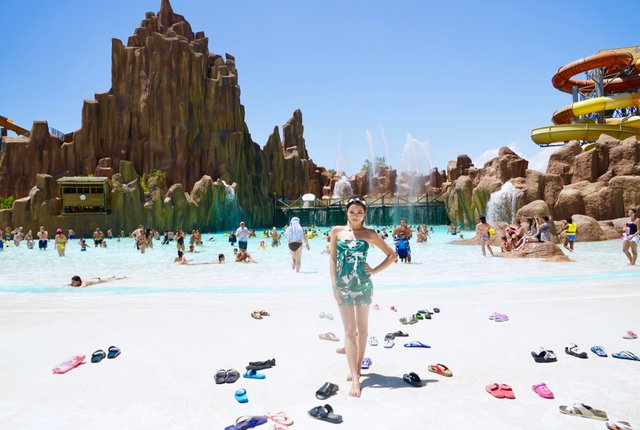 This is an apparatus made for little children, although I did see a few adults having a try as well. The idea is move through without getting wet. The bucket at the top is constantly being filled and when it reaches a certain amount, will tip over and splash everybody below.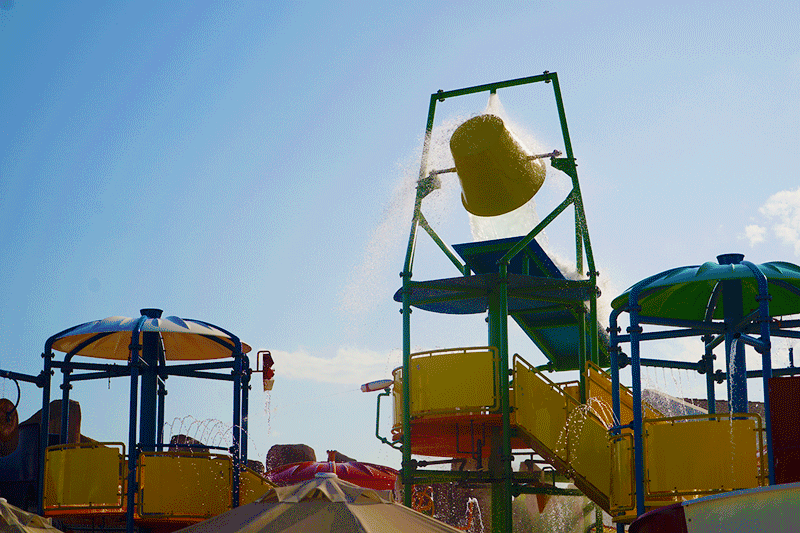 Another one of the pools you can visit is the Stingray pool. Although you have to pay for this opportunity, I think it's worth it to have a swim with these very friendly and tame animals. They will even come over and eat from your hand if you offer them food.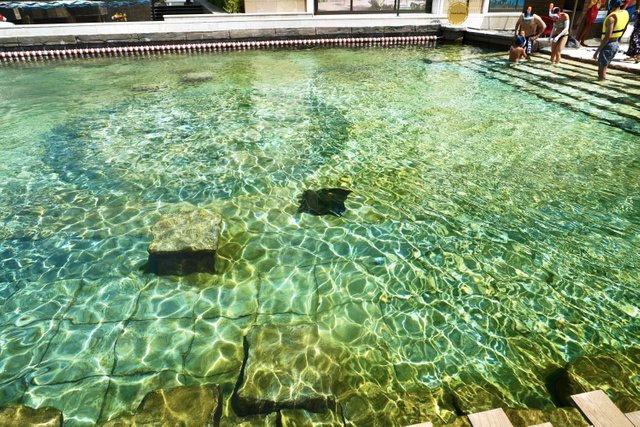 This water fountain features Poseidon, the god of the Sea and Water. His statue is very large, colourful and formidable. Since the park has elements of Roman and Greek history, it is quite fitting to have the Greek God of the Sea and Water watch over this mini water kingdom.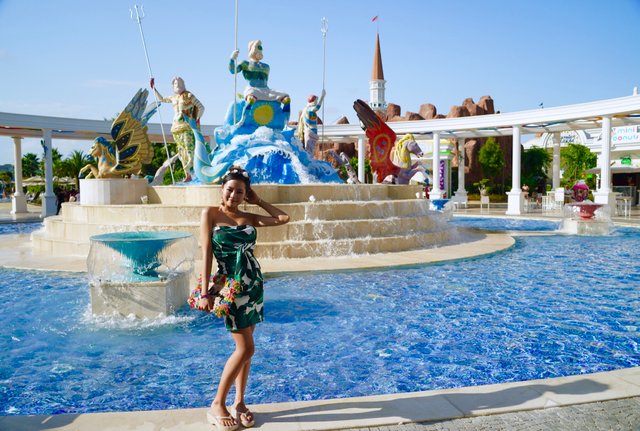 This was a really interesting pool within a pool. It's called the Infinity pool because from the side of the entrance, it looks as if the water runs off to the edge into infinity. In reality, the opposite edge uses a sheet of see through glass instead of the black curbs to form the pool walls.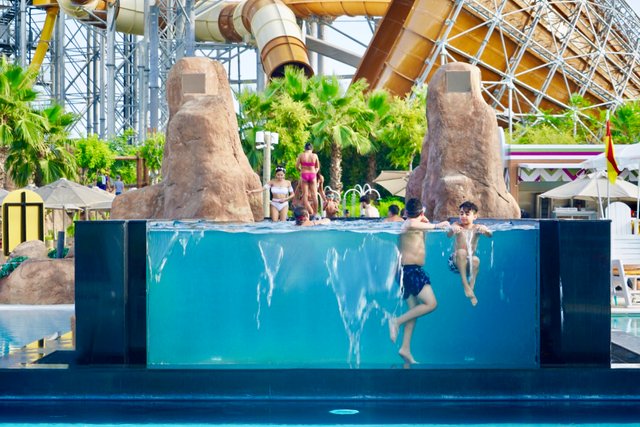 This of course means some really interesting picture opportunities!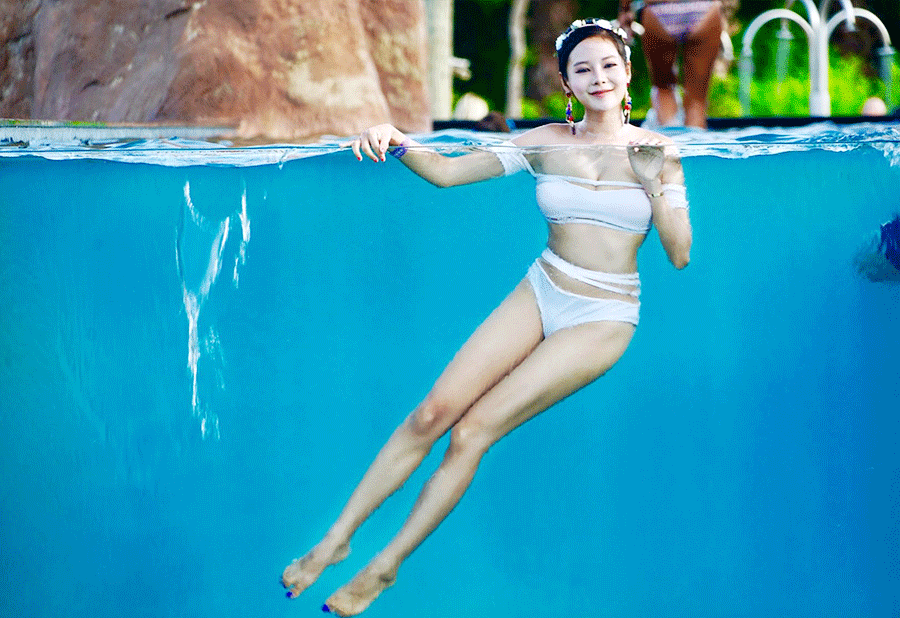 Aside from the water park and it's respective rides, the park also sports several wildlife enclosures for some exotic animals. We've already seen the Sting rays, so now lets take a look at what other animals you can see.
First up, the the gorgeous Siberian Tiger. Watching it from far, I realised that they are not too different from my little family of cats at home. Each idiosyncrasy of my cats would be mimicked by the tiger, except on a much bigger body.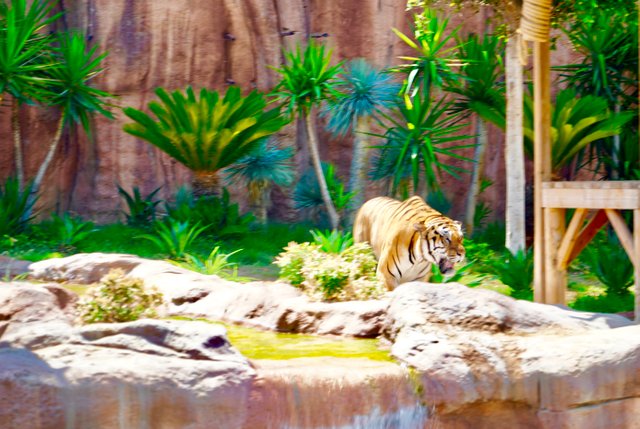 Next we have a small colony of penguins. If you book in advance, you can have the opportunity to feed them some fish and pat their heads. Of course, I couldn't turn that opportunity down. They are remarkably intelligent, lining up and taking turns to be fed. Once you obtain a certain level of trust, you can touch them and they'll even reciprocate with a head butt!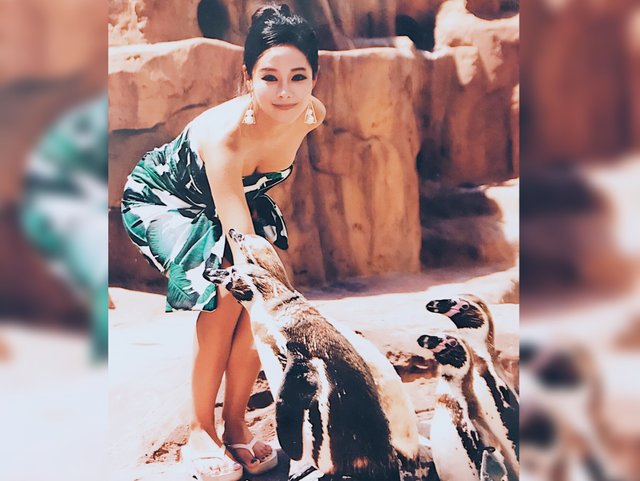 Probably the star of the animal kingdom atleast at Land of Legends, is the big friendly Walrus. Two long teeth with a Chaplin-style beard, the Walrus looks almost like an artist. His eyes are big and exude friendliness.
He also knows a lot of tricks, such as waving his flippers..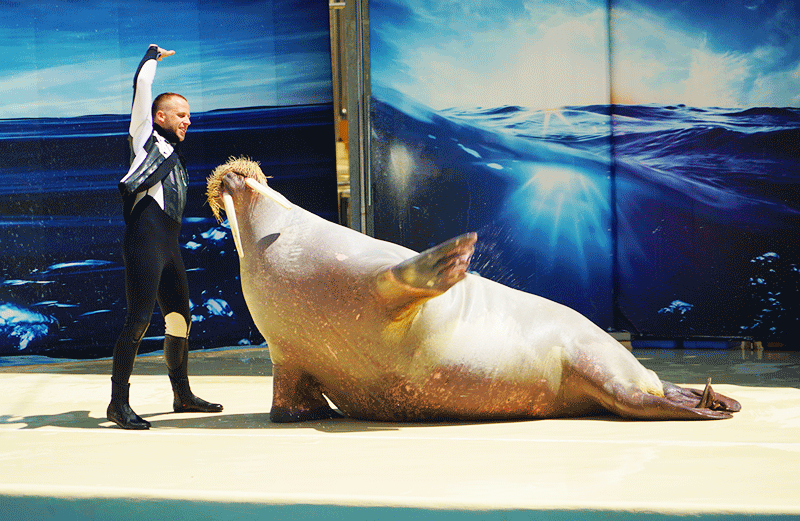 Doing push-ups (kind of!)...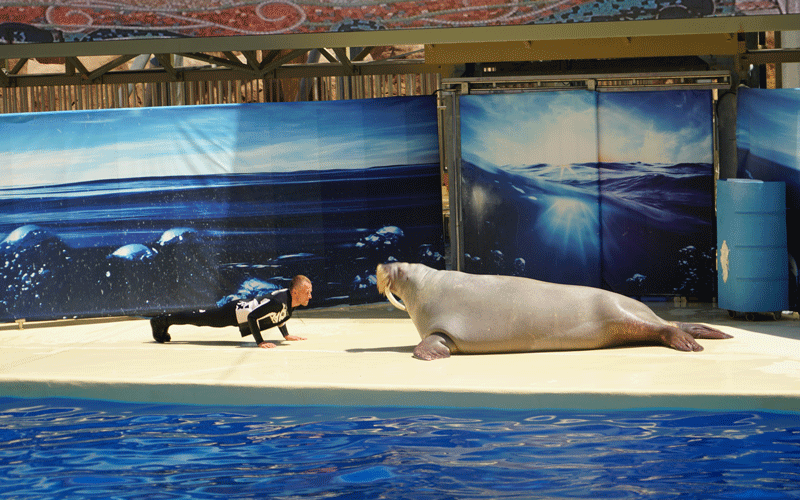 Yoga...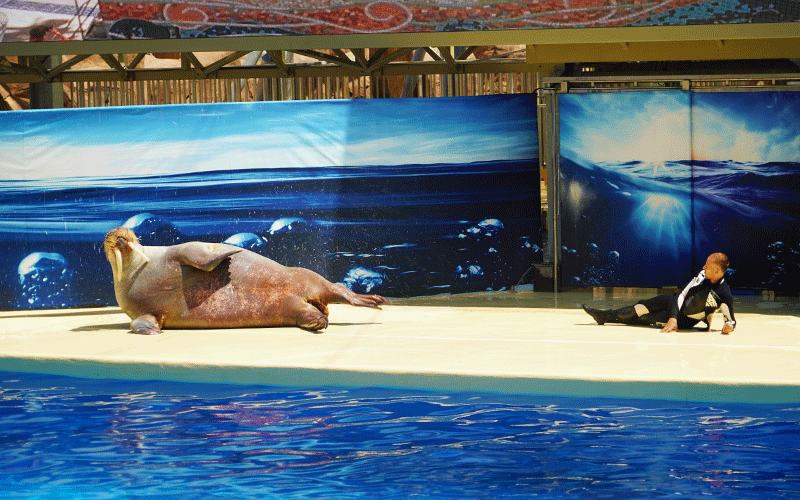 And even sit-ups!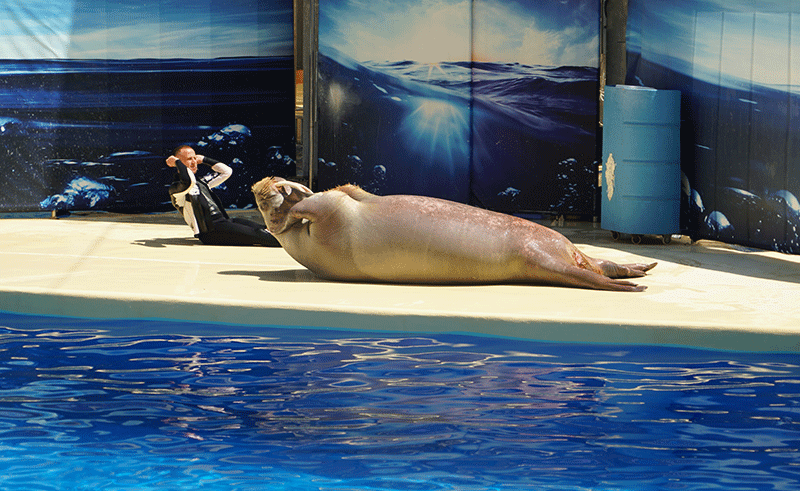 With such so many talents, of course I needed to get up close and congratulate him personally, as well as get a fan-girl picture with him! I'll be happy to report (and show) that he was happy to oblige!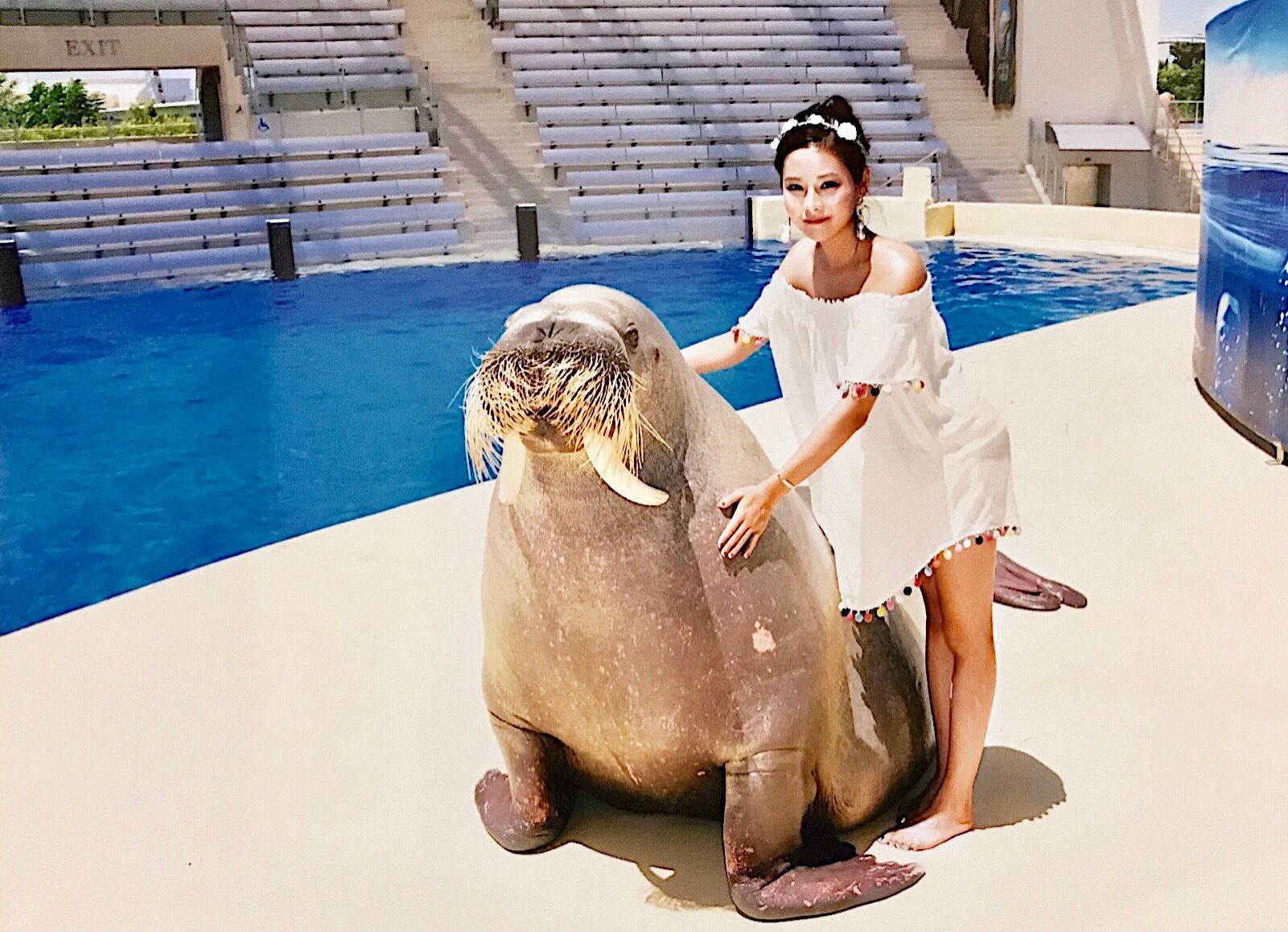 Perhaps the most unexpected animal encounter was with these two Beluga whales. Prior to seeing them here, I had no idea that these species even existed. I was particularly surprised by the sounds they could make, resembling almost a birds tweet.
When you move your hands above their head, they rise up to meet your hands as if they want to feel you touch them. Given they were about 10 times larger than myself, I was a little frightened at first, but they were so friendly and even welcoming that the unnerving experience quickly became a thing of the past.
I'm glad the Beluga whales came over to say hello, otherwise, I wouldn't even know about their species!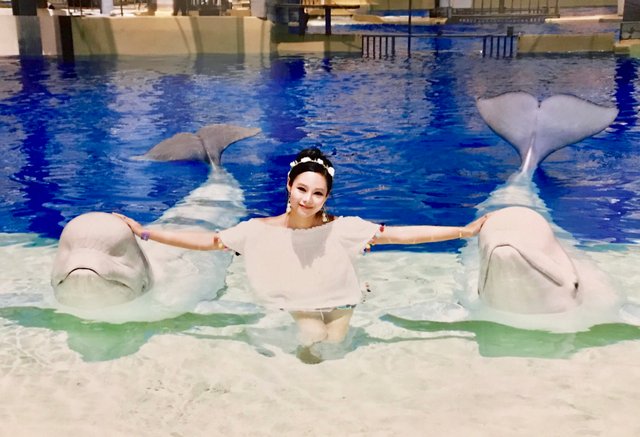 Check out the video!
---
And that wraps up our visit to the Land of Legends water park and aqua kingdom! Perhaps the most impressive feat of the resort, is making the entire water park accessible to people of all ages and backgrounds and does so, with a strong sense of style and consistent theme. I loved the Greek and Roman history in Turkey, and I'm glad they've chosen to keep this their main style.
Of course, the most appealing attractions to me were the animal interactions. It's not everyday that you can come that close to Penguins, Walruses and Beluga whales, and so, it was a treasured experience getting to know them intimately.
Whether you're looking to splash in a swimming pool, take a ride down a slide, or get to know some of natures most beautiful animals, the Land of Legends has it all.
Don't forget to upvote if you liked the post, follow me for more travel blogs and leave a comment to let me know what you think!
---
在前两篇文章里,我们一起来到传奇之地主题公园酒店,揭秘了童话王国般的传奇酒店,接着又潜入海底餐厅,跳进硕大的鱼缸与热带鱼共舞,玩得不亦乐乎。我一直觉得,在高温的天气里,没有什么娱乐活动能比戏水来得更加酣畅淋漓了。今天我们就一起走进传奇酒店最受欢迎的水乐园,享受一下丰富多彩的游乐设施吧。传奇酒店的水上乐园有个浪漫的名字,叫做水之传奇。
拿着酒店的俯视图,我惊叹于传奇酒店壮观庞大的建筑群组,同时也领悟到这家酒店在选址上同样非常用心,酒店选址在金牛山和地中海之间,是距离地中海咫尺之遥的风水宝地,风景如画。酒店距离海滩只要12分钟,而比海滩更有魅力的就是这座耗资10亿美元的水上乐园,它是酒店建筑群的最大亮点,占地面积大约为280,000平方米,占了整个酒店的一半。而这座水上乐园还不仅仅是面积惊人,那琳琅满目的游乐项目更是极具吸引力。我决定仔细研究下水乐园的平面图,以避免在错综复杂的庞大乐园里迷失。地图上最醒目的就是那位于乐园中心的巨大波浪池,围绕周围的是冒险基地,海豚馆,野生动物园,而水上项目的数量和品种更是一绝,光水上滑道就有72座,还有疯狂的河流,水上过山车等等,我想水乐园迷们来到这里,一定会幸福的昏倒过去。
这座水乐园不仅玩的内容超级丰富,它的设计风格也十分靓丽,它与整个酒店的风格相辅相成,在很多建筑和雕刻上都能找到罗马帝国,以及希腊海神波塞冬的元素。在这片充满神秘宗教色彩的星月之国,这家酒店还考虑到不同种族、文化和宗教背景游客的喜好,推出了全世界独一无二的首个仅限女性游玩的设施,保证了私密性,这一切勾起我极大的兴趣去探秘。踏进乐园的那一刻,我瞬间就被这热闹的气氛带动的情绪高涨,近处远处,那高高低低的水上滑道不时绽放出最有感染力的白色浪花,此起彼伏,人们疯狂的尖叫声和着动感的背景音乐,让乐园里的每一个人,都能共享欢乐时光所带来的喜悦。色彩缤纷的巨大蘑菇咖啡店,带有民族风情的图腾柱子,琉璃瓦片和玻璃的屋顶,把蔚蓝的天空瞬间分割成了五颜六色的调色板。
在戏水海滩中央,一个鱼缸样式的大玻璃无边泳池吸引了我的注意力,我跳进去在玻璃边摆出各种姿势,好玩极了。再看看那藏在瀑布下的巨大水上滑道,海浪一波波涌来的幸福海滩,无论你偏爱休闲还是冒险,你终将在这里找到属于你的天堂。而我兴趣盎然的去找寻海洋动物的身影,原来这座水乐园的乐趣不仅仅是娱乐设施,更大的惊喜是我将要开始和海洋动物们近距离的互动和戏水。旅程的第一站,我来看望了企鹅朋友们,在喂给它们几条鲜嫩的小鱼之后,我们迅速的成为了好朋友。它们用最擅长的卖萌走路姿势扑到了我身边,小小的脑袋,呆呆的眼神和招牌的木讷动作可以让人毫无抵抗力的爱上它们,我弯下腰伸手摸摸它们黑白燕尾服款式的羽翼,又忍不住抱抱它们。如果能养一只在家,我可能真的幸福到昏厥了。离开了企鹅的家,我来到了海洋馆观看水里的小胖墩,皮厚多褶极具喜感的海象做运动,别看它身上那油腻感十足的肥肉,做起卷腹,抬腿,俯卧撑,可是样样精通,海象都开始瘦身了,我还在等什么呢,哈哈。
表演结束后,我开心的和这只酷爱运动的海象戏水,合影,只见它长长的两颗牙上面留着一排齐齐的卓别林式胡子,像是个艺术家。它的眼神很和蔼,滴溜溜的黑眼珠,非常的友好。今天的最后一站非常激动人心,因为我将去拜访水下移动的珍珠,我梦寐以求渴望见面的白鲸。这是我第一次亲眼看见白鲸,还可以下水和它们玩耍,真的太满足了。白鲸真的好美,如果浩瀚的海洋要举办选美比赛,那冠军非它莫属啦。与其它鲸不同的是,白鲸的嘴巴很短,脸圆圆的特别可爱,阳光下,它白白的,晶莹剔透的肤色在蓝色海水衬托下光芒四射,简直是水下的白雪公主,很有高贵典雅的气质。两只白鲸在我身旁,一边一个,它们热情好客,特别活泼,被喂了小零食之后,尾巴不停拍打的水面,高兴极了。就这样我在水之传奇水乐园度过了无比快乐和幸福的一天,与海洋动物互动嬉戏的时光总嫌不够,但也许在未来某一天,我们又能重逢呢。今天的水世界之旅就要告于段落了,希望你们可以享受这其中的乐趣,之后还有更多精彩的故事想要分享给大家。