My 65-year-old father has a very successful international hot pepper business located in Spain, but right now he is on a discovery tour in Peru. He started in Lima and then flew to Iquitos and send me some really cool pictures I would like to share with you today. So while my dad is looking for some new products travelling around the world, I take care of the issues at home. He is the boss and I am the blogger, this is how we manage our family business :-) Enjoy the trip! 
Lima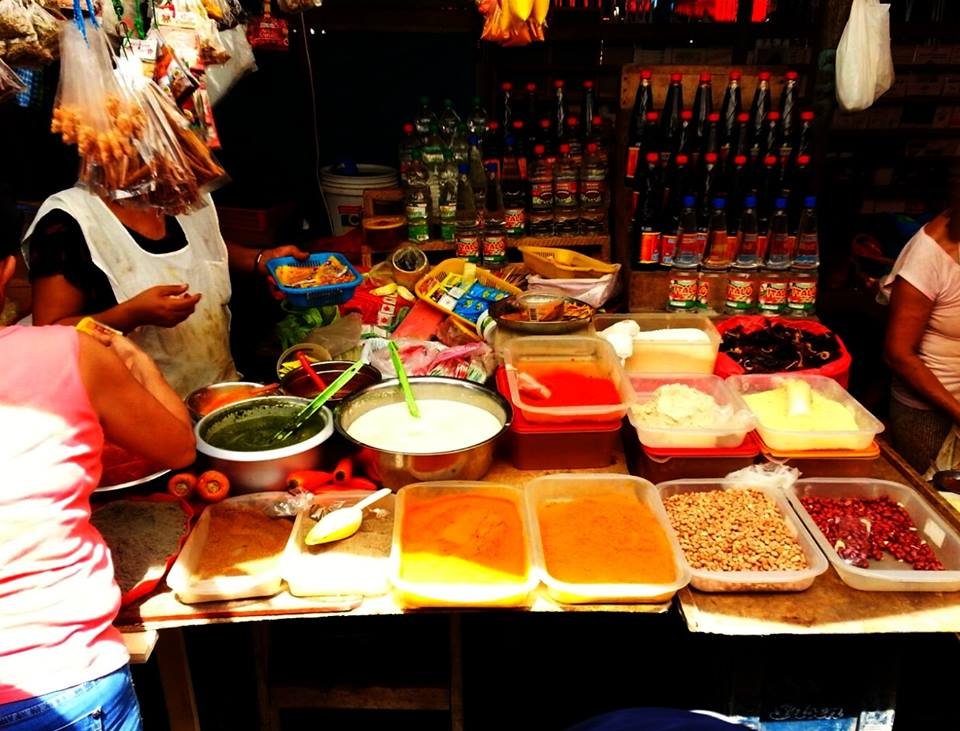 My father´s business is specialized in hot pepper and tomato, but he generally loves to discover foreign countries by their products and cuisine. So ambling up and down these local markets full of fresh products for him is like paradise.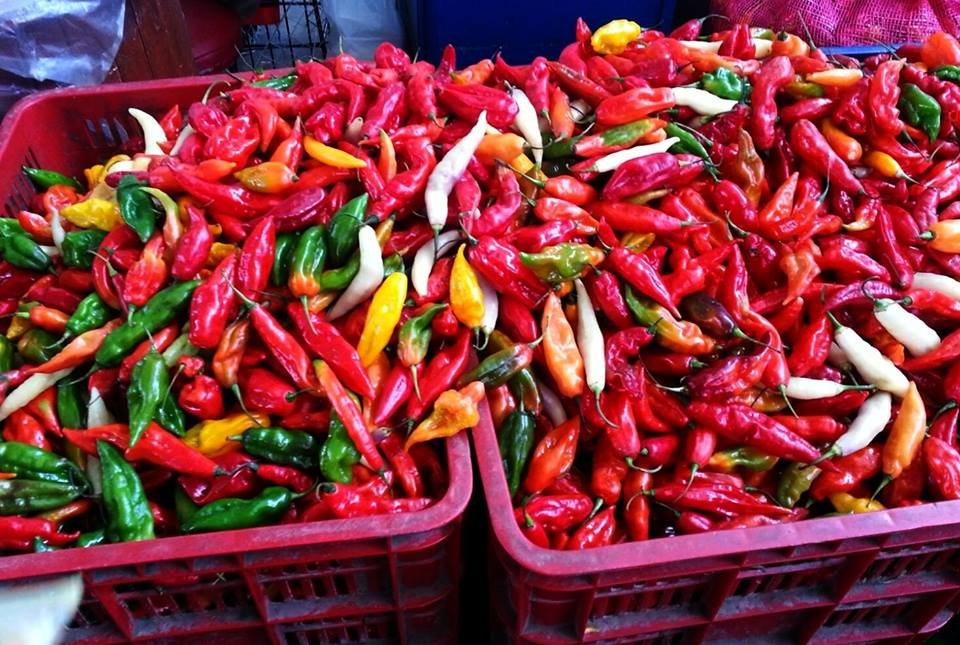 Huge amounts of hot stuff! :-P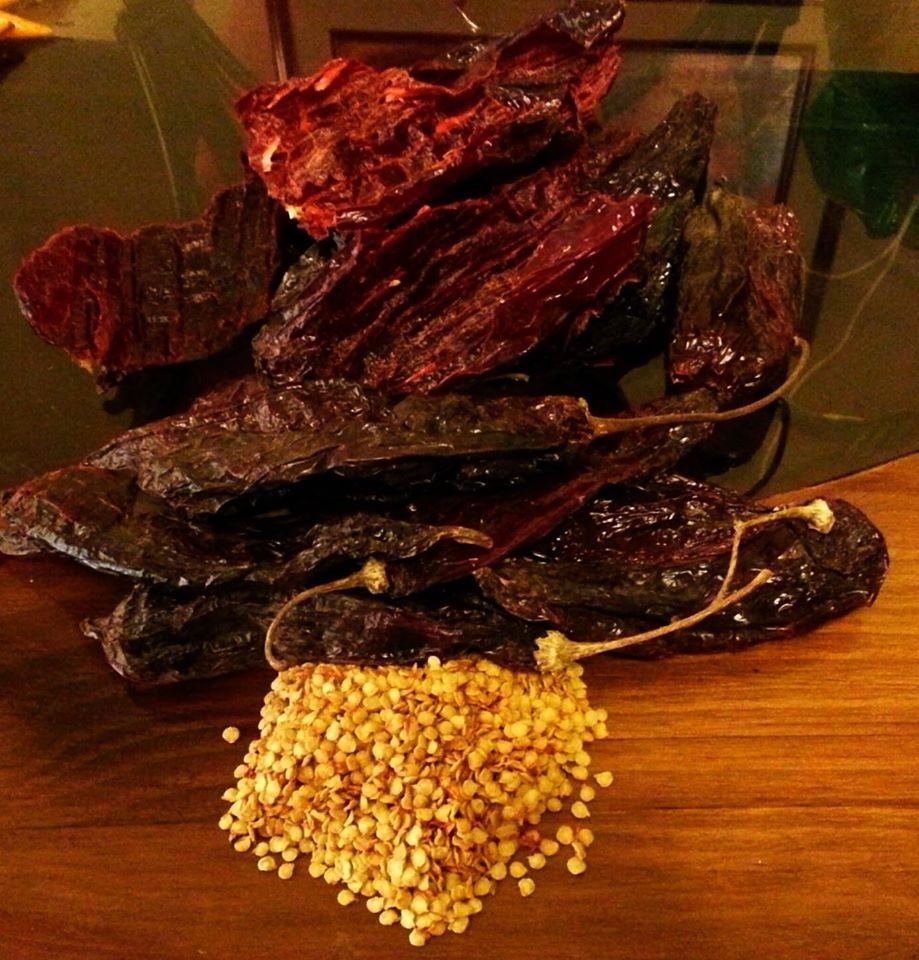 On one of the markets my father discovered this variety: Aji Panca. It´s a very nice one with a pleasant heat and smoky flavour, very well sweeted for chili powder.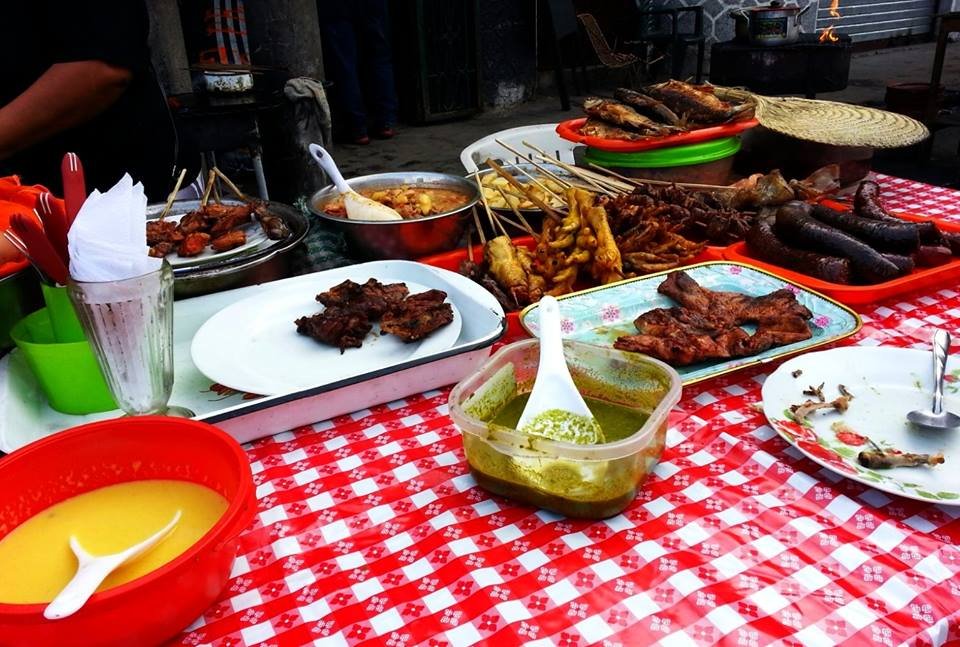 Can you see the chicken feet in the back of the picture?!? I definitely would have run away before trying one of these :-))) 
Iquitos 

After having been two days in Lima my father left and took an airplane to Iquitos. It´s just a 2-hours-flight from one spot to another but life is completely different in Iquitos. As you can see on the picture above, it is less developed and very life´s much more simple here.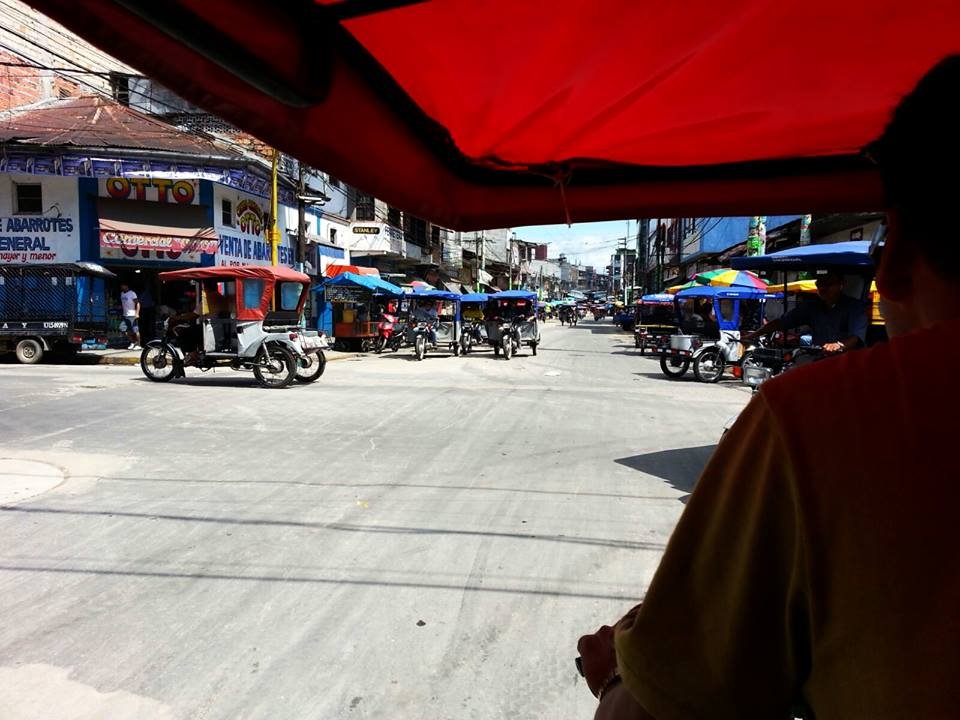 There is nothing more entertaining than driving with a tuk-tuk! Since my father is a very open-minded person he got familiar with some local people soon and they took him to the typical spots where no other tourist would ever end up. Pura vida, well done daddy!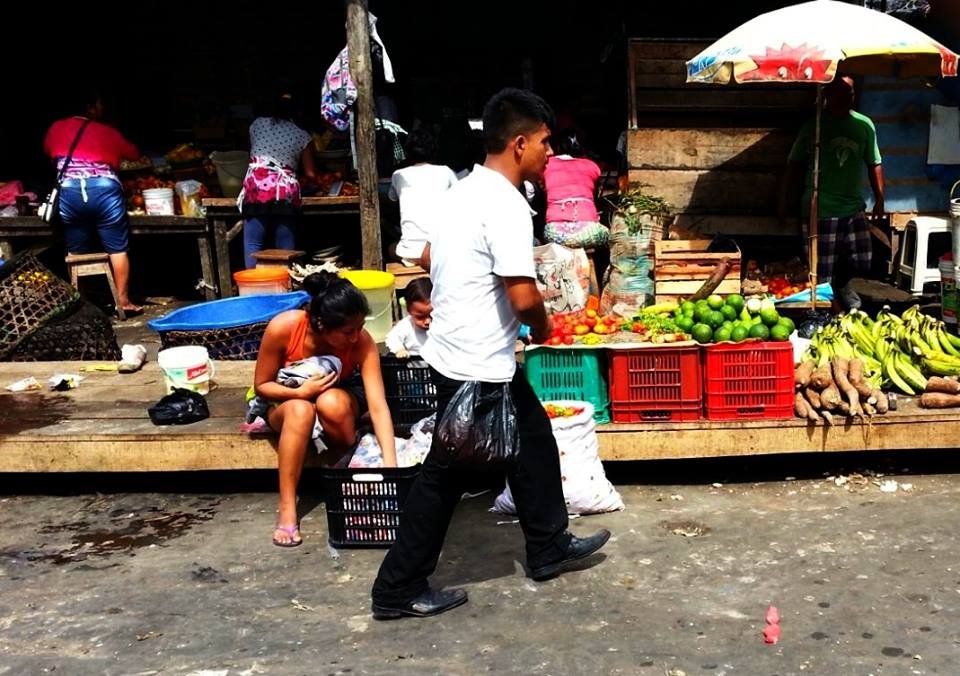 There are hundrets of market stands selling fruits, vegetables, meat and fish. My father said it is hard to decide where to buy and where not.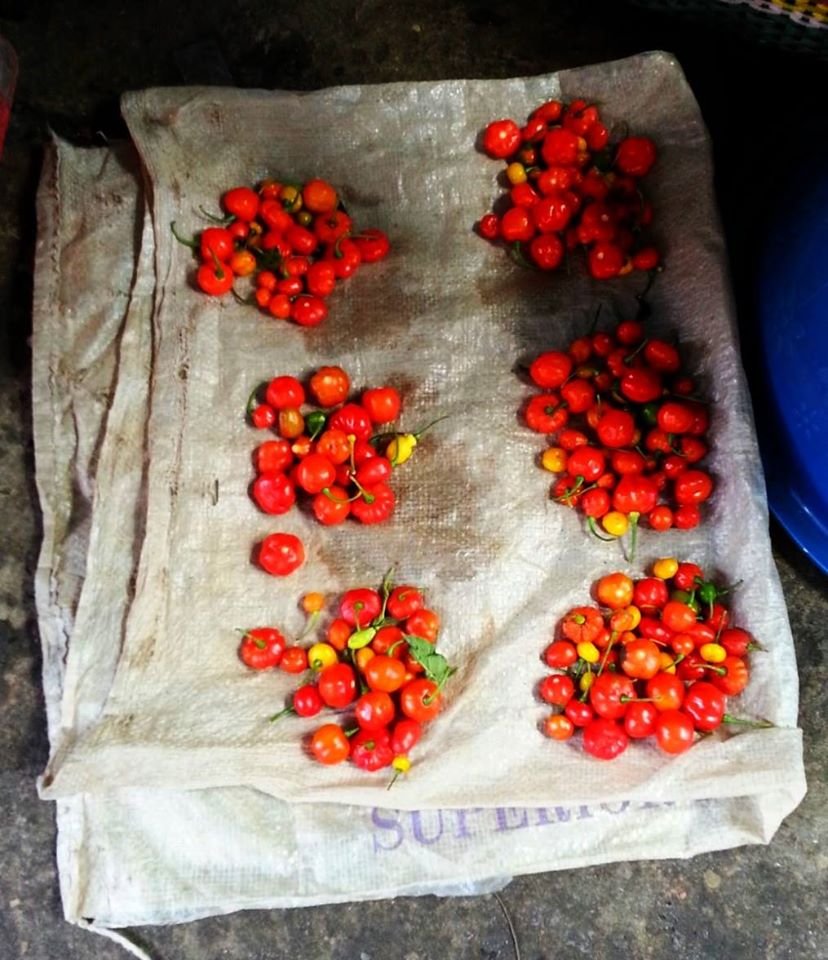 Wherever you go, you´ll find a huge offer of hot pepper - exactly what my father´s looking for.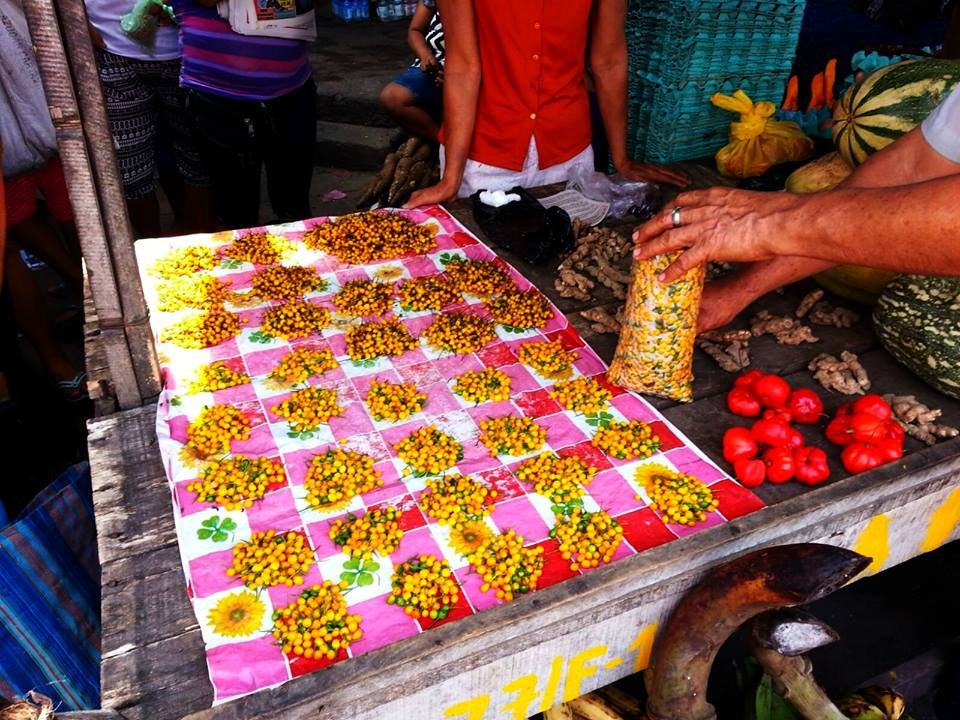 Aji Charapita: in Germany which is one of the most important markets of my father´s business there is a strong hype about this pepper type right now (picture above). A German TV program recently called Aji Charapita the "most expensive hot pepper of the world", showing a business selling the dried fruits for 20.000€/kg! Incredible! But....  
My father wanted to prove that they were wrong since Aji Charapita is everything but not expensive - and he did.
Current prices seen at the markets of Peru: 1kg = 20 Sol = aprox. 6€. So the business mentioned in the TV program supposedly made a lot of money selling it for 20K per kg - well only if they found somebody sufficiently stupid to spend so much on it... :-D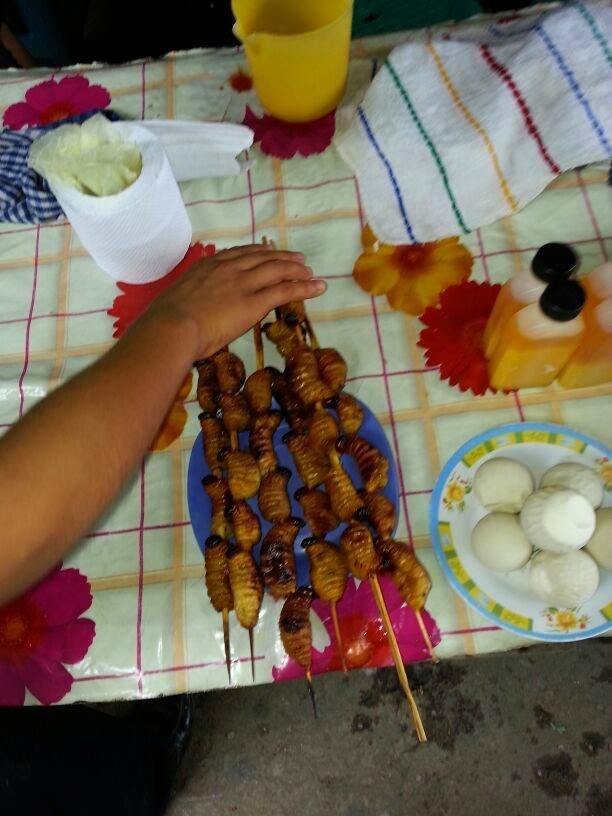 Have you ever tried a worm spit (in the middle) or turtle eggs (white eggs on the right)?!? I would have run away already after having seen the chicken feet (picture at top), but this seriously killed it!!!
Obviously, my father tried both - the worms and turtle eggs. And he really like both of them. Daddy, you are a crazy man!!! :-)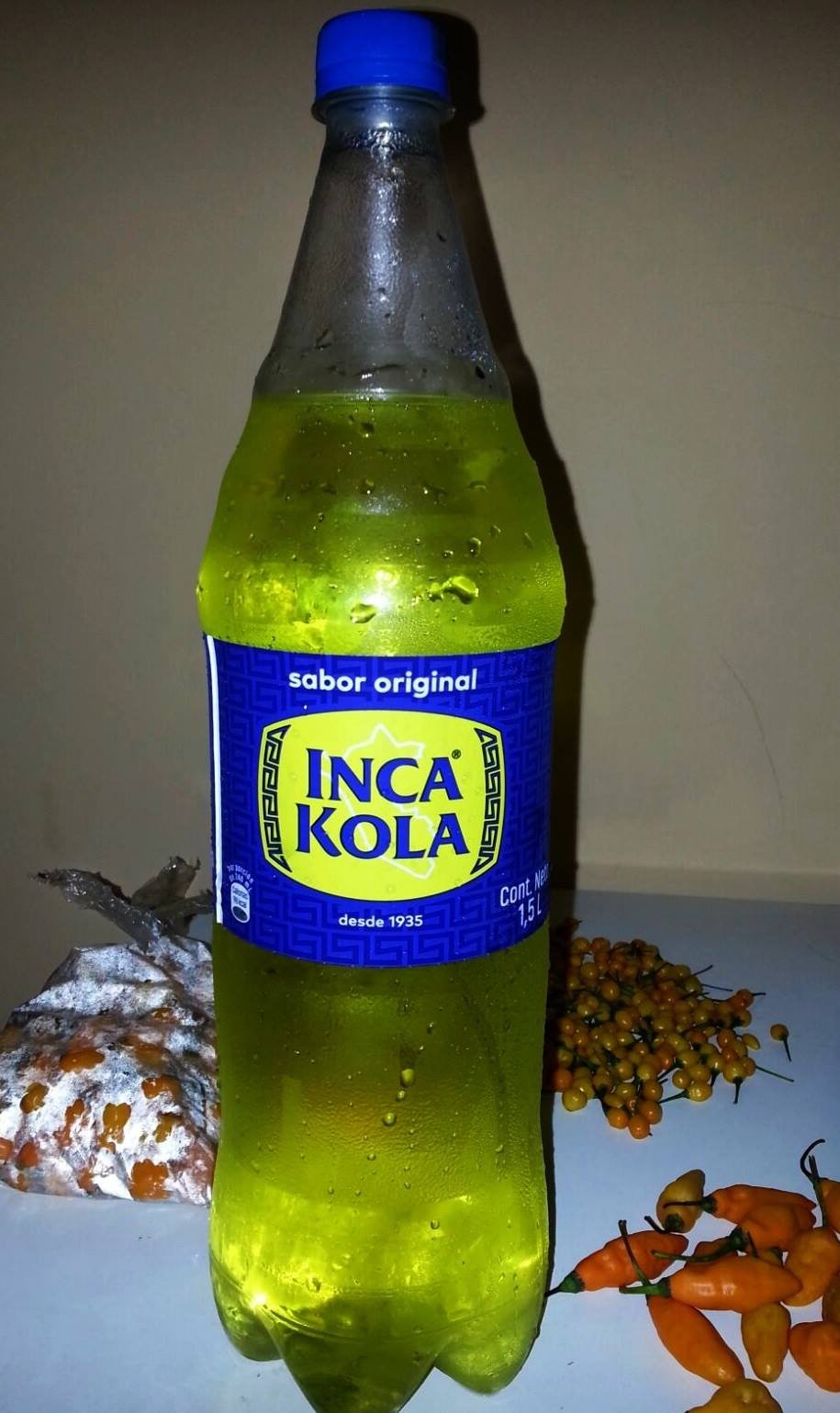 My father said that this drink had very few in common with what we do now as "coca cola" :-) That doesn´t surprise me much! Different culture - different taste! 
But now we´ll come to know a drink which should be exported to our countries in any case. 
La 'Chicha Morada' - please try at home!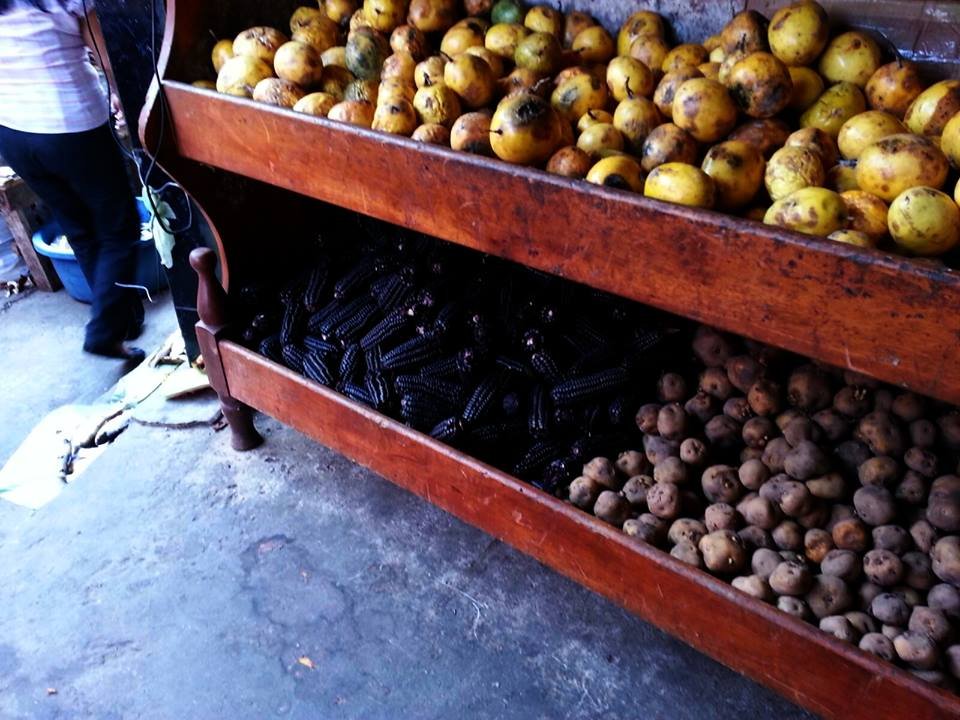 Do you see these black vegetables on the picture? It´s "maiz morado" (black corn), the main ingredient of a typical Peruvian drink called "Chicha Morada".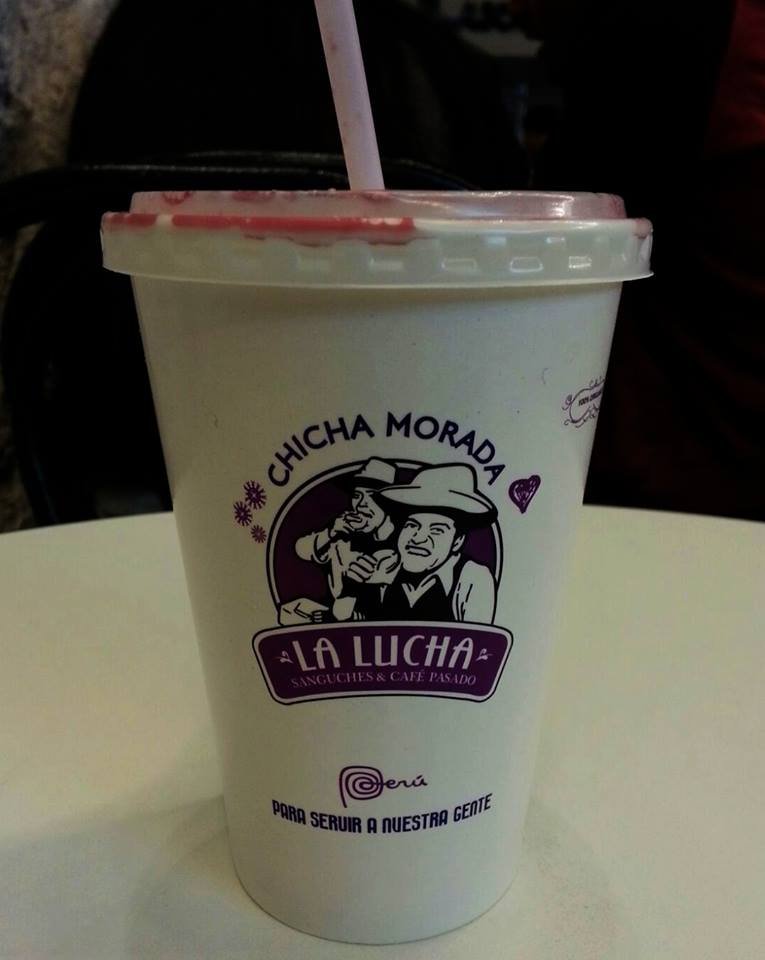 This is the new favourite drink of my daddy - "Chicha Morada". He said that starting from today he doesn´t want to drink anything else :-) It´s the perfect summer drink! Of course I told him to bring some black corn seeds with him, then plant it on our own and mix the drink at home. If you also wanna try it - here´s the recipe: 
Recipe Chicha Morada
INGREDIENTS
 1 (15 ounce) bag of dried purple corn
12 cups of water
3 cinnamon sticks
1 tablespoon of whole cloves
1 whole pineapple, diced (peel reserved)
1 cup white sugar
1/2 cup lime juice
1 green apple, peeled and diced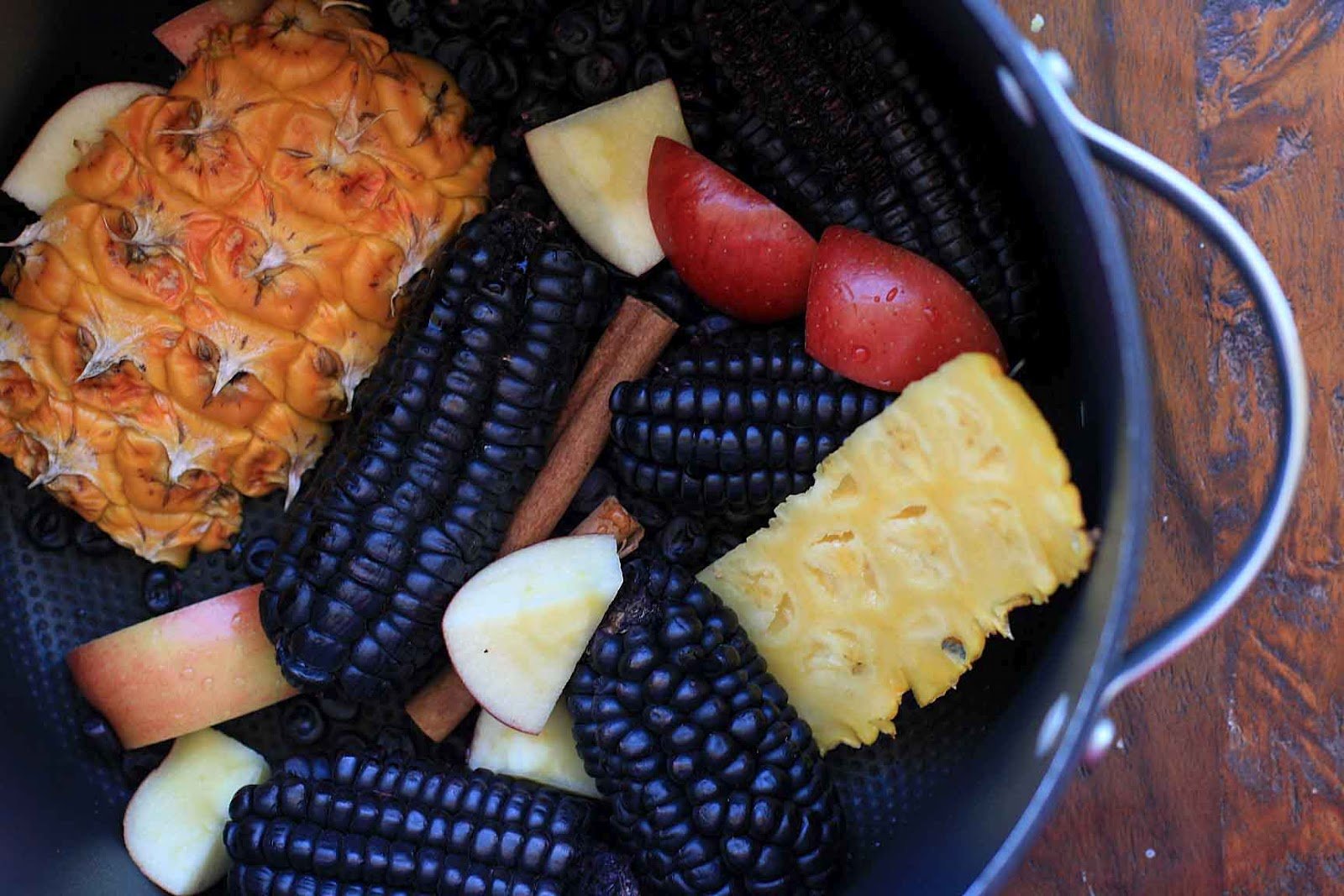 PREPARATION
1. To a large pot, add the corn, water, cinnamon sticks, cloves and  half of the pineapple peels. Heat over high heat and once the mixture  reaches a boil, reduce the heat to medium-low and simmer for 45 minutes. 
2. Remove the chicha from the heat and pour in the sugar and fresh  lime juice. Place a strainer atop a large bowl and pour mixture through  it, catching the large corn ears, pulp and pineapple. Refrigerate until  cold. To serve, add ice, and a small handful of diced pineapple and  apple to each glass; add chichca and serve immediately. 
Cheers!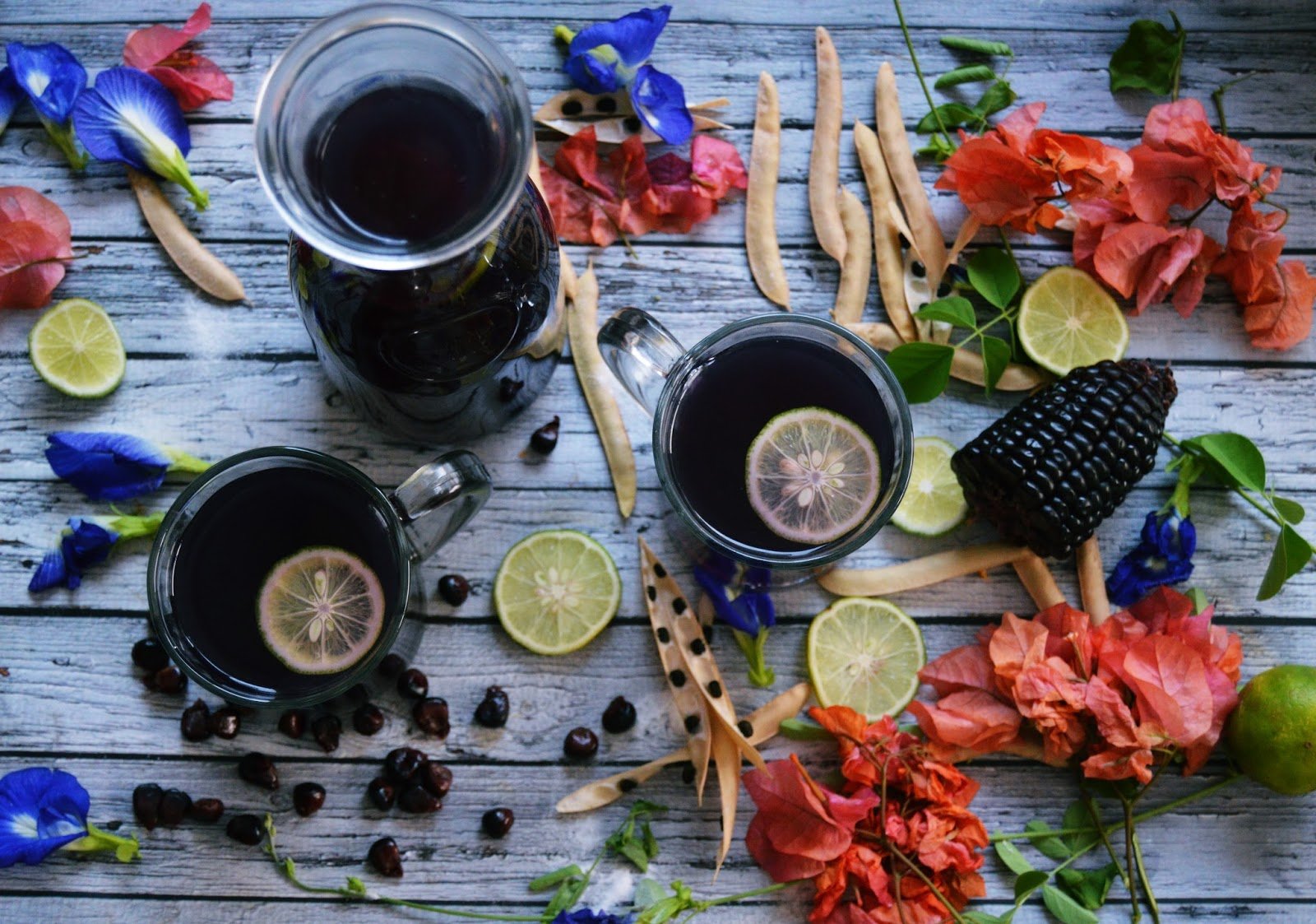 In the second part of the adventure blog we will show some pictures from the markets in Arequipos, the next spot of my father´s trip. He arrived today and already found some really nice "Rocoto peppers". 
So: stay tuned, steemers! :-)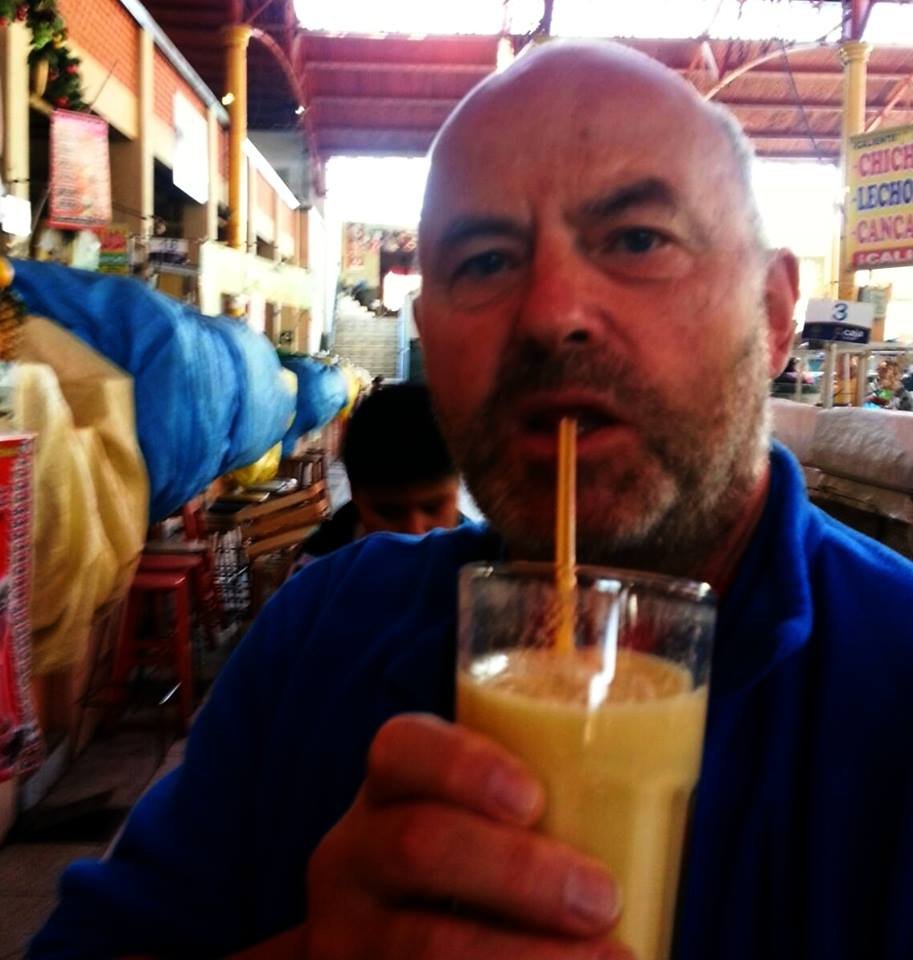 Picture: My father, exceptionally not drinking "Chicha Morada" :-)) Cheers! 
Cheers & live your dream,
Marly -