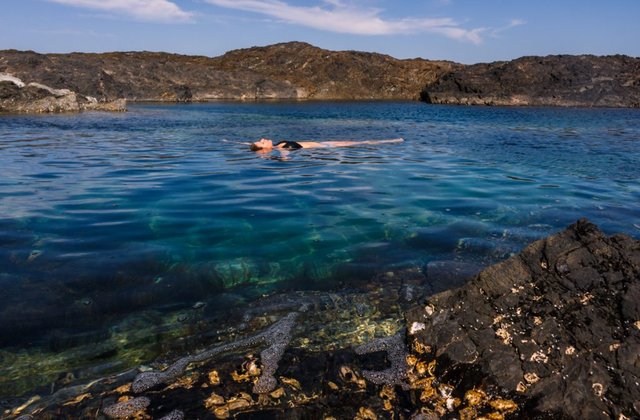 The sun beats down as the car sways through coastal curves. I've hit the road with my camping buddy Chantel for an ingeniously timed mid-week getaway. Our hands hang out each window moving in a synchronized wave to a summer soundtrack. We're headed to a secluded, and free, campsite along the crystal blue beaches of the South Coast of New South Wales.
I know I need a dose of Zen because two days ago I started a verbal brawl with a bloke in the supermarket. I live in Western Sydney so this is not a life affirming move. While my motives were honourable, I am not proud. I tell you this only to illustrate how far down the slope of stress I have fallen. An argument with a stranger is not my usual fare. I intend to right the ship with a few nights sleeping to the sounds of waves, waking to salty air, and digging my toes in the sand.
Just past the dirt road turn off we are charmed by the shaded groves of bush land leading to North Head Campground. Views of the ocean bounce gems of light in the distance. There is no other sign of life. Just us, flying dust and fabulous tunes. Talking about what we'll do with a campsite to ourselves. As we turn the final bend we are confronted with a mass of Juicy vans, hire campers, caravans and tents. More appalling, our isolated campsite appears to be full of children. Insert the sound of the needle sliding to a halt on that soundtrack. We have stumbled upon a hot spot for tourists making their way along Australia's East Coast and homeschooling parents. Two laps of the campground leave us with one option. The spot next to the drop toilets. The parks service keeps those well maintained, right?
Drop toilets are a very deep hole in the ground dug in the hope that what is at the bottom will disintegrate before it reaches the top. Ideally they come with a lid. We immediately break for them. Four hours on the road has created a sense of urgency. The first thing that strikes me is the flies. Thousands of them guarding the rim. I wave them away alarmed to find that their exit reveals a near full toilet and a smell that crawls into things and takes up residence. Chantel and I meet again on the path back to the car. Her usual tanned complexion has taken on a grey sheen. When she's regained the power of speech she tells me hers was a bit full. With high thirty degree summer days on the way, a pair of full drop loos does not bode well for the sweet scent of life in the wilderness.

A less threatening beach dweller at sunset on North Head Campground beach



We decide the best course of action is to ignore this and explore the beach. An isolated stretch of sand in a cove surrounded on both sides by quirky rock formations and delicious rock pools. I flick off my shoes and get ready to feel stress seep out of my toes and into the natural world. I wander in a state of blissful drop toilet denial when something catches my eye. I am in the middle of a field of blue bottles. A delightful organism that looks disturbingly like a used condom and packs an unpleasant sting. I am surrounded on all sides, acutely aware as to why our fellow campers have abandoned the glistening water. I slide my shoes back on and hop my way between these nasty prophylactics like a thief dodging laser wires.
Back at camp Chantel wisely keeps her distance of my foul mood and offers to make dinner. I decide things have to change and launch an attack the toilets with citronella coils in the hope of masking the smell. As I head off on my mission to neutralise the enemy a convoy of P platers rolls in. An Australian phenomena identifiable by their inability to understand that noise travels in the bush and unruly response to feedback from fellow campers on this matter. My cup runneth over. With steely resolve I march to the loo and plant the citronella leaving Chantel with the job of monitoring the youth.
This idyllic campground contains more hidden perils than you can poke a stick at. It is a surface that should not be scratched. Possums raid our camp at night, enamoured with the clattering sound empty bottles make when knocked to and fro. I am comforted only by the fact that this hulabaloo drowns out the P platers. We dodge lizards the size of small crocodiles while making breakfast. We have a fellow camper whose morning business combined with thirty plus degree heat (that's Celsius folks) and a habit of forgetting to close the lid would leave nuclear chemists in awe. The citronella I have planted barely cuts the mustard. There's nothing like the scent of effluent first thing in the morning to get your juices flowing.

Pre-parasite hammock chill
As we wage continued war on our environment we contemplate cutting the trip short. Chantel, ever determined to locate her calm, kicks back in the hammock while we discuss. Moments later she is leaping and hopping. A tick has attacked and gets busy burrowing itself in her leg. I set forth to Google tick removal. Phone in one hand, tweezers in the other, I approach assuring Chantel I'm a professional Googler. It is at this moment, while she desperately demands the removal of her parasite, that I notice a messenger thread informing me there is a meteor shower that very night. Distracted I take a seat and begin to share the details with Chantel. I find her highly unappreciative of my efforts to improve our trip with an rare astrological phenomena and overly demanding on the tick removal front.
It turns out that we have stumbled upon a clear view of the north sky during the once a year Geminids Meteor Shower. As a bonus we've managed to do it the one time in the last nine years that it will be particularly close to earth and clear. Absentmindedly I pass Chantel the tweezers. Rejuvenated by this turn of events I get to the business of planning our seat for the show while she digs out her tick.
We make grand plans to wander out to the cliff edge with wine, cheese, chips and chairs. As night begins to fall we reassess after remembering that the Australian bush eats people and doesn't spit them back out. Questioning the wisdom of combining wine and cliffs our senses return and we decide to follow a well marked path to North Head lookout (assuming rightly that this points to the North Sky). A frenzy of downloading astrological apps occurs and we totter off to attempt to translate the night sky into the likely location of our meteors.

Watching meteors shoot wonder across the sky
Lots of holding of phones up to the skies follows. Also lots of wine drinking which doesn't assist matters. Eventually, in a moment that I can only call inspired, the sky comes together with my app into a vision of clarity. I begin pointing out constellations to Chantel who scratches her head and tells me she doesn't see it.
Our lookout comes with a deck and we lie down to watch the show. The first meteor shoots across the sky as scheduled just after 10pm. They fly in all directions from Gemini. I have never seen a meteor, never mind a whole shower of them. I will pay the price in fatigue tomorrow, the drive home long and winding. For tonight I stare in wonder as the universe rights my trip and reminds me how little of it matters in the grand scheme of things. Arguments in supermarkets seem absurd under the cover of a darkness containing so much magic.
____________________________________________
I also put pictures and words in the following places:
You can find me on LinkedIn
!steemitworldmap -35.718788 lat 150.274955 long Zen disrupted: drop toilet wars and meteor showers on the South Coast of New South Wales, Australia D3SCR