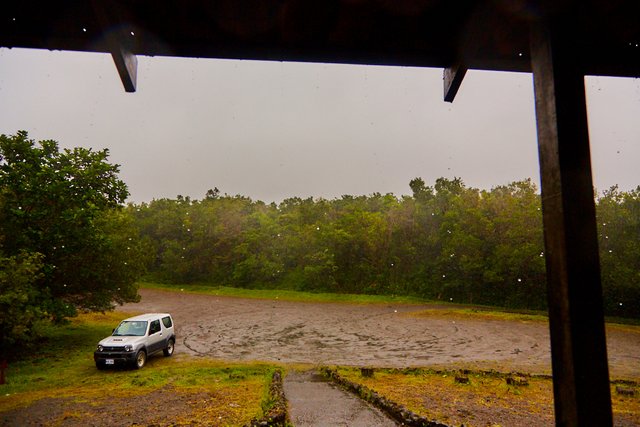 The rain came down in steady sheets
Pausing only for what seemed long enough to fill a bucket, before it began again. Today probably wasn't the best of days to try and see a volcano, but, it didn't look like the weather would be any different tomorrow so I figured, let's roll the dice and see what happens. I threw on layers of raincoat over my pack and I and set out for the bus that would take me to Arenal National Park. I think it was a 20 minute ride or something down the highway and there I was. Well almost.
It turned out the bus stop for Arenal National Park was at the entrance to the park...not the actual park itself. The map I had didn't give specific distances, but from how line the line looked, it would be a bit of a hike before I got to the hike. By this point in my life I had become intimately familiar and comfortable with randomly walking long distances in adverse conditions. A useful skill, as it began to rain again.
I was lucky though.
Really lucky. A car coming down the road happened to stop and ask if I needed a lift. Driven by a fellow American he owned a small bed and breakfast nearby and was used to picking up walkers like me going to and fro from the park. About 10 minute later he left me standing in a small parking lot. The weather had again cleared up...but for how long I had no idea.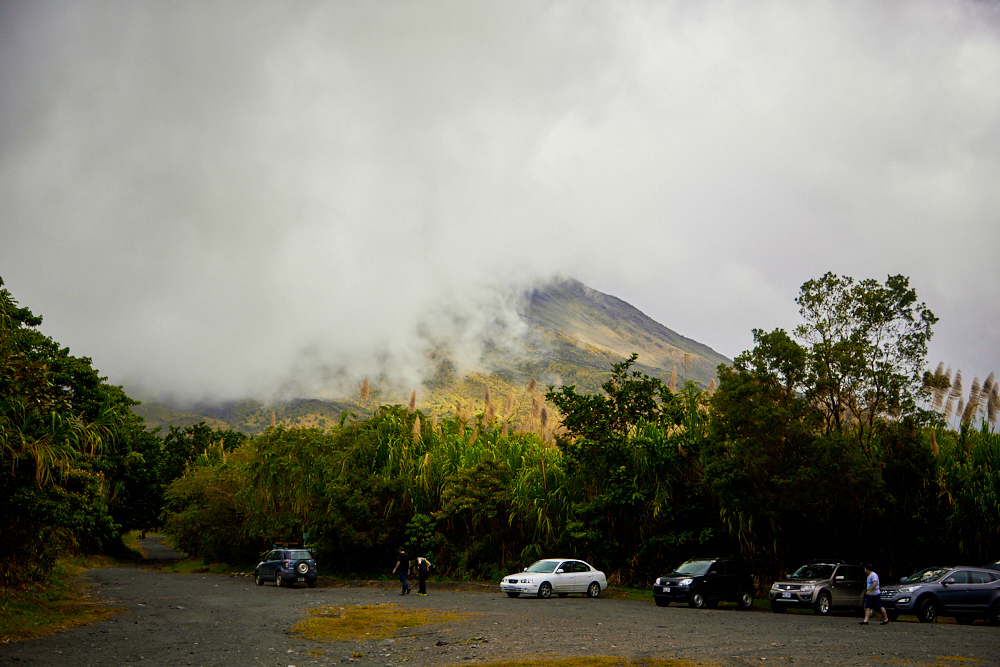 It was here that I met up with who would be my walking companions for the day.
I can't remember how the conversation started, but before I knew it the 4 of us were throwing stories back and forth joking. Scots, all of them, on a several week break checking out the eco tourism of Costa Rica. They loved their birds, ornithologists I believe, and were enjoying a vacation from the nature preserve they worked on back in Scotland.
I've said it once, well, likely many more times than once in all my wordy meanderings, the people you meet on your trip can really add a memorable spice to everything. The possible friendships, the knowledge of a mutual memory, just having people to chat with as you're going. Sometimes it's nice to shut yourself off in your own world...but mostly it's better to share time than try and keep it to yourself :)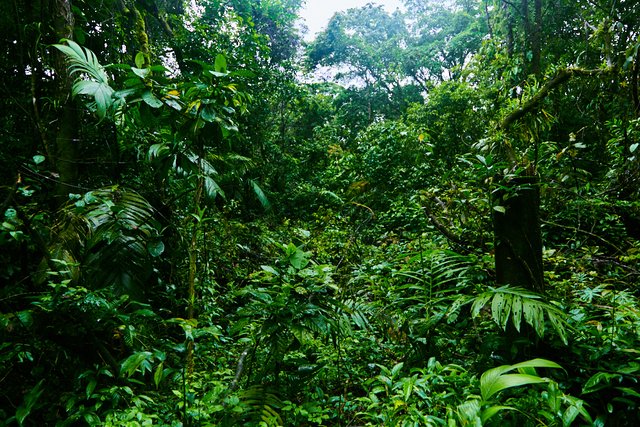 ---
This is pretty much what summed up the entire hike to the lookout point. Green. Green. Green. Green. Did I mention green?
---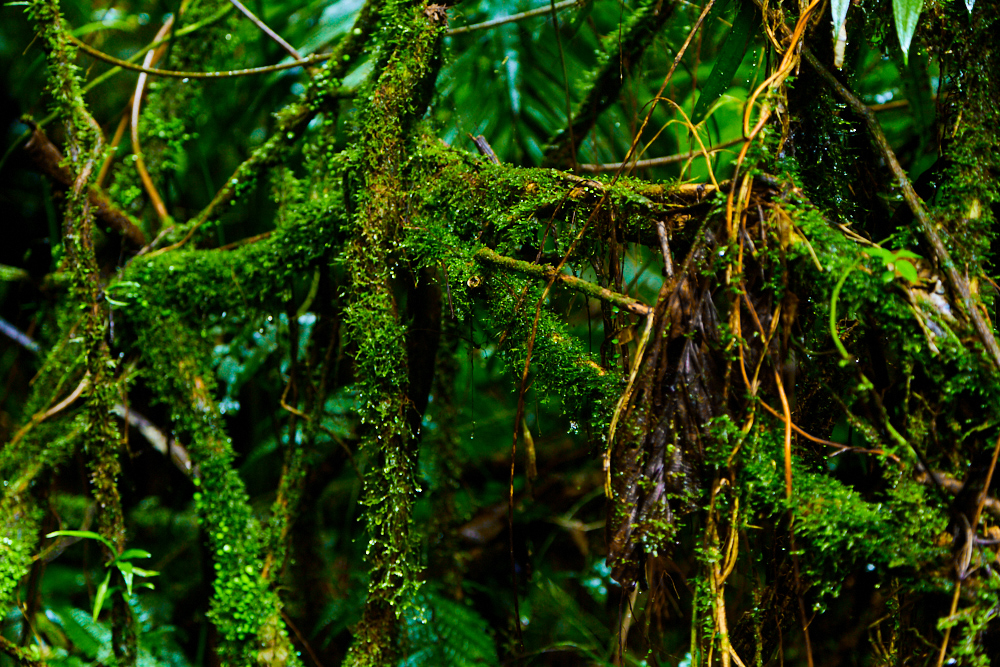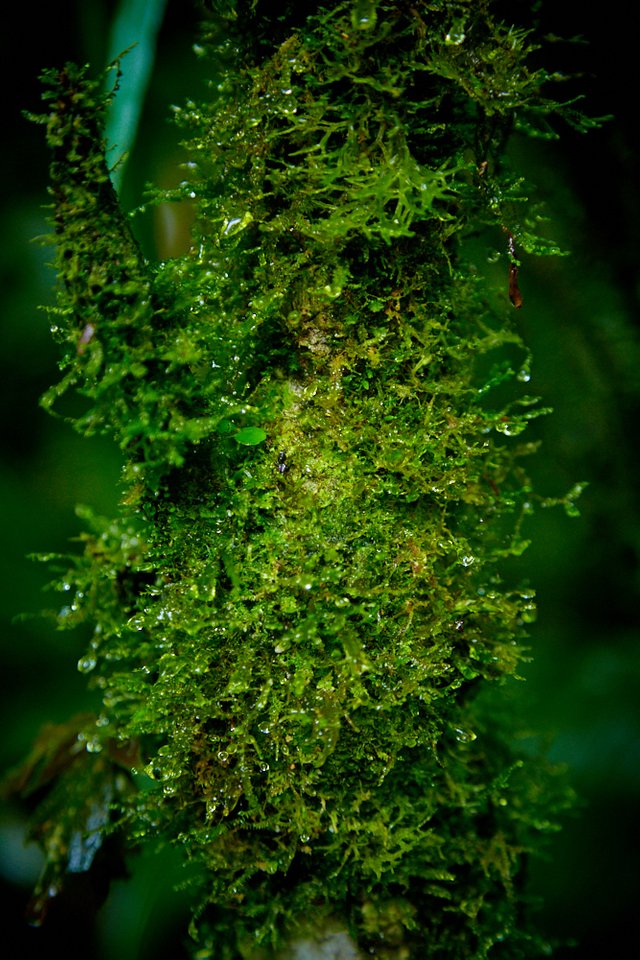 The rain turned on and off like a confused spigot.
One moment drowning us, the next, brilliant streams of hot sun piercing the canopy. Always, always, the sound of dripping and movement, just out of site. And, did I mention, lots of green? These 3 were always on the lookout. Eyes sharp, they managed to spot a lot of birds I would never have noticed. I will not say whether these pics were posed, or not, or if 1 was and the other not, hehe.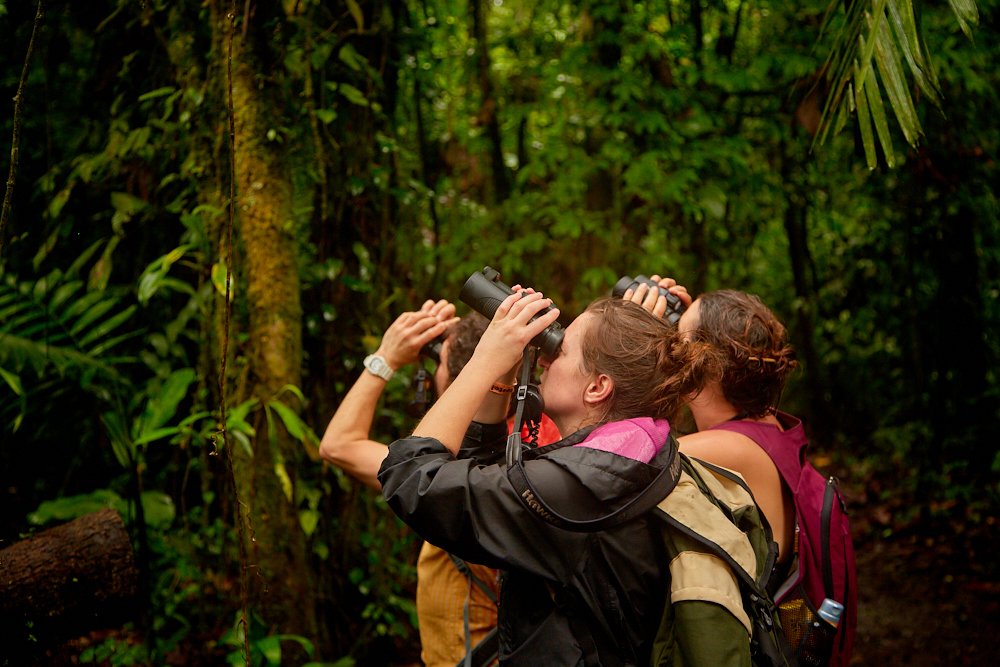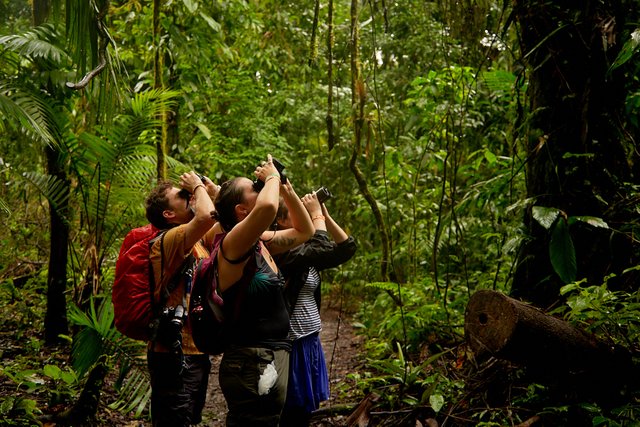 It was definitely a trudge up to the lookout point.
Kind of like hiking through a jungle on a rainy day...well, exactly like that. But, it was exhilarating. The pure air combined with vigorous exercise did leave us a bit tuckered by the time we got there. Although a bit disappointing that the clouds were screwing the view, we got a good laugh from the whole situation. That's travel. Making the best of the situation. Sure, none of us might ever be back and have a second chance to see the volcano in all it's glory...but, we had a fun time hiking up, and we had the hike down to look forward to. Just a different kind of memory. Like figuring out how to keep the food we ended up sharing in the pouring rain dry, hehe.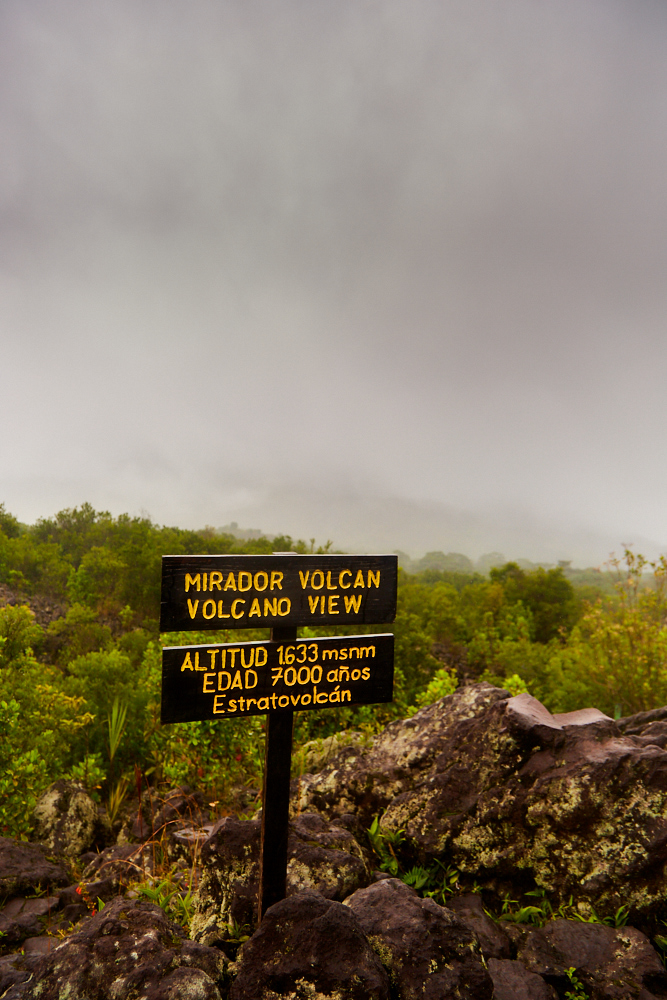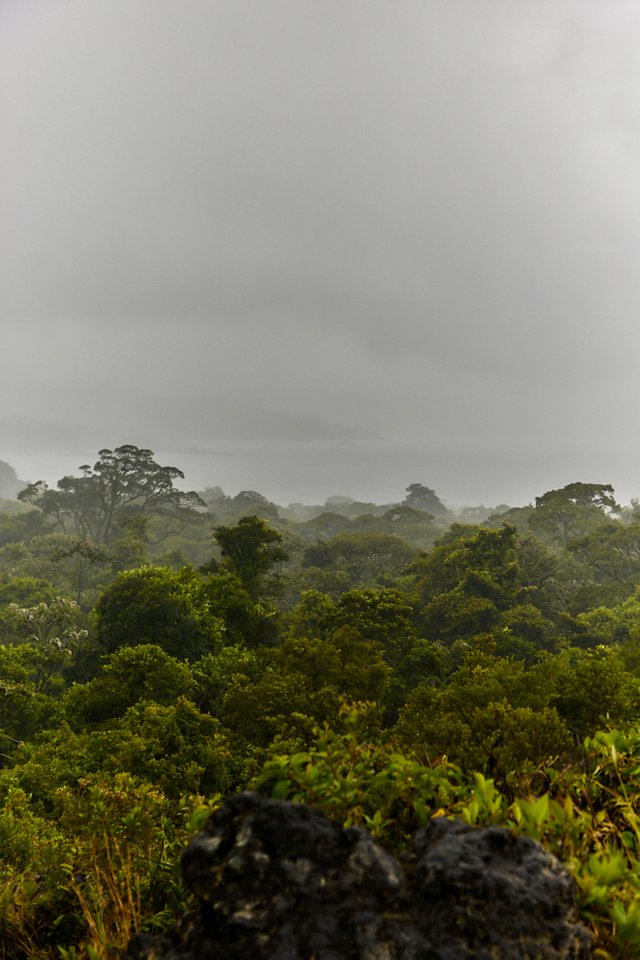 We took our time, enjoying the jungle from our perch.
The clouds, while killing the view of the volcano, created this weird/cool affect over the trees. Mist, looking almost alive in it's slow clingy movements, drifted in odd silence. Once again I was reminded of one of my favorite movies, Predator. The intro music began to play in my head and I looked around, checking the nearby trees for anything strange...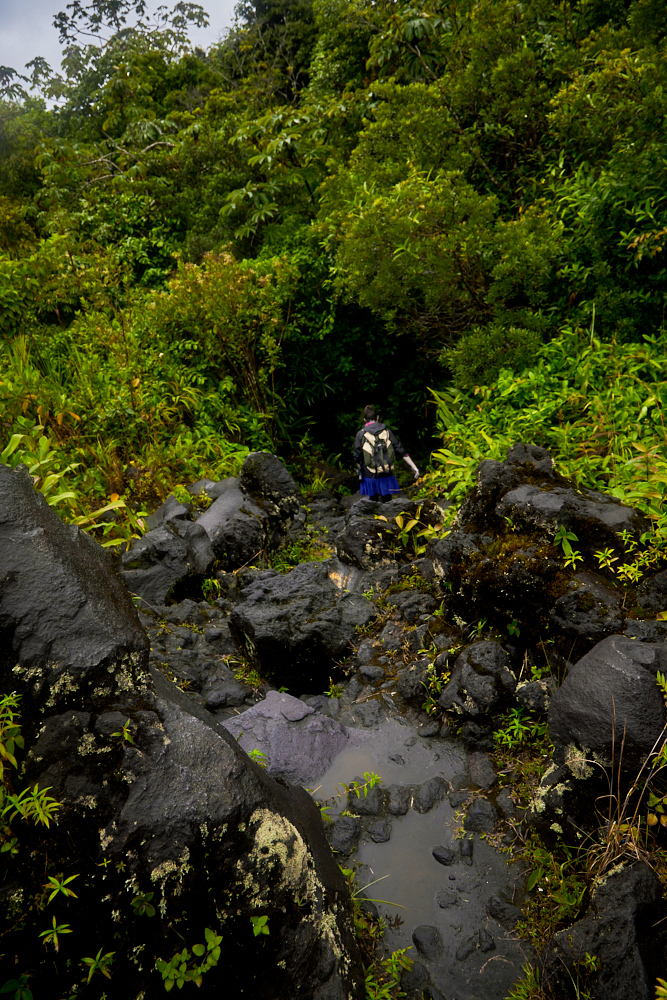 And then we began our hike down. Which pretty much involved the same things as the hike up. I think the total round trip hike was around 7 miles. A decent length, it was also pretty strenuous. I think there are several hikes in the park, most much easier, but, also a couple quite harder. But, for the time and weather, just right.
The really cool thing about this trip is that I kept in contact with them for a while afterwards.
We emailed pics back and forth and chatted about where we ended up in Costa Rica. But, as distance usually does to relationships, eventually we stopped. Perhaps after I finish this post I'll see if I can find their info and get back in touch. They really were a fun group of people, and I have my sight set on a trip to Scotland.
Overall it turned out to be a pretty good day.
The trek back to the bus stop turned out to be not so bad. Only another mile and change or so. One thing was clear to me, November was definitely not the best time to come and see Mt. Arenal. Most of the wildlife was busy trying to stay dry while the volcano seemed to be taking a perpetual shower, and the bit of chill that ran through every gust of wind... If you love green, rain soaked breezes, and trudging, I'd highly recommend it during the rainy season. Otherwise, time your trip a bit better, hehe.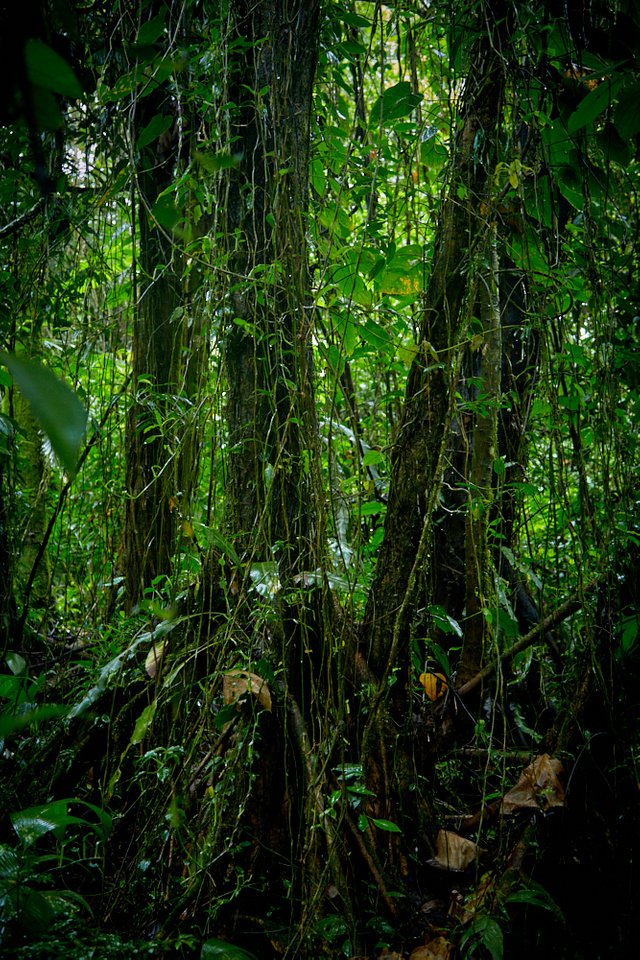 Similar Posts
Memories from abroad - Delicious chocolate and beautiful views from Costa Rica
Memories from abroad - Mt. Kurama ABLAZE!
Memories from abroad - A special birthday
Memories from abroad - A spot of tea in the fields of the Cameron Highlands, Malaysia