Hey, Steemit. I'm coming to you from yet another 36,000 feet high above the Pacific [...neat Hawaii at the moment]. Currently messaging with @eveuncovered, attempting to give me a pep talk through the turbulence. Earlier it was @vermillionfox until she went to sleep, so nice to see these ladies taking shifts in trying to keep me relatively calm. I've vented about this countless times, but I hate flying. I hate it, I hate it, I hate it! I marvel at it. @vermillionfox will even tell you, anytime we're out and a plane flies overhead, I stop and admire it. I think it is one of the most significant achievements human beings have ever made. I just don't want to be on them.
Alright, I've done enough venting. I did a little summary in my last Steemit post recounting my time in New Zealand and Australia. Now that the trip has officially concluded, I wanted to share some reflections, and one of my favorite parts of the entire trip. Firstly, ginger ale in the US is called "lemon, lime and bitters" in Australia. "Ginger ale" in Australia will get you ginger beer. I love that Aussies call "breakfast", "breaky". That's one of many things I'm going to adopt once back in the US. Similarly, I'll be calling my friends "cunts" from now on. "Cunt" is one of my favorite words and I love the idea that it's a term of endearment in Australia.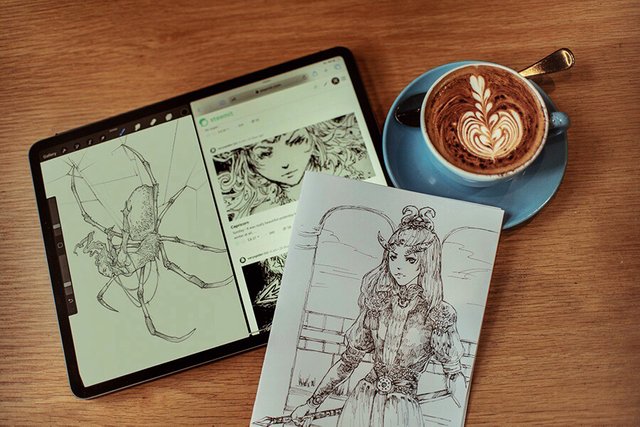 One of the highlights of the trip for me, without a doubt, was having the opportunity to meet up for coffee with our very own @veryspider. We talked about trying to make it happen, but our schedules seemed hopelessly against each other. The time she had free, I was working. The time she was working, I was free. She left for a holiday just before my day off and I'd all but accepted that an International Steemit meetup wouldn't happen. My last day there, I threw a Hail Mary and asked if she had any time for lunch. This was it! There was a small window of about two hours that we could meet for coffee and some really significant drawing time together.
@veryspider, in my opinion, is one of the pillars of the Steemit art community. I've been a fan of her illustration from the day I came across her account. She has such a unique style. I've always been so impressed with how prolific she is, and her community engagement is some of the best on the entire blockchain. I strive to be better at all those areas and she's been my inspiration for over two years now. Having the chance to sit across a table and draw with her was one of the memories I'll keep as my most cherished from my time on Steemit. Comics for me are the most therapeutic thing I can do, often neglected and hard to make a priority. I loved being able draw with her.
In our brief time together, we chatted about Steemit, and other blockchain projects. The market as well. She introduced me to a few Steemian artists I wasn't following, which is always like unearthing diamonds in the rough. I was so impressed with how this captivating elf warrior came to to life on the page. She uses 005 Microns. The same pen I used to use before the iPad Pro came in to being. Absolutely no gesture drawing or shaping of the body, face, etc. Just pen to paper, and instinct. Her approach is so different than my own, it was enlightening to watch. I sketched a little spider inspired demon woman, and we both sipped our coffee.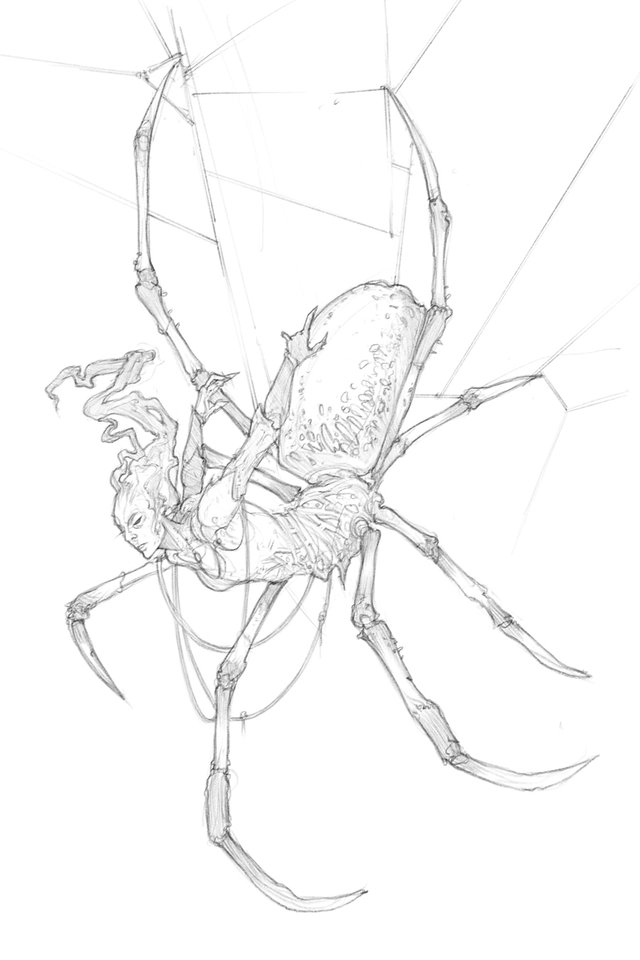 I'm hoping next year, @vermillionfox and I, maybe even @guthrie, can do something bold like visit Melbourne together. Having the chance to see @veryspider and @scrawly, and having a Melbourne Steemit meetup 2.0 would be such a symbolic thing, but for now, I think the symbolism of these two drawings, side by side, brought together by Steemit, is pretty damn meaningful. Thank you @veryspider, for taking the time, and overcoming the obstacles, to hang out with me in a far away place. You're truly a great friend and a cornerstone of Steemit. Thanks for reading! For more art, travel and thoughts on life and Steemit, follow me at @kommienezuspadt.