A lot of my friends from high school and then University were talking about how great scuba-diving is. I didn't have enough money back then, but I knew that I definitely want to try it! The truth is that those courses are rather expensive, but one needs to keep in mind the amount of equipment that is necessary, the location, trainers. So basically it cannot be cheap. 😂
This is why when I heard from some backpacker in Cali that Colombia is a great place do scuba-dive because it is affordable! I've heard that back in 2015 it was one of the cheapest zones in the world, including some countries in Central America like Honduras, Nicaragua, and Guatemala.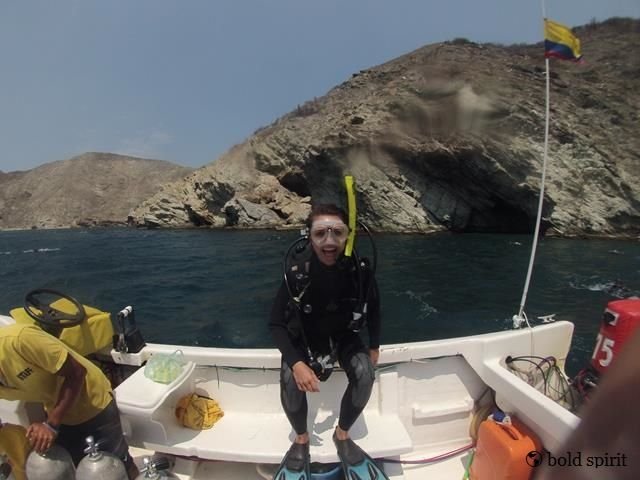 My choice was immediate - I changed my plans for Colombia and decided to go to Santa Marta located on the Caribbean side of Colombia. In one of my previous posts I write more about that.
PADI Open Water Certificate is a certificate designed for people who want to start their adventure with scuba-diving. The first step. Then, if you want more, you can continue as there are more courses available: PADI Advanced Open Water Diver which advances your diving knowledge & skills; PADI Rescue Diver; PADI Specialty Diver; and, once you have logged a minimum of 50 dives, PADI Master Scuba Diver.
Once I got and paid for the course I realized that I didn't consult that idea with any doctor. I guess I already forgot that i had concussion, which could result in drowning if I were not rescued on time from the water because I was unconscious. The story is pretty crazy and a little sad, because I have traveled all the way to Costa Rica in order to learn surfing and I became a "victim" of this stupid accident. Long story short - it happened during my very first day on surfing board! With some people from the surfing camp we were "surfing" on our own (well, pretending to be surfing would be a better description, I guess;). It was super windy that day and I was surrounded by the beginners. No one really paid attention. I was hit at the back of my head by a surfboard. It hurt. I accepted apologies and got back to "surfing". The next thing I remember is that I was surrounded by many people who were asking me strange questions like "do you know where are you?". I was told that I was hit by the board for the second time! I lost my consciousness and stayed in the water for around 20 seconds.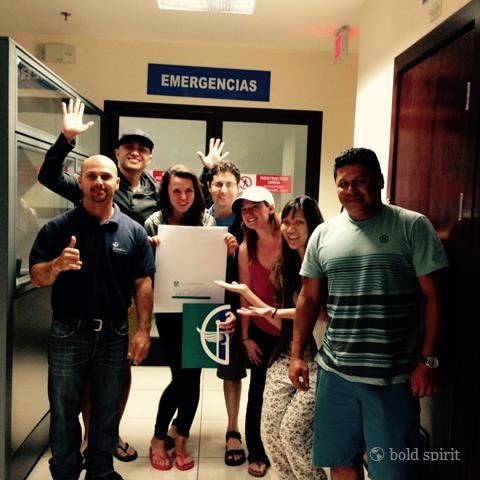 My friends from surfing camp supporting me during medical examination (brain scan included; first and hopefully the last ;))
Fast forward to 6 weeks later, to Santa Marta. I must admit I got a bit scared. And angry with my carefreeness. But once I was already in the boat in the middle of the sea, wearing all the gear I knew there was no way I would back out. 😅 Btw. My mom still doesn't know about that surf accident. So guys, just keep it to yourself, we don't want her to have a heart attack.;) 💛
What about my question from the title - should you or you should not scuba-dive after having a concussion? Well... I still have no idea! ;) But even if you shouldn't, I survived ;) without major brain damages. And the minor ones don't upset me - I'm pretty sure I was born with some kind of disorders and this is how I explain why am I bizarre at times ;) 😅
Thank you for being here with me. I hope until next time!
Pura Vida and enjoy your journey! 💛
Some of my stories and recommendations:
Boldspirit and the death road - la ruta de la muerte - Bolivia # 1 and # 2
A source of inspiration: Gertrude Bell – a female adventurer [#1] and # 2
"It is one of the blessings of old friends that you can afford to be stupid with them". Friendship seen through my eyes.