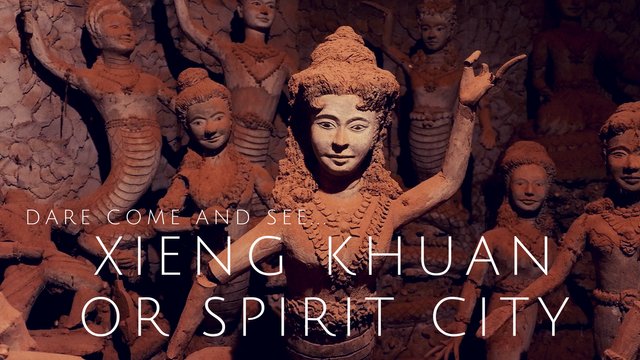 My morning has been already hectic as it is and I hope I can still make it on the train going to Bangkok, Thailand from the Thanaleng Border this afternoon. The morning though was filled with a very pleasant visit to the golden temple Pha That Luang and the Wat Sisaket Temple. A trip to the Xieng Khuan translated as "Spirit City", or famously known as the Buddha Park was still on my itinerary here in Vientiane, Laos. Since it was near the Thanaleng Border, I didn't dare miss it. I finished packing all my stuff right away and left the Lucky Backpackers Hostel by noon time. It was an hour trip going to my new destination so I made sure to have a heavy meal before embarking on the bus.
I went to the Khua Din Bus Station which is located at the back of the Talat Sao Shopping Mall. The lady at the ticketing booth gave me directions as to which bus to take however the place was a bit disorganized. The bus was parked further down the road. Tuktuk drivers coming at me offering a ride. A policeman was standing nearby and I asked for help. He immediately showed me which bus I need to take. I settled inside, paid 6,000 kips for fare and drifted to a nap. And just before you know it, I was dropped off at the entrance of Xieng Khuan. Entrance fee is 15,000 kips. The guys at the entrance booth were kind enough to let me leave my backpack with them. All I could do was trust them rather than carry it with me which would probably make my sightseeing less enjoyable. Of course, I brought the valuable things with me.
So are you excited? Because I am!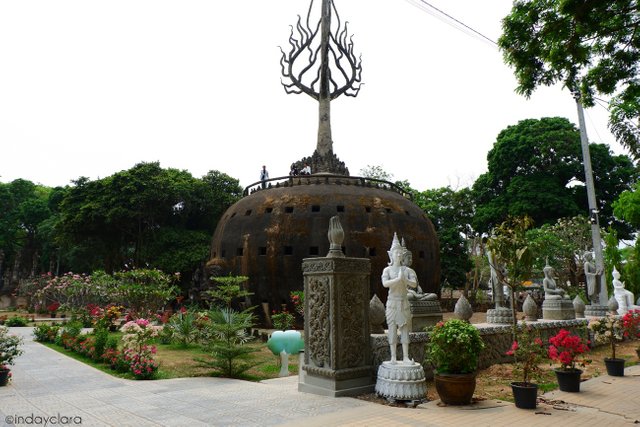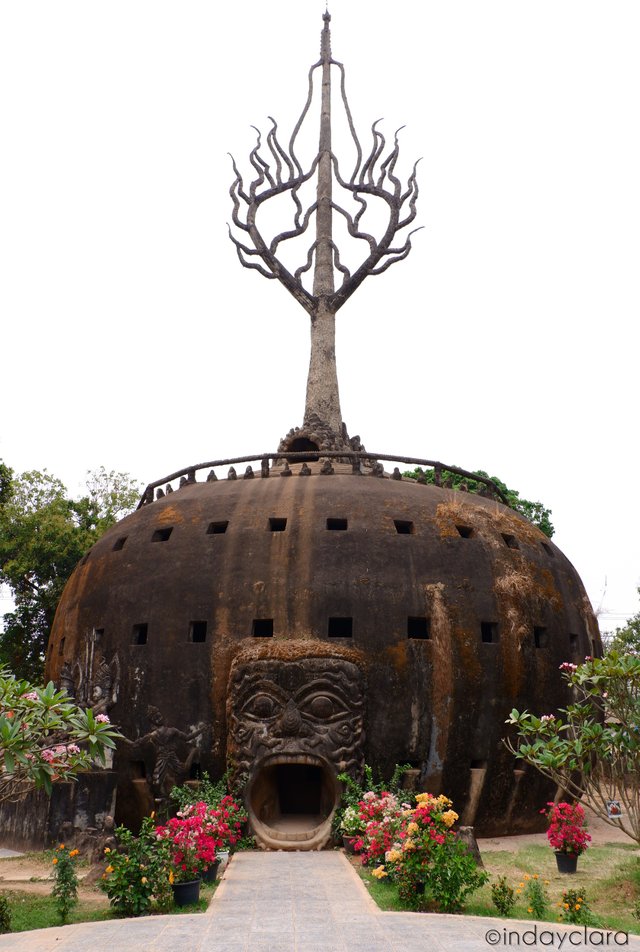 Upon entering, the first thing I noticed was this dome tower despite the beautiful park around. Its rusty color brings about its ancient look. The surrounding plants and flowers make it a less creepy though. I was drawn first to the tower among the other. There was a small entrance in the shape of a creature's mouth. Locals associate this creature with the demon. My first thought was "Will I fit in?". Then I saw a couple emerging from the mouth. "Great! My turn." I confidently told myself.
What intrigued me in coming to Xieng Khuan was because of its so-called "200 menacing-looking statues". And that is the reason why I shall enter this not-so-enticing mouth. Hopefully, it has good breath though. I docked my head and bent my body so low to get in. Right away, I felt a creepy, mysterious energy in the air.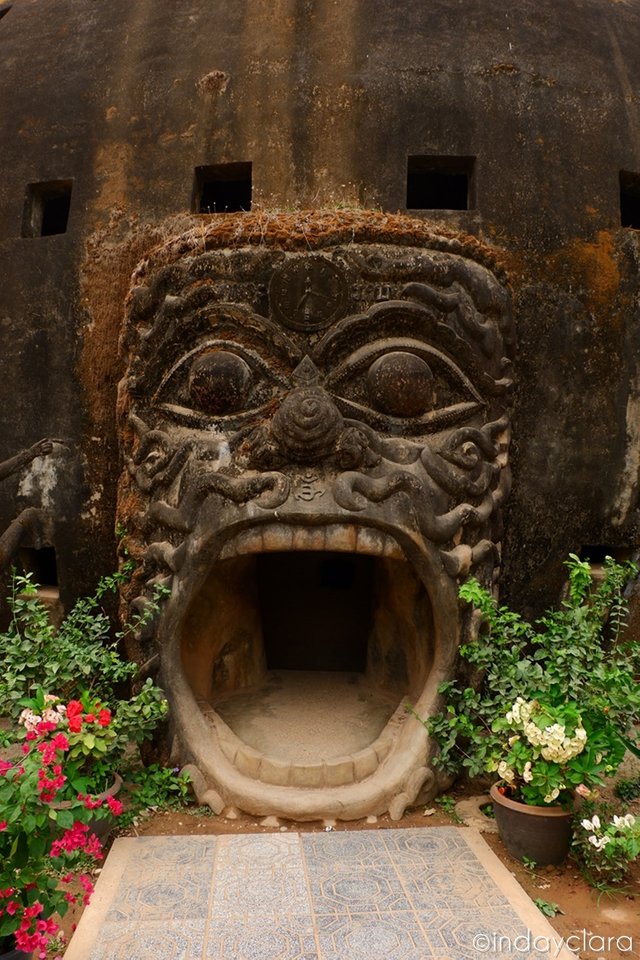 There were three levels inside. Each floor containing clay images of Hindu and Buddhist creatures. Most are already broken or damaged in some way. There were areas inside which are dark. The bottom level gave me goosebumps. I guess what made it more creepy was I was alone. No other visitors but just me. But despite this, I was fascinated by the statues. They are quite nicely made. It wouldn't be that scary if it was not portrayed to be.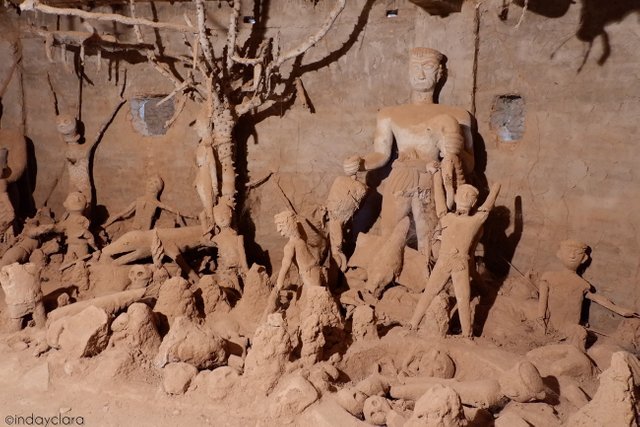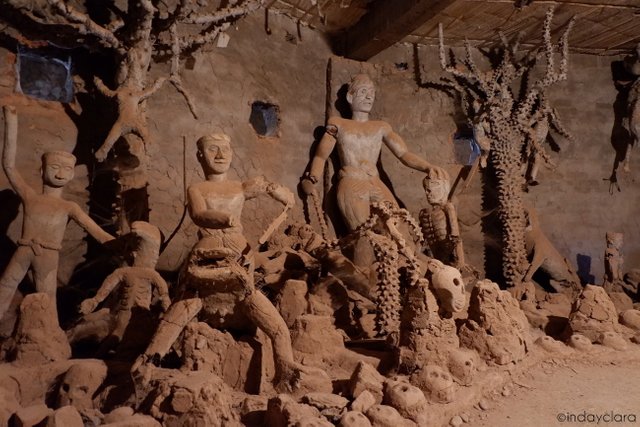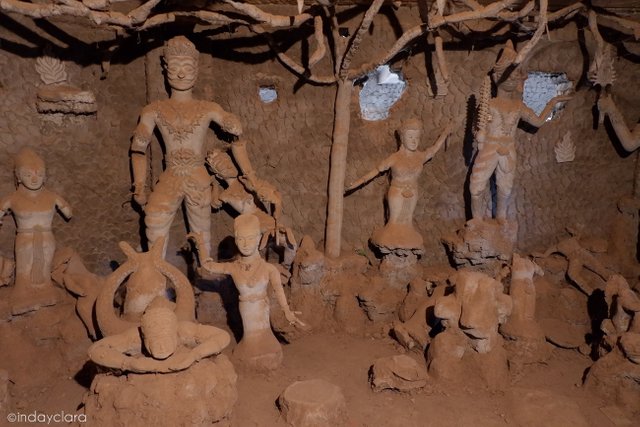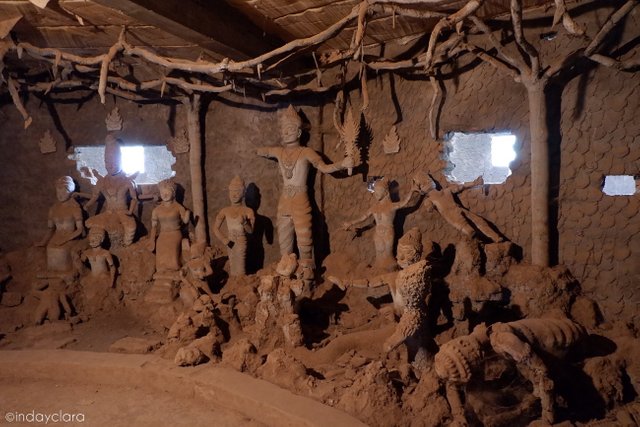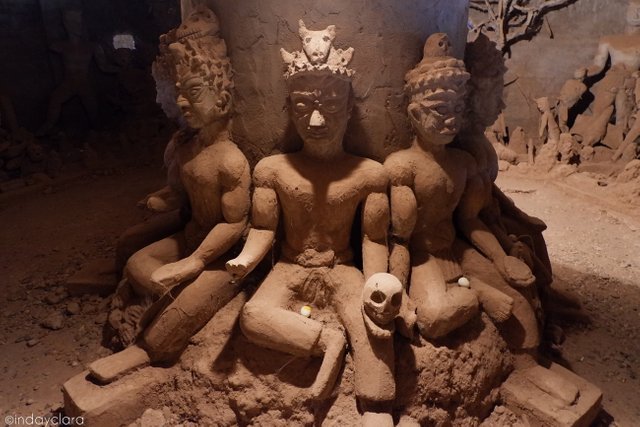 Now, I'm not so sure if those eggs were placed there as an offering. Moving from one floor to the other requires extra caution. The winding stairs in the middle is narrow and there is no railing. Careful with the head too. I bumped mine and almost fell. It would have been a disaster.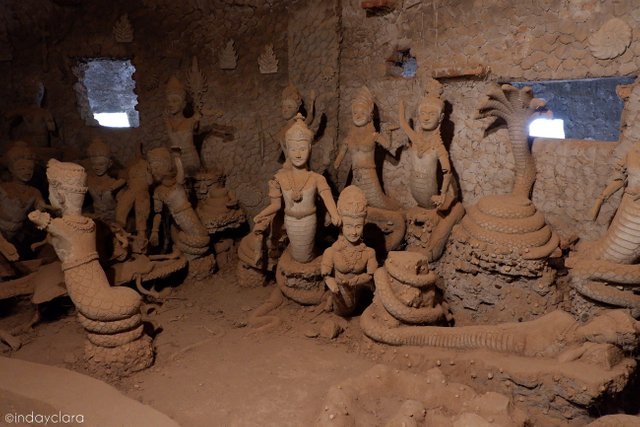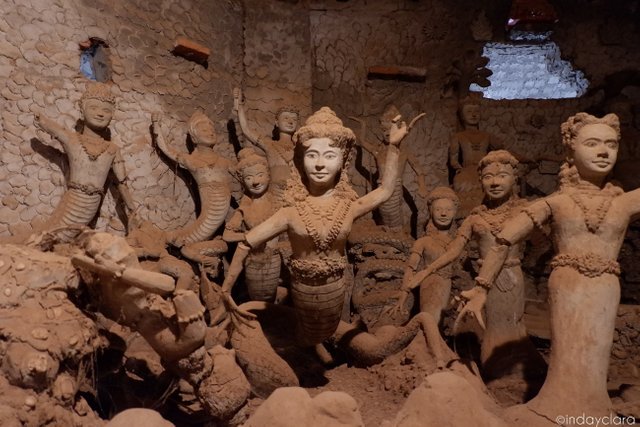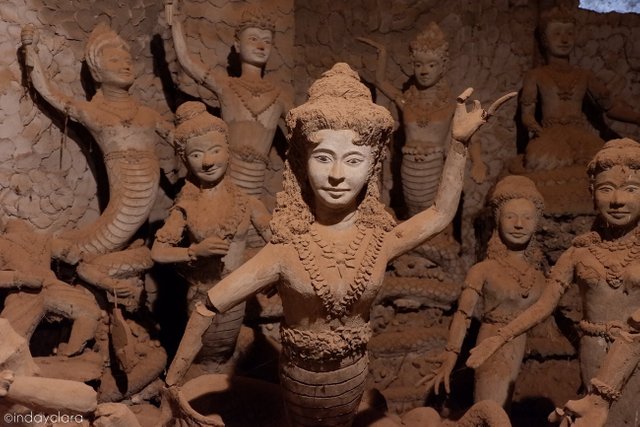 I liked this statue among the rest. She's a beauty. She's probably a queen or goddess. A lot of statues with serpent tails.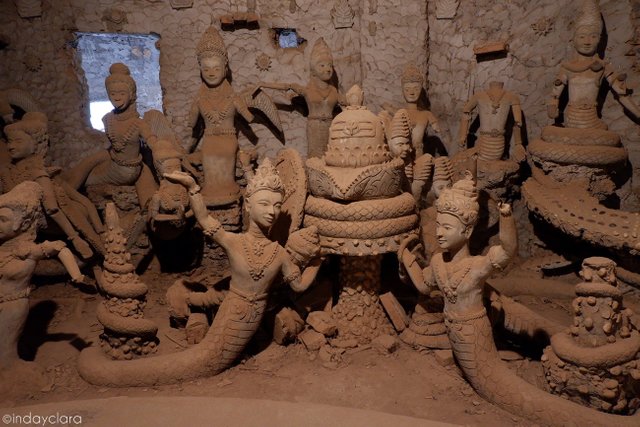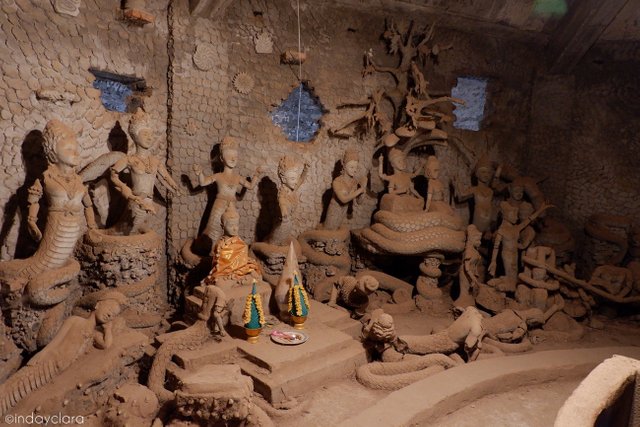 My eerily moments inside with the statues have been memorable. It's now time to see the view from the top. The opening to the roof was smaller compared to the main entrance. This is more challenging. There was no other way but to crawl out! This I don't recommend for big people. But seeing the view from that small opening was just beautiful. I crawled out in a hurry.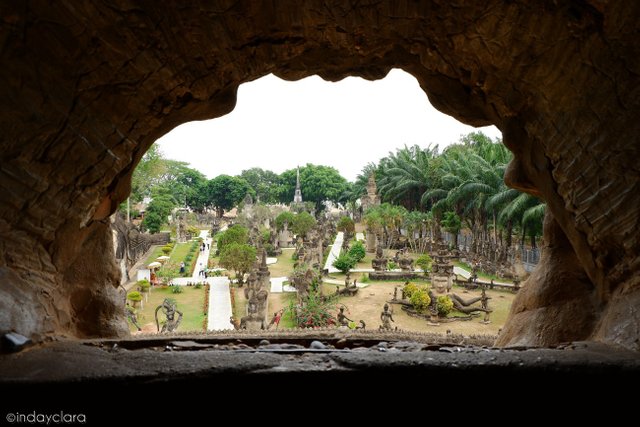 The view from the roof gives you a stunning scenery of the Xieng Khuan park. Not so creepy anymore. I rested a few minutes up here. The heat from the sun was there but the cool breeze softened its blow. This place is definitely unique and huge.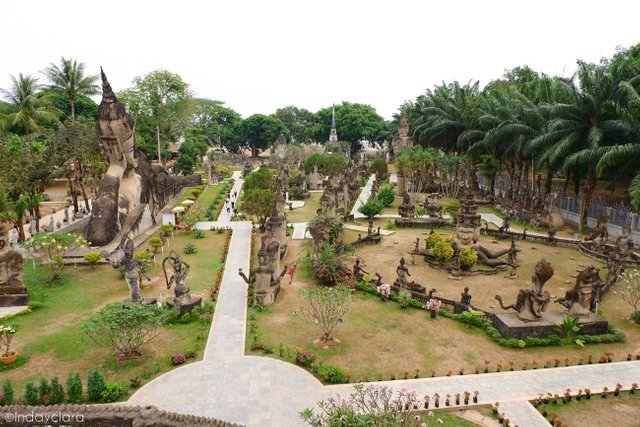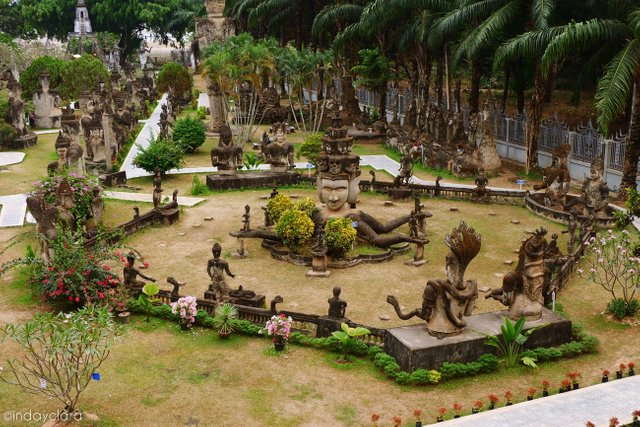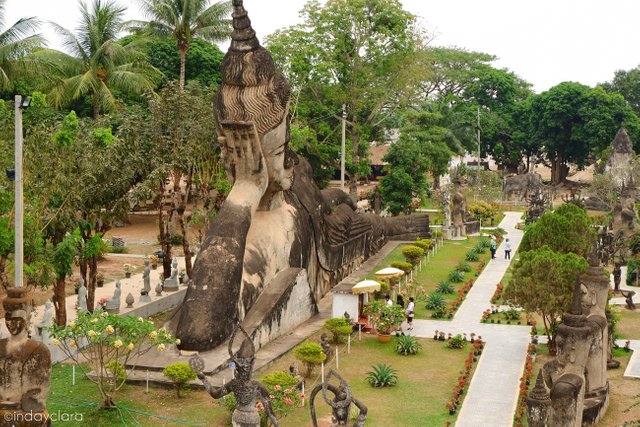 The biggest statue noticeable from above was the 390 foot-long reclining Buddha. This place was built by a shaman named Bunleua Sulilat in 1958. The statues are quite old already. It can be seen with their darkened parts.
Minutes passed by, other tourists emerged from the small opening. The petite people didn't have difficulty, the big ones took their time. It was time for me to check the remaining statues up-close. I backtracked my steps and emerged from the mouth victorious of my quest inside.
I won't further go into details about these Hindu and Buddha images since I'm not knowledgeable about them. But the statues itself really show that there is more to their culture and history which I believe should be shown with curiosity and respect. Anyways, check the photos I've taken and let your imagination fly.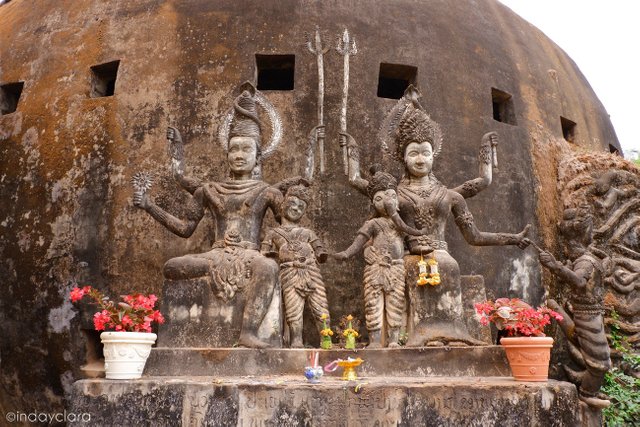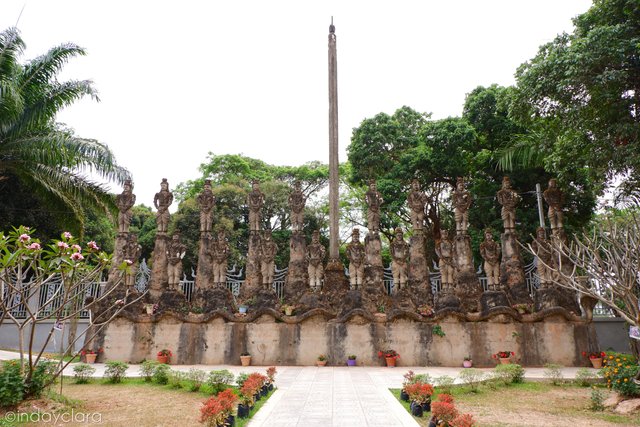 When I saw this(the photo above), I was reminded of the movie Harry Potter Deathly Hallows when Professor McGonagall summoned the armored statues of Hogwarts to life. Similarly, the statues seem to be in a ready formation for battle just waiting to be commanded to come to life.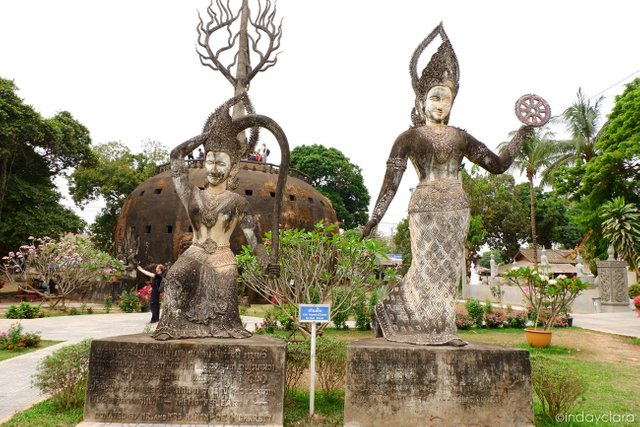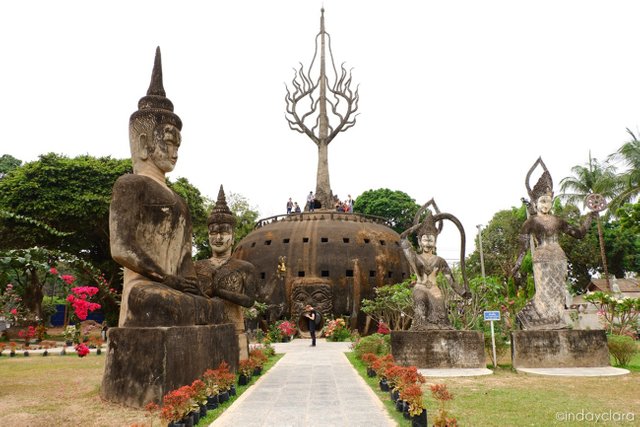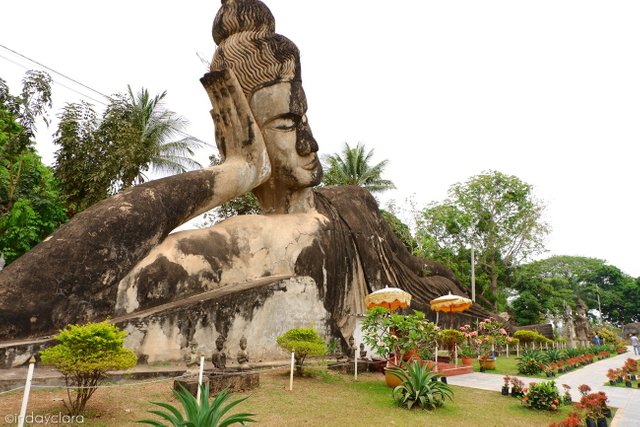 A close up look on the reclining Buddha.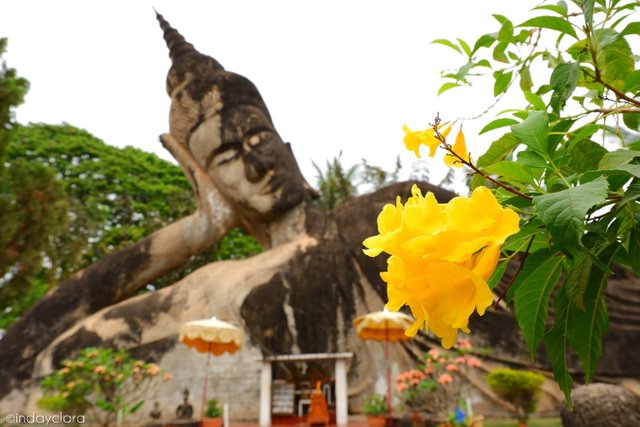 Looks like the Buddha is smelling these beautiful yellow flowers.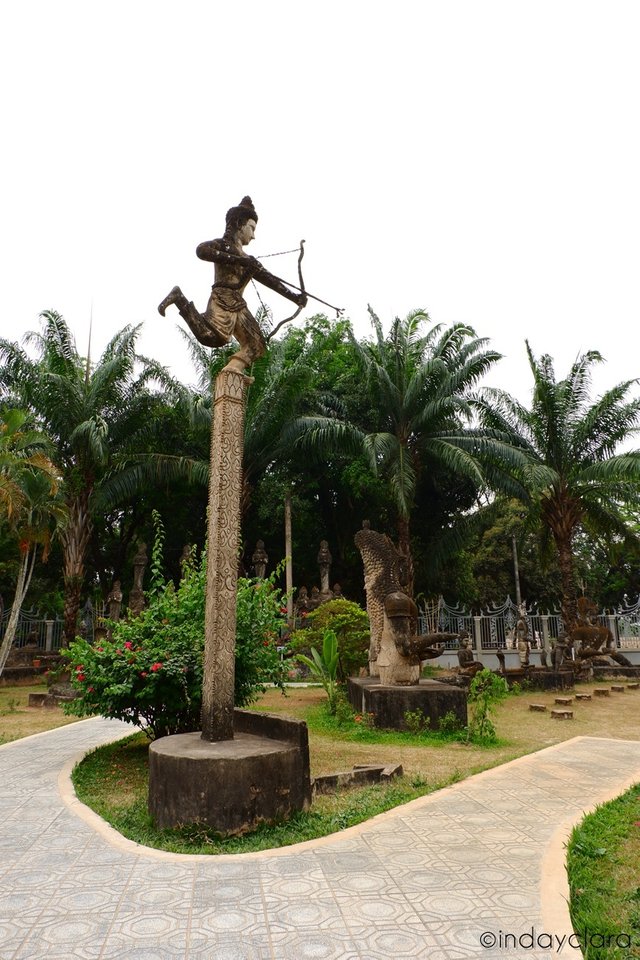 This one looks like its ready to hit someone.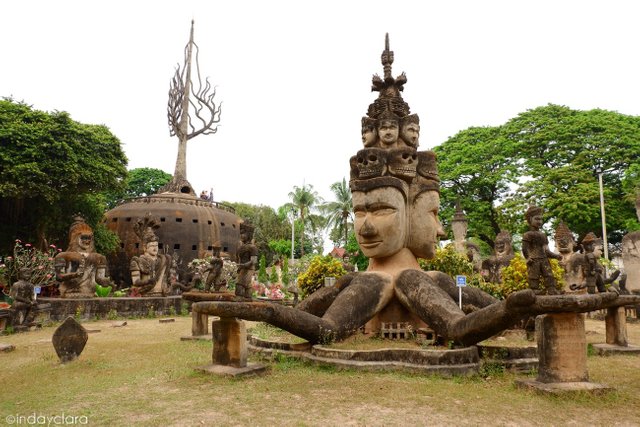 Three heads, Six arms.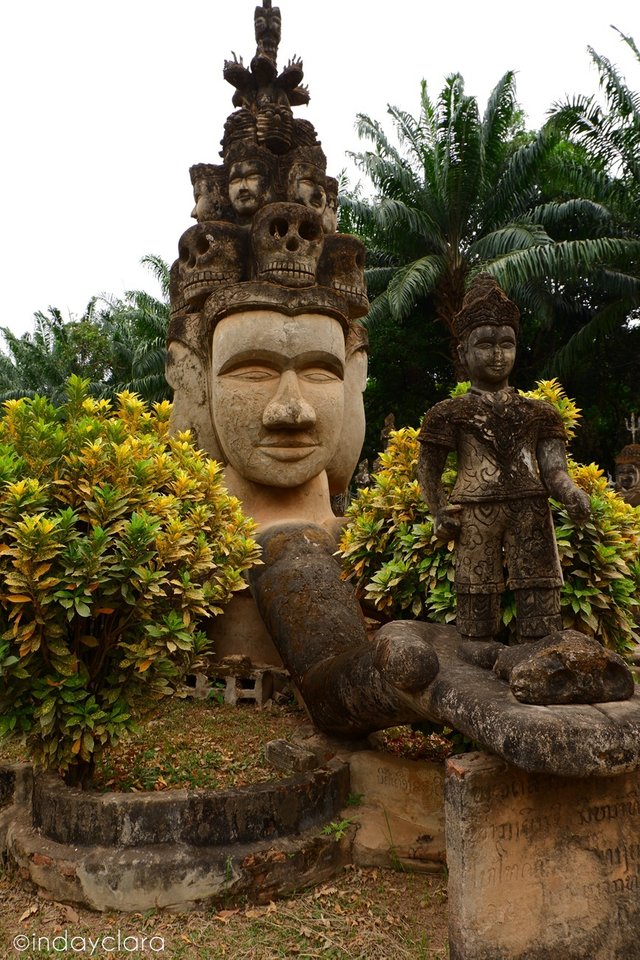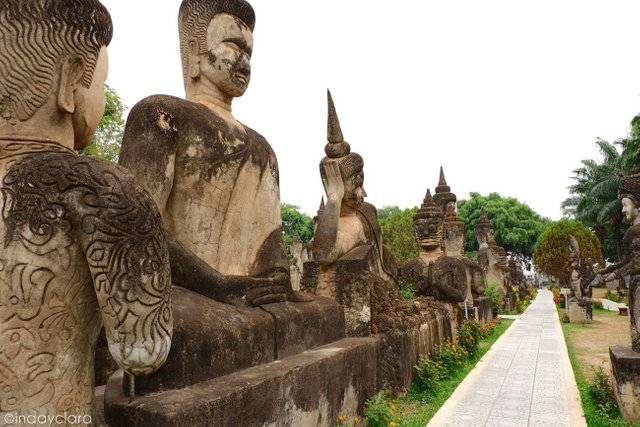 Oh yeah, there is not much shade around so it's better to visit early morning or late afternoon.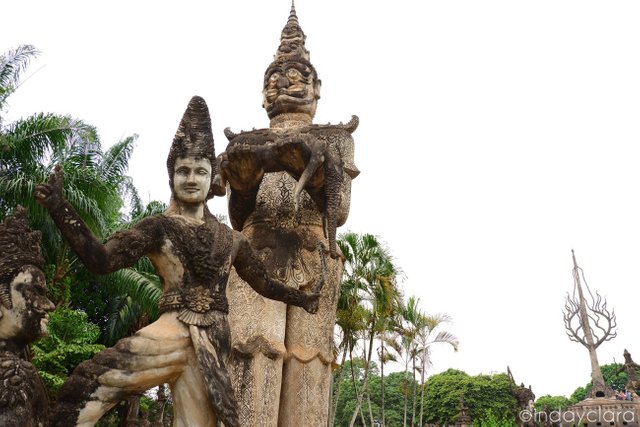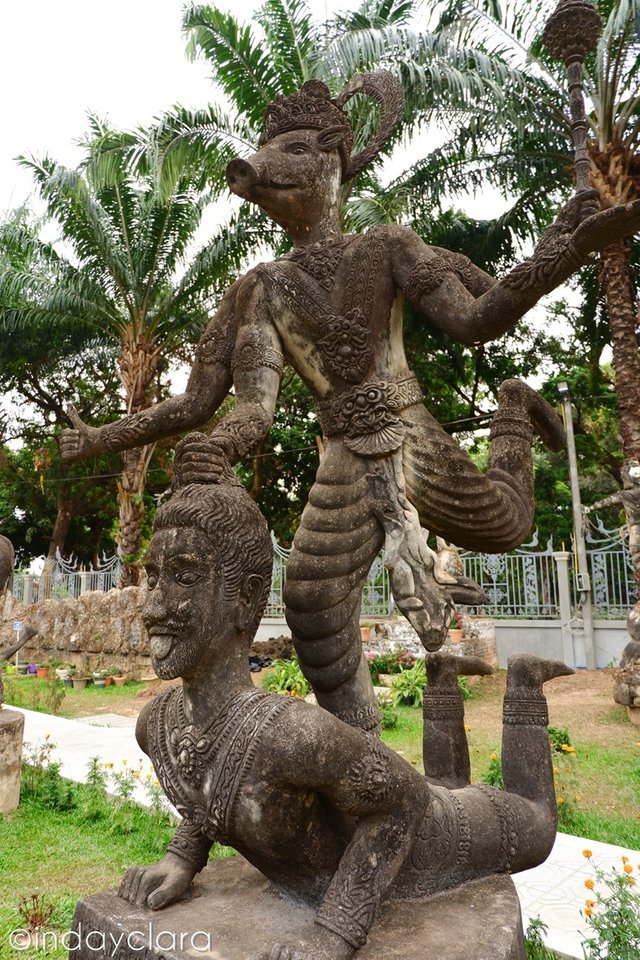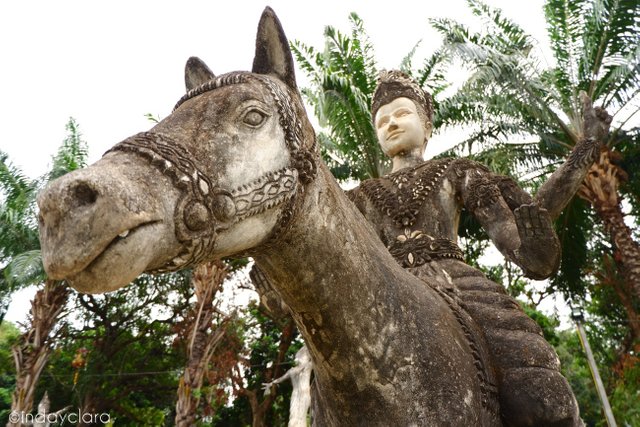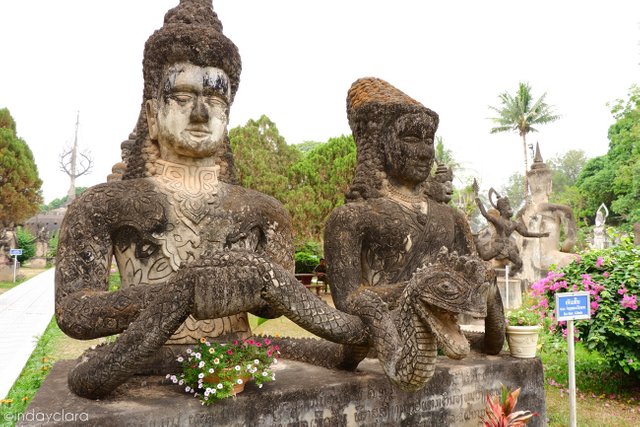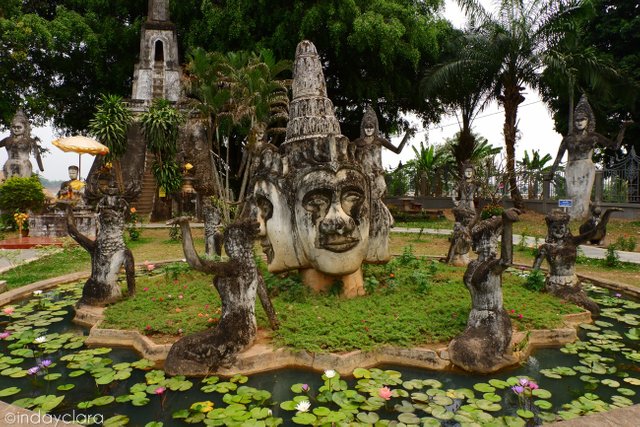 I just love the lotuses in this pond. I took good photos of these colorful plants and will write about it separately.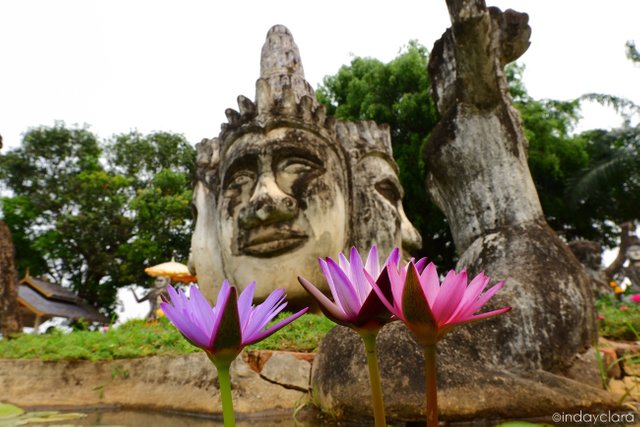 It's smelling the lotuses.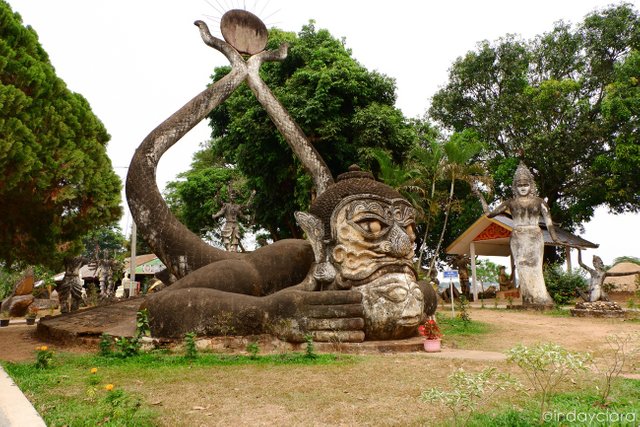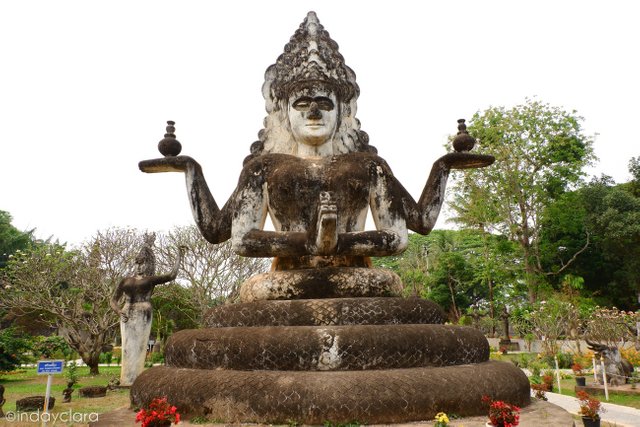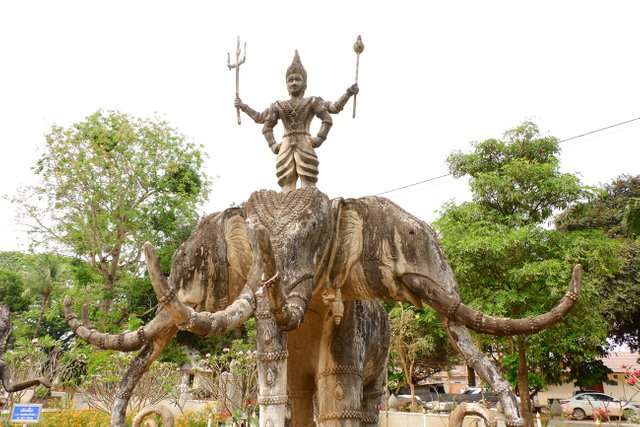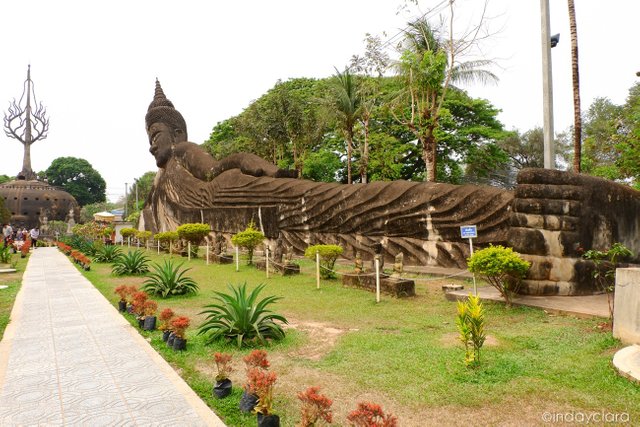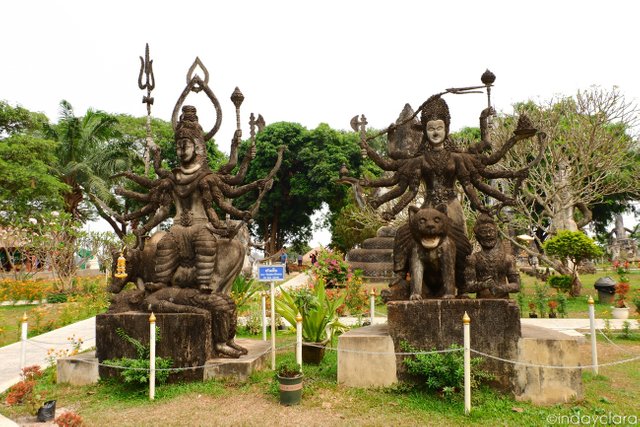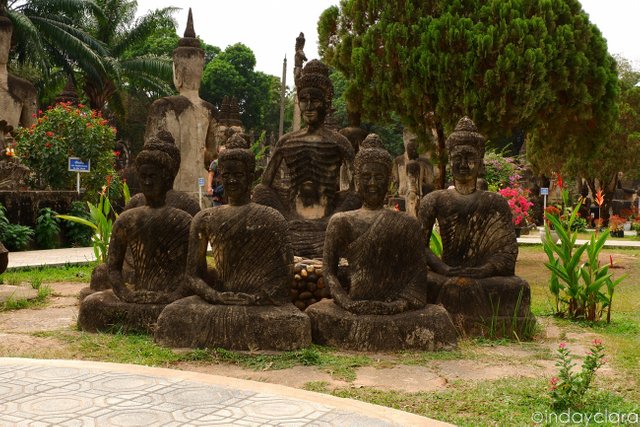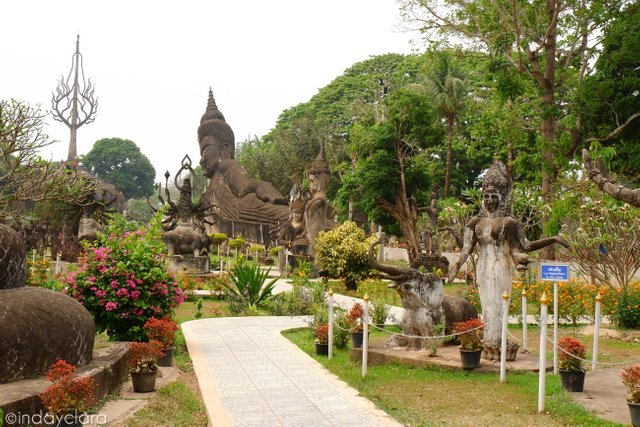 The park was calming and relaxing with the flowers and plants. At the far end, beyond the concrete wall, a man dressed in a glitzy robe was sitting under a tree, playing his flute. He would call on you, pray for you and you are meant to pay a few money. Someone did. I had an amazing time here in the Xieng Khuan. I heard they are building an extension of the park. I would describe this place in two words - creepily beautiful. This wraps up my awesome trip in Laos! Next country - Thailand, baby!
Thank you so much for reading! Stay tuned, Steem on and Always remember...