Unless you're new to my blog, or don't actually read it, you'll know I'm always heading into the remote and outback areas of Australia. I've written about it before including vehicle and trip preparation, safety, health, emergency, recovery, food, navigation, communication, driving and mechanical skills and outback survival. Yep, there's a lot to know and learn.
A four-wheel drive vehicle is also a requirement and, again, I've written about this before as well. But what is a four-wheel drive vehicle and how do they work?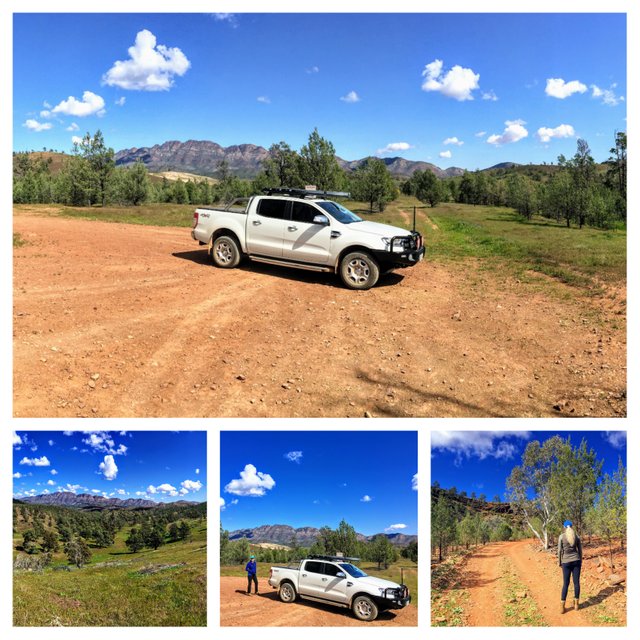 Ok, so firstly I'm not talking about an everyday car with all-wheel-drive vehicle, I'm talking about a genuine off-roader capable of tackling the terrain found in the remote areas of Australia: Sand, mud, rocks, corrugations, steep inclines and declines, water-crossings, snow, scrub and all the other car-busting terrain Australia offers up. (Image - My Ford Ranger pickup and my wife in the Flinders Ranges, South Australia)
How does a four-wheel drive work
To understand that let's first understand how two-wheel drive works:
Power transmits from the engine to the clutch.
Clutch to the gearbox and gearbox to the drive shaft (propeller shaft).
From the drive or propshaft through the differential to the axles.
The axles then rotate the wheels.
And now for the four-wheel drive vehicle:
Engine to clutch and gearbox as above.
Power from the gearbox goes to the transfer case in a part-time 4x4 and a central differential in a constant 4x4 vehicle. (Some 4x4 vehicles are constantly in four-wheel drive such as my Toyota 200 Series Landcruiser).
Part time - When four-wheel drive is selected the transfer case sends power to both the front and back differentials and then the axles and wheels. When in two-wheel drive typically only the rear axle/wheels receives the drive.
Constant - Power is always directed to the front and rear differentials although the power is rarely equally proportioned between front and rear. Engaging the centre differential (diff-lock) divides the power equally front to rear and no matter what, they get the same amount of power.
Typically the transfer case will have two sets of gears/ratios - Even in the constant 4x4 vehicles. They are called high and low range which alters the output ratio and speed. This decreases torque to the drive-wheels in high range and increases it when in low range.
This means the right amount of torque is available at the right time - Terrain dependent. The uses for each is quite complicated and I don't want to get into it here but essentially, if you were going up a very steep incline where the vehicle may be likely to stall low range would be selected to provide more torque and better control. Again, this part of it is very complicated - Driving skills I mean, and I don't want to get into it here.
Advantages of four-wheel drive vehicles
Traction is greatly improved so traversing a wider variety of terrain is achievable.
The larger wheels, tyres and greater ground clearance allows the vehicle to avoid obstructions extreme terrain can present. Improved approach, ramp-over and departure angles on a four-wheel drive vehicle makes overcoming obstacles much easier.
Most good four-wheel drive vehicles are built on a sturdy steel chassis so are much more rigid and have greater strength to take on the rugged and rough country one will find in outback Australia. They also have greater load-carrying ability, essential for the bolt-on accessories and equipment one needs in the outback.
So, there you have it...A very [very] basic explanation on how four-wheel drive works on an off-road vehicle. There are so many more concepts involved which I haven't touched on: Approach, ramp-over and departure angles, axle diff-locks (mechanical, electric and air-activated), tyres and pressures, suspension lifts, body lifts, under-vehicle protection, recovery winches, rock-sliders, performance chips and exhaust systems, secondary diesel filtering systems, long-range fuel tanks, lighting, load carrying, protection bar work and wheel/load carriers, snorkel systems etc. etc. etc. There's a lot involved with off-roading as you can tell and after 25 years or so of doing it I am still learning.
A properly prepared off-road vehicle piloted by a skilful and experienced driver can go virtually anywhere and whilst someone with a stock out of the showroom four-wheel drive vehicle can hit some dirt roads the best spots require a well-prepared four-wheel drive and driver.
---
Design and create your ideal life, don't live it by default
Discord: @galenkp#9209 🇦🇺