Traveling is awesome, exciting, refreshing, mind-expanding.
But you know what it is NOT? 
It ain't an excuse to behave like a fucking asshole! It ain't a reason to act like an ignorant moron. 
But the thing is, most of us, some of the time, are traveling jerks without even realizing it. 
I've recently been pondering a few things about and around travelling, often during discussions with my girlfriend (who is very aware in that regard). Sadly, quite a lot came up after actually observing many ignorant travellers around me - and, to be honest, after reflecting on my own behavior!
THE LOCAL PEOPLE'S REALITY ISN'T A ZOO
If you are traveling to far away and exotic places, chances are, from a global perspective, you are pretty wealthy. This means that many of the places you go to are much poorer and people living in those places live much simpler, non-luxurious lives. 
In fact, this might be one of the main reasons you find these places so exciting. It definitely is for me. Because it's different. Sometimes, it feels even strange, almost surreal.
Walking through towns that lack proper streets, seeing bamboo huts with no electricity, water and proper toilets, observing locals cooking with open fire on primitive stoves in front of their houses, watching children play with a run-down somewhat round piece of leather or cloth that only remotely resembles a football (with lots of imagination) - all of these impressions basically urge you to take pictures. You know, so you can tell your friends at home you've been to super poor places:
"Look at those primitive people and what kind of primitive fucking lives they live! Haha!"
Wait, what? No, I would never do that! Of course, you wouldn't.
But I'm honestly wondering what it says if you walk through this poor town in northern Laos, carrying a $2,000+ camera (which is way more than most people in Laos make in a year) or a $1,000+ phone, and over and over again hold it right in front of the faces of those who, for several hours a day, weave together small bracelets so they can sell them for a Dollar at the local market at night - only to then also having to haggle with tourists for a few cents that can mean the world to them but don't mean shit to the foreigners (more on that in a later post). 
Just so you can have a piece of their daily life as digital memory?
I know, most people don't have bad intentions when they walk around taking pictures of everything that is interesting, astounding, exciting, funny, strange, or weird. 
But the thing is, whatever you view as strange and worth taking a picture of is someone else's reality. It's their daily, ordinary life.
And yes, I dare to say it: very often those are less fortunate lives than those we are given the chance to live.
So how much exactly does you playing Instagram trophy hunter pay tribute to that fact? 
The other day, we (my girlfriend and I) went on a guided hiking tour in northern Laos, together with a group of eight. The group visited this poor village which portrayed itself somewhat like described above. As soon as we got there, everyone pulled out their phones and cameras, ready to take the perfect shot - including myself! 
But only after a few minutes, I started to feel uncomfortable - and I realized my girlfriend had a similar feeling. It felt like we were visiting a human zoo! 
The most disturbing thing, though? The fact that most other members of the group didn't seem to have the same realization - at least judging from their getting up close to almost every little kid, regardless of how obviously shy and even anxious they were, just to take the perfect "shy #hilltribe children #travelphotography" picture.
This went on for the whole duration of the "visit" of the village. Rich westerners shooting everything that reminds them of how less lucky others are (at least that's how it felt). The more primitive, the poorer looking, the better!
It was disgusting.
That said, I don't want to sound too self-righteous here. I'm sure that, from the perspective of locals, I have behaved comparably bad in many situations in the past (and probably still do). Yet, I really had this realization during this specific trip - mainly because of the highly questionable behavior of many other travellers around me.
Now, I'm not saying you shouldn't take pictures. Not at all. I'm just saying you should be extremely careful of and mindful about how you behave when you are in the midst of someone else's reality. Even if, or especially if, this reality is strange and different for yourself. 
I tried to navigate the tension between wanting to have digital memories and not wanting to infringe on the locals' lives in any inappropriate way, by only shooting pictures of the village itself - and of people, only if I was truly welcomed as a guest. Like when I played football with the local school children.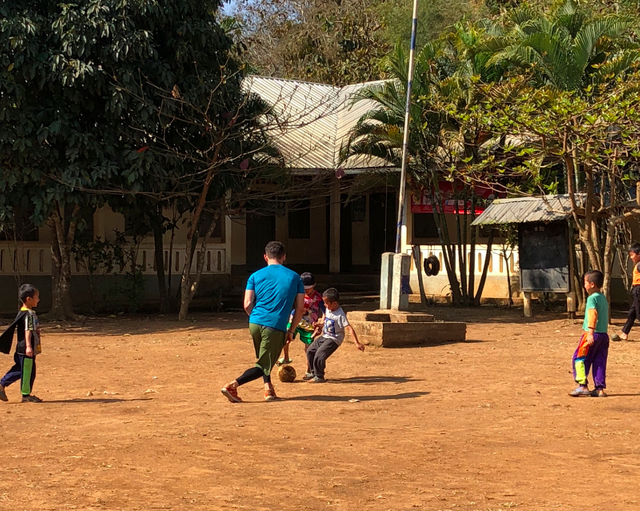 Now, again, I really don't want to play moral justice warrior here. And I do believe that taking pictures can be benign and be appreciated by people, regardless the circumstance. 
But it seems we are quick to lose our sense for basic decency, dignity, and respect - especially when it is most important that we remind ourselves of and get back to those principles.
And this leads to us behaving like complete assholes, ignorant of local culture or even just privacy. And more often than not, we don't realize this. 
Taking pictures of the insides of a run-down shack that people are living in without asking is just not right. You wouldn't take a picture of someone's bedroom through an open window at home, would you? 
It's also not right to run up to monks during the morning alms giving ceremony ("Tak Bat"), taking close-ups with a flash. Neither is making stupid poses next to them so your friend can take a funny picture. Just because they don't punch you in the face doesn't mean they appreciate it - being a Buddhist monk somehow just doesn't allow them to do that (unfortunately).
Generally speaking, it seems to me that we ought to think a bit more, especially before we interact with the subjectively different and strange realities we commonly find ourselves in when travelling. 
We would expect that from visitors in our country, too!
---
This is my first full-fledge post on Steemit. If you like to know more of who I am, check out my honest #introduceyourself post
--- 
Resteems, comments and discussion welcome! 
If you disagree with my views, please tell me and never hesitate to drop a critical comment :) 
I truly appreciate an open exchange of ideas and points of view!