😎 Andalusian views (38) | Andalusische Blickwinkel (38) | Perspectivas andaluzas (38) 😍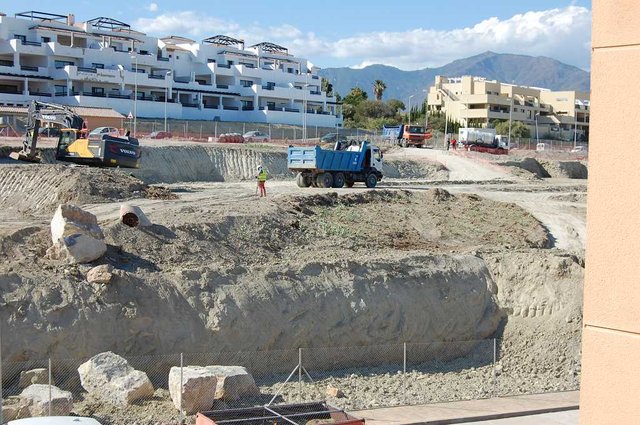 Today you can convince yourselves of the progress on the building site in front of the door, the boys have moved earth quite strongly, and what shall I say also a lot of stones as you can see at one of the pictures.
Obelix would surely have had his true joy at such a lovely playground.
The stones are used here in contrast to the methods in Germany as a replacement for the concreted fastening walls and that in fact unconcreted! They are piled up with the big excavator and only filled dry with the existing material, and behind it a layer of fine gravel is put the whole wall is extremely stable and absolutely flood-proof because the water can flow off at the gaps more or less without hindrance. Later, lots of plants will grow in the gaps.
I hope you like the pictures even without a lot of sunshine and hopefully we'll see you soon again in our blog.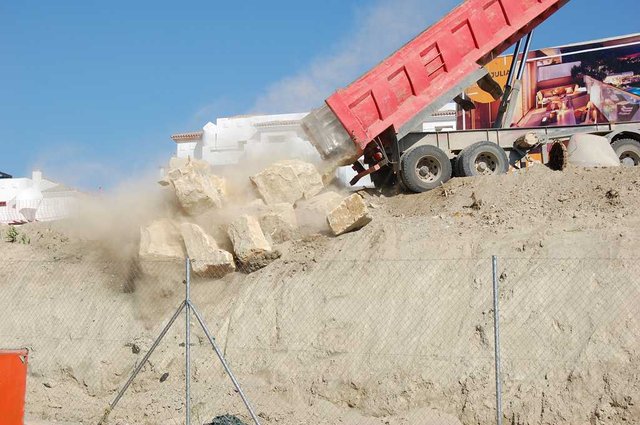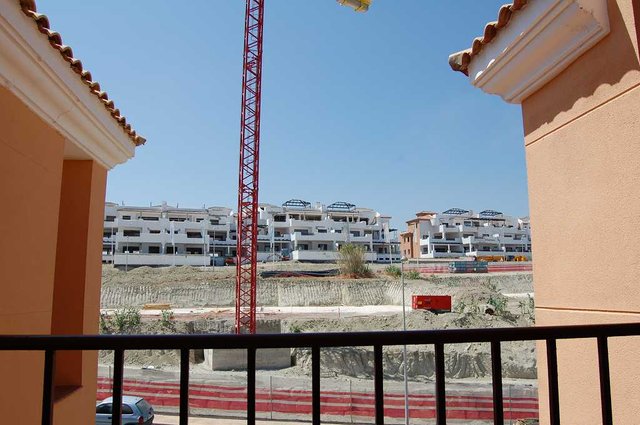 Heute könnt ihr euch von den Fortschritten auf der Baustelle vor der Tür überzeugen, die Jungs haben ganz kräftig Erde bewegt, und was soll ich sagen auch jede Menge Steine wie ihr auf dem einen Bild sehen könnt.
Der Obelix hätte sicherlich seine wahre Freude daran gehabt an so einem Spielplatz.
Die Steine werden hier im Gegensatz zu den Methoden in Deutschland als Ersatz für die betonierten Befestigungswände eingesetzt und zwar unbetoniert ! Die werden mit dem großen Bagger aufgeschichtet und nur mit dem vorhandenen Material trocken verfüllt, und dahinter wird eine Schicht aus feinem Kies gelegt das ganze ist extrem stabil und absolut Überschwemmungssicher weil das Wasser an den Zwischenräumen mehr oder weniger ungehindert abfließen kann. Später wachsen dann jede Menge Pflanzen in den Zwischenräumen.
Ich hoffe die Aufnahmen gefallen euch auch ohne viel Sonne und wir sehen uns hoffentlich bald wieder in unserem Blog.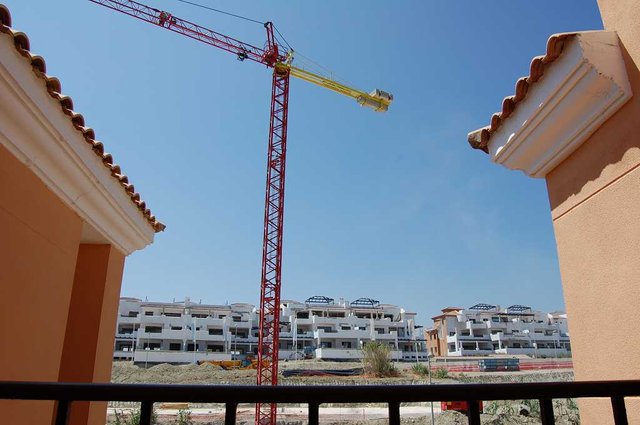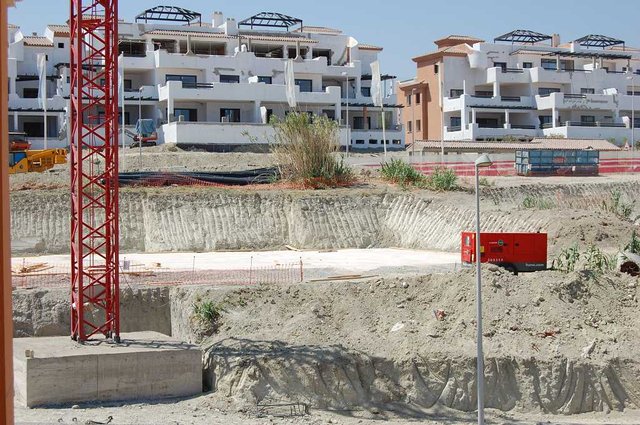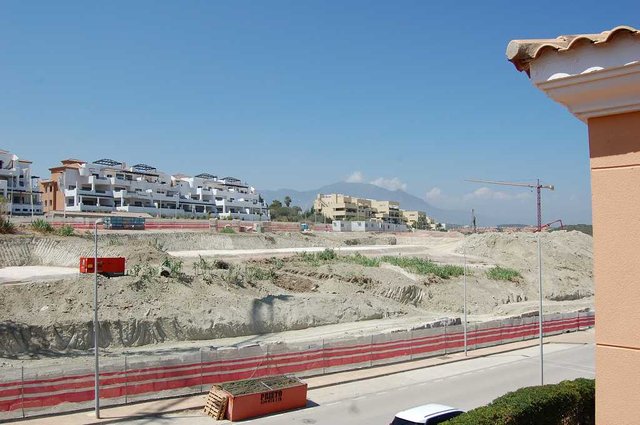 Hoy podéis convenceros del progreso en la obra enfrente de la puerta, los chicos han movido la tierra con bastante fuerza, y qué diré también de un montón de piedras como podéis ver en una de las fotos.
El Obélix seguramente habría tenido su verdadera alegría en un patio de recreo así.
Las piedras se utilizan aquí en contraste con los métodos en Alemania como un sustituto de los muros de fijación hormigonados y, sin duda, sin hormigón! Se apilan con la gran excavadora y sólo se llenan en seco con el material existente, y detrás de ella se coloca una capa de grava fina, el conjunto es extremadamente estable y absolutamente a prueba de inundaciones, ya que el agua puede fluir por los huecos más o menos sin impedimentos. Más tarde, muchas plantas crecerán en los huecos.
Espero que os gusten las fotos aunque no haya mucho sol y esperamos volver a veros pronto en nuestro blog.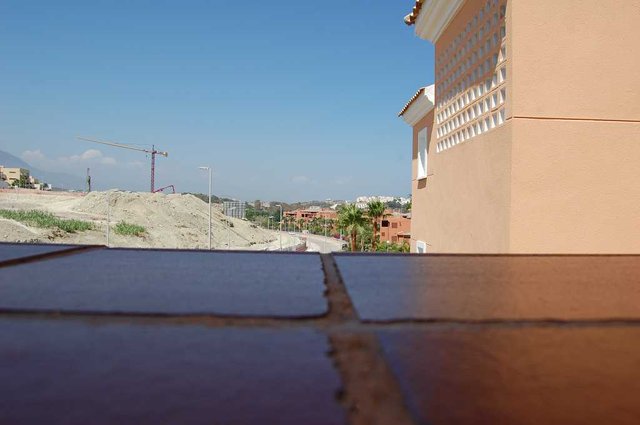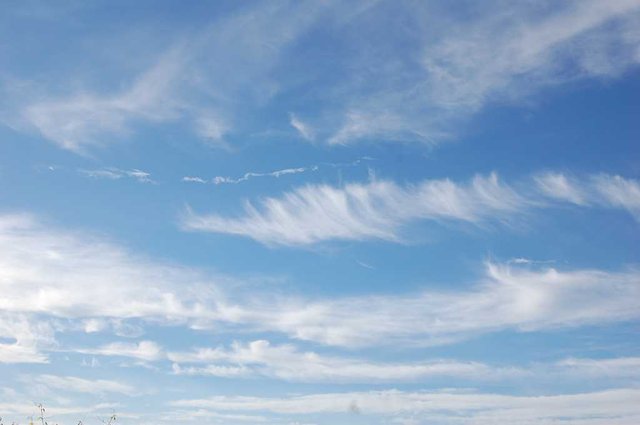 Alle Fotos im Post wurden von Don Thomas aufgenommen oder wurden der Agentur zur Verfügung gestellt und liegen genau wie die Grafiken unter Copyright der HR-Group | all pictures in the post are taken by Don Thomas or granted to the agency and coming like all graphical art works under the copyrigth of HR-Group (Parts of the text was possibly translated with www.DeepL.com/Translator)


😎 Sonnige Grüße aus Andalusien | sunny greetings from Andalusia | con saludos soleados desde Andalucía 😎
Don Thomas
Mitglied und Kurator im German-Steem-Bootcamp
If you like this post, don't forget to upvote, comment and resteem it. Also make sure to follow @don-thomas to stay updated about future posts.


Latest posts | letzte Beiträge | últimas publicaciones




HOME in ANDALUCIA | zur Facebook Seite | SteemWiki-Seite




register with Steemfollower
to benefit from upvoting with power instead of -0-