Last February, from Lisbon, I went on an 11 hour trip to Maputo, the capital of Mozambique, a country that borders South Africa, Malawi, Zimbabwe, Zambia, Swaziland and Tanzania along the Indian Ocean. Why? Because I found a return ticket with TAAG (Angolan national airline) for 164€. How is this a deal? Well, checking Skyscanner and Kayak for the cheapest return ticket possible on the same route I got a price of 538€, that is to say 3 times as much!! With TAAG it prices at 591€, 427€ more euros than what I paid!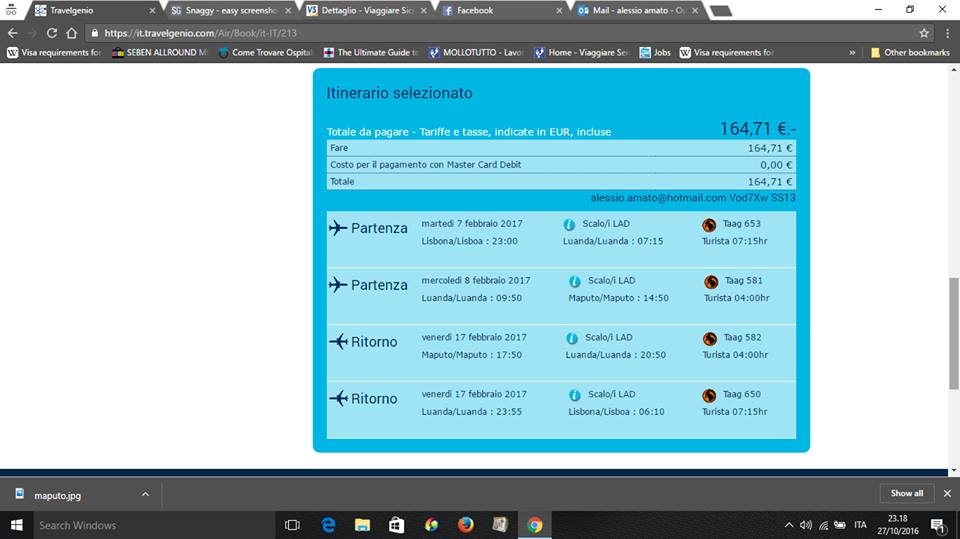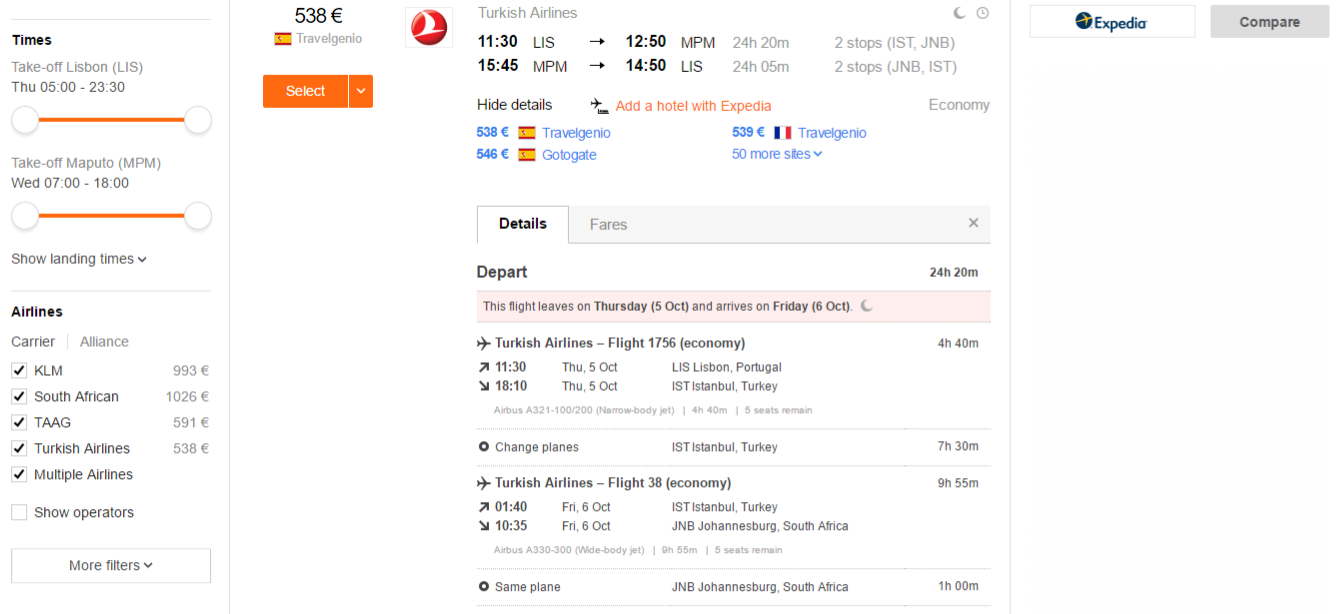 Now, as I have grabbed your attention, I would like to share with you some of the best links, tips and tricks to get your dream flight! Some of those are really easy to achieve, some others (fuel dumping anyone?) not so much. To gain this knowledge, I have travelled extensively for 3 years, giving presentations in Amsterdam (Netherlands) and Las Palmas (Canary Islands, Spain) about my travels and also applying to work for Fly4Free, one of the leading error fare sites out there. Some links may not feature a hyperlink, so just copy and paste them to your search bar. If you like this post, please upvote it, follow it, and/or resteem it!
SUBSCRIBE TO THE ERROR FARE WEBSITES
Often, the best deals end up on Facebook pages that talk about cheap flights. Sure, they have websites, but if you're on Facebook it's much more likely that you'll see a great deal there before refreshing manually your browser. I personally use Fly4Free, Secret Flying and Travel Free. The first two feature global deals whereas Travel Free has cheap flights departing from Europe, especially from the Baltic countries (Lithuania, Latvia and Estonia). If you live in North America, then Airfare Watchdog is the one for you. They also have a section called 50 fares where the users themselves post the lowest fares, all quoted in US Dollars.
USE FLIGHT SEARCH ENGINES
Just like Google and Bing are search engines for everything that is on the "clear web", there are equivalent sites that track down the cheapest flights to any destination and save you a lot of time and money. If I have to look up for a flight, I personally use Skyscanner, where you can find flights from a country or airport of your choice to anywhere in the world ( just leave the section to blank) from today for a whole year ( click on Cheapest Month in the date section). Once I track down the flight that I want to buy, I will normally either book the flight right away (if it's an error fare), go on the website of the airline company (if I want peace of mind and if it's a legit offer) or go to Kayak.
Kayak has the Explore section, where you can see the cheapest flights from the airport of your choice on a map, so you have no excuse that you don't know where you're going! For European users, I recommend you subscribe to Kayak.eu. Why? Because it compares prices researching 5 national versions of Kayak ( France, Germany, Ireland, Italy and Spain), guaranteeing you will find a cheaper price than the one you just discovered.
Other great sites for looking up cheap flights are Momondo and Google Flights. If you want to try Google Flights, here is a link teaching you how to use it step by step HERE . If you want to use Kiwi, check out this guide HERE
(THIS LAST PARAGRAPH DOES NOT INVITE ANYONE TO PRACTICE FUEL DUMPING. IF YOU GET CAUGHT, THERE IS A RISK THE AIRLINE WILL CANCEL YOUR TICKET AND BAN YOU FROM THEIR FLIGHTS).
Fuel dumping is not something immediate to comprehend. This is why you will find a link that explains this in detail HERE. To be brief, fuel dumping consists of booking flights in a way that the fuel surcharges, which can make up the majority of a ticket's price, lower or disappear completely. To find out how much taxes you pay, compared to the base fare, on a specific flight then you should look up Google's ITA Matrix
FIND THE RIGHT TIME TO BOOK AND BE FLEXIBLE
As obvious as this may sound, the more you are flexible about your dates, the higher the chance of finding cheap flights. It is also best to leave at certain times considered low season by the airline industry, such as November and January in Europe. Booking too early or too late are an automatic guarantee you will pay more than expected. I found this article that is very detailed about when should you book and it's very helpful, especially for USA users. If you're from the UK, this link will be heaven and if you're Italian, just like me, this article tells you everything about Il Bel Paese's fares .
USE INCOGNITO MODE
Airlines, if you keep on trying to find the cheapest tickets, will dramatically raise prices, because they know you want to buy it. How do you get around this? By using incognito mode, so that you don't leave cookies and the price stays low.
DISCOVER WHICH AIRLINES SERVE YOUR DESTINATION
Passengers all over Europe learned about Norwegian when it began proposing summer flights to secondary airports of New York and Boston (Newburgh and Providence) from Ireland, the UK and Norway for 167€ return. Okay, you can only bring hand luggage but you will not find a better fare than that one! Besides flights from several European destinations to the US, they also have cheap flights from Scandinavia (Copenhagen, Oslo and Stockholm) to Thailand and there will soon be a London Gatwick-Singapore.
This paragraph was to state that you have to know if there are any low-cost airlines flying to the destination of your choice, as flying to another country then taking that flight will often be cheaper than booking it directly from your home country. All the examples will be of flights departing Europe. If I wanted to go to Dubai, I would get a Wizzair from Bulgaria (Sofia), Hungary (Budapest), Poland (Katowice) and Romania (Cluj-Napoca and Bucharest)to the secondary airport Al-Maktoum. If I want to go to Dominican Republic, I will get a flight to Punta Cana from Spain (Barcelona). If I really want to head to Singapore, I would book a Scoot flight from Greece (Athens). If you are interested, I could start a series of articles about low-cost airlines departing each European country, as writing it here would occupy too much space.
USE FREQUENT FLYER CARDS
You have to know that there are three main airline alliances out there: Star Alliance, SkyTeam and Oneworld. The advantage of having an alliance is that, if you book with an airline, you will get rewarded even if you have the card of another airline in the same alliance. The best thing is, though, that some airlines who aren't in an alliance can still reward you points if you book with them. These points can be used for redeeming almost free flights (you pay just the taxes) and upgrading to business class, among other perks. To give you a brief idea of who is in these alliances (for a complete list, it's easy to Google it), Star Alliance features Lufthansa, Turkish Airlines and United Airlines, SkyTeam has Air France, Delta Air Lines and KLM whereas Oneworld includes American Airlines, British Airways and Qatar Airways.
If you want to head to a forum that is very dedicated to the airline industry, subscribe to Flyertalk. For US based members, this is a great article that gives advice about this topic.