Best Trip Ever #4: Everything you need to know about Gili Islands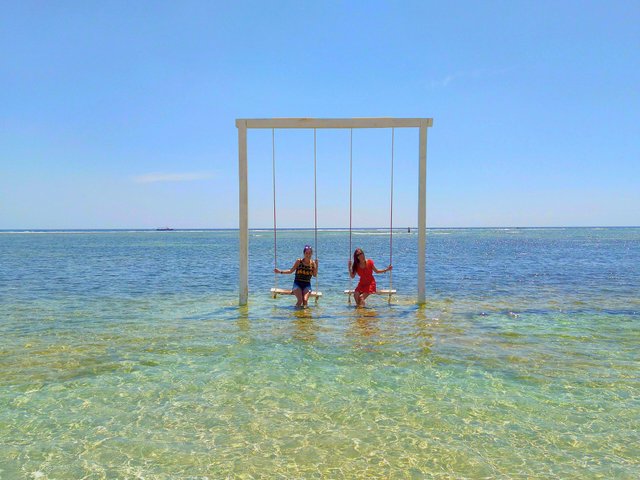 Coral reefs, turtles, Nemo and none motor vehicles – it's a paradise on Earth. Gili islands don't disappoint even the most fastidious travelers. All the three of the islands are super relaxed and if you traveling to Indonesia it is a must to visit them.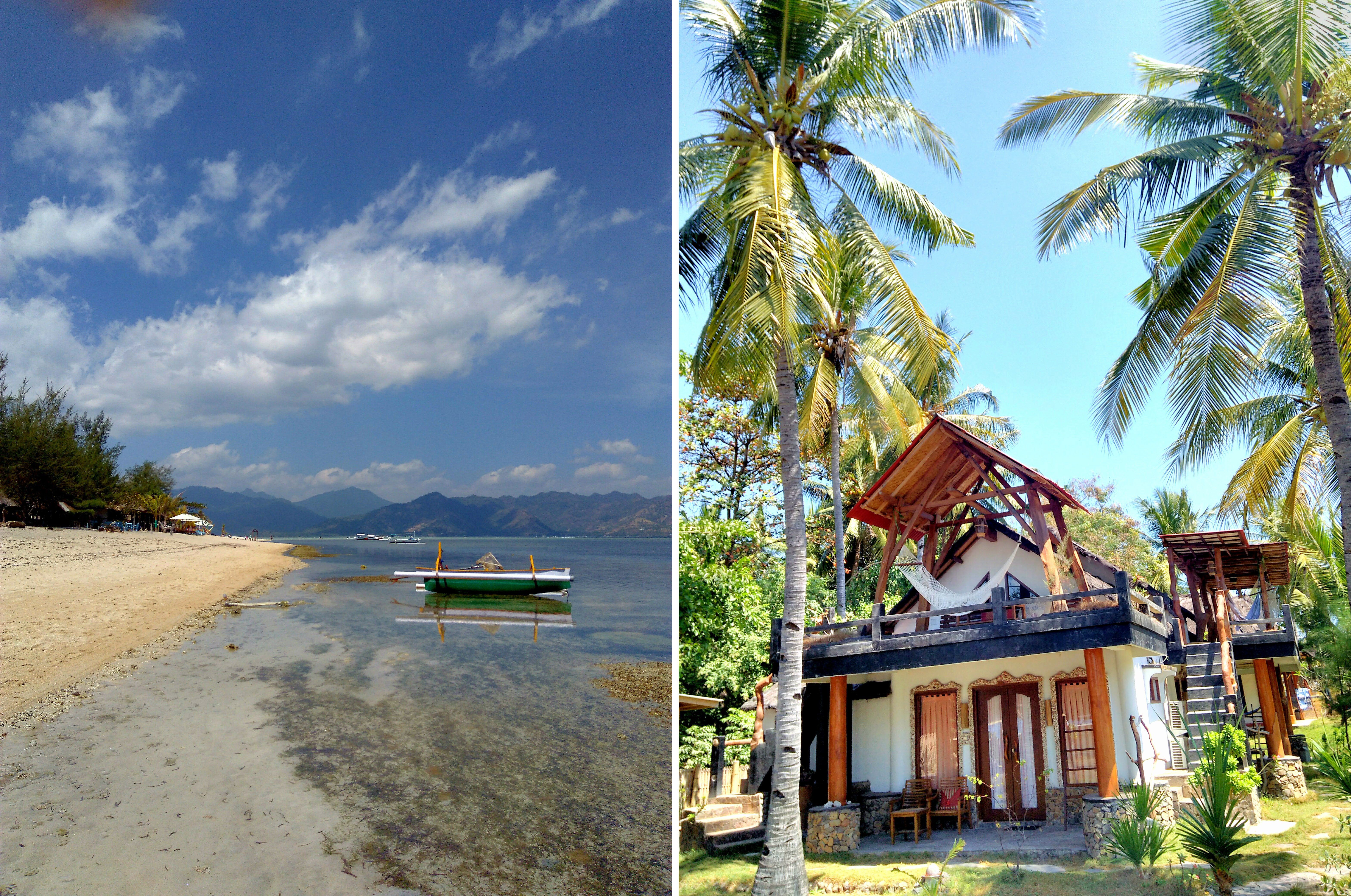 How to get there
If you are traveling from Bali to Gilis there are few options. All the boats traveling to the islands start from Padang Bay, on west-north of Bali. To get to the bay it's quite an adventure, but there is a bus which can take you for about 3-4 euros (50000IDR) from Denpasar's east bus station. Once you are there you can choose public transportation – ferry traveling to Lombok and then transfer to the other port Bangsal on the north of Lombok. The ferry is very cheap around 3 euros and the boat from Bangsal to some of the Gilis is also less than 2 euros. The problem is the transport between the two ports on Lombok. Once you exit the ferry it will be very hard to find good transportation in terms of price. Knowing that there is no other way for you to travel local taxi mafia will try to convince you to go on a very expensive journey to the other port. That's why there is another option, which is also not so time-consuming. There are fast boats which go from Padang Bay directly to the Gilis. They are of course more expensive, but you can get a pretty good price for the ticket. I got a one-way ticket for 12 euro (180000IDR). Once you are on some of the islands you can hop from one to another for just a few more euros.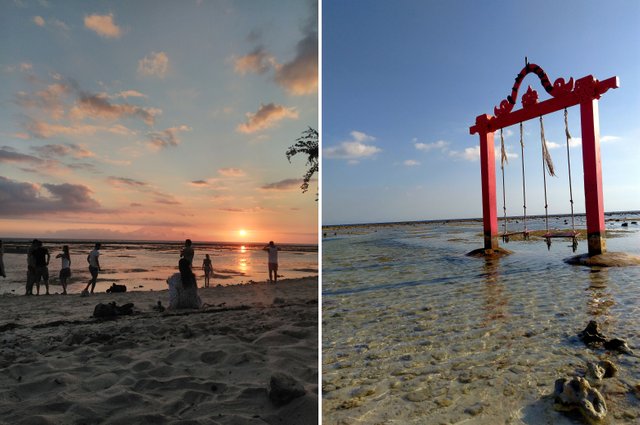 Which one to choose
The information that you will find on the Internet is saying that Trawangan (Gili T) is the party island, Meno is the island for honeymoon and couples, Air is the more relaxed one. I will have to agree that Trawangan is the party island. It is also the biggest one and it has a small hill where you can climb for the sunset. It has food market once it gets dark and it is pretty good one – cheap and delicious. So, if you would like to enjoy a few nights of partying on the beach, go there.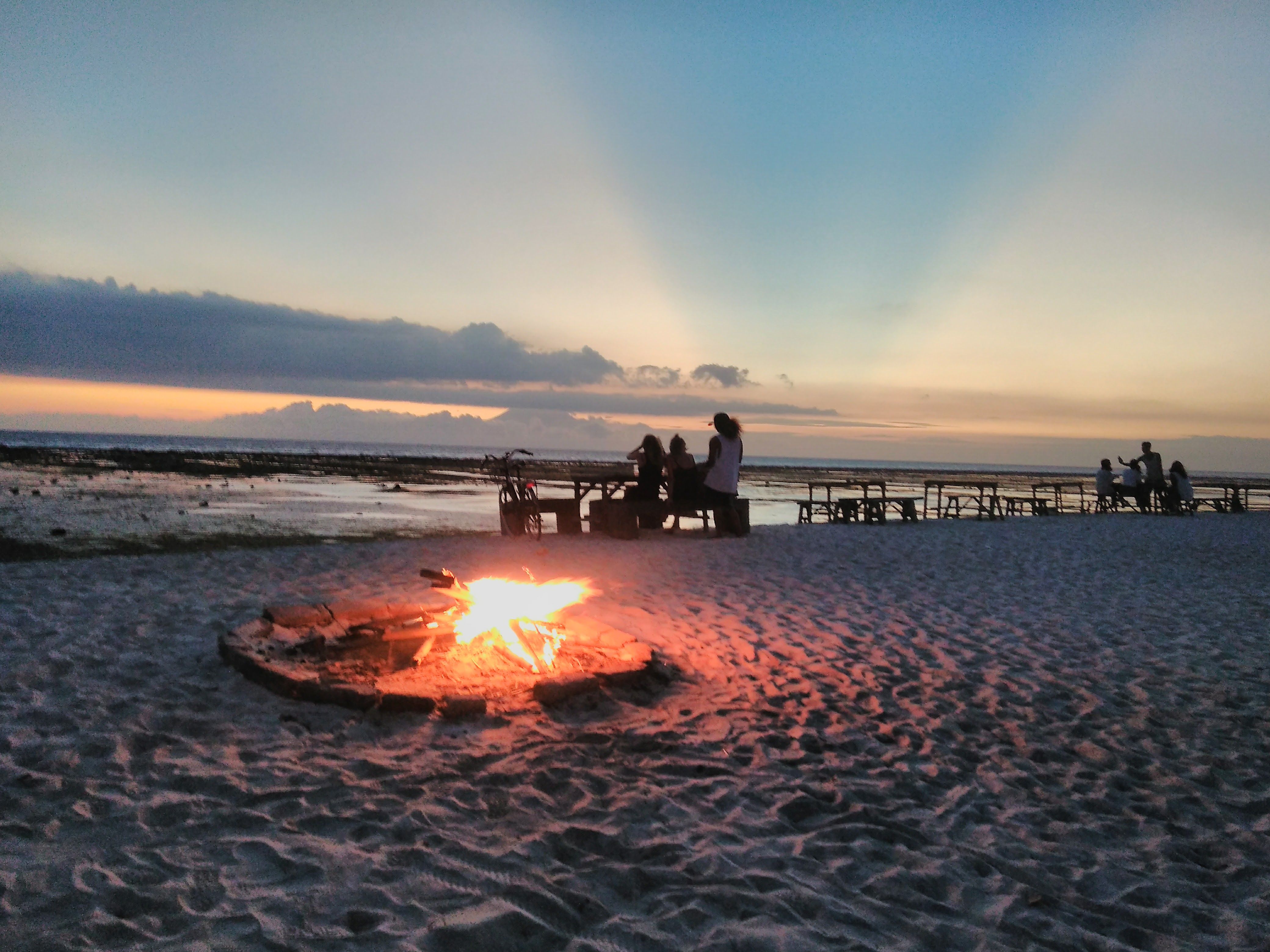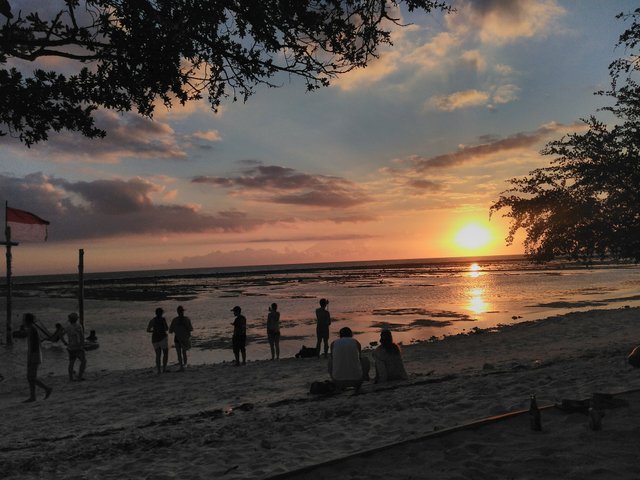 I have to disagree about Meno – there were as many couples as on the other two. The island is the smallest one and you can make a round trip for about 40 minutes. If you want to cross it, you can do it for less than 20 minutes. It has a lake which was also really nice as the sun in August was setting behind it. The place has only two hostels but those are the best hostels I have ever seen. One of them is located no more than 20 meters from the water and you get to sleep outside in a tree houses under the stars covered only by a mosquito net. These conditions sound a little bit extreme to some of the people, and I have noticed that in many hostels they are trying to convince you to take an air-conditioned concrete room. No! I have slept in that kind of a room my whole life. And when you are on a paradise island with a really good weather conditions allowing you to stay outside the whole night, you should really go wild, sleep outside, enjoy the stars. I have slept once even in a hammock in the garden of the guest house on Air. It was perfect :).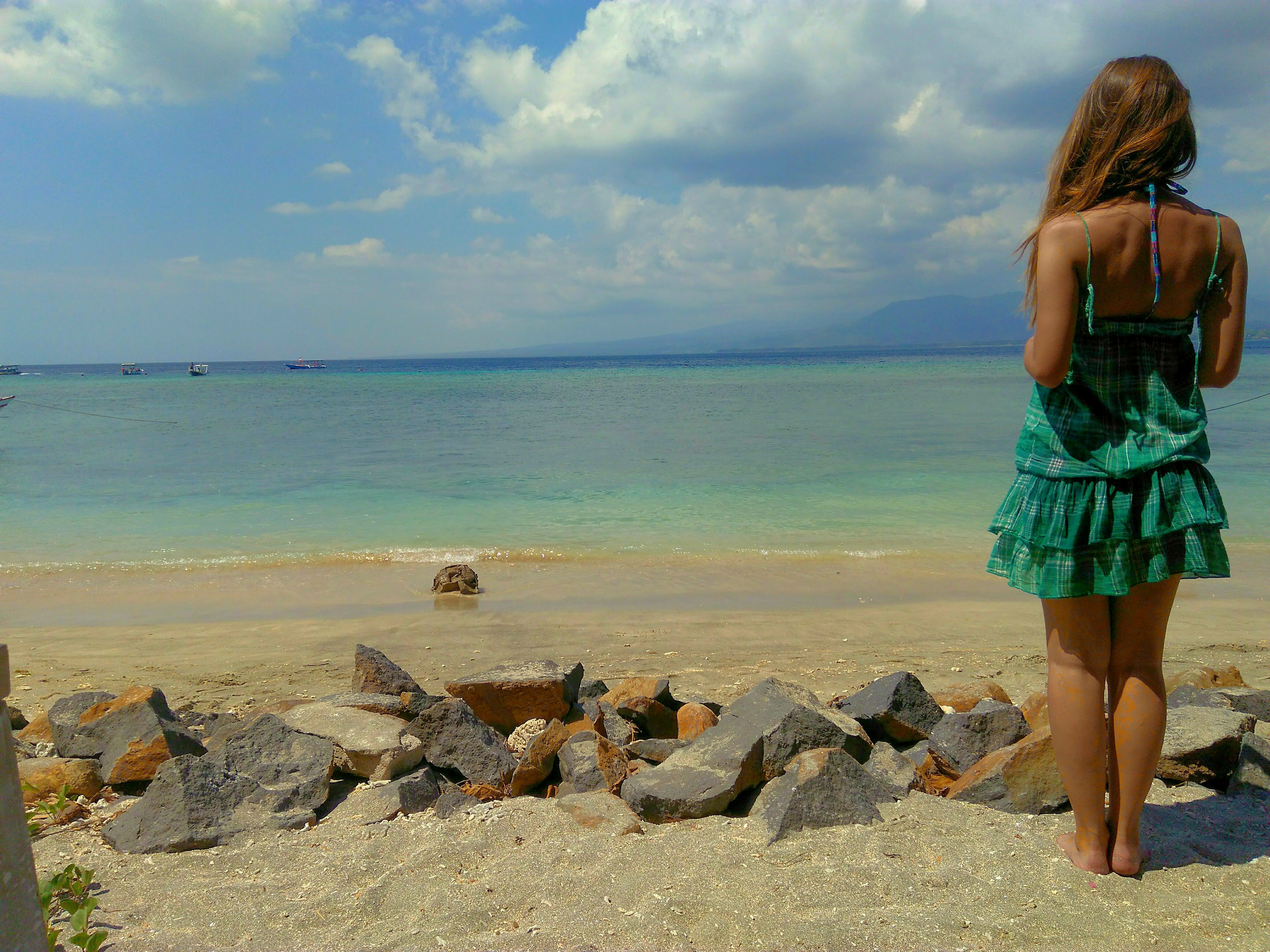 The other hostel and the place where I actually stayed on Meno is in the middle of the island. That's the best place I have ever stayed in my life. It has genius construction and even if you book one night there you will end up spending more. I had one night booked and I stayed three, which was the maximum of days I could spend. If I had more time I would spend even more days there. Except for the amazing places, where you can stay on the island, Meno has also the best beaches and snorkeling spots. So, I have to say that this is for me the best of the three and if you have time to only visit one I will recommend you, Meno.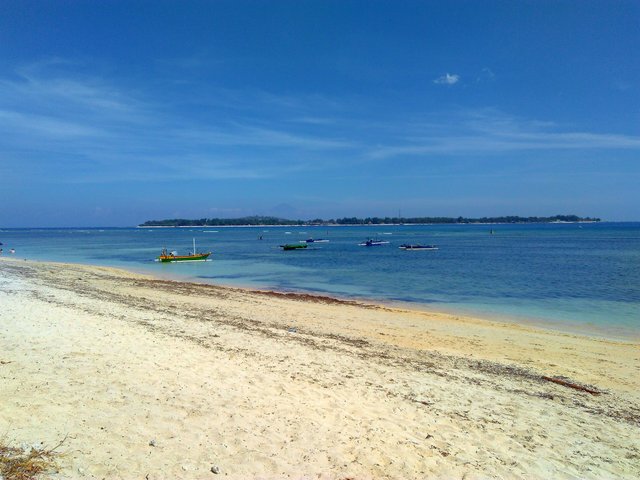 Gili Air is the most luxurious one. The most expensive accommodation is to be found there. If you would like to enjoy the sea from a fancy café with a book in your hand, that's probably your island. The beaches and the snorkeling spots were not so good comparing to the others two.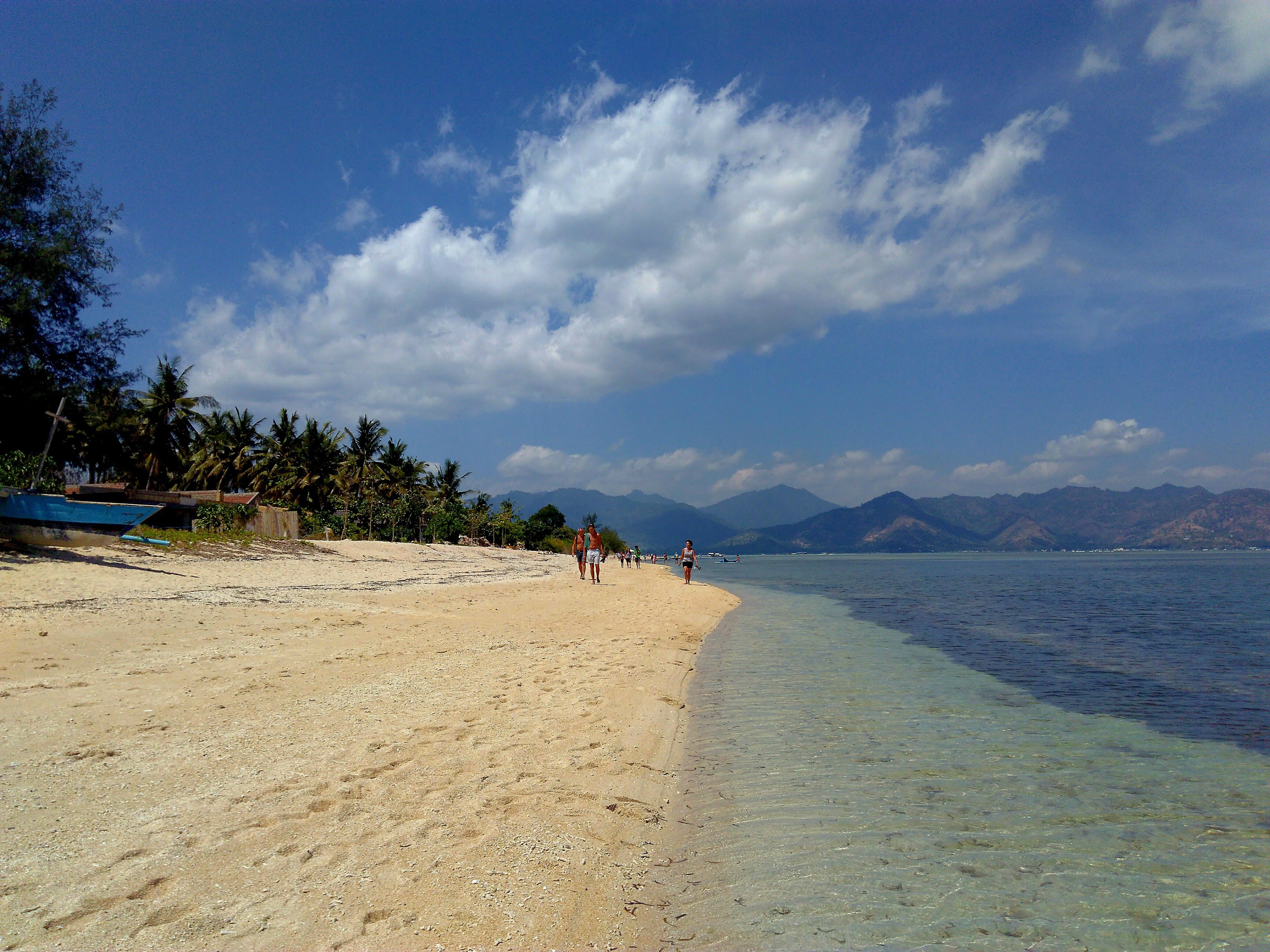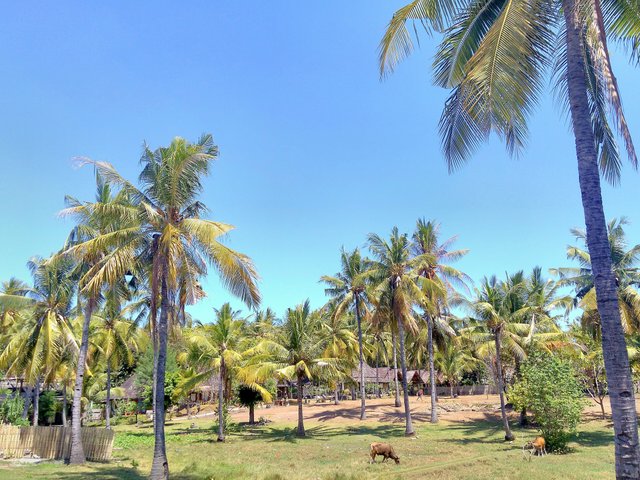 Where to go snorkeling and how to see a turtle :)
The first day I was on Trawangan I went on a snorkeling tour. It's worth to go on one of those, as you will be able to see which are the best spots. Our boat took us to two spots on Gili Meno and I just memorized the buildings on the shore. When I moved on Meno I found the buildings and I spent as much time as I wanted in the water. You can easily stay hours swimming and I promise under the water it looks as you are watching NatGeo Wild. All kind of colorful fishes, huge turtles, and corals - it couldn't be better. If you are having troubles finding a turtle – take your head outside of the water, look around, are there people gathered around something, there it is. Please, be gentle with the turtles – don't touch them and give them space to swim, it's their territory, not ours :). You can rent snorkeling gear on all of the islands for about 3 euros per day. Don't forget to rent also fins and wear them in the water. They can protect you from the sea urchins. If you, anyway, manage to step on one – ask the locals how to treat it. They use corals or rock to smash all of the spikes that get into your leg and that's the most effective way I have seen. People were able to walk normally just within a few minutes. Bikes can also be rented on all the three of the islands, but it will make sense only on Trawangan, which is big. On all of the three, you will have to drive it at some point on the sand. There is a very strong current between the islands, so don't ever attempt to swim to the other island although they are very close to each other.
Finally, the people on the islands are super nice and kind, so don't wonder anymore, go and visit them :).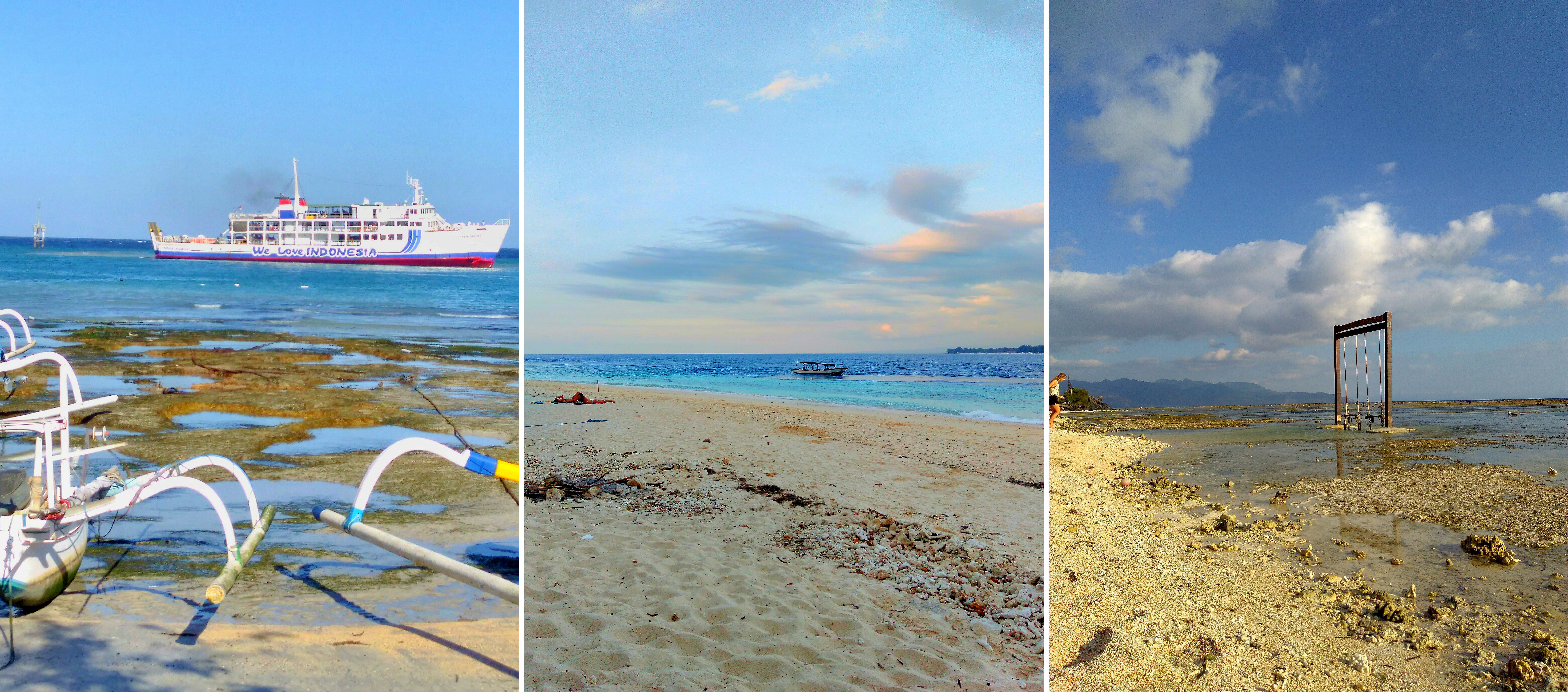 Need tips and tricks for other destinations? Check these out:
Cappadocia, Turkey
Iceland
Bali's Waterfalls
Thank you for reading and upvoting :). Cheers, Eva!