South Africa's weird tree; and we were very lucky to come across one in the Kruger National Park.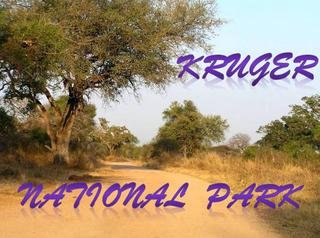 The Baobab tree:
There are a few growing in the eastern and northern parts of the Transvaal. 
These trees are very unusual, in that they look like nature had made a mistake, with their bare tangled branches and twig looking like twisted roots sticking up, high up into the sky. 
And their very wide scruffy irregular trunks looking ancient, like dried biltong (jerky red meat). 
I've never seen one with any leaves. But apparently they can have foliage and white flowers.  
The baobab tree is also called the Cream of Tartar tree. 
Seeking for a Baobab tree:
But on this particular day in the Kruger Park, we went off the beaten track to see if we could find one, up close.  
Our daughter was eager to show us one, as she had previously lived close to the park, and had some idea where to find one. 
Twisting this way and that, in and out of dusty side roads, we at last came across this baobab tree.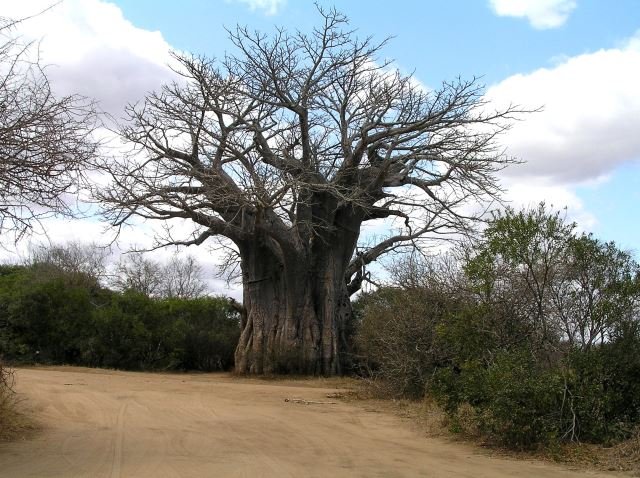 We were somewhat disappointed that it was such a small one. But fascinating all the same! So we sat there quietly for a while, paying humble homage to it. 
What do you think of it?
To think there were once hundreds of them once upon a time… it's very sad there aren't many left. Maybe it's because South Africa hasn't a strong enough tropical climate to give it enough moisture.  
There are many more in other African states. But if you ever come to Africa, ask your tourist agent to take you to see them. 
Later in this trip, in a future post,
I will show you a very well-known special baobab tree, with a room inside it that you can actually walk in and sit down with ease.  
So that post will be something to look forward to, hey.!
But our next week's post:
I'm busy painting an oil painting for you, so look out for that next week… 
This post you're reading now, was made short, so I would have time to paint that and complete it in time!