Vaishno Devi: One of the busiest shrines
Vaishno Devi temple is a Hindu temple of Goddess Vaishno Devi and is a manifestation of Mahakali, MahaSaraswati and Mahalakshmi Goddesses. Vaishno Devi is also known as Maa, Mata, Mata Rani as well. In India, these words are used for the mother. The actual location of this temple is in Trikuta Mountains which comes under Katra city of Jammu & Kashmir, India. The other name of the temple is Bhawan. This temple is around 14 Kms from the main Katra city. On the way to Bhawan, there are other temples/places which are related to the life of Mata Vaishno Devi. Various modes of travels are available to reach this place. One can walk for 14 Kms or can hire ponies, horses, paalkhis(operated by four persons), electric autos or helicopter. Electric autos and helicopters are available for half of the path and rest need to be covered by walking or by taking some other commute.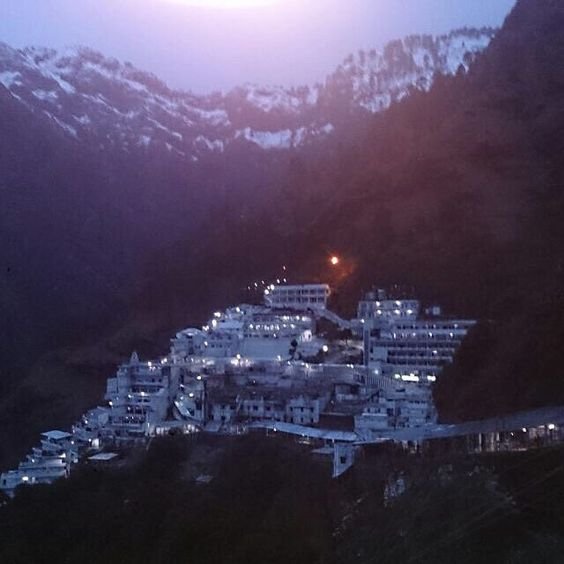 credit
The temple is one of the most visited shrines not only across India but the globe. 8-9 million people attended this place in 2017. On the busiest day, 50-60 thousand people come here to worship. The temple is open 24*7, all days in a year to sustain this much person visiting here.
Why should one visit the place?
This is a place of miracles. Many people who suffer from any physical/mental pain, willing to achieve something in their lives, but could not. People believe if one visit Mata Vaishno Devi with a clean and pure heart gets the path to overcoming the life's misery.

People also believe Mata Vaishno Devi is the bestower of strength to the weak people, blesses childless couples with children, sight to the blinds and wealth to the poor people.

It is believed that Mata Vaishno Devi comes in Devotee's dream to invite them to revisit her temple.

This place is full of positive vibes. One can find devotee from across the globe, singing songs for Mata Vaishno Devi.

People who love adventures, this place gives them an opportunity to cover a trek of more than 14 km with a lot of energy in the air by the devotees visiting the site.
My Recent Visit to Mata Vaishno Devi Temple:
I also feel connected to this place and try to visit here once in a year. I spent last few days of 2017 here. I always opt to cover 14 km on my feet instead of taking any other commute. I started from Katra city at 5 pm, and the first spot of halt was Baan Ganga. Baan means arrow and Ganga is one of the holiest rivers in India. Mata Vaishno Devi used an arrow and shot that in the earth which produced a stream and that is why the name of the place is Baan Ganga.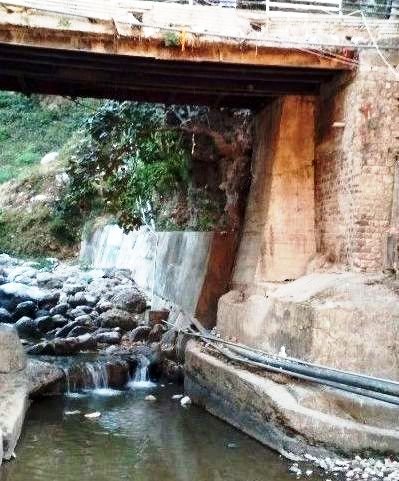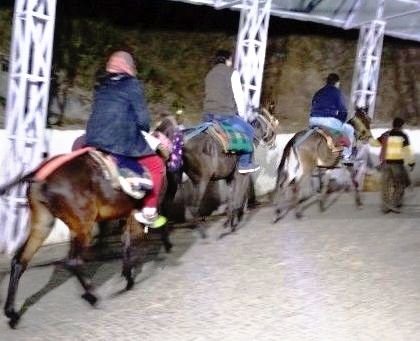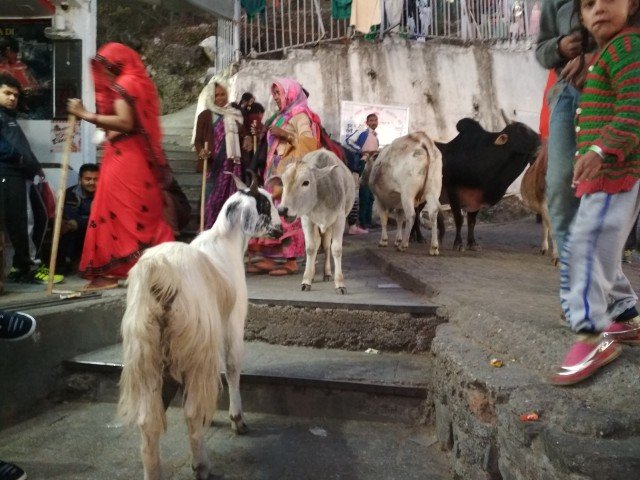 I resumed after few minutes, and the next halt came after 1.5 km at Charan Paduka Temple. This temple has footprints of the Goddess engraved on a piece of rock. People believe Goddess Vaishno Devi stayed here when Bhairavnath was chasing her. Bhairavnath was a famous Hindu occultist and grown arrogant of his powers. He went after Goddess Vaishno Devi to kill her.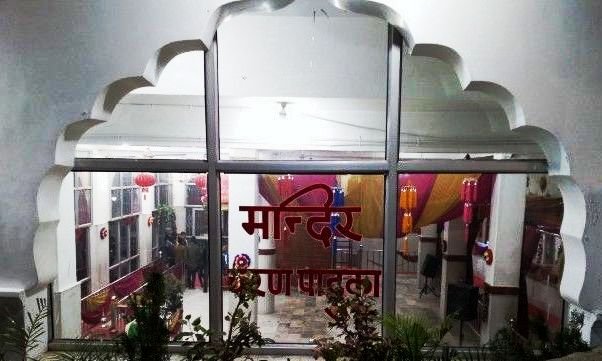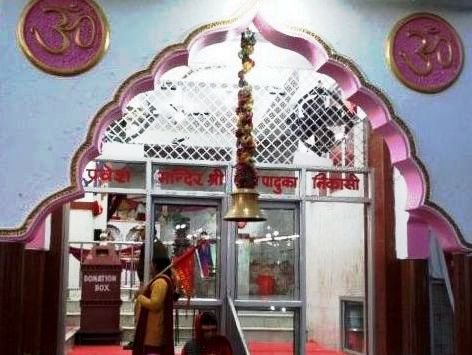 Ardhkuwari which is almost 7 km from Katra is at the midway to the main temple. Ardhkuwari was my next halt, and I spent around one hour here for refreshment and for resting. This place has a cave 15 feet long with minimal width. People believe that *** Mata Vaishno Devi*** stayed here for nine months when Bhairavnath was chasing her and hence this place is significant for pilgrims. The site is always full of crow, and many times one has to wait for days to visit this cave. So, many people skip visiting this cave.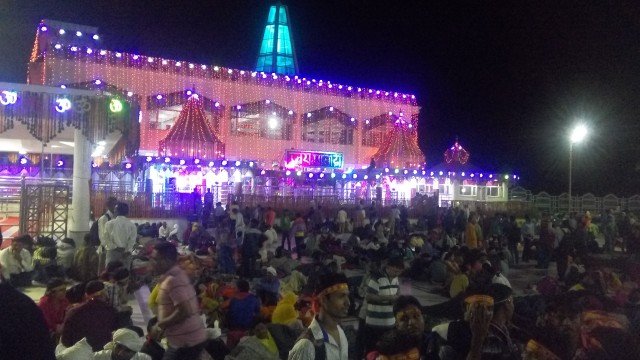 From Ardhkuwari, there are two ways to go to the main temple. The new path was build only a few years before which is a little bit less tiring to travel. As like of most of the pedestrians, I also took the newly built road to reach to the temple. One can even hire electric vehicles from this place to the temple which is almost 6 km from here.
I took few smaller halts during my walk and reached to the temple at 11.30 pm. It is advisable to visit the temple after taking a bath. So, I rented a waiting room for an hour and took a shower there. There are many public baths available which are available free of cost. Next day, at 01:00 am, I went inside the temple, and the ambiance is always cheering. People were singing Jai Mata Di songs. The temperature was low, almost 1-degree Celsius. I was barefooted and was shivering. So, please wear your socks before entering the temple. Leather goods, cameras, phones and any other electronic devices are not allowed inside the temple. So, I could not take pictures.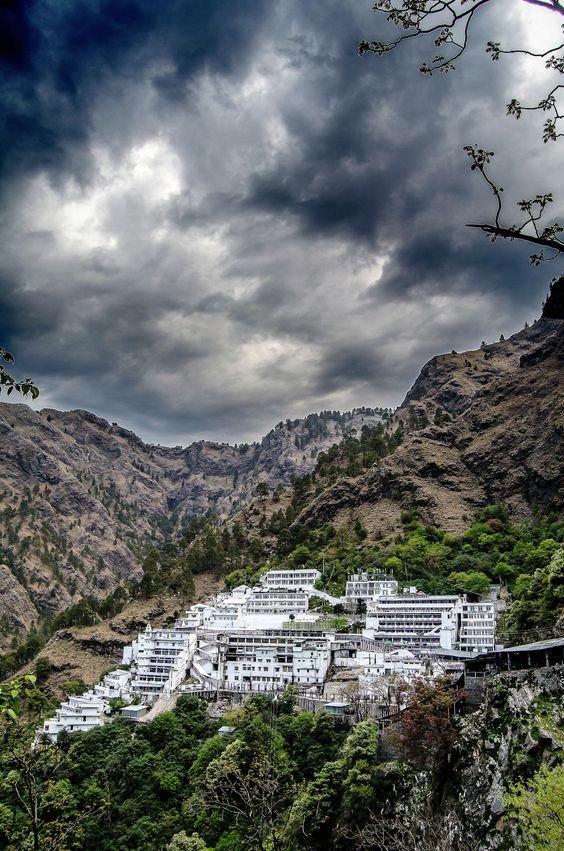 credit
In the story of Mata Vaishno Devi, one has to travel to Bhairavnath to complete the journey which is again 2 km away from the main temple, and the road is steep. Almost all the pilgrims visit Bhairavnath temple after visiting the main temple. I reached here at 3 am. And after taking some rest, I started my journey back to Katra again which took me another 4-5 hour to complete with few small halts. I reached to Katra at 8 am, rented a room in a hotel and rested for the entire day.
I visited this place in 2016 as well that too in Navratri which is considered to be the best time to visit here. Navratri (nav means nine and ratri = nights) lasts for nine days. First three days are devoted to Maa Durga, the Goddess of Valor. Next three days are devoted to Maa Lakshmi, the Goddess of Wealth and the last three days are devoted to Maa Saraswati*, the Goddess of Knowledge. People do fasting and cultural programs including dancing, singing happen at night for these days to make Goddesses happy.
Why Navratri festival is The Best Time to Visit Here?
Flowers are imported not only from the different region of India but also from different countries as well including Norway, Russia, and Sweden.

The entire temple is covered with a sheet of beautiful flowers.

The ambiance around is filled with fragrance of different flowers especially with Jasminum sambac

The lighting and the glittering across the temple area is beautiful to watch.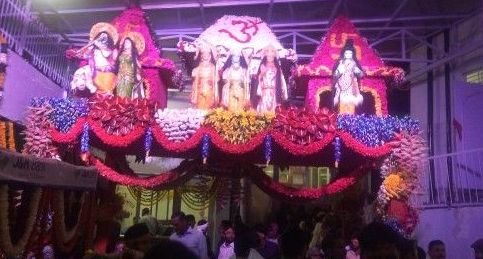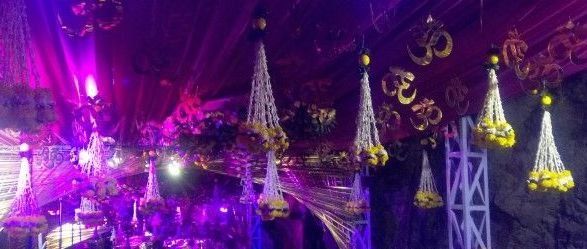 Shrine Board Management:
Shrine board of Mata Vaishno Devi is doing an excellent job in providing facilities to all pilgrims regardless of caste and religions. Out of many great things, there are few things I wanted to highlight specifically:
There are many toilets and public baths available with proper maintenance.
Free drinkable water is available to everyone during the entire travel.
Each pilgrim rich or poor gets a silver coin and Prasad.
Clear instructions are specified at required places.
Katra has one of the most beautiful railway stations in India. So, I also clicked few pictures of the railway station.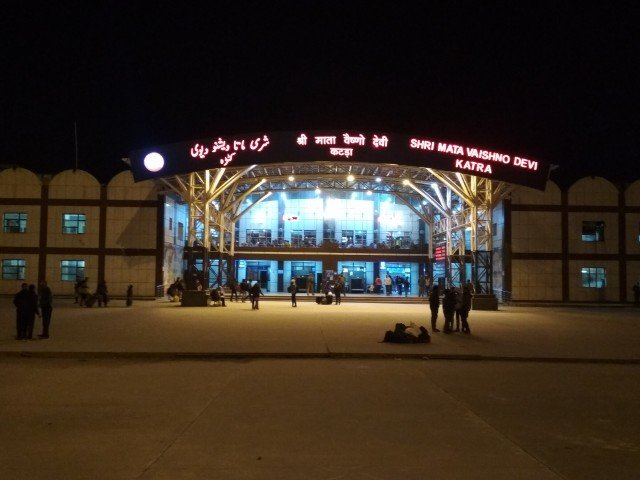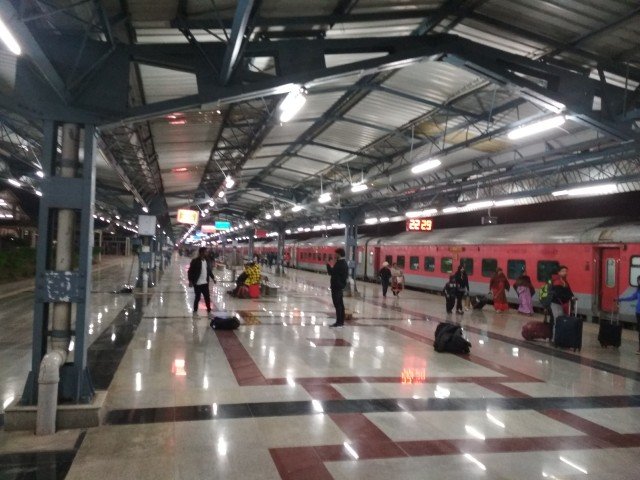 Tips:
Don't carry water, snacks along as you will find many little/big places for refreshment on the entire journey.
Do not keep leather goods with you as you will ask to keep those outside.
There are lots of monkeys across the travel to the temple. So, do not eat in open areas as monkeys try to grab those things and you might get injured.
For pedestrians, staircases are also available to complete the journey faster.
The best time to visit this place is in Navratri(a Hindu festival dedicated to Maa Vaishno Devi) which lasts for nine days. The decorations and fragrance all across the temple will make you fall in love with the place. It's one of the most beautiful things I have ever seen.
Many times landslides happen. So, please follow the instructions written by the shrine board during your travel.
Use the cloakrooms provided by the shrine board only.
Keep Travelling
Authored by: @qagiri
Click on the coin to join our Discord Chat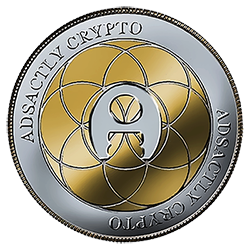 ---
**Vote @adsactly-witness for Steem witness!
Witness proposal is here: https://steemit.com/witness-category/@adsactly-witness/adsactly-steemit-witness-proposal
In the bottom of the page type: adsactly-witness and press vote.



Use small letters and no "@" sign. Or, click here to vote directly!
Thank you!

---