ADSactly Travels - Driving Through Europe (part #4)
Driving Through Europe (part#4)


Days spent traveling always somehow pass by quickly, so it was important to take advantage of every moment in the best possible way. That's something Mark and me knew well.
We had eight days ahead of us, which we were trying to organize and plan in a way that suited us the most. We were in Ana's apartment in Luxembourg. While Ana worked, we spent those days in the carefree and aimless wandering in European cities which were chosen randomly. In five days we visited Ghent, Brisel, Metz and of course Luxembourg.
On Friday afternoon, after Ana had finished with the work, all three of us went to Amsterdam.
The visit to the town was Mark's choice. We spent only one night in Amsterdam and went to Antwerpen on Saturday afternoon, because Ana had bought tickets for a Jamiroquai concert couple of months ago, to which she was supposed to go with her friends from work.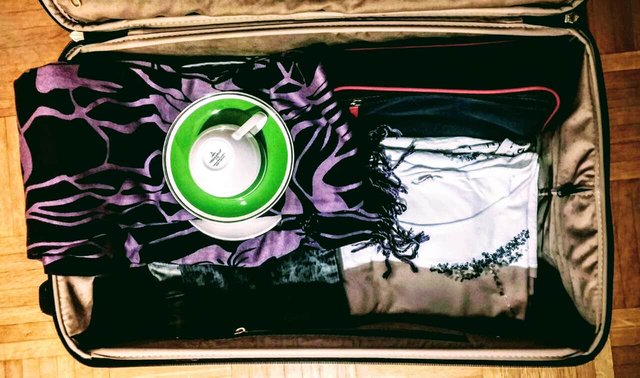 The day before departure, Ana informed us that the days of Villeroy & Boch will be held,
and that there will be great deal of sales at their factory in Luxembourg and she would really want to go.
It did not take long for us. At the next moment we stood at the end of the kilometer row,
in the rain, without the umbrellas and waited for the entrance.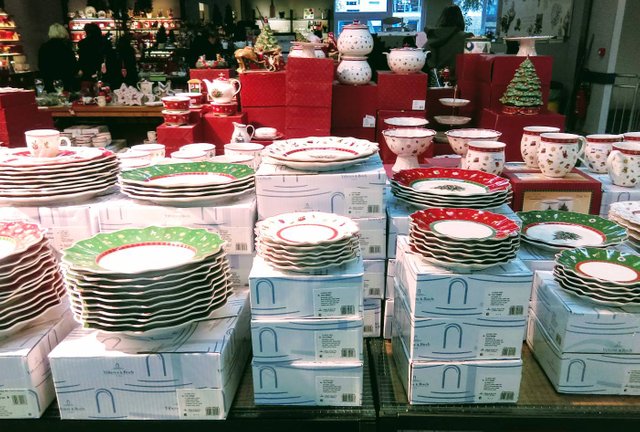 When we finally came in, the large and spacious complex was filled with long strings of exposed dishes of the finest and highest quality porcelain.
The column of people and the enormous trolleys in which they put sets of dishes and ornaments barely moved.
I got there and looked at the kitchenware as if it was an exhibition in a museum.
The view turned from one to the other piece of beautiful dishware. Plates of all sizes were plated, shallow, deep, smaller, larger. Illustrated with christmas, floral, and other diverse motifs and colors.
Figurines, scoops, decorative cake boxes, cups and coffee pots, jugs. Something for everyone.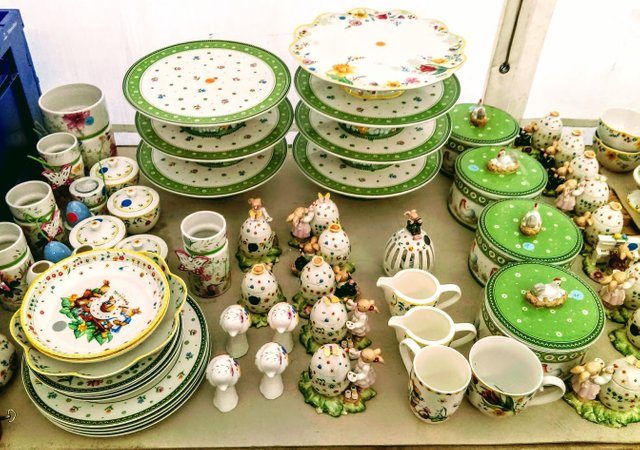 The choice was so great that I could hardly find something for myself. I could not decide.
At the end, I bought three cups and coffee pots, and a few decorations for just a few euros.
I was not sure if they were going to survive the flight by plane in the suitcase. But they came undamaged.
The three hours have gone in no time, and I certainly have to praise Mark, who was very patient.
New day started with a cup of coffee. Mark and I were sitting on the couch in the living room while Ana was preparing for the job. "Six days have passed", I told Mark. "You are aware that this is the last morning we woke up in Luxembourg"; I gave him a brief glance, grabbed the cup with both hands and sipped the coffee from the steaming cup. The cup instantly warmed both of my hands. "It was very nice for us, Lucy, but the trip was not over yet," Mark said readily. "Two great cities and two endless adventures are ahead of us."
"The two of you get your stuff when I get back, and around noon, we are going", Ana said and slammed the exit door.
That was the signal for action. At the same time we got up. "My biggest challenge was just overwhelming; I had to prepare the food which we'll take with us", Mark laughed, while he awkwardly took it out of the kitchen element. "I'm going to pack our suitcases and clean the apartment"; I added and looked at the cups I bought yesterday at the Villeroy & Boch store. "I had to wrap them well in the paper so they did not get damaged."
We've been up for a long trip to Amsterdam. The visit to the city was Mark's choice.
We had long been discussing whether to go to Amsterdam or immediately go to Antwerpen because one month ago Ana bought the tickets and agreed to go to a concert with friends who had to be in Antwerpen on Saturday night.
"On Friday night we would come to Amsterdam, sleep, be there until Saturday afternoon and head for Antwerpen to arrive at the concert. It would be better to go to Antwerpen immediately and sleep for two nights there", Ana explained patiently.
In the end, Mark's insistence was crucial. "Two days were not enough for a visit to any town. I wanted to see Amsterdam; nobody knew when I would have the opportunity to come there again, I wanted to see and walk around that city". Mark's exclamation was decisive; it took us to the city.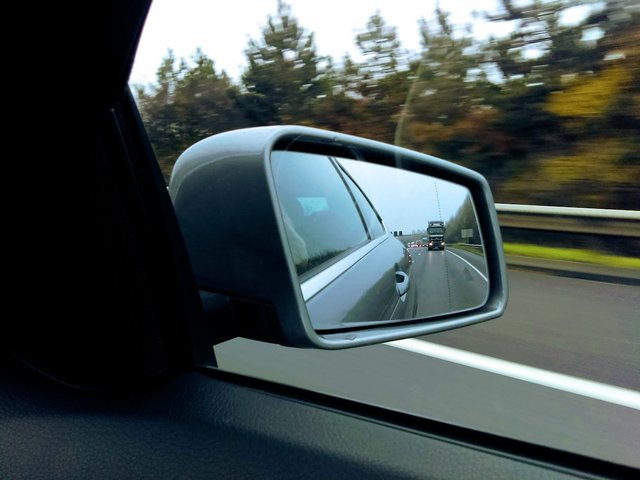 We arrived in Amsterdam in the evening. Ana found accommodation through the internet.
For the first time I slept in a wooden sailboat anchored in one of the many city canals.
The three of us were in a bunk cabin above the sea level, with a single bed and a bunk bed, one bathroom of two square meters, with toilet and shower, and a small round window we did not even try to open.
"You must be the captain of the ship", Mark said to a boy who met us on board. "Oh, that would be nice"; he smiled and gave us the key from the cabin. We were thrilled to walk around the boat watching every detail.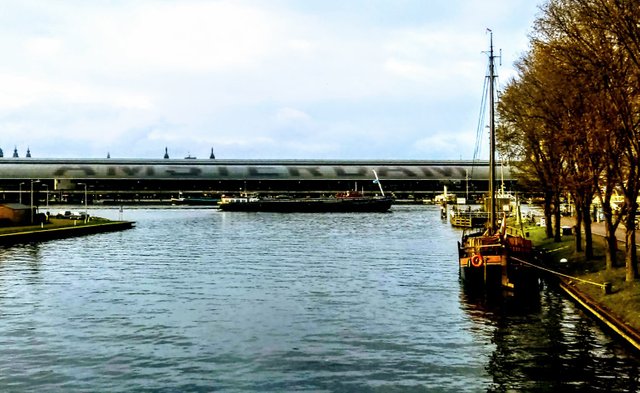 "Your wish came true Lucy, completely unexpectedly and suddenly said Mark",
I raised my eyebrows at him quizzically, not knowing what he wanted to say ... "you are finally anchored on a cruise ship waiting to sail out", he said and "died laughing".
"How long did it take you to fulfill my wish", I answered.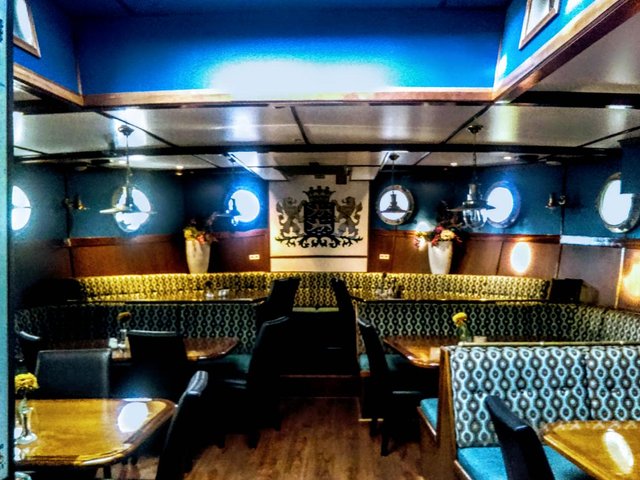 That evening we went to town. It was already quite late. We've made a circle around the city and, as Mark said, come back to our cruiser.
The next morning there was a cloudy weather and a little bit of rain, but it did not spoil the mood. We were excited. Ana had been in Amsterdam for several times, and Mark and I were there for the first time. We drank coffee on the dock and walked into the center of this sophisticated city.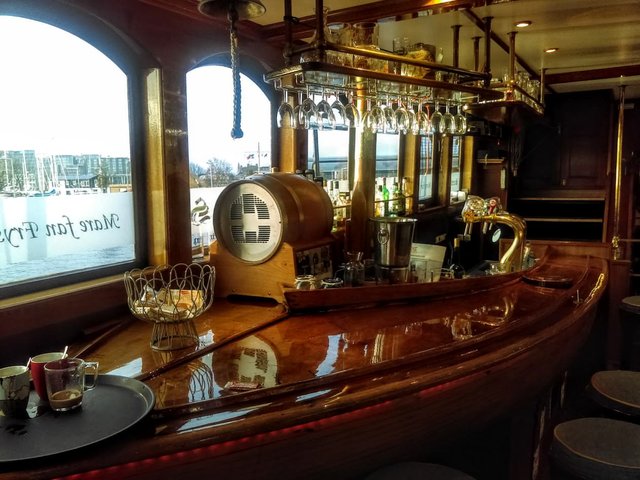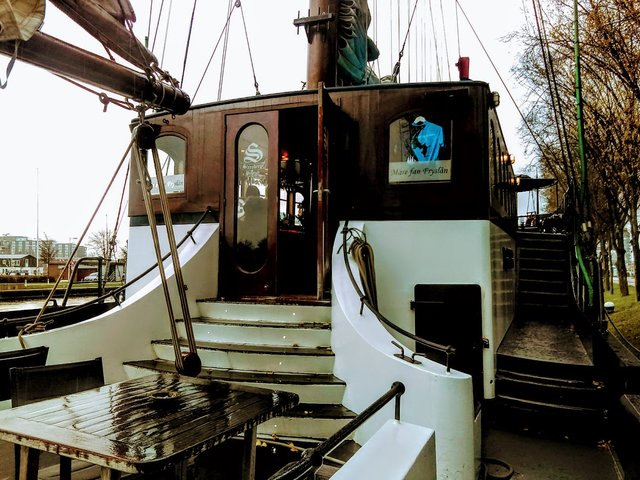 To get to the center we had to embark on a ferry that started every ten minutes.
The first thing I noticed in town were cyclists. Except that they crowded the ferry, they were everywhere.
All around the city there were tracks for bikers, who rode at full speed. Even if they saw the pedestrians, they would speed up and horn as if they wanted to destroy you. And poor you if they get under their wheels.
As for the parking lot, they were attached to every fence in the city. In one place there were thousands of parked bicycles, the same models and just a few different colors.
So who could even recognize their own, I've wondered many times?!
It seemed to me that there were more bicycles than people in that city.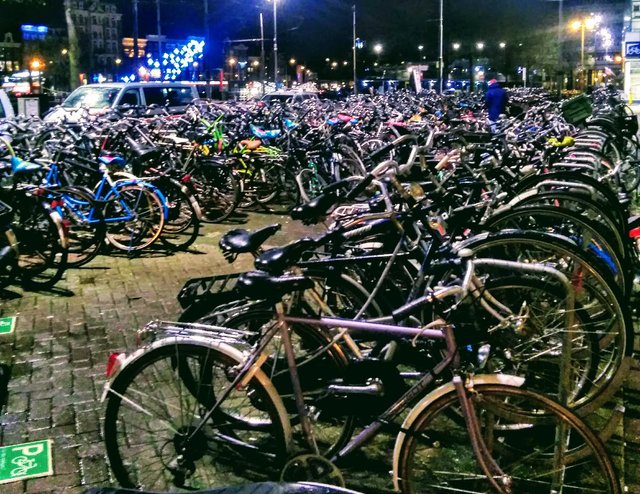 We only had a few hours for sightseeing. We went to the center of this great city of beautiful architecture.
I noticed that the center of the city is connected by the network of city channels that spread in concentric semi-circles and merge with the river Amstel flowing into its center.
We found that over 1300 bridges built from the 16th till 18th century could be seen on the canal. Nowadays, a ride on the canals by tourist boats offers many attractions and the opportunity to see and experience the city in a different way.
Larger, smaller, wooden, plastic, covered, non-covered boats have been joyfully sailing through numerous city canals, while curious tourists from the boat looked at the old city architecture.
With 165 channels running through the city, it is legitimate to carry the name of Venice North.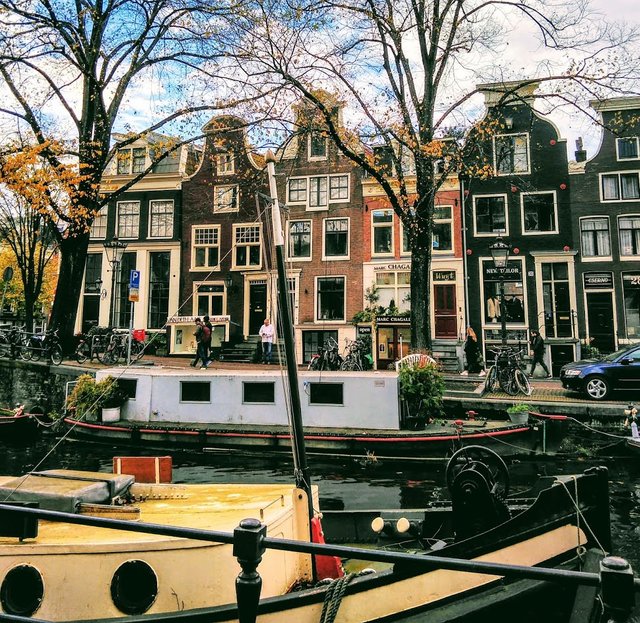 As I struggled with the fact that I had to move only in the pedestrian zone, due to dangerous bicycle rides, my attention was drawn by elegant, old, medieval civic houses.
At the time of building tax was paid for the each window on the façade. Because of this, they are built up with as few windows as possible.
This has contributed to today's specific appearance, high and narrow facades, cheerful colors, elaborate details and imaginative decorations that make each of them unique and distinct from the others. Their versatility and a specific look provided additional charm to the city.
They rose above the well-groomed promenades that followed the channel flow or emerged from the canal itself.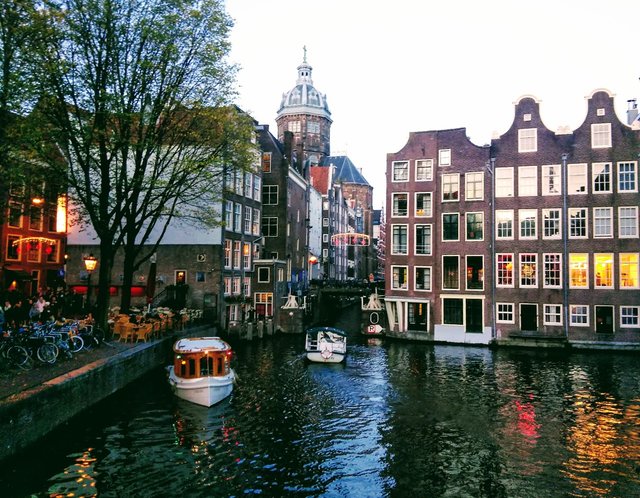 At the top of each one there is a hook that serves to bring the furniture from the outside into the houses, which could not otherwise be put inside because of narrow entrances and hallways. Besides the façades of many buildings are tilted forward for 0.2 to 2.5 cm per meter.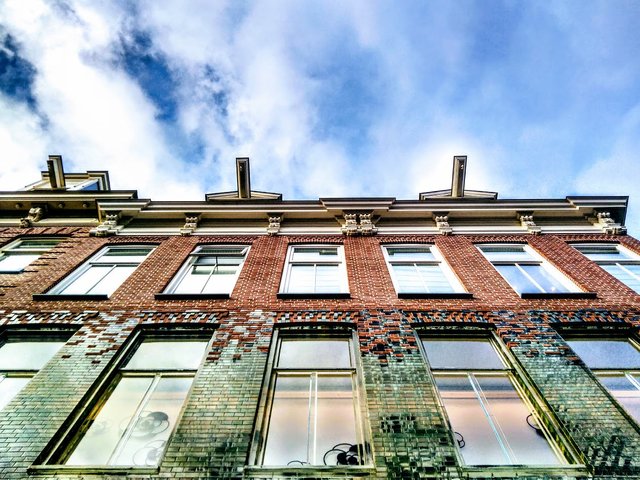 "We could get something to eat", Ana suggested. "It would be great if we found the diner where we ate yesterday. We had gotten a huge portion and it was not expensive", Mark added. At the same time all three of us agreed with this idea.
But there was one small problem; how to find it. Again we were wandering around the city, this time looking for a snack. We passed the beautifully landscaped city squares, bridges and canals, shuffled into small alleyways, luring us with cheerful colors of sheds, facades, cafes and restaurants. They would bring us back to one of the major city walkways along the canal.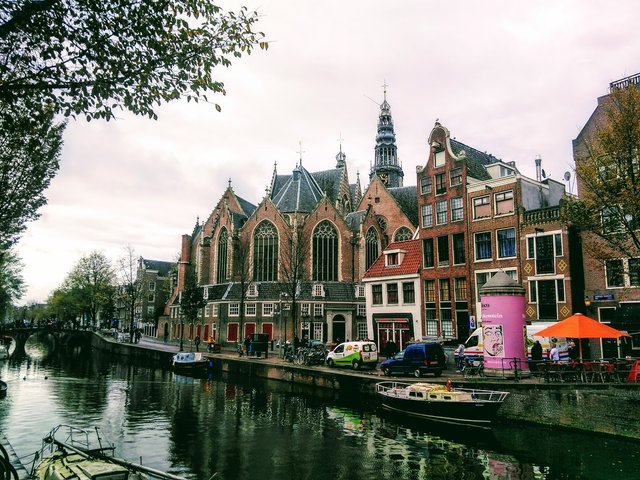 We tried to remember where it should be. "In this city all the promenades along the canals are the same but different at the same time as well. Along with each of the old town houses and sights", Mark had been in disbelief that he could not find the diner.
The long-term quest finally paid off. "There it was", Mark exclaimed, seeing it between the houses on one of the city squares and stepping toward it fast.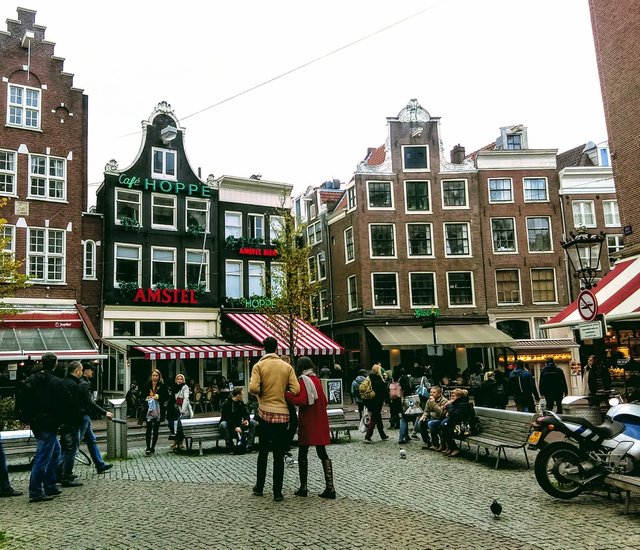 When we got in, the waiters recognized us. "Guests from yesterday arrived". "We've been looking for you for over an hour", Mark said. "You decided to come back to us again", the waiter remarked happily, adding so many ingredients in the sandwich that he could no longer close it together.
"We were looking for you, and at one point I thought you moved to another location", Mark added, looking at his sandwich.
"My diner has been working in the same place for ten years"; he replied proudly and gave us three huge sandwiches. "It seemed to me that we got a double portion for our persistence", Mark added, and greedily bitten his sandwich. "Enjoy and come back to us again, we are waiting for you again at the same place", with a cheerful tone our waiter said.
Authored by: @lufcija
Click on the coin to join our Discord Chat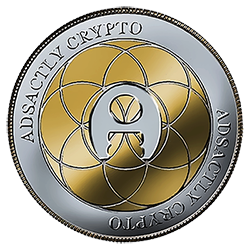 ---
Vote @adsactly-witness for Steem witness!
Witness proposal is here:



Go To Steem Witness Page
In the bottom of the page type: adsactly-witness and press vote.



Use small letters and no "@" sign. Or, click here to vote directly!
Thank you!

---