The Lofoten Village of Tind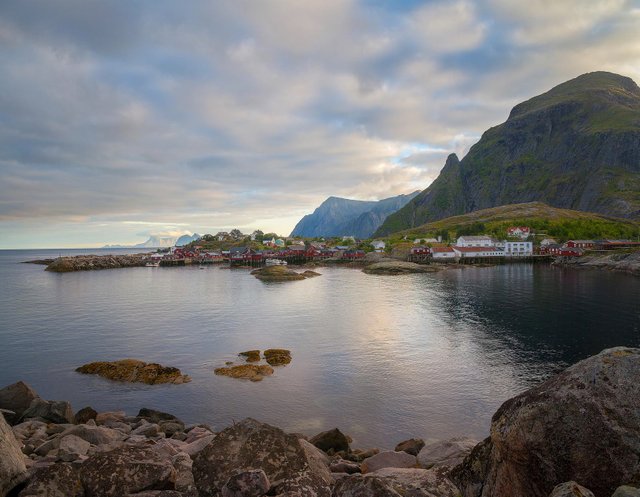 Click on image to view larger
---
The Lofoten Village of Tind
This is Tind. One of the fishing villages in the Lofoten Archipelago in Norway. I took this photo many years ago and have just now come around to posting it on the web. I had another one that was panoramic so I didn't bother with this one. I looked around the web for photos of Tind and couldn't find one like this, so I decided I should share it.
If you want to do a trip to Lofoten, you have to do it by car. It's the only way to maximize what you can cover in the islands. You'll have to rent the care from Bodo and then take the ferry across to Moskenes. From the ferry, Tind is just a few minutes south.
Have you been to Norway?
---
| | |
| --- | --- |
| Category | Landscape |
| Exposure | Manual exposure, 1/60 sec, f/8, ISO 100 |
| Camera | Canon 5D MK II |
| Lens | Canon 24mm TS-E |
| Filter | Polarizer |
| Location | Lofoten, Norway |
---

"Travel is fatal to prejudice, bigotry, and narrow-mindedness." - Mark Twain
All photos are taken and articles are written by Adonis Villanueva of Always Wanderlust unless otherwise stated.

SOMETHING VERY EXITING IS COMING OUT SOON - APPICS
GET UP TO 2X YOUR VOTE VALUE - Steem Follower
GET MORE FOLLOWERS - Steem Engine
Have a Laugh!
The Spider in the Patio
Detained for Drugs in Norway
Unforgettable Ride on a Chicken Bus
The Love Valley
---
Twitter Page, AlwaysWanderlust
Facebook Page, AlwaysWanderlust
Instagram Page, AlwaysWanderlust
Website, AlwaysWanderlust.com
Join the Steemit Travellers on Discord
© 2017 AlwaysWanderlust.com All Rights Reserved