Hi steemrunners.
Today's training talk is about "doubles" or two running workouts in a day. First of all doubles are only interesting to runners who already run important distances a week, basically more than 60 kilometers. After it all depends of your running history but it isn't recommended if you are a beginning in the sport.
Another statement is that this post is addressed to endurance runners racing more than 5k races. Shorter distances require a different approach even though there are some similarities.
For those who have experience and run long distances every week, doubles might be an interesting tool for you.
The most interesting with doubles is to train on your endurance paces:
60 to 70% of your maximum heart rate for fundamental endurance or recovery runs
70 to 80% for the aerobic zone or target endurance zone (the most efficiency)

The following are the main reasons why you should consider running twice a day:
Glycogen depletion
Running twice a day will have similar effects on your body as running fasted, as your body is going to have to use fats as fuel quicker, especially during the second run of the day. Doing so will improve your body's ability to run on fats instead of sugars and glycogen, which will help you avoiding starving and low blood sugar during a race.
Higher mileage
If you need to prepare for a longer distance than usual, you will need to increase your weekly mileage first. Running twice a day is a good way to do it especially if you have a full time job. You could run like an hour in the morning and one in the evening or if you are lucky enough, do a lunch run.
Better recovery
If you run twice a day an hour instead of 2 hours at once, your body will adapt more efficiently sue to a better recovery. In fact you would have time to partially recover from the first run to perform better in the second. This is a good way to train longer distances if you are not able to run it all at once, you can split it in 2.
Increase your metabolism
Running twice a day increases your metabolism during that day and even the day after that because your body doesn't stop repairing muscle and recovering so will need more energy through the day than just running the same amount of time at once. This could actually be a great tool for fat burning, as it also increases the use of fat as mentioned before.
I did a double last Saturday (November 25th) and will show it to you below as an example: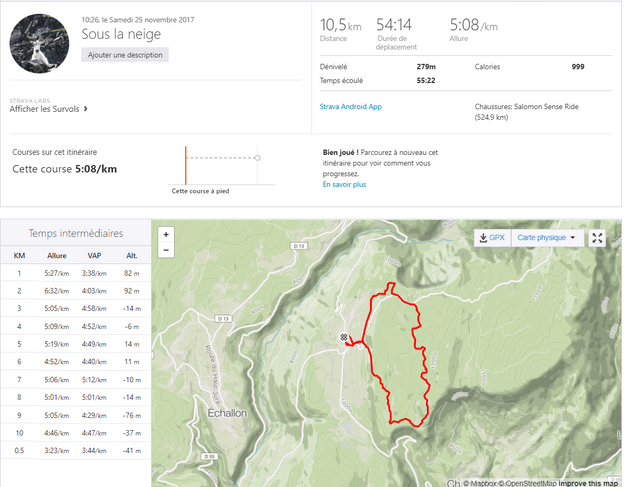 This run is an aerobic workout on snowy trails. You can see the speed per kilometer and at its right an estimation of what would be that speed on flat ground.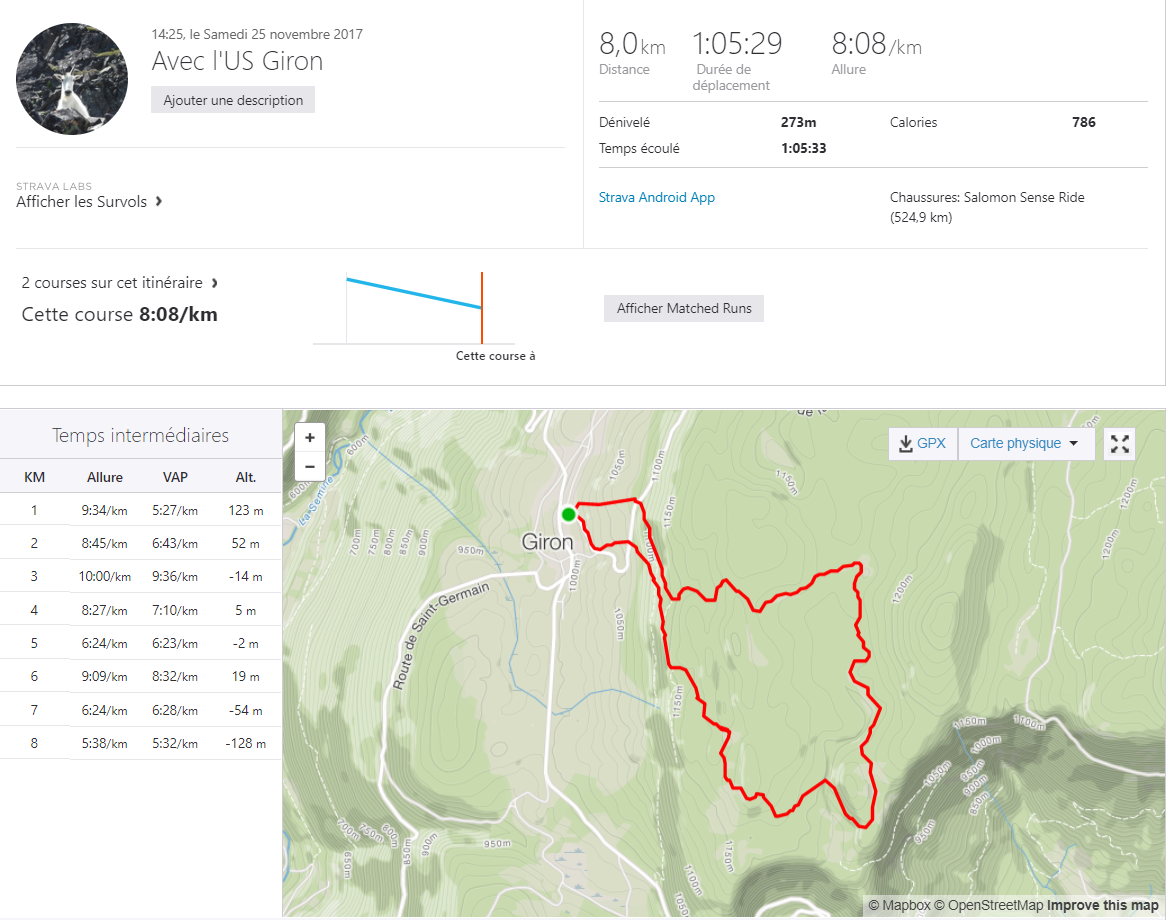 This is the afternoon run I did with my cross country skiing team. This workout was more of a recovery run or fundamental endurance. You can see that the speed per kilometer is significantly slower. This is also partly due to the fact that the snow depth increased a little.
Two aerobic workouts would also have been possible as the recovery between both runs was enough to run in my aerobic pace in the afternoon.
But I don't recommend doing doubles with intensities as the fatigue increases the risk of injury.
I hope this training talk has been useful to you and see you soon for another one!


You might also want to have a look at these training posts:
https://steemit.com/health/@life2dot0/stretching-the-proper-way-to-do-it
https://steemit.com/training/@life2dot0/threshold-running-session-the-forgotten-workout
https://steemit.com/running/@life2dot0/runnint-tip-train-slower-to-race-faster
https://steemit.com/running/@life2dot0/winter-running-motivation
https://steemit.com/health/@life2dot0/should-you-run-to-loos-weight
https://steemit.com/running/@life2dot0/train-for-your-first-10k