I think I had to do this post one day but didn't think about it yet. But thanks to the requests from @steevc and @romaincrx
I have a subject for today. This is a controversial one because beliefs are often wrong about stretching.
Does stretching help recovering?
This might sound weird but it actually doesn't help the muscle to recover. Stretching is actually used by athletes to increase their flexibility. It is particularly important for gymnasts but it is also for anyone even not practicing a sport.
This increases the flexibility by pulling the muscle fiber and sometimes tendons if it isn't done the right way. Tendons shouldn't be stretched much as you can increase the risk of tendinitis.
The result of stretching for runners is a better muscle efficiency by increasing the legs amplitude and staying more relaxed while running.
Stretching before a workout
Doing proper stretching before a workout is absolutely a wrong idea. You don't want to pull your muscle fiber before a run while you will continue pulling and even breaking fibers. Moreover stretching before a run will increase your sensibility to pain and slightly decrease your muscle strength for your workout.
But it is possible to to dynamic stretching before a run, which helps warming up and developing your amplitude. High knees and but kicks can be seen as such and balancing your legs forward and backward is the one to increase your amplitude.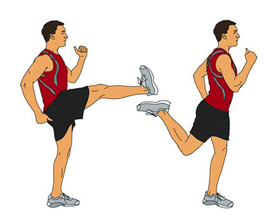 Example of dynamic stretching.
When to do your stretching
As there still are good benefits from stretching, it is a good tool to improve your running form and efficiency. Ideally stretching should be done as far as possible from a run as it is a workout by itself and stresses the muscle fibers. If you run daily and want to stretch at least 3 times a week, which is recommended to progress in flexibility, you can stretch in the evening once your muscles are cold ( at least 3 hours after a run) or in the morning if you don't go running right after.
I found the essentials of stretching for a runner at these links: https://www.wikihow.com/Stretch and https://www.wikihow.com/Stretch-Your-Legs
Notice that even stretching your neck is important for your running form as all the body is involved in it.

I hope this post was useful and see you soon for a new training talk. Cheers!
You may also want to look at these training posts:
https://steemit.com/training/@life2dot0/threshold-running-session-the-forgotten-workout
https://steemit.com/running/@life2dot0/runnint-tip-train-slower-to-race-faster
https://steemit.com/running/@life2dot0/great-natural-foods-to-fuel-your-runs
https://steemit.com/running/@life2dot0/winter-running-motivation
https://steemit.com/running/@life2dot0/train-for-your-first-10k
And my history in the sport: https://steemit.com/health/@life2dot0/my-running-history-backgroung-for-future-training-talks